I admit, I have been out of the loop when it comes to street food lately. Since the food cart and food truck BOOM in 2009 and 2010, so many have come and gone, but there are a few faves of mine (ahem, Señor Sisig and Cupkates) that have stuck around...thankfully.
For the first time in a long while, Keat and I went to OtG Fort Mason. It was not our intention to stuff our faces. Actually, we parked near the Marina Green to get in an after-work run - quite the opposite of eating. Nevertheless, the run led us to Friday food truck heaven. One truck I've been eyeing but never had was
Koja Kitchen
- truck offering Korean and Japanese cuisine. They frequent FiDi and I've seen my friends post their lunches from there. Color me jealous. We don't get food trucks in Pacific Heights where I work, so I get quite envious.
We arrived in our running fits already accepting the fact our run was done in vain. Keat had already finished an entire sisig burrito by the time I got to Koja's order window. The cashier/server/name caller was very pleasant and smiled :) I liked his smile. Smiling is good, people! Plus! They accept plastic! Yes! Running with cash and coins jingling in your pockets is not good.
We ordered the Korean BBQ Shortrib Koja and a Korean BBQ Chicken Koja combo with Kamikaze Fries. A "Koja" is basically a sandwich but instead of bread, they use hand-made garlic rice buns. Perfect!
I really REALLY really enjoyed EVERYTHING! No lie. The chicken Koja had a nice slice of pineapple in it which cut the richness of the meat. One thing I will say is that everything had great flavor. I saw people douse their Koja with sriracha, but I'm a greenhorn when it comes to spicy so I left mine alone. Perfect as they were!
The Kamikaze Fries are your Korean version of carne asada fries...but even better. The crisscut fries were perfect (how many times have I said "perfect" in this post, btw?) platforms to hold the sauce and all the fixins - kimchi, bbw beef, Japanese mayo, scallions, as well as their special red sauce). If you want something packed with flavor, sass, and heat (like how you should want a woman), try these, please. You are welcome.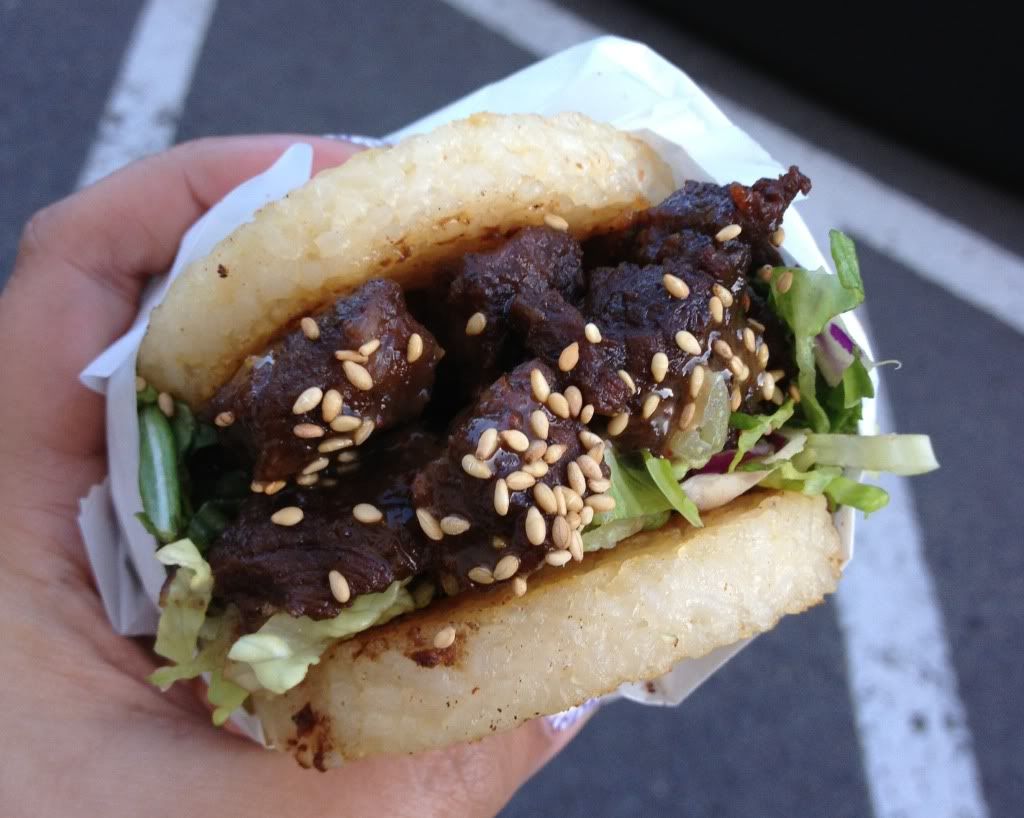 The Kalbi Koja. Whew, be still my heart. The rice "buns" reminded me of when McDonald's in the Philippines had rice burgers. I prefer rice over bread any day. I'm Filipino, so I would have liked the buns to have a bit more garlic, but that's just me. Otherwise - so incredibly good. What I liked was that the meat was tender. The greens were fresh. The sauces on point. There was tons of meat left in the wrapper by the time I ate all the rice. All good. We just dumped the leftover meat on top of the fries!
Like my husband would say, "On hit!"
Even after eating all this food, we did not feel full, but we were completely satisfied. Ideal serving size with ideal heat.
If you haven't been to Koja Kitchen, please go. It's already on my top trucks list! Check out their
weekly schedule
and
menu
on
Facebook
.
Til next time, loves!
xoxo,
Jo