Hi everyone!
I know it's been a while since I've blogged. I've been thinking. It seems like every Fall I have some sort "blogger identity" crisis. One year I was totally into spending money that wasn't mine and eating out at nice spots and writing for local publications. The next year I was busy with event planning and organizing get-togethers. This year, I put all that aside to travel and bake. When I first started blogging and writing, it was simple. It then turned into people asking me to write for their sites and eventually I realized writing assignments are not for me. It's like homework! I mean, the perks are nice and all, but it became a chore. Some days, I dreaded blogging. I did not want to type another post again. See? Crisis.
Keaton and I have been talking and I'm realizing that I'm becoming more of a domesticated at-home blogger than an on-the-field super frou frou food media person. I guess when I first started, the media passes and free meals and face-to-face time with celeb chefs got me all excited. Don't get me wrong, I thoroughly enjoyed all the events I attended and were sent to.
Maybe I'm getting too old?
Maybe I'm getting tired of my own writing.
Maybe I'm getting fed up of thinking of different ways to describe ahi tuna tartare?
Who knows. All I know is that Fall is a great time to reevaluate my blogging style and reinventing myself. Because my blog is pretty vague when it comes to focus, it's easy to do so. Well, my main focus is FOOD, but that can go on many tangents. This year, you did see that traveling and baking have been on the forefront of my brain. In 9 months, I've been to Seattle, New York, Boston, and Portland. In a couple of weeks, I'm heading to Hawaii with my husband. In between, I've baked cakes, whoopie pies, and more recently French macarons.
I am absolutely obsessed with them. Every color/flavor combination must be done! I know that's impossible, but hey, thinking up new ideas is so much fun. Not only that, but collaborating with other bakers is such an enjoyment as well.
So what have I been doing lately?
Chillin' like a villain.
Maybe this mellow period in my life - seeing the world, reconnecting with old friends, baking new things at home, and relaxing is doing me good. Meeting quotas and surpassing them were fun. Deadlines were fun. I loved a good challenge, but life has a deadline, too.
I need to spend more time with my family and friends. More recently, I've reconnected with some old friends from high school. We've gone to dinner at supperclub, hit up the Linkin Park concert (omg, I'm a fanatic! Don't believe me? Keep reading til you hit the bottom.), and just hung out like we used to. It's so refreshing! AND my ass finally got an iPhone. Good lawd, I know.
Hanging out with people who've known me since puberty gave me a hard look at reality.
I'm almost 29.
I need to pop out a little rascal soon for Keaton soon, ya know! I'm kinda getting jealous of all my friends who find great joy in having and raising their children. The thought of a little Joanne-Keaton running barefooted on our hardwood floors is almost bringing a tear to my eye because c'mon! You mothers know what I am talking about!
*deep breath*
So let this be a warning/caution/whatever that things are changing. I will no longer be on the lookout for press passes anymore or freebies from chefs. And if I lose traffic, oh well. I am going to take this time to better myself and my baking. Besides, by the time our little rascal is of age, I'd want to teach him/her how to bake as well. I'm dreaming so many dreams - and probably sounding immensely emo right now. But that's okay. That's life right?
Anywho, thank you for being there and reading this. Life is a journey. I feel I've accomplished a lot since I started blogging in 2007. And as time moves on, I feel like there's so much more to accomplish as a human, as a woman, and hopefully soon as a mom. NO, I'm not pregnant...yet. I can only pray that the Lord grants me this one (and truest) wish soon....partially because Keaton is getting impatient. Haha, just kidding.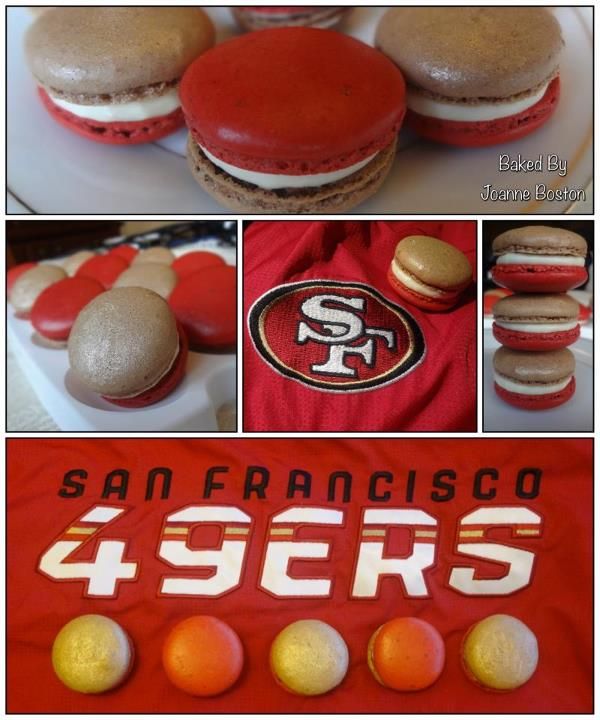 Before I go, I just wanted to show you what I've come up with in the kitchen for my Niners! They've only played two games, but they are doing such an awesome job!!
You've probably seen these already on my Facebook and Instagram. To keep up with me and my macaron adventures, hit up this
LINK
to my Facebook album.
Enjoy, my loves!
xoxo,
Jo
PS: Smile! You deserve it!