So I have known this girl Roxanne since October 6, 1989. Okay okay, I've known her since she was born. We grew up in the same house up until 1997 and for the longest time I thought she was my sister. My heart broke in the 5th grade when someone broke the news to me that Roxanne is really my cousin. Her mother, Auntie Glo, is my Mom's sister...which makes me and Roxanne 1st cousins.
Fast forward to 2012 and we can as might as well be sisters. She was a bridesmaid at my wedding. We baked French macarons for the first time together. We've done dinner dates. The list goes on and on. When she graduated from UC Berkeley this year, I was beyond proud. It was only yesterday she was stressing out whether she was going to make it it. Next thing we knew, she was walking across the stage receiving her diploma.
I knew right away we needed to do something to celebrate...well you know, besides her graduation party where we ate silly and "somebody" got drunk. Argh, let the Asian blush give it away why don't you?! Anyway, we went to PDX to celebrate her accomplishment and take the opportunity to explore a new place.
So here you have it, my loves!
xoxo,
Jo
Day 1 - Saturday - August 18, 2012
We landed at PDX around 11:00 in the morning. It was only an 1h45m flight which was nice. I really wanted to come to Portland because of all the nice things I've heard of it...especially with the food.
We took a cab into the city and one thing we knew was that we were STARVING! Well, I was. Roxanne had eaten an entire Whopper at SFO. Don't be fooled by the petite stature! That girl can eat when she wants to!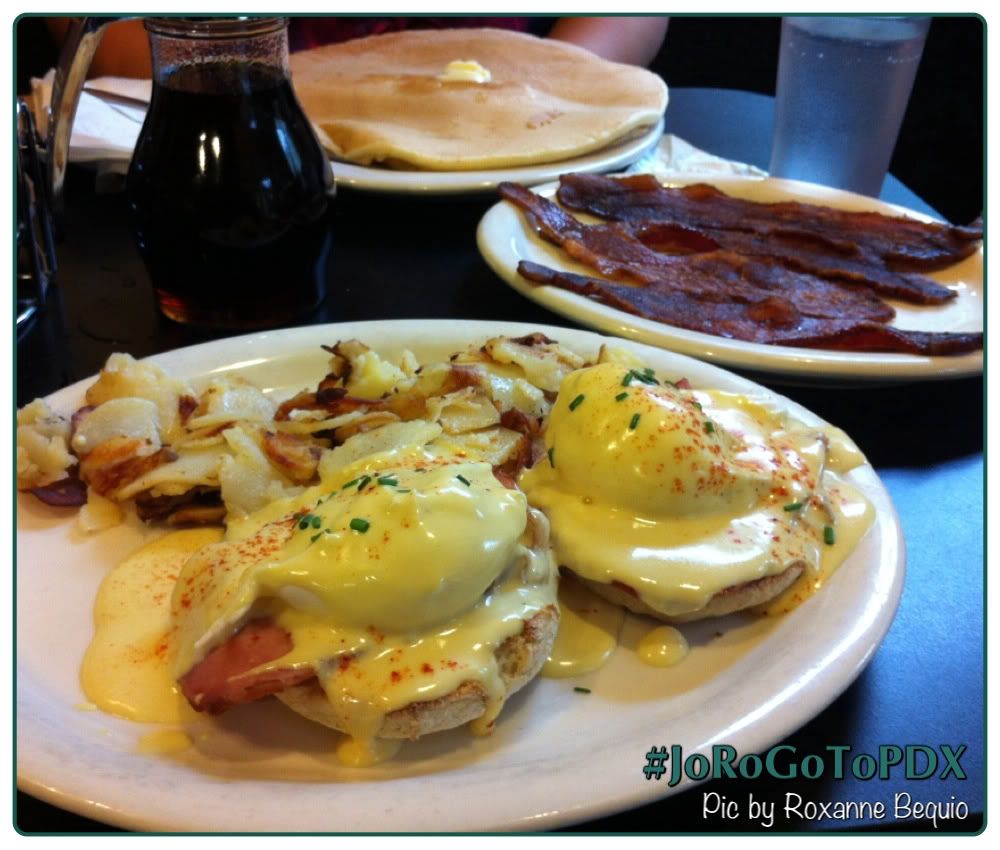 Stepping Stone Cafe
Address
: 2390 NW Quimby Street, Alphabet District, Portland, OR 97210
Phone
: (503) 222-1132
Our first stop straight from the airport was Stepping Stone Cafe. Just before we left for PDX, I watched Adam Richman's episode featuring Portland and he came here because of the mammoth "mancakes." Really?! MANcakes? Well these two GIRLS were going to test our stomachs and try our luck!
So I ordered the Mancake and bacon and Roxanne ordered the Eggs Benedict. Turned out she had never had Eggs Benedict before, so this was the perfect time to try it! As you can see, the Mancake was ginormous! There was no way we were going to finish the Mancake. We totally failed. I think if we just ordered the Mancake and nothing else we would have finished. It was just too big and we were just too full.
Salt & Straw
Address
: 838 NW 23rd Avenue, Alphabet District, Portland, OR
Phone
: (971) 271-8168
After Stepping Stone, we wandered aimlessly on NW 23rd and found this gem of an ice cream shop. Uh, did I say we were full after Stepping Stone Cafe? Turns out we had a second stomach for ice cream. While in line, I tried the
Sweet Summer Corn Buttermilk Sherbet
(amazing) as well as
Grandma Malek's Almond Brittle with Salted Ganache
(TDF), but there was something about the
Sea Salt Ice Cream with Caramel Ribbon
that lured me in. This is totally different from a "salted caramel" ice cream which everyone is doing right now. The ice cream is flavored with sea salt and a lovely buttery smooth caramel runs through it. Two different things mixed together forming quite possibly my favorite scoop of ice cream EVER. Strong words, I know. Roxanne copped a scoop of the almond brittle with salted ganache, but also tried the
Boke Bowl
which had a fish sauce caramel swirled into lemongrass ice cream. WOW.
After indulging in some of the best ice cream PDX has to offer, we headed to the Buckman neighborhood where we had to check into our apartment.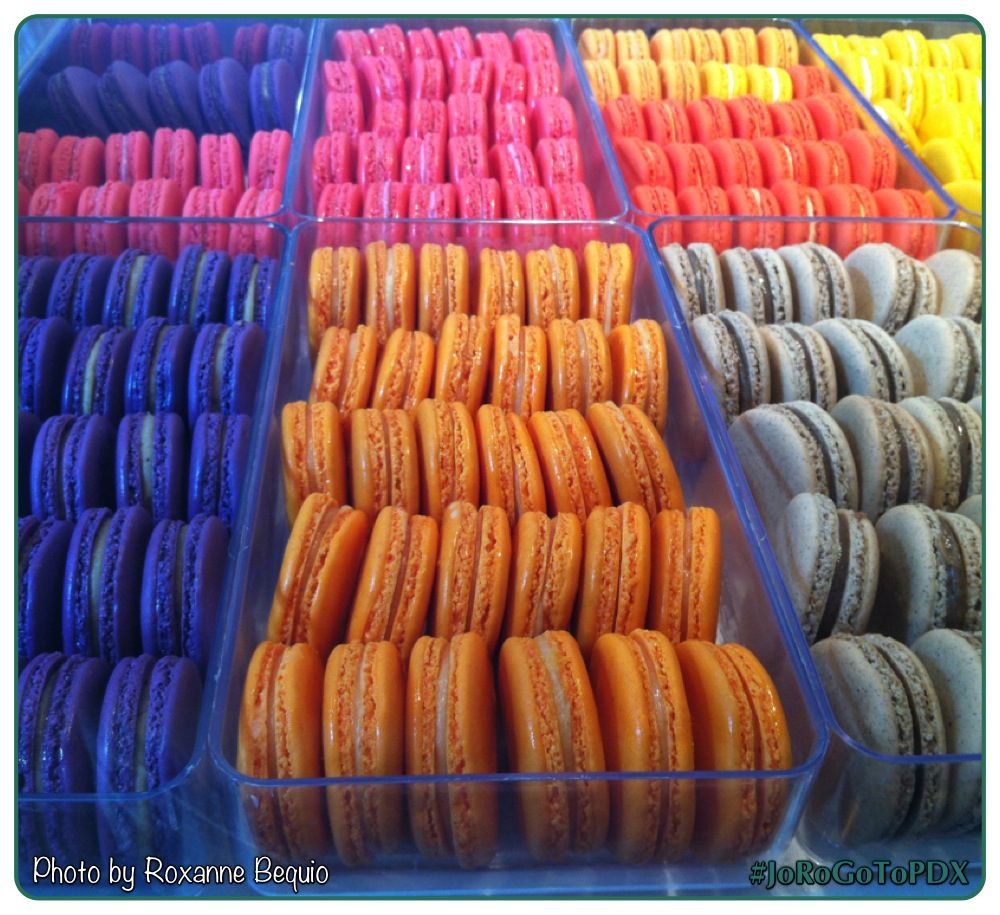 Nuvrei Patiserrie
Address
: 404 NW 10th Avenue, Pearl District, Portland, OR
Phone
: (503) 972-1700
After checking into our home away from home, we headed back to The Pearl District where majority of the night's festivities were going to happen. We are suckers (huge suckers) for French macarons. After our first attempt at making them, we got really excited to explore other flavor combinations.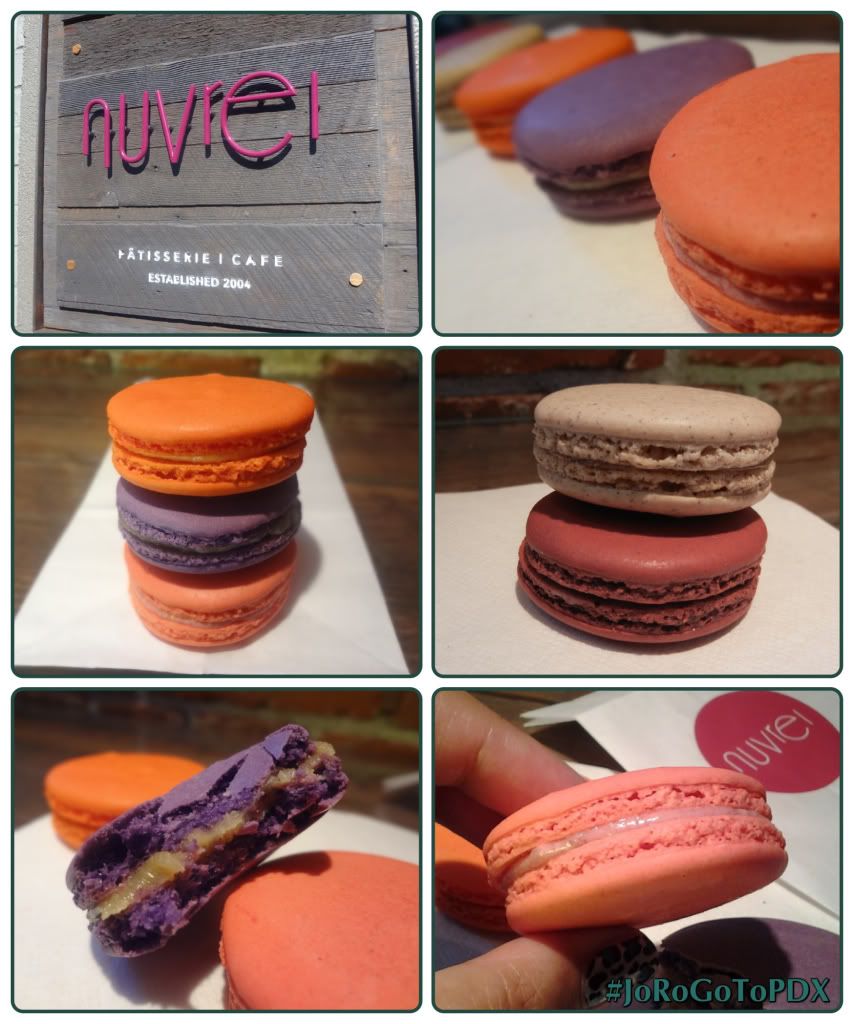 Nuvrei has the classics like framboise and espresso, but they had unique flavors like Earl Grey, Orange Starburst, and my favorite of the bunch - strawberry-rose. It was absolutely perfect. I got the strawberry right away, but there was a lingering hint of rose...just enough without the sense of eating potpourri...with unfortunately does happen. I would totally come back if I were in the area.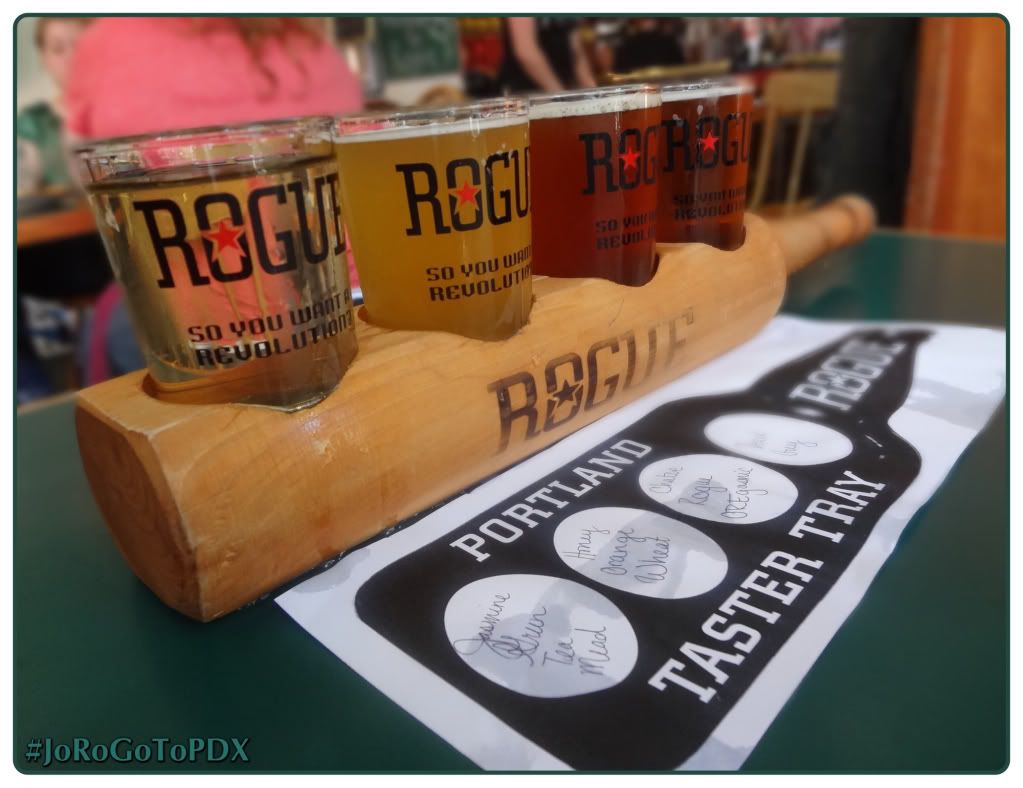 Rogue Ales Public House
Address: 1339 NW Flanders Street, Pearl District, Portland, OR
Phone: (503) 222-5910
You cannot come to Portland without having a taste (or four) of their beer. If I've learned one thing about the Pacific Northwethwest, it's this: don't pass up the coffee, beer, and seafood. I really wanted to try the
Voodoo Doughnut Ale
, but there was no way we were going to finish a whole bottle. Instead, we opted for the tasting paddle and while there were so many great choices on the list, we decided on:
1)
Jasmine Green Tea Mead
by Buckman Brewery
2)
Honey Orange Wheat
by Rogue
3)
Chatoe Rogue OREgasmic
by Rogue
4)
Dead Guy
by Rogue
I already knew we were in trouble when the waitress brought the food to the table...everything had CHEESE in it! The Spinach and Artichoke Dip had hazelnuts, bleu, parmesan and cream cheeses and served with warm, grilled pita bread. The Kobe Bleu Balls (great name, huh?) are Kobe beef meatballs stuffed with Rogue Creamery Oregon Bleu cheese. And finally that mozzarella is Rogue-baked with their Hazelnut Brown Nectar Ale.
I don't know how we managed to order the cheesiest items on the menu. Everything was really very good, but we needed two more people there to help us finish. I initially wanted Harry's Beer Cheese soup, but they sold out, so we chose the dip instead. Looking at the menu, I can appreciate how they tried to incorporate their ales in the condiments and marinades in as many of the menu items as possible. With that said, the bread was probably my favorite of the three things we ordered. I know it's just bread topped with cheese, but the bread was so light. I bet the hazelnut ale lent a hand in the leavening process. It was so good. I actually would not have mind if the cheese was not on it. Good bread doesn't need anything else if it's that good. This bread was that good.
As for the alky, let's just say the tell-tale Asian blush gave us away. It was nice...consensus - the Jasmine Green Tea Mead (technically a wine) was the favorite. It was fitting to have something made in the neighborhood we were staying in. The Dead Guy was a close second for me. Good stuff, Rogue!
Cupcake Jones
Address: 307 NW 10th Avenue, Pearl District, Portland, OR
Phone: (503) 222-4404
On our way to Powell's, we stumbled upon this cute little
cupcake
shop. What totally won me over was "The Pearl" - white velvet cake filled with vanilla bean pastry cream, topped with vanilla bean buttercream icing and a white chocolate pearl. I thought this was the perfect dessert - a
cupcake
named after the neighborhood. Because we had eaten so much already, I only got the mini version. How I possibly eat anymore?! The cake was so tender and what I appreciated was that it wasn't too sweet. The mini version unfortunately didn't have the pastry cream filling (I mean, where would you put it?), but that just makes me believe the regular size
cupcake
is amazing!
Powell's City of Books
Address
: 1005 W Burnside Street, Downtown/Pearl, Portland, OR
Phone
: (503) 228-4651
Powell's City of Books is literally a city. It's huge! Each genre has it's own designated area, but I aimed for the Orange section where food and craft books resided. Roxanne wanted to purchase a French macaron book, but we couldn't find it. We asked for help and let me say that the service there is great. She got out a ladder, climbed it, reached to one of the higher shelves and before we knew it, we were at check out. I love bookstores and I can seriously get myself lost in there. That's not a bad thing. I love getting lost in book stores.
What made me giggle was finding the Fifty Shades trilogy on the best sellers shelf. I suppose that's not very surprising since a portion of the trilogy occurs in Portland.
Who knows, maybe Mr. Grey was somewhere in the store getting lost himself...
Portland Walking Tours - "Beyond Bizarre"
Okay okay, laugh all you want.
Yes, Roxanne and I took a "ghost tour." Do you believe in ghosts? I sure do. The last ghost tour I took was in Hawaii in 2006 and that was the creepiest thing I have ever done in my entire life. Portland has so much dark history in it and I thought this tour would be fun for Roxanne and me to take. We met at Old Town Pizza located in Portland's old Chinatown. After we introduced ourselves to the group, we were given these gizmos: electromagnetic field (EMF) readers. We were told that the average reading would be in the green or yellow. Any change along the meter (+ or -) signifies a presence of energy or lack there of. Ghosts are known to give off and even take away energy. There were lots of skeptics in the crowd which is normal. Not everyone believes in the paranormal.
Now let me tell you MY story of that night...
We were taken to the basement of Old Town Pizza by our tour guide and led into a room with a tunnel (that aided in the shipment of supplies between business and NOT Shanghai'ing as said in urban legend) and then into another room. It was pitch black and there were chairs formed in a circle in the center of the room. This is where the fun began.
We were told to walk around the room and while we explored, our guide told us about three spirits who might be wandering the room like we were:
1) Nina, who was a prostitute who worked in this building when it was still called the Merchant Hotel. She was found dead at the bottom of the elevator shaft and no one knows how she got there. Our tour guide showed us a picture that someone took on a tour prior to our's in the restaurant upstairs of a woman's ghostly figure...who might in fact have been Nina making an appearance.
2) A man who was found dead in the corner of the room we were in. Prior to the guide telling us the story, one of the people in the group went to that part of the room and noticed a change in her meter. When the guide told us what had happened there, we were taken back. Of all parts of the room, this is where the woman gravitated too. Strange, no?
3) Now HERE'S MY story. Our guide told a story of a Chinese man who either lived or worked in the building. I forgot his name now, but he is known to be a trickster - he would take the battery power out of people's cell phones, knock chairs over, etc. We didn't really get any prominent "encounters" or "phenomena" during the tour yet, so I was getting bored. The guide then told us that in one of her previous tours, a Chinese exchange student and a Mandarin-speaking tourist attempted to talk to the trickster and that their meters went off like crazy.
For the most part when I walked around the room, my meter either stayed in the green or yellow and would spike to red for a split second. That's not really a "ghost encounter" because energy can spike in random parts of the room. My cousin and I sat down next to each other and I started saying Chinese phrases like "gung hay fat choy" - (happy new year) / "sup-say" - ("four-ten" - which is probably the worst number to say to a ghost since 4 is an unlucky number in Chinese culture, but 10, I still have to research. I'm sorry, this was the only thing I remember from learning how to count in Cantonese from Keaton. I didn't even really know which numbers I was saying.) / "ho ho ho" - from what my coworker says means "okay okay okay."
When I started "speaking" to the trickster, my meter (and just MY meter) jumped from green to red. Not only did it jump, but it stayed there on red long enough for Roxanne to snap a picture. I continued talking to the ghost saying we did not mean any harm and that I learned what I said from my husband who was raised in a Chinese family. The more I talked, the more energy came and soon it also was detected on Roxanne's meter. We did not move when this happened. We were in one spot the whole time. Crazy, right?!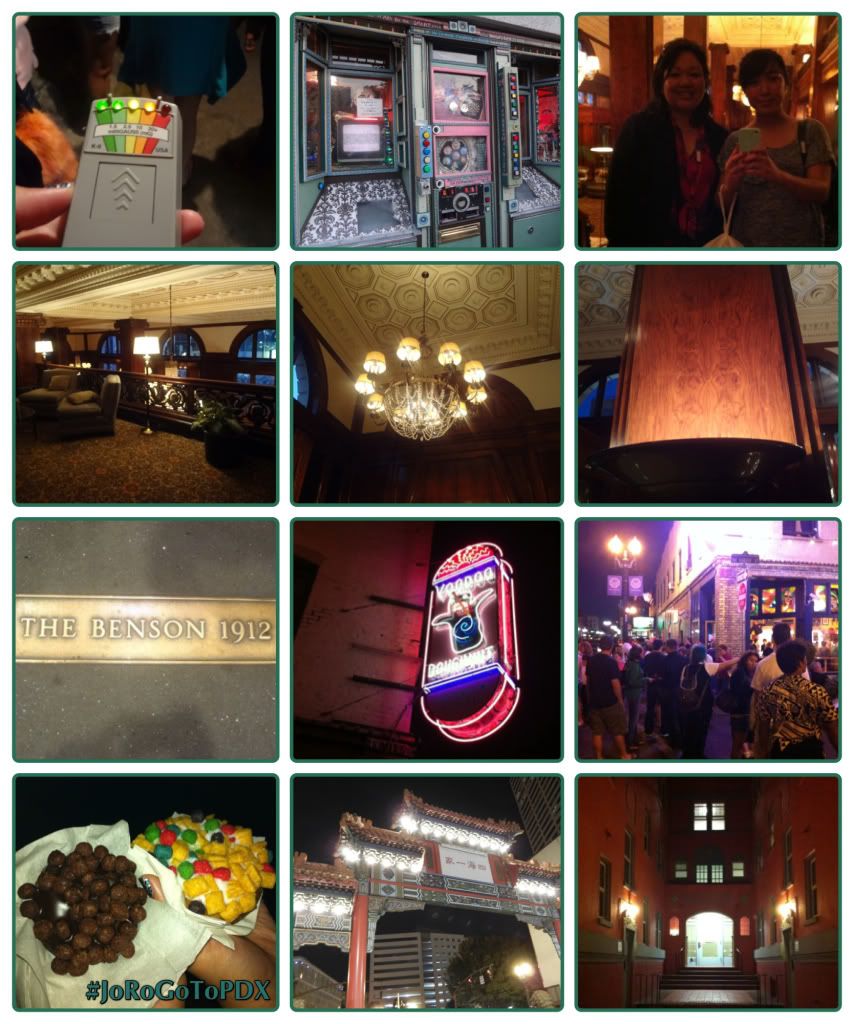 We then walked to a historic hotel in the Financial District of Portland - The Benson. We were told of how the big lumber tycoon Simon Benson built the structure with the most expensive wood in the world. In fact, that tree is now extinct. The wood also features odd animal-like designs which is uncommon. It is said wildlife like trees, animals, and plants has a "soul." Could the animals which roamed the forests have lent their "souls" to the trees? Mr. Benson is also said to walk down the staircase to watch who enters and stays in his property. "An older gentleman in a suit.." they say. We were then led to various parts of downtown where our meters jumped. And no one knows why they did that.
The tour ended at around 9:30 at night but not before a visit to Voodoo Doughnut. Not everything "bizarre" is ghost-related, but this was a perfect ending point. What was weird was the ginormous line outside of Voodoo this late! People are cray! Then again a quote on a wall across the street preaches, "Keep Portland weird." I don't think PDX is going tame anytime soon! Anywho! Since we were part of a tour, you don't have to wait in line!
Once the tour ended, I just wanted to go back to the apartment. Something about ghosts and being in an unfamiliar city made me feel uneasy. I know, it's crazy. Besides, I was exhausted! We couldn't believe how much we did in one afternoon. That was just our first day! More PDX in the a.m.!
See you soon, Sunday!
xoxo,
Jo
Posted on September 8, 2012