I love corn.
I love everything about corn.
I remember as I child opening up cans of Del Monte corn and sprinkling a little bit of sugar in it. I devoured an entire can by myself. The love has lasted ever since. Elote on a stick smothered with mayo, cotija, and chile. Sweet corn simply steamed and brushed with butter. Grilled cobs glistening with lime juice. I adore all preparations of this awesome vegetable.
When I heard of this event, I knew I had to go. Not only do Joanne Weir and I share the most fantastic name known to mankind, I totally appreciate her because I remember seeing her on my television screen when I was a kid. Gary Danko is a San Francisco icon. His restaurant is always at the top of my friends' "Where to Eat in SF" lists. I went to Gary Danko for Mother's Day a few years ago and I still fondly reminisce about it from time to time...especially that risotto...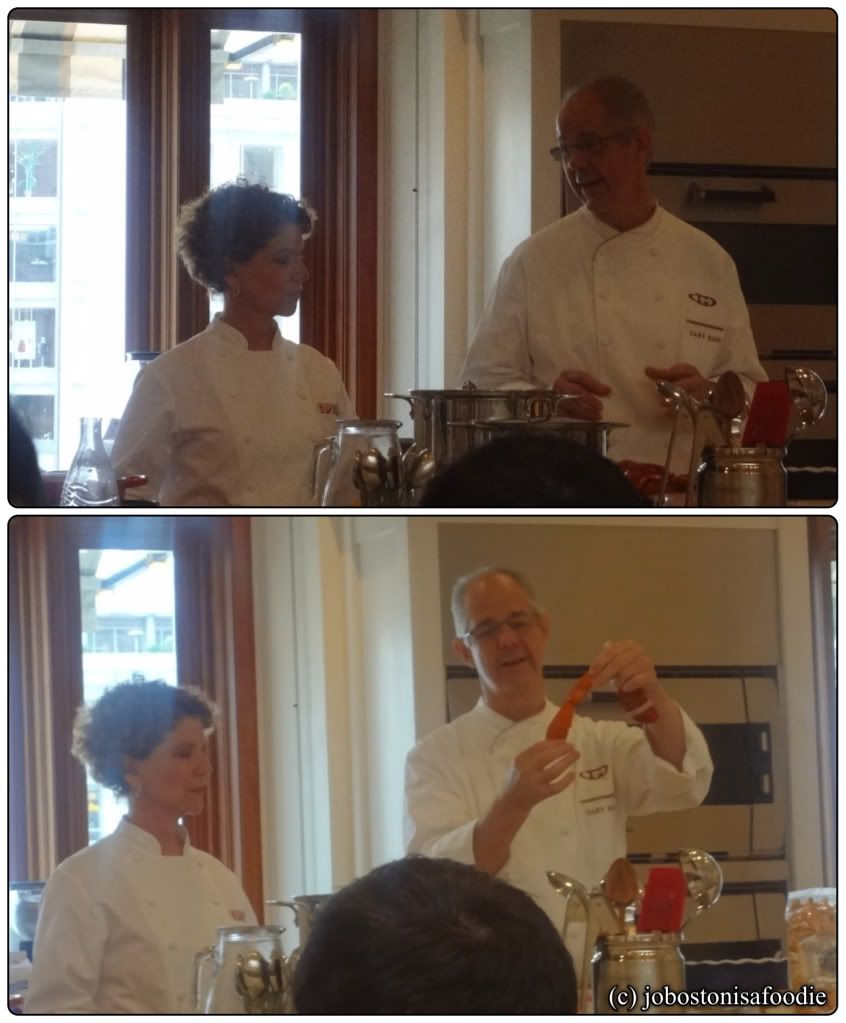 On Saturday morning, August 4, a group of us gathered at the demo kitchen on the top floor of the Williams Sonoma in Union Square. When I arrived, Chefs Weir and Danko were already behind the stove with pots warming and lobsters prepped. Today they were going to demonstrate two recipes: corn and lobster chowder as well as a savory corn flan.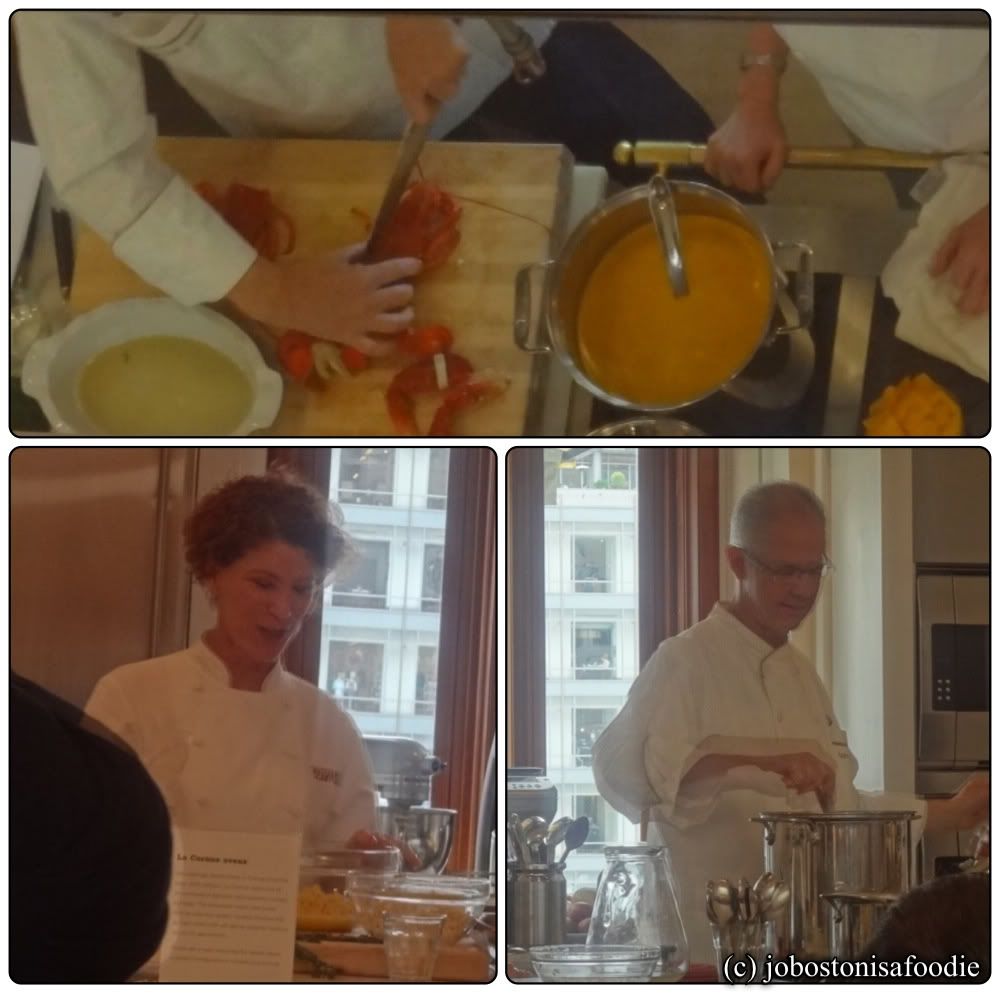 The chefs first showed us how to prepare a lobster for cooking - including how to tell if a lobster is male or female as well as how to "massage" the lobster to calm it before dropping it (to its doom) in boiling water. What I loved about these chefs was how charming and
funny
they both are. I remember watching Joanne Weir on television when I was younger. Again, aside from sharing the most awesome name in the whole universe, I noticed her charisma and enthusiasm especially when it comes to explaining a procedure or ingredient. This shined in real life as well. Chef Danko did not speak as much as his partner, but when he did talk, I swooned with each syllable. This was Gary freaking Danko! And this man can cook his pants off. I wish the demo was more than one hour! I could watch them all day!
The chefs started the demo with the chowder - prepping the lobster, "milking" the ears of corn to get every drop of flavor, and showing us how efficient their mixer was. I can let you guess which one they use, but it left us with a silky mouthfeel. The flan was a lot of fun. After showing us how to set the ramekins of flan in a "bain marie," Chef Danko even walked up and down the aisles to show us the difference between a properly cooked flan and an under/overcooked one.
I got so excited when the kitchen crew started passing out servings of the chowder. The color was gorgeous from the heirloom tomatoes and lobster broth. I hate to sound uber cliche, but it happened: love at first bite. The consistency was ideal - not too thin and not too gloppy. They let the blender and starch from the corn thicken it ever so slightly and finished with a little cream and chive for garnish. There were generous chunks of potato, lobster meat, and clusters of sweet corn. Plus the balance of sweet and savory was ideal with the use of the almost sugary veggies and homemade stock created with the lobster shells.
The flan was a surprise. In the best way possible. When I hear "flan" my mind automatically directs itself to "leche flan" - that incredibly smooth and sweet custard us Filipinos serve for dessert. I even thought they were going to make a hybrid of some sorts - like a love child of
leche flan
and
maja mais
. But no, I was given this. After one bite, I was brought back to my Inang's kitchen. Back to the days she stood in front of the stove making
tilapia sarciado
- in her giant wok she'd make a stew of market fresh tomatoes, onions, and garlic, then slide in a deep fried tilapia. After the fish absorbs a little of the tomato juice, she'd thicken the sauce with a little bit of beaten egg.
Now of course this flan had no fish in it, but let me tell you this little package packed major palate sensations.
The pure flavor and sweetness of the market-fresh corn and tomato bursted as a hint of tarragon lingered on the tongue.
It really reminded me of
home
.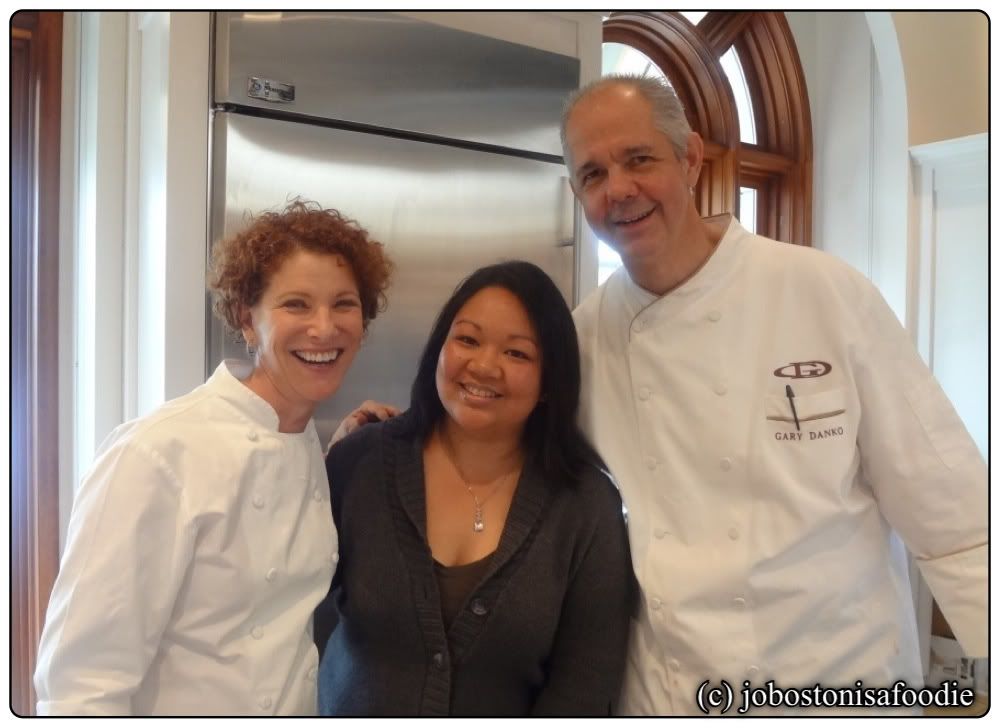 I genuinely enjoyed the demo. Not only were the dishes incredibly tasty, the chefs were so approachable and are just so damn lovable. If they had another demo together, I would not hesitate to grab myself a ticket. They make a great team indeed!
Until next time, loves! More SF Chefs to come!
xoxo,
Jo