"Things are changing."
This was running through our minds last night as we gathered for LeRoid's last day at Attic Restaurant.
LeRoid and the team at Attic Restaurant are very special to the
kapaMEALya
team. Some of our first encounters occurred there, like the
#1stPinoyDinner
. LeRoid and his family literally became part of my own family as we celebrated birthdays and Thanksgiving together (as have Chip and Lara and Francis and Albs and Rich). Chef Dom, who invited us to host special dinners at Mercury Lounge, now is a chef at Atttic. My own husband, whom I never thought would be interested in the restaurant industry, now moonlights at Attic as a dining room employee. This has become a restaurant where everyone feels at home.
When LeRoid told us he was leaving Attic to travel further down his career path, we were proud, optimistic, but sad. We were (and are) going to miss his face at Attic. He did everything from hosting, bussing, scheduling, serving, social media, managing...He really worked hard to get the community into the dining room. It only made sense to go big on LeRoid's last day as a full-time employee.
After we settled into our lounge seats, we looked at the menu and I already knew what to get. We started off we our defaults: chicken adobo wing lollipops, crab butter fried rice, and sweet potato fries with housemade banana ketchup.
I love their wings. After trying them for the first time at Poleng Lounge, I have been hooked! As for the banana ketchup, it is so different from bottled banana ketchup. It has a nice texture and spice.
We waited for the rest of the gang to join us and once they did, we ordered the "Death By Pork. Trust me, I was already scared BEFORE it even came to the table.
Behold the Death by Pork. You have everything it takes for a myocardial infarction. Literally. The menu says this could feed 4-6 people, so don't even try to eat all this by yourself. What's in it?
Follow me starting from the lower right going counterclockwise.
You have your
lechon kawali
which is deep fried pork belly, then going up are the housemade
sinigang chicharonnes
or pork rinds seasoned with sour tamarind, next is the
spicy crispy pata
or braised, roasted, and then fried pig trotter, finally comes their house
sisig
which is a pork medley of pork and pork
parts
combined with shallots, chilies, garlic, and fresh calamansi.
The
sawsawan
or dipping accoutrements are vital in this porky plate. You definitely need them to cut the richness from all the meat and fat. The first is a calamansi-soy sauce that is tart from the citrus fruit and salty from the soy. Next is
pinakurat
vinegar which is a spicy vinegar with chilies. They also make a "Mang Tomas" sauce in house.
Mang Tomas
is a brand of bottled sauce or
sarsa
made for pork/
lechon
in the Philippines. While there are many variations of the
sarsa,
it is typically made with liver, vinegar, and pepper. The last little bowl is filled with
atchara
- a medley of pickled papaya, carrots, and chili peppers.
As you can see, all of the dips and sauces have some form of tang. It is a Filipino dining custom to have something sour with an intensely rich food, like fried pork.
I was surprised to see that we did not even finish the plate! There was lots left over; however, we did eat it with rice. I would not eat this without any starches. It's just way too rich.
You know what else is rich?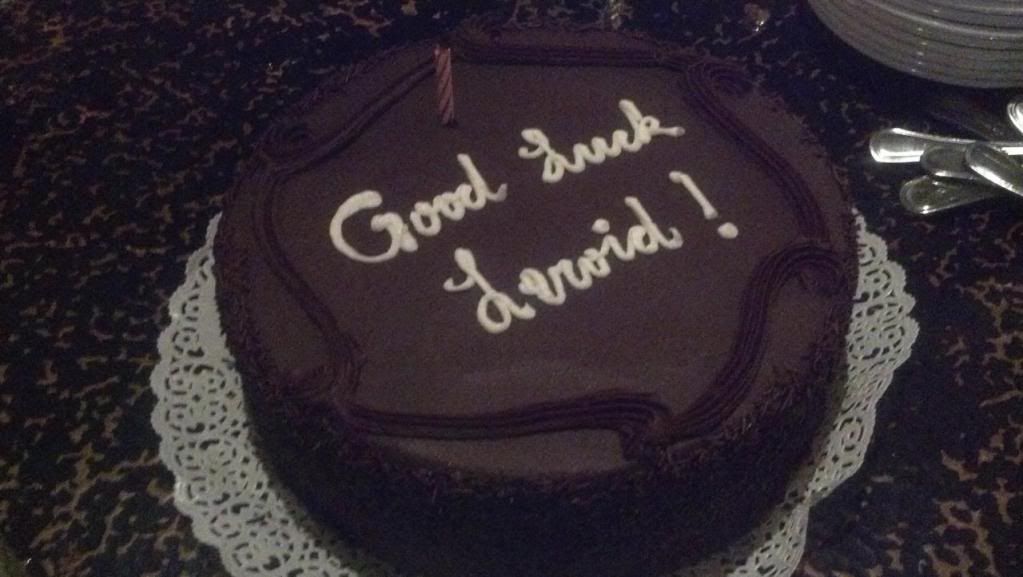 Cake cake cake cake cake cake cake...
Sorry, I just had to.
I picked up this lovely 2-layer cake from Draeger's in San Mateo. The cake inside is a nicely-sweet (meaning not too sweet) vanilla cake frosted with a luscious chocolate fudge. I neglected to take a picture of it once it was cut, but it was really good. The cake was dense, but that was probably because we just took it out of the refrigerator. On the flipside, the chocolate fudge was like chocolate truffle on the palate - smooth and decadent.
I would totally get this cake again.
If you are friends with me on Facebook, you can watch a video that Richmark (who has the smoothest baby bottom skin btw) captured of LeRoid and his cake. Everyone started singing happy birthday, but we we ended up chanting, "na-na-na na na-na-na na hey hey hey goodbye."
LOL. Mind you, we did not know EVERYONE in the restaurant, but everyone knew LeRoid and it was cool to see everyone (especially the kapaMEALya krew) gather one last time at the place where it all started.
The kapaMEALya krew - L-R: Richmark, Keaton, Chef Dom, Francis, Chip, Lara, LeRoid, Joanne, Albert
To my brother LeRoid: Good luck on all your endeavors! Let this be a time of self-discovery and learning. We are all behind you! And don't forget what we all told you last night.
xoxo,
Jo