Super lame, right?
Okay, okay, so I shouldn't be the [upset, jealous, worried] wife who is going to end up being a killjoy and make her husband feel guilty for not bringing her to the one place in the United States of America where she has been yearning to go to for the last 6 years since her last visit in 2006.
No, I shouldn't.
That's so not me.
Keat lived on Oahu for a little while and made a lot of friends there during college at HPU. He unfortunately had to come back to the mainland because he got himself in a [stupid] motorcycle accident. Cocky hapa boys with motorcycles do not mix at all.
In retrospect, Keat probably should have thought twice before doing bike tricks to impress the ladies, but it all worked out because if hadn't come back, he would not have met me!
So no, I'll let him have his fun [no, NOT a hall pass] while he is there. He just called me to let me know who he reunited with and I can tell he is happy. If he is happy, so am I. While he sounds totally silly talking in pidgin, it makes me smile.
We shared a little bit of Hawaii together as well as with his family at the Hawaiian festival at the Alameda County Fairgrounds just a few days prior to his departure. There were arts and crafts, music, dancing, but more importantly FOOD!
For starters, I went for samples of li hing mango. My sisssy Kie got this dope drink with dry ice that made it look like a steaming volcano.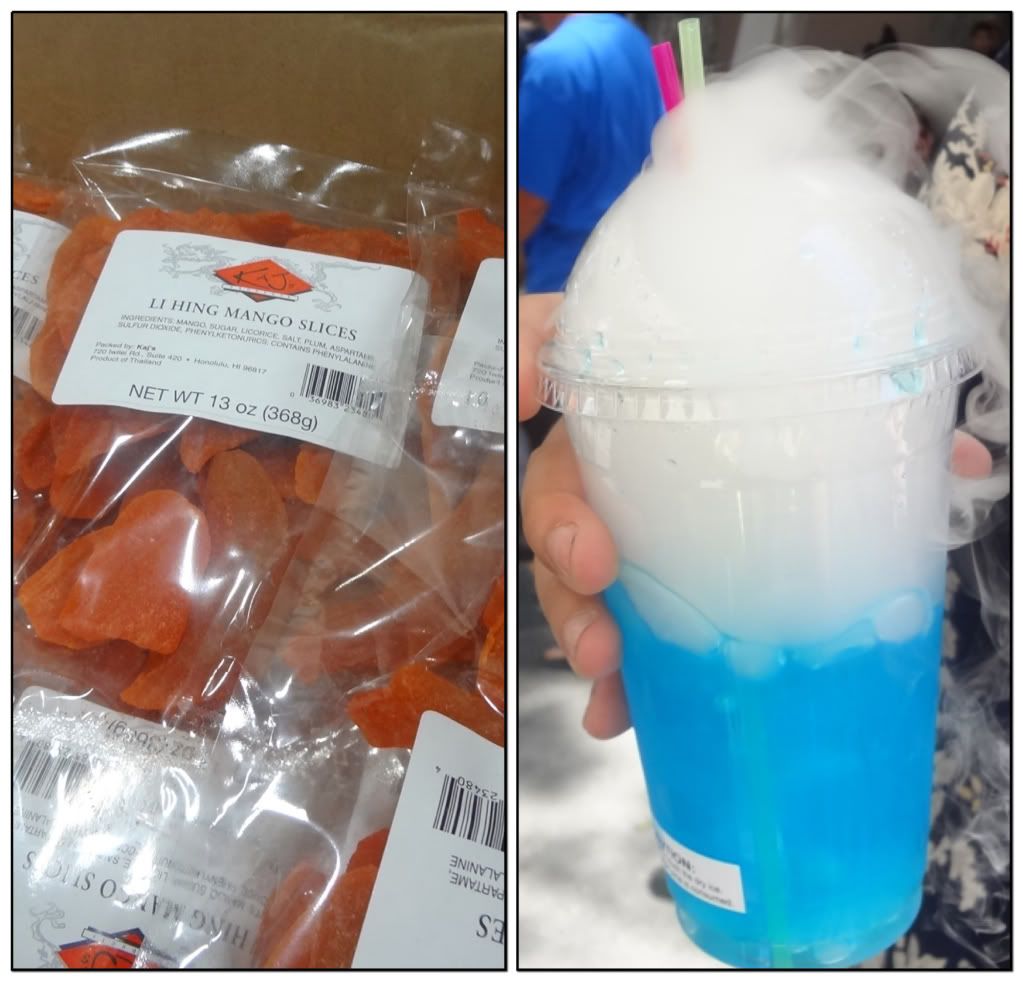 For our plate lunches, I went for the lau lau which is a pouch made with tea and taro leaves that is stuffed with pork and fish. Alongside came macaroni salad and rice which I splashed with shoyu and ponzu.


Keat is a big boy so he got a plate of kalua pork with rice and noodle soup. I stole his tomatoes. They were just like how Inang made them. He then got a plate of pancit, pork adobo, and lumpia.
For desserts, we spoiled ourselves with shave ice (mine was with soft serve), Plumera Flours' caramel bacon popcorn called the "Kalua Pig" mix, and sugary malasadas!
At home, Jayla and I shared a SPAM musubi. If you subscribe to
my channel on Youtube
, check out how she "enjoyed" it.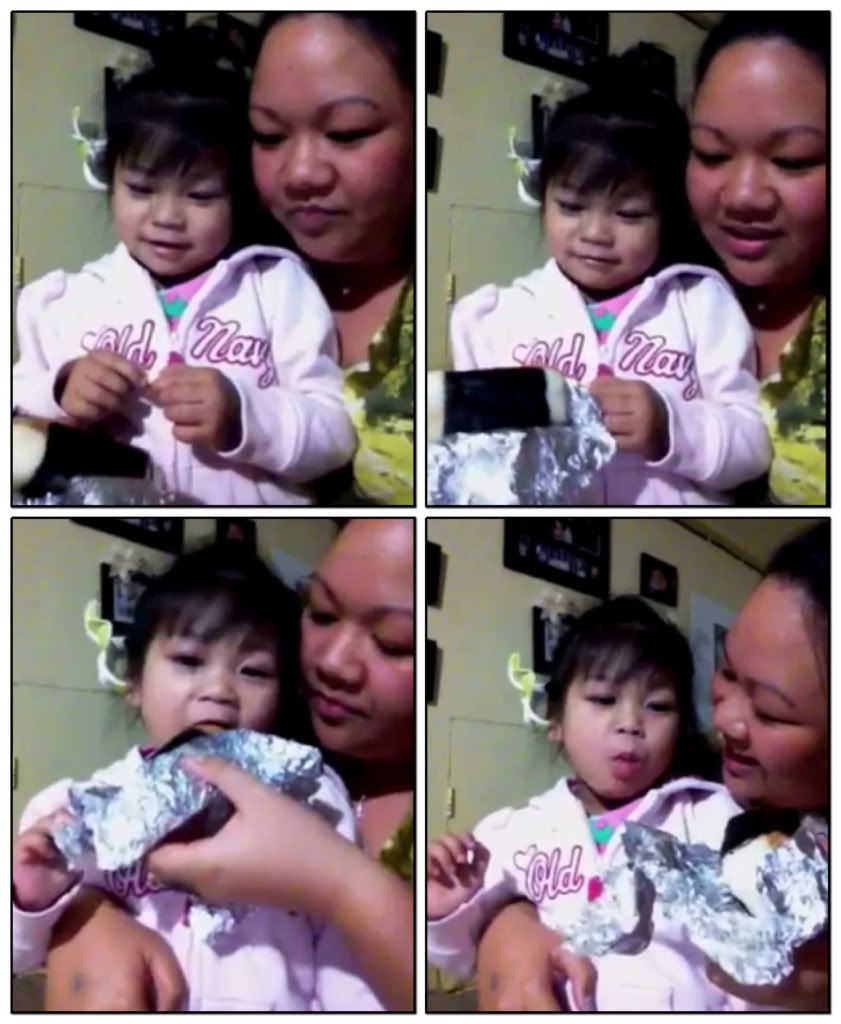 Hanging out with his mom, dad, sister, and [hopefully soon-to-be] sis-in-law was so much fun! I love them to pieces! You hear that KwanHull Familly?
I LOVE YOU TO PIECES!!!
I just think him being there only made him more excited about his trip! I'm just jealous. I wish I was there to eat Giovanni's shrimp, Matsumoto's Shave Ice, and all that glorious seafood! I'm crossing my fingers that we go in the Fall. Looking at the fares on Hawaiian Airlines for October and it's very very tempting!
Like I said, the travel bug has bitten me extra hard this year! I am purposely trying to do something special during the even months of the year. For example: February went to Seattle, April went to NYC/BOS, June I am staying put in SF because Cousin Star and I are going to eat as much foie gras as we can before that [horrible] ban that takes effect on July 1, August I am thinking Nawlins (New Orleans), October Hawaii, December idk yet but it has to be special for our wedding anniversary.
We shall see. My motto is "make your happiness happen." While Keat is getting lots of grief from me because I am not with him, he is making his own happiness happen for himself and I love him for that!
Come back soon, my love!
xoxo,
Jo
ps: I am posting this from my iPad, so I apologize if the pix are different sizes and are out of order. I will fix it once I get on a real computer. I still can't find a decent blog post app. Lemme know if you know of one!