Talk about getting so deep in a book (actually 3 books) and leaving no room for any social life and networking.
I started reading the 50 Shades Trilogy about a week ago. I started reading it because I've become bored! Blogging has become stagnant and work is a drag. Knowing my husband would be away on vacation, Hawaii no less, I had to do something to "spice" things up.
I'm not going to give away too much about the plot, but the "protagonist" Ana is enchanted by hot and steamy billionaire Christian Grey. Anything can happen when one has ridiculously obscene amounts of money giving the author basically free range on what they can write.
All I can say is that Ana is an idiot. She annoyed the crap out of me. The beezy doesn't eat and she doesn't know ish about food. Christian, where were you when I was 21?
Okay okay, I kid. I am just jealous. Something must've been good in the book to keep me reading, right?
The book is set primarily in the Pacific Northwest and it was nice to hear about Pike Place and Puget Sound since I had just visited in February.
Okay okay, I'll get to the point: there's sex in it. And lots of it.
For those who've read the trilogy, you know. Character development is also important and I was pleased...even though I knew I wanted to slap the crap out of the main girl.
She always says "I'm famished" when she's hungry. Maybe I'll start doing that too.
***START EDIT - added 6/5/2012:
I created a Pinterest Board of all the food mentioned in the trilogy. Click the image below to access it: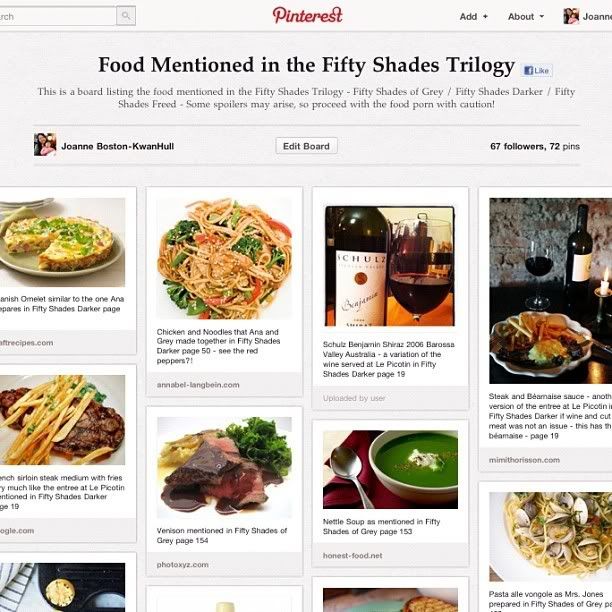 END EDIT***
Would I recommend this book?
It depends, if you're one who used to flip through your mom's romance novels straight to the lovemaking parts, then you might like it. Because the bastard is so rich, I was hoping for more food references, but that's just the foodie in me, I suppose. I was annoyed by the repeated phrases throughout the whole trilogy. I never want to read "gape" or "mercurial" or "bile rising up to my throat" ever again.
Besides that, I forget the last time I was so enchanted with a book series since The Babysitters Club...
...the again, Christian was incredibly hot in my mind. I kept picturing the guy who plays Dex in "Something Borrowed" or Grayson from "Drop Dead Diva" portray him. As for Ana, I kept seeing Anne Hathaway in that Princess Diaries way. I can't wait to see who plays them in the movie!
Other than that, my family is supposed to be going to Chuck E. Cheese today for Jayla's birthday! We went to Sutro's at the Cliff House yesterday for lunch. It was very nice.
Until next time, I'm famished!
xoxo,
Jo
She's a foodie in training! Gotta start em' young!