Hi everyone!
I hope you are having a great weekend! A week before yesterday, the 21st of January, I was one of five judges at the
2nd annual Kulinarya Filipino Cooking Showdown
at the Carnelian of the Bay Restaurant organized by the Philippine Department of Tourism.
The goal of this event is to promote Filipino food. Perfect for me, right?!
It was an honor to be included in an esteemed group of people as one of the five judges. In my eyes, I'm just your everyday blogger. Nothing special. My fellow judges, on the other hand, are extraordinary people who are making an impact in the culinary industry.
Find out more about them
HERE
. Notice I am the only one without a professional headshot?! LOL! Joke lang.
Before moving on, let me explain the process of how the 6 competitors got to this point. Last Fall, a semi-final was held in Milpitas, California. The top 3 cheftestants each from the amateur and professional divisions came here to San Francisco to compete for the top prize: bragging rights and round trip tickets to the Philippines. While no live cooking was done at the semi-final, the contestants would be cooking 4 courses in front of a live audience in San Francisco.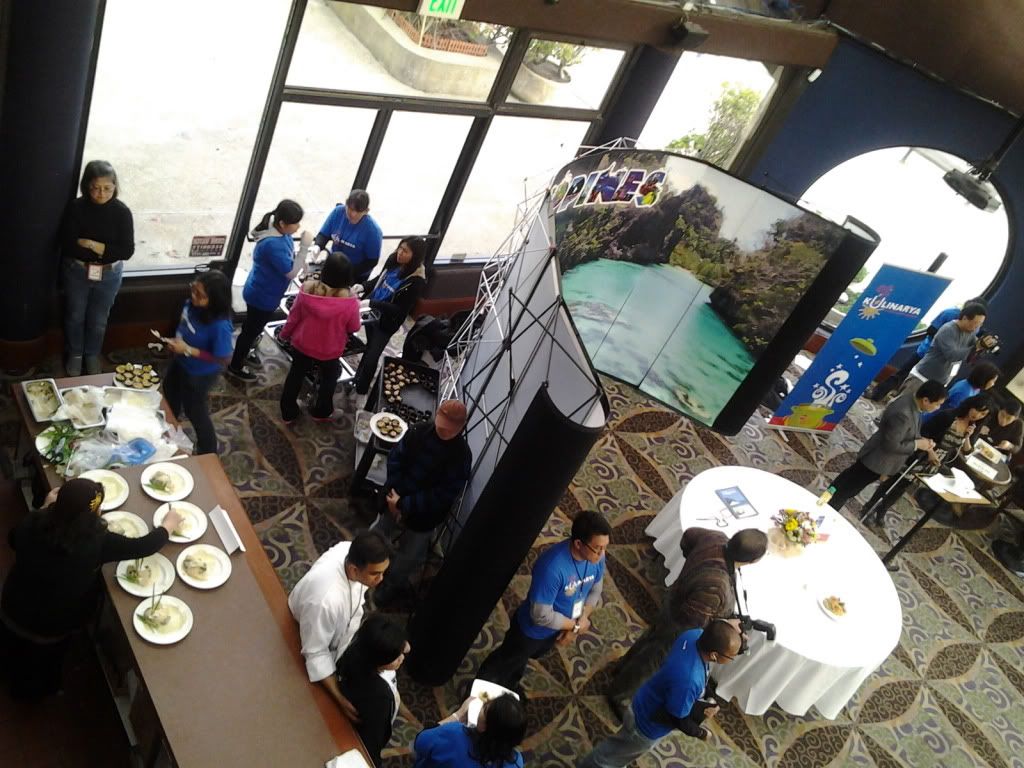 Kulinarya is not only a cooking showdown. It is a full-on event spectacular. To start the event off, a pili nut cooking contest was held. The public was invited to bring a homemade dish featuring the pili nut, which is found in the Bicol region of the Philippines. The winner got a ticket from Manila to Bicol where they would go on a food excursion.
The next portion of Kulinarya is the Filipino food bazaar. Local Filipino vendors, restaurants, and carefree had the opportunity to showcase their goods at a designated part of the restaurant.
See my friend
Fer's photos HERE
. Please go to his site! Because I was judging, I was too full to try anything from the food tastings so I didn't take any good pictures. Fer's photos are great.
The main event, however, was the showdown. Franco Finn, the Golden State Warriors' Hype Man at Oracle Arena, was the event's emcee. He is FABULOUS!! The amateur division was up first.
The contestants were Gloria Ramos, Arlene Nunez, and Jerick Figueroa. All cheftestants, both amateur and professional, had to prepare an appetizer, their choice of entree, an adobo dish, and dessert.
- Amateur Division - Jerick
, who is only 19 years old, cooks better than majority of the people his age.
Starter
: Lumpia Salad with Banana Ketchup "Dressing"
1st Course
: Oxtail Kare-Kare
2nd Course
: Chicken Adobo served with Taho
Dessert
: Ube Sans Rival with Crushed Macadamia Nuts.
Arlene
, a mother of two from Union City, had heartwarming stories that paired with her dishes -
DIVISION WINNER
.
Starter
: Vegetarian Fresh Lumpia made with French Crepes
1st Course
: Authentic Filipino Kare Kare
2nd Course
: Savory Adobo Banh Mi
Dessert
: Taste of the Philippines Sampler Trio - Mini Coconut Pandan Sans Rival, Halo Halo Custard Cake, and Brazo de Mercedes Cupcake.
Gloria
was certainly the life of the party who danced while she cooked.
Starter
: "Bukid sa Nayon" - Tomato Salad with Corn, Avocado, Salted Egg
1st Course
: "Marikit sa Paningin" - Kalabasa Soup with Shrimp and Vegan Afritada
2nd Course
: "Sinaplutan na Adobo" - Spicy Chicken Adobo Lettuce Wraps
Dessert
: "Malingat na Pagnanasa" - Layered Pili Nut Cake Dessert
- Professional Division -
I already had mad respect for
Chef Kristela Mendoza
because 1) she is a female of minority in a male dominated industry and 2) she competed at the first Kulinarya. This lady has skill, for sure.
Starter
: Green Mango Salad with her Grandma's Special Bagoong
1st Course
: "Shusig" - Sisig and Rice Sushi Rolls
2nd Course
: Pork Shank Adobo Osso Bucco with Truffled Tomato Salad
Dessert
: Pili Nut and Plantain Fritters
Because I did now know much about
Chef Albert Rivera
prior to the contest, I was very intrigued with what he was going to present. One this is definite: he sure impressed the judges. I hope he gets recognized more in the community after this competition -
DIVISION WINNER
Starter
: Shrimp Okoy with Calamansi-Ponzu Sauce
1st Course
: Deconstructed Chicken Afritada
2nd Course
: Adobo-Braised Pork Belly
Dessert
: Deconstructed Halo Halo
I have been a fan of
Chef Tim Luym's
since the Poleng Days. I knew for sure he was going to deliver fantastic food.
Starter
: WOW Quail Egg Sushi Silog Bite and Tomato Water Sinigang
1st Course
: Drunken Lengua Estofada with Assorted Mushrooms
2nd Course
: Crispy Oxtail Adobo Bulalo with Bone Marrow
Dessert
: TCHOkolate Champorado and Ice Cream topped with Salted Fish Flakes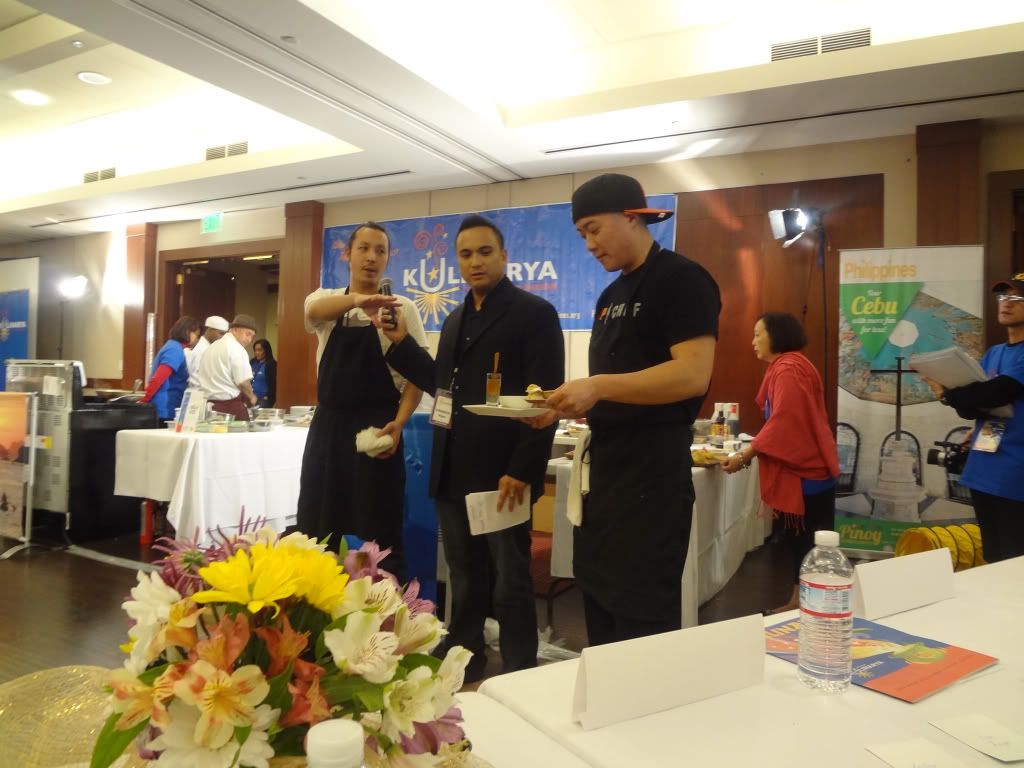 Real talk - judging is a lot harder than it looks. Yeah, we got to eat some incredible food, but it certainly was difficult to critique especially when everything was absolutely delicious. With Arlene and Albert as the winners, I am looking forward to seeing where Filipino food is going. Each chef brought their A-game to the table and it truly was difficult to pick just one winner in each division.
Another thing I realized upon leaving the competition was that we, the judges (and lucky spectators behind us) were the first and quite possibly the last people to taste these dishes. Who knows if the chefs will ever make their entries again. MAYBE (hint hint nudge nudge cough cough) the chefs in the professional division can have a special night in their restaurants where they serve what they cooked at this competition? Here's to wishful thinking! I would absolutely love it if I had another opportunity to have those entrees. They knocked my socks off.
Pork belly, bone marrow, and truffle all in the same course?
Sinful.
TRUTH: at the end of the day, my decisions were made based on flavor and presentation. You should be able to give a dish to a blind person and have them tell you it's Filipino. I am not blind, so presentation was important also. BUT! BUT! BUT! The presentation is nothing if the flavor is not there. The dish could have looked like a million bucks, but if something was lacking, the whole dish would suffer in my opinion.
Did I just contradict myself there? Haha, trust me, though I am trying to simplify my judging process, it was very hard to score the dishes. Very stressful knowing you don't want to disappoint anyone...but it had to be done.
If you missed out on the action, here are Henny Espinoza's reports for news show "Balitang America" on The Filipino Channel. The first one was of the actual competition held on the 21st and the following two feature the winners of the amateur division (Arlene) and professional division (Albert). Enjoy.
xoxo,
Jo
PS: The pictures in this post don't do the dishes justice. I will upload them to Facebook soon!