Last Wednesday, I received an invitation to attend the SVEDKA Summer Crawl in SF's Marina district hosted by
Gilt City
. 4 bars. 4 bites.
SVEDKA
is a vodka brand from Sweden. You probably have noticed their ads with the sexy robot. Uh-huh. Have I ever mentioned that I love vodka? I really do, so this was going to be fun.
I seldom come to the Marina. Though it is only a 5 minute drive from work, it's the opposite direction of home. That only made this excursion to the Marina a little more interesting. I have to admit that I am very unfamiliar with this area as I have dined more on Chestnut Street. Union Street is another story. I immediately fell in like with it. Love? Not yet.
Come on. This was only our first date!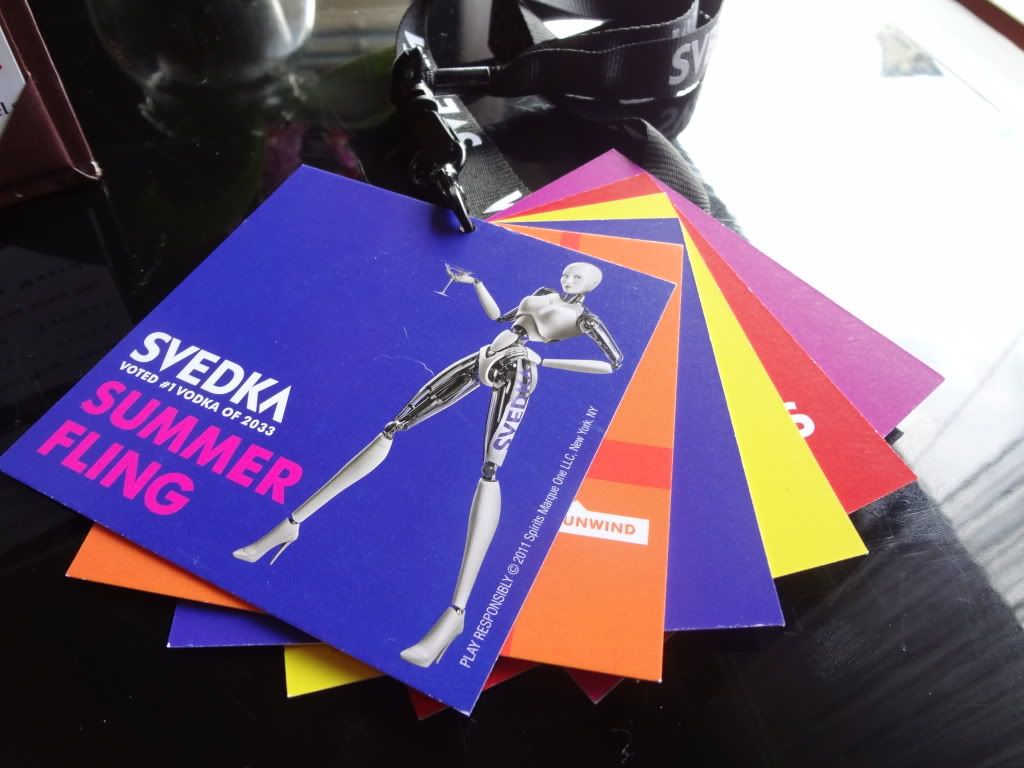 Our Entry Passes - Note the Sexy Robot
My Cousin Star and I started at OSHA Thai where we were given our passes. It was a great idea where you just unclip the pass to the designated bar and hand it to the bartender. Each pass was a different color which also indicated what type of vodka the bar was going to use.
Stop 1 - OSHA Thai on Union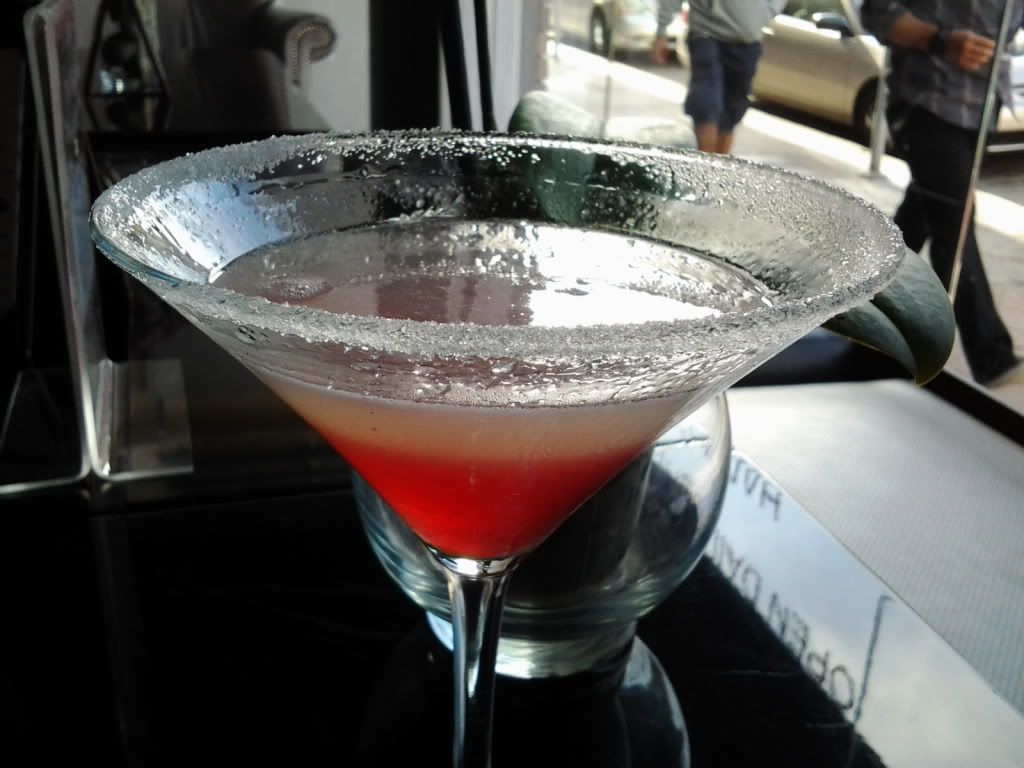 The "Lady Gaga" at OSHA Thai
SVEDKA Raspberry, Fresh Lemon, Triple Sec, Drop of Chambord
Great, fun cocktail especially with the sugar-rimmed glass. Star and I are major Gaga fans, so you can say we were tickled by this one. We have both been to OSHA in the past, but never had happy hour there. That's going to change.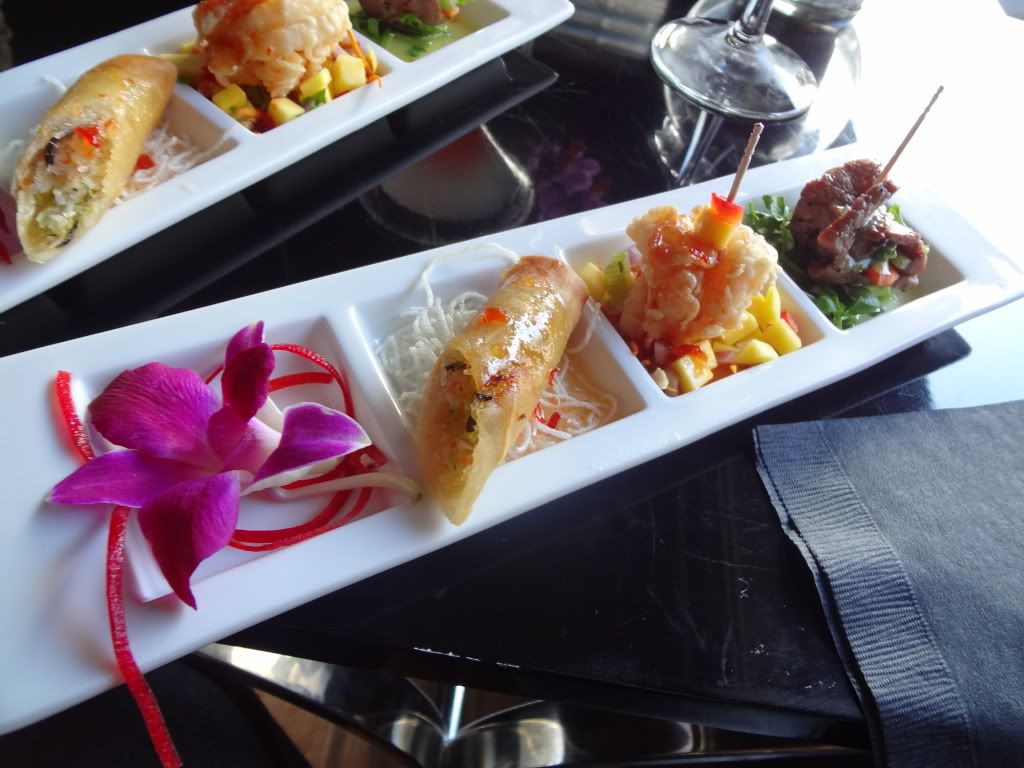 Veggie Roll, Mango Prawns, and Wasabi Beef Roll at OSHA Thai
Each plate of food for each guest was gorgeous with the purple orchid and the details with each bite. My favorite was definitely the prawn. It was lightly battered and fried. Went perfectly with the slightly tart mango.
Stop 2 - Cafe des Amis
Swede Cherry Spritz
SVEDKA Cherry, Peychaud's Bitters, Lemon, Pineapple, Lemon-Lime Soda
Café des Amis was next and were excited to try some French fare. The drink was very light and easy to drink. Very nice. Let me say here that the room they hosted us in was absolutely gorgeous with the beautiful chandelier in the middle of it. Perfect for a private dinner. My favorite venue space out of the four right here.
Duck Rillettes & Chanterelles à la Grecque at Café des Amis
English? Well, Franglish…duck crostini with pickled chanterelle mushrooms and cornichons. The vinegar from the vegetables cut the richness of the duck. The only complaint is that I wish we could have had seconds.
Stop 3 - Perry's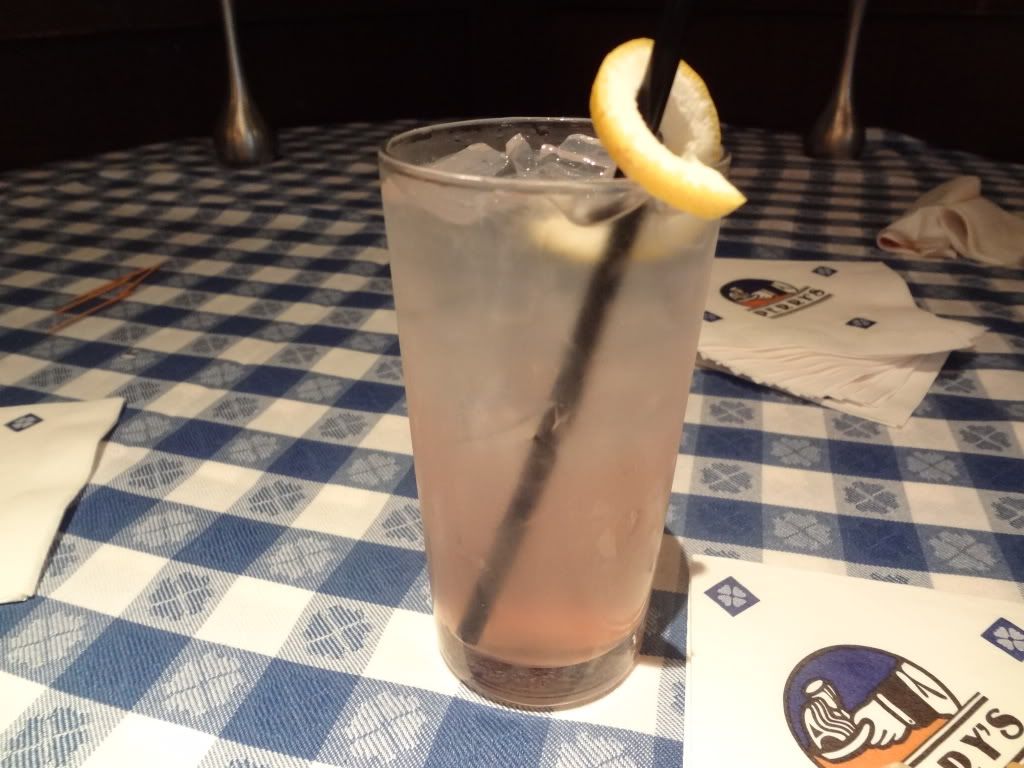 Sparkling SVEDKA Pink Lemonade
SVEDKA Citron, Soda, Splash of Cranberry, Sweet & Sour, Triple Sec
This is a drink I can get in trouble with if I had enough. Had the flavors of the classic pink lemonade, but I knew there was something extra in there once my cheeks felt flushed.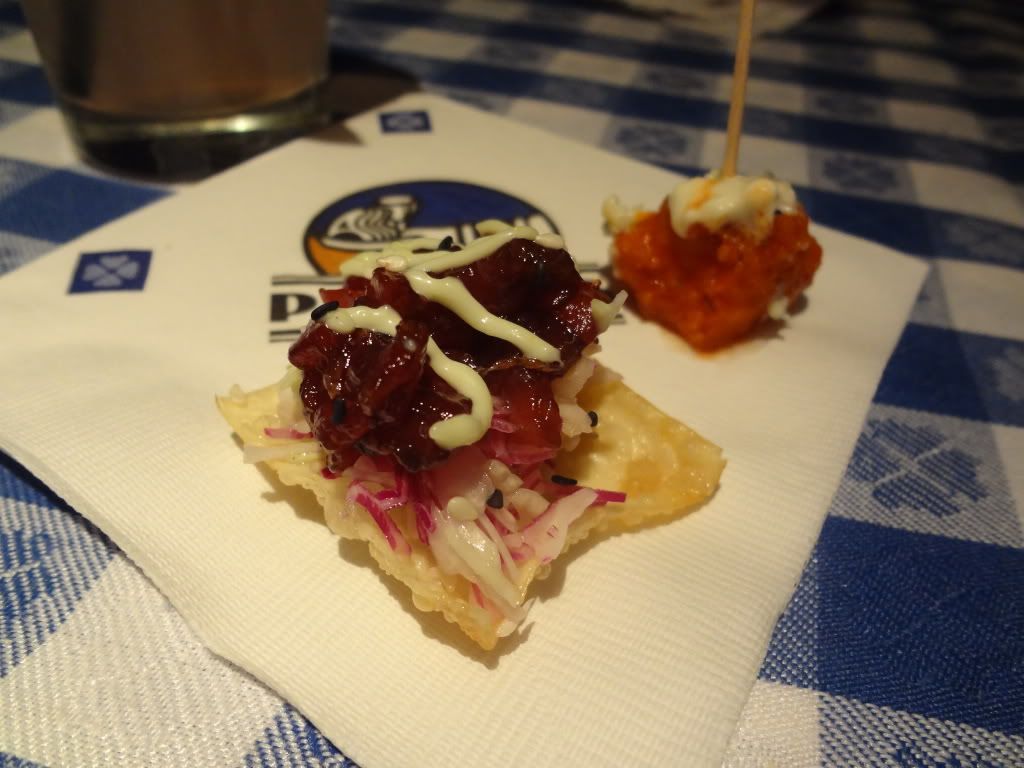 Foreground is a Mini Ahi Tuna Taco and
Background is a Buffalo Tender Bite at Perry's
What I liked is that we got seconds on all the bites here. The ahi tuna was seasoned well, though the chip was a little delicate. Ask my guest who dropped her's. Poor Star. The buffalo bite was full of spicy flavor and nice tang from the blue cheese sauce.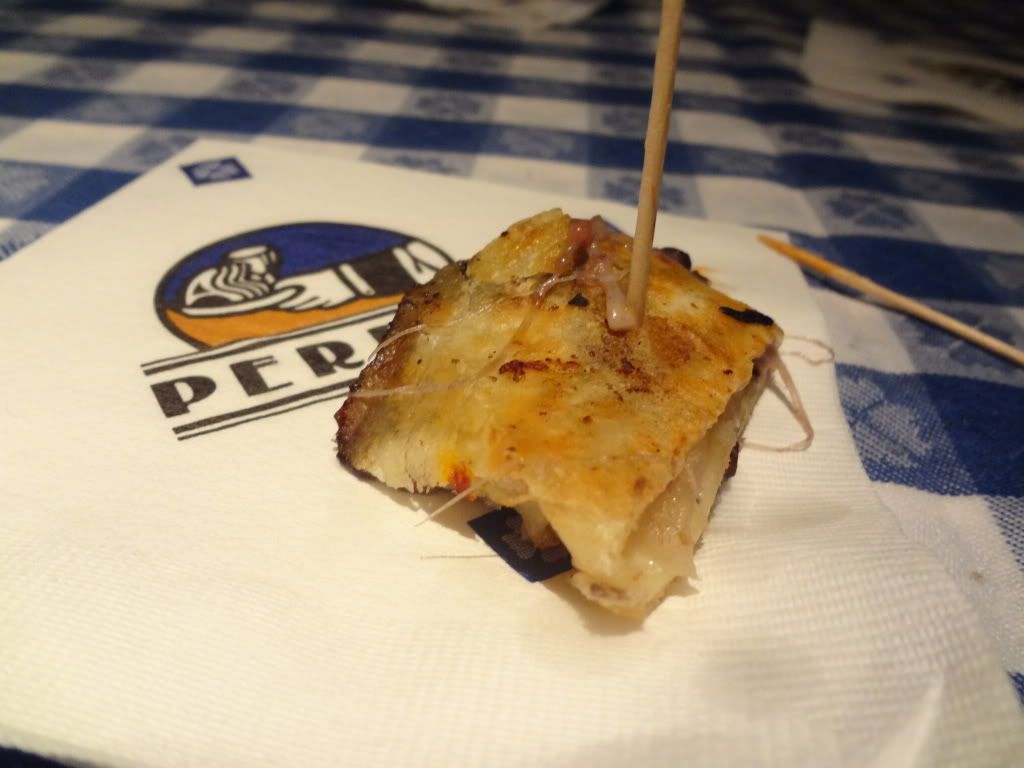 Cheese Quesadilla Pinwheel at Perry's
I would love to come back here to hang out during a Giants game. I can already tell the husband would love these quesadillas stuffed with cheese and vegetables.
Stop 4 - Unwind
Screwhound
SVEDKA Vodka, Fresh Orange Juice, Fresh Grapefruit
By this time in the crawl, I was getting full…and slightly buzzed. Good, classic drink. Would love this during brunch. What I noticed as I was going to freshen up in the CR was that they have a poppin' dining area in the back. It looked so festive with the holiday lights on the rafters. Gotta check it out one time!
Signature Thai Stick Spring Roll and the New American Skin at Unwind
I really really liked the potato here. Fluffy potato interior and the top is buttery and sprinkled with bacon and jalapeno. Delicious.
Thank you and Gilt City and Skirt PR for this fun evening in the Marina. What I really liked was that each location had representatives there to welcome you. I also enjoyed that you can move at your own pace. I have been to a few crawls where the whole group has to arrive and leave at the same time. This frustrated me especially when I didn't like the place or if I did enjoy the place and wanted to stay longer. This is definitely something I would do again. For ticket-buying guests, the price was only $30! What a bargain. Normally a cocktail would go for $8-$10. Here you got 4 drinks and 4 sets of awesome bites to try. You get a taste of the Marina for very little money. Can't beat that.
Union Street, when is our second date?
xoxo,
Jo
Published with Blogger-droid v1.7.4