Shop:
House of Silvanas
Address:
2055 Gellert Blvd, Suite 3, Daly City, CA
Phone Number:
(650) 878-8700
Cuisine:
Filipino desserts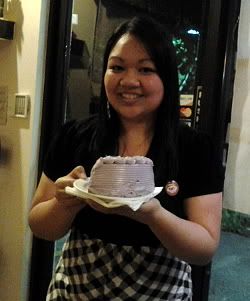 Oh, what a lovely cake you have there, Jo. Ain't it purty? It's one of my favorite cakes made with "ube" - a purple yam.
For my birthday this year in March,
we did a #FILdishcrawl at Sinugba
and for dessert, we had Crissy from House of Silvanas bring us some awesome sweets from her family-run bakery just two doors down. The ube cake and ube silvanas she provided wowed the crowd…what was that?
You've
never
heard of a silvana before?
Don't feel bad, I'm Filipina-American AND this shop is about 2 driving minutes from my house, and the first time I had one was probably summer 2010. Yes. I hang my head in shame.
The Silvanas Are Kept in a Cooler to Keep the Buttery Filling from Melting
What Crissy calls "the baby version of
sans rival,"
a silvana is cookie sandwich of two meringue wafers (made of egg whites and ground cashews) hugging a layer of buttercream that is coated with fine cookie crumbs. You can actually see the "sans rival" in the picture. It's in the box on the right of the silvanas. The silvana can be described as the "Filipino macaron," with the main differences being the silvana is made with cashews instead of almonds and that the silvana is kept cold. I remember the first time I had one. I was amazed that 1) it was just so good and 2) I had never had one before. How was this just 6 blocks from my house and I hadn't made the trip here before? Honestly, the shop is in a funky area that cannot be seen easily from the road. If you get lost, don't give up! These are worth it!
Tower of Silvanas
Top: Strawberry, Middle: Mango and Ube, Bottom: Buko-Pandan and Original
I was actually tickled that
Jon Kauffman of SFoodie wrote about these addicting desserts just a few days ago
calling them "magical." They are indeed addicting...and magical. Once you taste one flavor, you want to try the next and the next. My favorite flavors are most definitely the buko-pandan (green) and ube (purple). Those two are probably the most "Filipino" flavors on the list which also includes strawberry, mango, mocha, chocolate, and the original cashew. I love these things. The lightness of the meringue paired with the cold buttercream is perfect. Sometimes I let them thaw out a bit so I can lick the buttercream. Either way, they are awesome. I am just waiting for the moment they just blow up in the atmosphere and people are RUSHING to House of Silvanas. There is no other place in the Bay Area like it! This is a gem in the rough. A needle in a haystack. Look for it! You won't be sorry. After all, there are other things you can grab at House of Silvanas, like their…
Lenguas de Gato!
"Cat's Tongues"
These have got to be the lightest cookies I have ever had. These crisp and buttery cookies just melt in your mouth. You can easily eat the whole container, but imagine how good these would be with some vanilla ice cream or a cup of creamy coffee!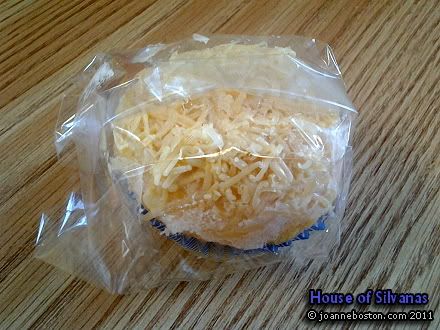 Ensaimada Ready to be Ravaged
I love Crissy's bakery because everything has butter in it. An
ensaimada
is described as "A sweet brioche that is incredibly soft, light and luscious. Topped with butter, sugar, and grated cheese." Now doesn't that sound irresistible? These, too, melt in your mouth and is perfect as a snack or after dinner treat. Just inhale and it's gone. Have one…or two…
Oh No, She Di-Int!
Photo by: Ivan Marcin
Yes, I did. I just remembered about a photo shoot I did last year with
Ivan Marcin
and
Amethystlune
. The "models" were asked to bring their favorite food. I brought some of the treats from House of Silvanas because I was hooked with them at the time. Here I am with the yummy
ensaimada.
Posing with Delicious Black Bottom Cupcakes
Photo by: Sandra Rosa of Amethylune
Black bottom cupcakes aren't terribly Filipino, but they are hot-sellers at the bakery. The chocolate cake is baked with a decadent cheesecake-like layer on top and sprinkled with your choice of walnuts or chocolate chips. I'm partial to the chocolate chips, as you can see.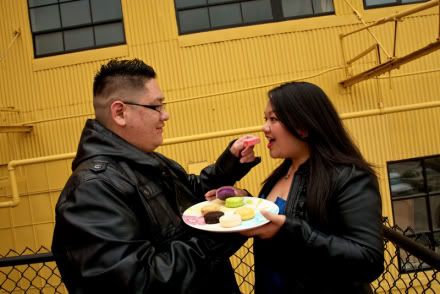 The way to your love's heart is through their stomach…
Photo by: Ivan Marcin
This is one of my favorite pictures ever. Pretty self-explanatory. During our session, a couple of the other models tried the silvanas and they said they "crack."
I concur!
Straight crack.
Do yourself a favor and go to House of Silvanas, find Crissy (You can't miss her. She is friendly and bubbly and ready to answer any questions you may have.), order a dozen assorted silvanas, and peruse the next case over which houses the ensaimada, cupcakes, and brightly-wrapped candies like "Food for the Gods," polvoron, and mango bars. If you have the time, order a layer cake for next week, like my ube birthday cake or even the "honey cake," so that you can come back and do the same regimen you just did.
Trust me. =)
I am so happy we have a place like House of Silvanas in Daly City. It is truly unique and hits the spot each time!
xoxo,
Jo