Hi everyone!
If you haven't been to one of our
Dishcrawls
, what are you waiting for? Before I go into the next one coming up on Thursday, the 24th, I want to just touch upon the last one we had in January.
Dishcrawl #3
was at Mercury Lounge and Chef Dom was brave enough to ask me to help him in the kitchen. The day before and afternoon of the dinner, Bub and I went to Mercury to help prepare a few of the courses, including the "ukoy" and TOCINO TRUFFLES! "Tocino" is sweet cured pork from the Philippines and it is usually served at breakfast. Say the word "pork" and most people start smiling. Say the word "chocolate" and they start drooling. Say the term "pork with chocolate" and people go nut-so.
This whole thing started as a Facebook status turned big opportunity to make gourmet desserts. Chef Dom taught us how to make these salty sweet treats and they are beyond easy! As you will notice, I am not giving specifics on measurements. Why? I hate measurements.
Ingredients:
- Good chocolate
- Heavy cream
- Philippine sea salt
- Cooked and minced tocino
The trick is to weigh out the chocolate and heavy cream equally. Example: 12 ounces chocolate? Pour out 12 ounces of cream. Make sure you 0 out the scale with the container on it. After you measure out the chocolate and cream, heat the cream just until it starts to boil. Immediately take it off the heat as it will boil over if you don't...it happened to us. Lesson learned.
We tried making the truffle mixture in two ways:
1) Melting the chocolate once over a double boiler and adding the hot cream
2) Adding the hot cream to the unmelted chocolate chips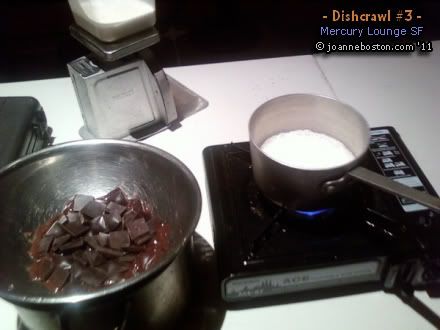 We liked the 2nd method more as the consistency smoother. We stirred the cream and chocolate until thoroughly combined, poured the mixture in a shallow sheet pan, then sprinkled on the minced tocino and sea salt. Add as much meat and salt to your liking, but make sure to let each ingredient shine. Plus who wants extra salty chocolates? THEN CHILL! It will be the longest couple of hours of your life. If you're impatient like I was, stick it in the freezer.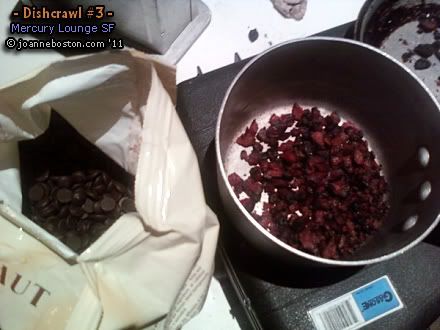 Once the mixture is set (not hard), put on some gloves (trust me, you want the gloves), take out a cookie scooper (for uniform-sized truffles) and ingredients to roll them in. We used cocoa powder and graham cracker crumbs, and I've also seen powdered sugar used. Voila! Truffles! Now wasn't that easy?!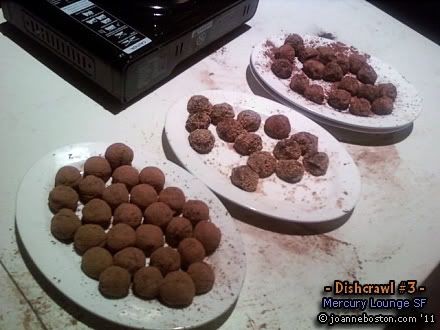 I apologize for the lack of pictures as they are difficult to take when you have cocoa powder all over your hands. My friend Arnold of Inuyaki took some great pictures of the meal,
take a peek here
!
It was so great to see and hear the reaction of the diners when they ate the tocino truffles. If only they knew how easy they are to make!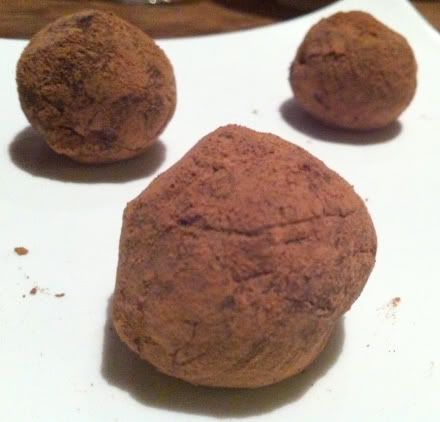 Photo by Arnold of Inuyaki
Here is a video recap of the 12-course dinner produced by our lovely videographer
Dianne Deguzman
:

Filipino Dishcrawl at Mercury Lounge from dishcrawl on Vimeo.
If you like to read, here is the
recap that Tracy Lee wrote
as well as
Dishcrawl's Facebook album
.
Here is
the SF Weekly piece
that
Jun Belen
wrote. BTW, have you seen Jun's blog? It's one of my FAVORITE blogs of ALL TIME. He writes beautifully and his photographs are breathtaking.



Tracy, Chef Dom, and myself


Photo courtesy of Dishcrawl
Thank you to everyone who made the night possible, especially Tracy, Chef Dom, and my husband Keaton. It was quite a rush in the kitchen and I had a great time!
**************************************************************************************************

Dishcrawl #4 at Intramuros is coming fast
on Thursday, February 24th!

Don't fret, there is STILL time to get your tickets!

CLICK HERE NOW TO RESERVE A SEAT!

***************************************************************************************************
Dishcrawl #5 at ???? on ????
Tracy and I are currently scheming with a great restaurant on the Peninsula. Want to find out where it is? You're just going to have to attend the Dishcrawl on the 24th to get your answer!
Dishcrawl has certainly grown in the last few months. We are hitting up New York, San Francisco, Montreal, San Jose, and South San Francisco all in one week! Call it a
GLOBAL DISHCRAWL
. It's so great to organize these types of events. How can you go wrong with food and new friends, right?!
Hope to see your gorgeous faces at one soon!
xoxo,
Jo