Now I am going to talk to you about "sisig."
Sisig seemed to come out of no where last year. Food trucks, street food carts, and even restaurants starting debuting it on their menus. What IS sisig, first of all? According to
THIS Wiki article
, sisig "…refers to a method of preparing fish and meat, especially pork, which is marinated in a sour liquid such as lemon juice or vinegar, then seasoned with salt, pepper and other spices." It is said to have originated in Pampanga, known as the Philippines' culinary mecca. Fortunately, we don't have to go all the way to the Philippines to try sisig as we have several options for us in the Bay Area to sample this wildly popular dish.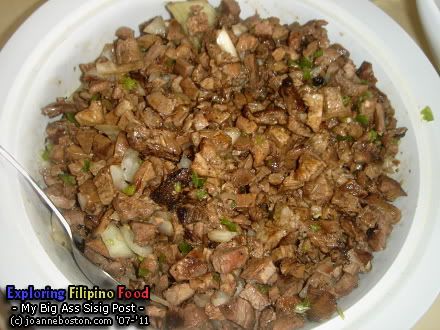 Pork Sisig
from Ongpin Restaurant in SSF
When I first had sisig years ago, it was from Ongpin in South San Francisco. It was a simple mixture of grilled pork meat, onions, jalapenos in a soy-vinegar sauce. We ordered this sisig for parties, and I thought it was the only kind of sisig out there…until only about 2 years ago when I found out there were so many different varieties.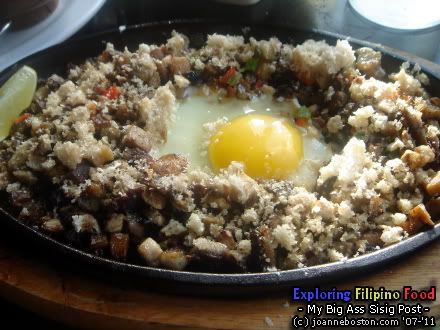 Pork Sisig with Chicharon and Egg
from the now closed Poleng Lounge in SF
When Poleng was still open in San Francisco, it was the only restaurant that served sisig made with "pork face." It was also served on a sizzling platter, so some parts were crispy, some were gelatinous, and some were juicy. The addition of crushed pork rinds and egg made it one rich dish.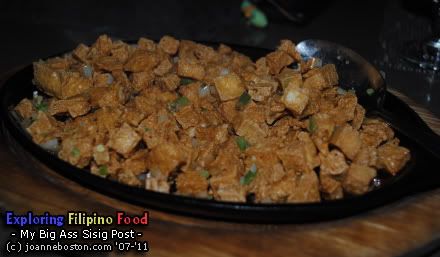 Tofu Sisig
from Intramuros Restaurant in SSF
THEN! My friends introduced me to Intramuros Restaurant in South San Francisco. This was the first time I had a vegetarian sisig, and I have been hooked ever since. The little cubes of crispy tofu are addicting and since there's no meat, there seems to be less guilt!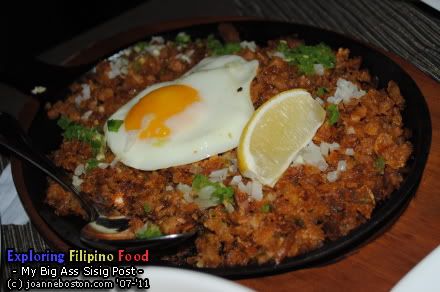 Pork Sisig
from Intramuros Restaurant in SSF
Don't worry, there is also the pork version for you purists. I loved the tiny bits of crunch left on the hot cast iron. I have also tried their "bangus" (milkfish) sisig, which is also delicious.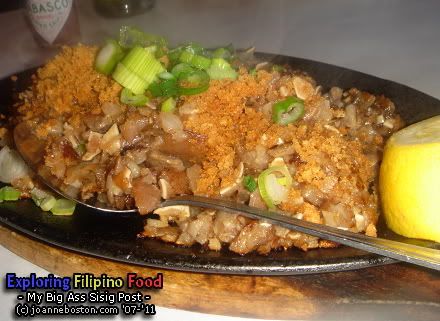 Pork Sisig
from Tribu Grill in SSF
Tribu Grill also serves a sisig made with parts of the pig's face if you'd like to be a little adventurous. There is also a version that is only made with pork meat.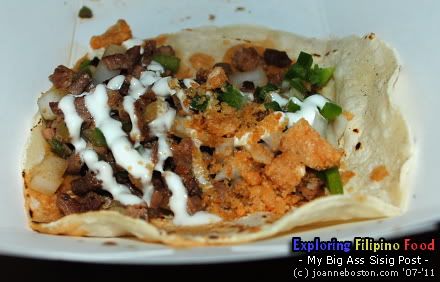 Sisig Taco
from Adobo Hobo, SF
When I saw this preparation, I was floored. Pork sisig is placed on a tortilla and topped with sour cream, chiraronnes, and jalapenos. Trust me, you cannot have just one. These were dubbed by the famous Andrew Zimmern, "food-woody"-worthy.
Pork Sisig Burrito
from Adobo Hobo and Papalote Restaurant, SF
Last December, a notice went out about a collaboration between the Hobos and Papalote. MATCH MADE IN HEAVEN. AdoboHobo's sisig in a tortilla paired with garlic rice, chicharonnes, and Papalote's famous salsa. They only sell them on special days, so keep a lookout for them.
Pork Sisig
from Attic Restaurant, San Mateo, CA
Everyone was sad when Poleng closed a year ago, but fans of the restaurant were glad to find out that Chef Tim just moved south to San Mateo's Attic Restaurant. There, you can find his pork sisig served on a sizzling platter.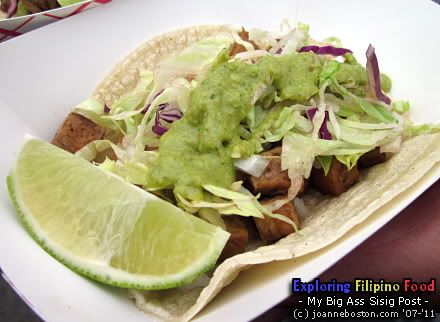 Tofu Sisig Taco
from Senor Sisig Truck, SF
When Senor Sisig opened, I knew I had to have a taste. They served a tofu sisig taco with guacamole and lettuce. Perfect for vegetarians.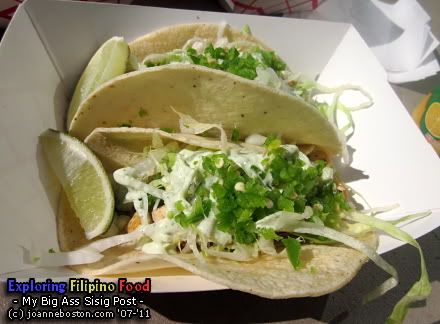 Tacos
from Senor Sisig Truck
You're going to see that we've been to Senor Sisig numerous times. This time, we had our tacos served with jalapenos for extra crunch and spice.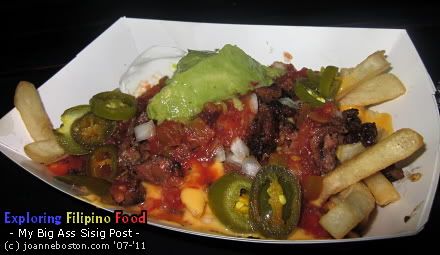 Sisig Fries
from Senor Sisig Truck
Everyone has heard of carne asada fries. If you're a fan, try the sisig fries. The grilled meat goes perfect with all the toppings and sinful French fries.
Sisig Nachos
from Senor Sisig
This is my favorite item from Senor Sisig's truck. I love the crunch of the tortilla chips as well as the chips which have soaked in the sisig marinade.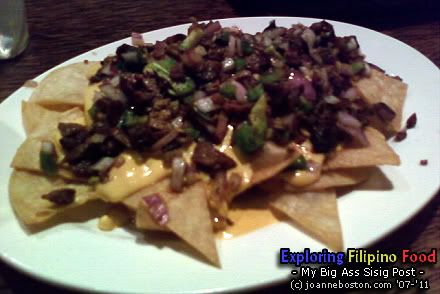 Sisig Nachos
from Mercury Lounge
Mercury Lounge also has sisig nachos and they are so good. Chef Dom had us over for a dessert tasting one night and brought these over for us. So simple and one of those things that made us wonder, "why didn't I think of that?" Perfect to have when you're hanging with your friends and having drinks and good conversation, like the one we had that night.
Pork Sisig
from HapaSF Truck
I was excited to try Chef Pilz's sisig since he had a good rep at Citizen Cake. The cubes of pork were very tasty and ideal to eat with the steamed Jasmine rice.
Pork Sisig
from JAC in Pacifica, CA
Bub and I came here when we needed some hearty Filipino food. I ordered their sisig and it was interesting to see that they had included egg in the cooking process making an almost silky finish to it. A tangy soy sauce is served for your pouring pleasure. So glad this place is less than 5 minutes from my house.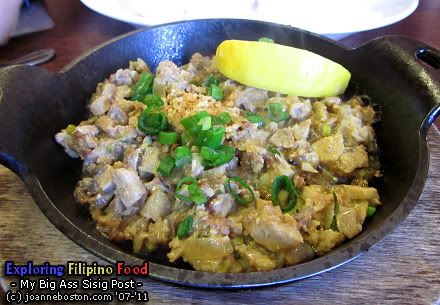 Chicken Sisig
from Tselogs, Daly City
I tried this for the first time at a party and I just had to try it first-hand at the restaurant. They only have one type of sisig there, which is the chicken sisig, and it is served with a egg-over-easy and garlic fried rice. Just call it "sisig-silog." I think I may have found my new favorite breakfast. Each diner get their own little hot skillet of the sizzling sisig. It's inexpensive and quite good.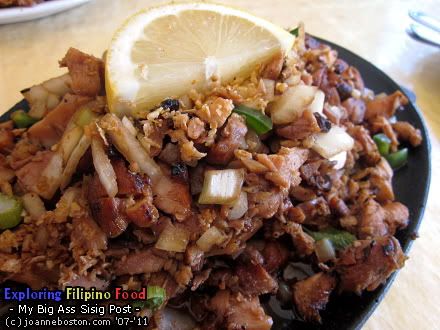 Sizzling Chicken Sisig
from Sinugba, SSF
If you have a big appetite for chicken sisig, go to Sinugba in SSF. A wedge of lemon and a sprinkling of fried garlic tops a very generous portion of it. It's great to watch the server bring it to the table. The platter is so hot that aromatic steam rises from it and the sound of popping and sizzling causes everyone to turn around and ask, "what IS that?" You can have pork or chicken, or how they suggest it: with BOTH! The pork version aka "Sizzling Augusto's Sisig" has PORK BELLY. Need I say more?
Chicken Sisig Sandwich
from Toast Deli, Daly City
When I first tried this sandwich last week, I couldn't wait to tell everyone about it. It's sisig, their housemade Hitter sauce, onions, jalapenos, and a fried egg on a soft roll.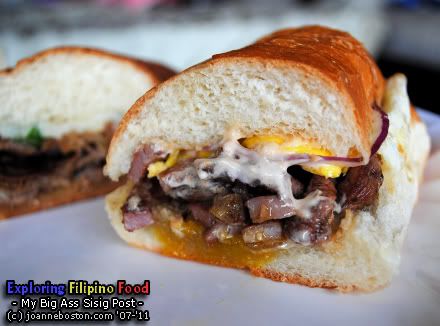 Pork Sisig Sandwich
from Toast Deli, Daly City
The combination of the luscious egg yolk and the tangy sisig is TDF! Get one today! You'll be thanking me. If you do…give me a call, I might want one, too!
Sisig is of those foods where you can put it on, in, under, over anything and it just makes it better. Whether you eat it in the traditional way with a San Miguel in hand or in a tortilla, you'll be sure to love this Philippine specialty. Enjoy!
xoxo,
Jo
PS: If you want to see how it's REALLY done,
here is a post that my friend Albert at Filipeanut.com published a couple of weeks ago
. He's currently in the PI helping with cleft lip/palette operations. Truly an inspiring guy.