Restaurant:
Straw -Carnival Fare
Address:
203 Octavia Blvd. b/t Page and Lily St.
Phone Number:
(415) 431-3663
Cuisine:
New American
Date Last Visited:
April 8, 2011
Dining Partner:
Keat aka the Husband aka @
phatpanda650
& Abe aka Lumpia Cart Guy aka @
nostalgicabe
I love trying new restaurants and I have the perfect friends who steer me in the right direction. This time it is Abe of @
lumpiacart
, but you can follow him at @
nostalgicabe
, his personal Twitter. We met almost two years ago at one of those random street food cart gatherings at Precita Park. We traded an mp3 for lumpia. (Don't you miss those times, btw?) I have been kicking myself for not posting this earlier because there is no restaurant like it in SF. Located in the City's Hayes Valley, Straw serves carnival food that kids and adults can enjoy. I pass Straw every time we drive to work, but we never stopped in until this day in April. Mind you, since this was in the Spring, some of the items in this review are no longer on the current menu, but it will show you what goodness they served then.
Believe it or not, this is the menu.
So carnival fare: it's whimsical, it's kitschy, it's fun. Don't come here if you are going to be negative. You're just ruining it for everyone. Straw is light-hearted and it wants to conjure up childhood memories or awaken the kid in you. I am a sucker for theme restaurants. Anyway that I can escape the normalcy of the outside world, I am all for. First they present you the menu - which is actually put inside an old children's book. I was lucky to get Raggedy Ann this time. The menu is pretty big, complete with apps, salads, sandwiches, and entrées.
We ordered a few appetizers, starting with these
Sweet Tots.
They are served with a
blackberry bbq sauce
which was absolutely fantastic. A bit sweet and a bit smoky. Whenever I think tots, I think of Napoleon Dynamite or Mercedes from GLEE. They like the ordinary potato tots. Have you had sweet potato tots? They are addictive.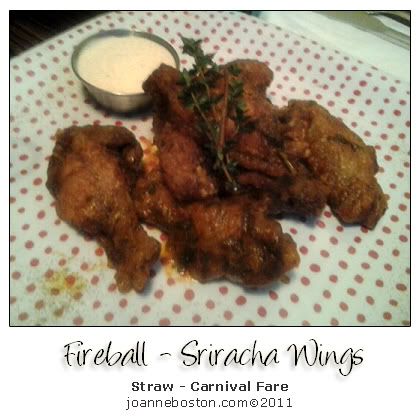 Next came
Mary's Free Range Cinnamon Sriracha Buffalo Wings
served with a
Cinnamon Cream
. Before I go any further, I love LOVE the quirky names they gave the dishes. Like this one, for example, fireball. Fireball from a fire eater? Ah-ha! Liked the spice from the chili sauce and the warmth from the cinnamon. Great rendition of the classic buffalo wing.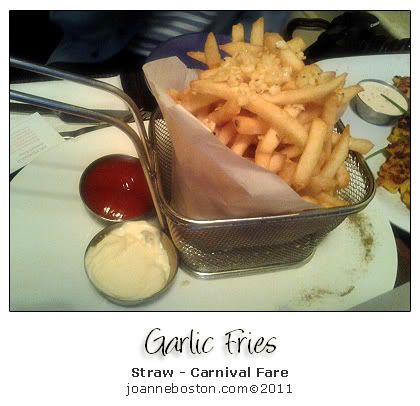 Garlic Fries - can't go wrong. They were indeed tasty, but I adored the presentation in the little fryer basket! It was too cute!
Abe suggested we get the
parmesan corn fritters
and I am glad we got them. It is served with a
cayenne crème fraiche
which is nice because there was a sweetness to the corn and the spice from the dip complemented well. My only critique was that I wished they were a bit more on the crisp side because they were a little gummy.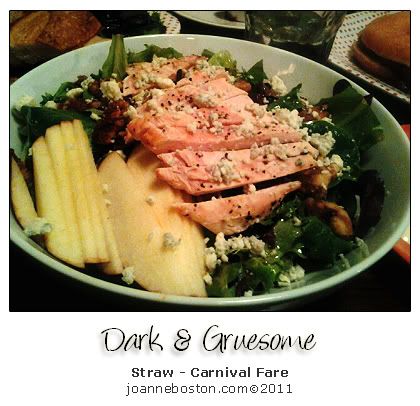 Yes, I was the wimp who ordered a SALAD at a carnival restaurant. I am going to explain why I did in a bit, but when I got the salad, I didn't see anything "dark and gruesome" about it. It was actually quite refreshing and tasty. Mixed greens are tossed in an apple cider vinaigrette and sprinkled with bleu cheese and caramelized walnuts, then topped with sliced apple, Niman Ranch maple-glazed bacon and Mary's free range chicken. Yeah, there is a lot going on in there, but I like it. You got the tang from the dressing and the cheese then the sweet from the fruit and nuts, and then the "aminal" from the chicken and bacon. If you can take what Joanne thinks of the perfect salad in her head, you would get this. Shoot, is there a MIND-effin'-READER in this restaurant? LOVE. The portion is ginormous too. I didn't even finish it!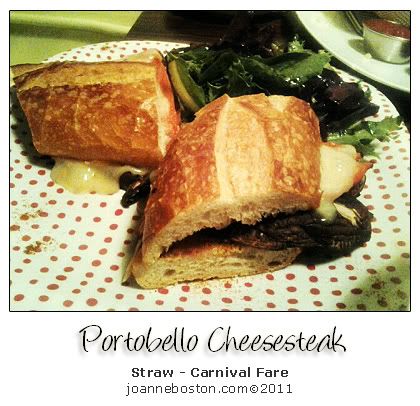 Abe ordered the Portobello cheesesteak which looked like a winner. I didn't get to try it because I was getting too full, but they have great options for vegetarians or for those who just want to skip the meat. It's served how a Philly cheese steak would be served - with peppers and cheese on a roll.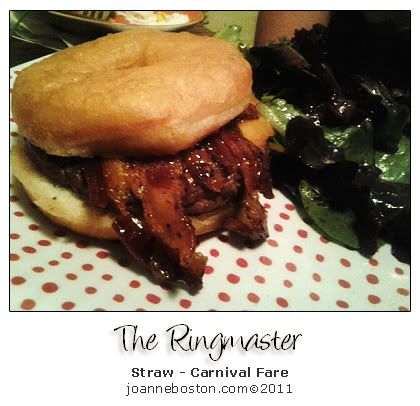 Here we go…ladies and gentleman, boys and girls of all ages…this is
The Ringmaster
. The computer screen ain't tryin' to fool you either. It is a
Niman Ranch chuck burger with cheddar on a house-glazed donut
…to add insult to injury Keat opted for some maple-glazed bacon on there too. Are you flippin' kidding me? A donut cheeseburger. Who thinks up these things? People will most likely order it because it is what it is. I cracked up when it got to the table and cracked up Keat trying to eat it. If you know Keat, you'll know he's buff and can eat anything. He only ate half. It was probably too rich for his blood. Literally. I think he popped a Lipitor in the car. Kidding aside, you really cannot find this anywhere else in the City. I took a bite and it is indeed really sweet and quite decadent. You got meat and cheese and maple and glaze. Dizzy just thinking of it, but if you have the stomach…and the courage to take on
The Ringmaster
, go for it! It epitomizes the whole spirit of the restaurant - fun and fanciful...and that my friends is why I got a salad. I knew Keat was going for this thing!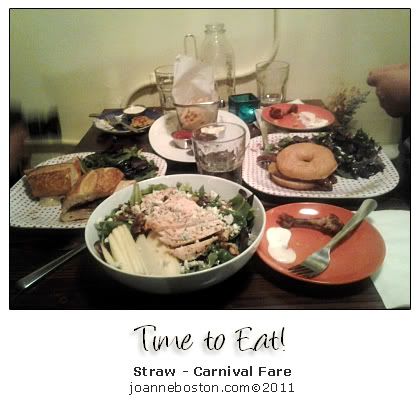 I am glad I got the chance to come to Straw, especially with great company in the form of Keat and Abe. I regret not taking pictures of the rest of the restaurant, but it is really quite small and it fills up quickly. There is a bar area and in one of the window sections, there is a carnival ride seat made for diners to sit in while they eat. There are cool vintage signs and photos hanging on the walls which adds a great nostalgic feeling. It's just fun…It's been a few months since I have been there, and I am sure there have been changes in menu and services. I hope to make it out there again to try out their other specialties like their
fried chicken-n-waffle monte cristo
(omg…) and mini corn dogs which are called "Great Expectations." I cracked up at that name. Seriously,
check out their menu
…the names of some of these dishes are genius, but Great Expectations is my favorite. It's so bad in a tasteless and sleazy way that it's brilliant. Oh dear…hahaha…
Oh yes, dessert!
Almost forgot…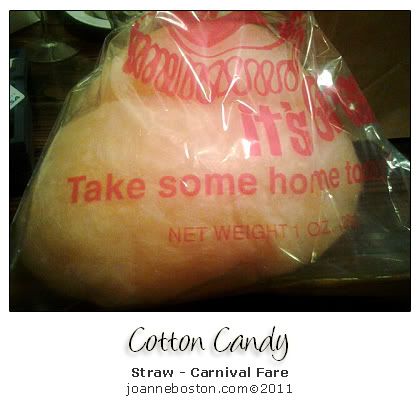 Cotton candy! I mean, what else would be better?
xoxo,
Jo