Hello April and all you lovely readers,
The month of March was a whirlwind, and like I said in my last [pitiful] blog, it drained me mentally, emotionally, and physically. I suppose it was the fact that I was turning 27. I'm getting closer to 30 and maybe this was the first time being a "grown-up" really hit me. Sh*t, I'm married for God's sakes. March was truly a challenging month.
So the last time I left you [with a dope beat to step to], I had come back from the fantastic
Bay to LA
trip. This happened March 4-6. A whole month has passed since then and there is so much to recap. I am going to try to write as much as I can, and this may take a few installations, so please forgive the mess. =) You are now reading Part 1 of ?
We got back from LA (on a delayed flight) and right when we got to SF, Keat brought me home and he headed to work [damn you, graveyard shifts]. I purposely took the day off the next day to get some rest due to the incredibly belly-busting weekend and to kick it with my mom since IT WAS HER BIRTHDAY!
- Mommy's Birthday Dinner - March 7, 2011 -
Restaurant:
Isla Restaurant
Address:
422 San Mateo Avenue
Phone Number:
(650) 872-5008
Cuisine:
Filipino
Date Last Visited:
March 7, 2011 & August 2010 before
Dining Partner:
Mi familia
I love sharing the same birthmonth with my mom. I made a reservation at Isla, a Filipino restaurant in San Bruno along El Camino. This is not the first time I went to Isla. I went last year with Bub [by accident]. We were going to hit up either Kuya's or Patio Filipino close by, but we ate here because they were new. Before I write about Mommy's birthday, I'll recap on our Fall dining experience.
"Friends, the food here is delicious."
translated from Kapampangan
- August Visit -
During our first visit, we ordered the kare kare. We were craving kare kare that day and were glad to find it on their menu.
Kare Kare
"Ima Marilyns special recipe - Choice of: Beef Oxtail / Beef Short Ribs
or combination - cooked in savory peanut sauce with vegetables"
We ordered the oxtail version and honestly, we were underwhelmed. We have tried many many versions of kare kare and while it was filling, it lacked
something.
It was maybe the restaurant was so new that they were still perfecting their recipes? Who knows, but it was just okay.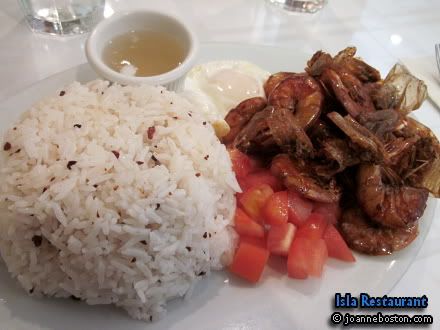 Crispy Shrimp-Silog
"Dagupan style deep-fried crispy shrimps"
Everyone here should already know what a "silog" is. No? Obviously, you're a noob to my blog. =D A "silog" is a Filipino breakfast platter complete with your choice of protein (shrimp in this case), "si"nangag (garlic fried rice), and "it"log (fried eggs).
I ordered this dish blindly because I didn't know how the shrimp were going to be prepared. Were they battered? Butterflied? Shell-on? I also find it interesting that though this is a
Kapampagan
restaurant that a dish from Pangasinan (Ilocano), would be on the menu. I have actually never heard of "Dagupan-style" shrimp before.
Turns out the shrimp are fried with their shells ON. The bad? I hate peeling shrimp. The good? I didn't need to! The shrimp heads and shells are fried enough so that they are good to eat also. No need to peel! Yay! They were so addicting. Just dip the head or shrimp body in the vinegar and pop in your mouth. Crispfully delightful.
Our Supper
Though we didn't have an epiphany with the kare kare, I was pleasantly surprised by the flavor of the Dagupan shrimp. It is such a unique dish that you won't find anywhere else.
On to March!
Jayla is Happy It's Grandma's Special Day
Isla is a great place to gather many of your friends and family for a dinner like our's. There was about 12 of us and the service was great. They catered to everything we needed. I hope you forgive me for the pics. I forgot to put my SD card in my camera. Fail. Plan B: camera phone. I apologize for the difference in colors - I got filter happy. =) FYI: The descriptions of the dishes came straight from the restaurant menu.
We ordered tons of dishes and still had leftovers to bring home. Let the eating begin!
1)
ORIGINAL SISIG KAPAMPANGAN: "The Pride of Pampanga"
-
spicy grilled minced pork sautéed and spiced up then served in sizzling plate for a mouth watering feast
- I really like it when a restaurant serves their sisig on a sizzling platter. I feel you get more flavor from the char left on the meat and a more concentrated flavor when the acid of the citrus or vinegar hit's the cast iron. Sisig was invented in Pampanga, so it was nice to eat an authentic version of it knowing there are so many out there.
2)
CRISPY BINAGOONGAN
-
diced crispy pork sautéed in shrimp paste with eggplant, diced mangoes and tomatoes
- I love pork and I love bagoong. Again, this is a dish, I've had many times at other restos, and I am glad this version is on point with the rest of them. Great dish. The mangoes and tomatoes really make a difference.
3)
PANCIT MIKI-BIHON
-
thin rice stick noodles & egg noodles cooked with chicken, quail eggs, squid balls, shrimps and kikiam
Of course, in pure Filipino fashion, we ordered noodles for Mommy's birthday to ensure long life. I really liked the combination of ingredients from the quail eggs to the
kikiam
which is a type of Asian fish cake. Squeeze on the lemon and you have a perfect celebration dish.
4)
GINATAANG SITAW AT KALABASA
-
green beans and squash cooked in coconut milk with chicken and shrimps
- Back in the day, I hated squash and I hated coconut milk. Now I love them. I am a bit biased when I say that this lacked the "umph" I like in my favorite version of sitaw at kalabasa. My favorite - Bicol-style - has both bagoong and chilies in it. This version at Isla is a tamer version without those two ingredients, but I must say that the delicate flavor of the coconut milk and the sweet squash made a winning combination. Delicious.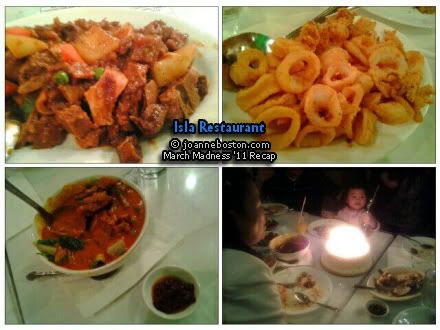 More Dishes!
5)
KALDERETANG KAMBING
-
Lolo Nes' specialty; spicy goat stew with carrots and potatoes
- as much as I wanted to, I wasn't able to try it. I have a fear of goat meat…just blame it on a childhood experience in the Philippines. I am glad that we got to order it though because our family is known to slaughter and butcher our own meat - goat especially - for special occasions. I remember the times Tatay and Inang would drive me to Half Moon Bay to pick out a goat to eat. I used to eat goat as a child, but after that experience in the Philippines, I haven't been able to stomach it since.
6)
CALAMARI
-
deep-fried squid in a flavorful batter
- fried squid. Need I say more? I swear, everytime my cousins and sister see this on the menu, it's one of their menu selections by default. Can't blame them. Fried squid. Good stuff. Here's a rap showcasing the love for PUSIT (squid in Pilipino) -
Ahhh, pusit. Pusit's real good.
7)
KARE KARE
-
beef short ribs cooked in savory peanut sauce with vegetables
- they were out of the oxtails that night, so we got the short ribs instead. Not as gelatinous or fatty as the oxtail, but still good. I am glad we came back to try out Isla because it was evident that the kare kare this time around was a lot better. The veggies were cooked nicely and the short ribs were tender. Gotta love the bagoong on the side.
8) Mommy blowing out her birthday candles. Props to my sister and my husband for pretending to go to the bathroom to get Mommy's cake from the car and lighting the candles.
Dessert time!
9) Jayla eyeing Mommy's delicious-looking birthday cake. Yes, that's a replica Academy Award/Ocsar on the table for Mom being "The Best Mother."
10)
MANGO CAKE
-
A light vanilla cake filled and iced with a mixture of whipped cream and chopped fresh mangoes
- on our way to Isla, Keat and I dropped by Golidlocks in South San Francisco for Mommy's cake. She loves mangoes so we knew this would be perfect. After a hearty meal like the one we just had, it hit the spot.
11)
BUKO PANDAN
-
pandan flavored gelatin and young coconut topped with cream
- I love buko pandan - it's a light dessert that is fruity and creamy.
12)
TURON a la MODE
-
sweet fried banana lumpia served with mango ice cream
- I love hot and cold desserts and this was another ideal dessert to have at the end of the meal.
Of course the dinner would not have been as great as it was without our guests - Auntie Gloria, Roxanne, Michael, Jennifer, Manang Yolly, Keanu, Chloe, PJ, Sherri-Anne, Jayla, and Keaton. Mom was so happy to have her loved ones there with her to celebrate her special day.
We love you, Mommy! Here's to many many many more birthdays to come!
And to YOU my lovely reader, hope you have a chance to try Isla. It's the newest Filipino restaurant in the area, and you know how I love to support Filipino restos and businesses. I hope they stay open for a long time. Cheers, and thank you for reading today's blog!
xoxo,
Jo