Trip:
#Bay2LA
Dates:
March 4-6, 2011
Mabuhay mga kapamilya at kaibigan! Thank you for joining me again on my blog. I am still high off our #Bay2LA trip I took with my Filipino foodie friends. Last last weekend, I was at LAX airport with Keaton waiting for our [delayed] flight. I sat in the terminal with a melancholy look on my face, a stretched stomach, and a mind full of great memories from the previous three days. I said time and time again - I never ate so much in one weekend. All good things come to an end, and it was such a tease to sit in the terminal with a late flight knowing there was an extraordinary food scene right outside.
Let's start at the beginning and you will see the great weekend my friends and I had.
Friday. My husband is a
souljah
, he had gotten off of a graveyard shift at 8:00 that morning, got ready for class, took a midterm 11:00 am, and we were off to SFO airport just before noon. We made it on our 1:15 pm flight (albeit after noticing we were at the wrong gate), arrived at LAX at around 3:00, picked up our rental car (thanks Ana and Jnet for the hook up), check-in at our hotel (thanks Mom for the hook up), spent less than 15 minutes in the room, met up with Albs from
Filipeanut
, and we were off to our first event of the trip Friday Evening:
- THE SAN GABRIEL VALLEY FOOD TRUCK FESTIVAL -
The festival was held at
Speed Zone
in Industry, CA. Speed Zone is similar to Malibu Grand Prixe here in the Bay Area - complete with mini golf, arcade, drag racing, and go carts. It was about an hour from LAX with the traffic. Wow, LA's traffic is no joke. Keaton drove, Albs was shotty, while I was in the back. By this time, we were all pretty exhausted. Albs had started driving with Fred of
I Love Sisig
and Tina from the Bay Area at 4:00 am. We finally reached Industry and I was STARVING. After waiting in line for 20 minutes and paying our $5 per head cover charge, we were IN. I noticed that they actually used the track for the go carts as a "parking lot" for the food trucks. This way, there was enough space for everyone and their food.
At events like these, it pays to be early. Right when we got there, Keaton went straight for the
Grill Em All Truck
. He had gone vegetarian the whole month of February, and he was determined to get a burger from them. He patiently waited in line as they weren't to open for another 30 minutes; however, the line got long fast. See, it pays to be early. Another great example with the first truck I ordered from.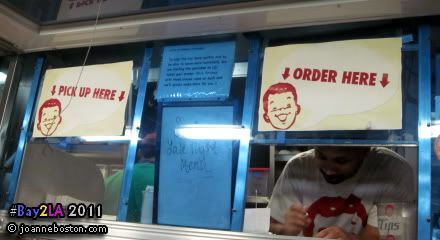 Excited to Order from My 1st So Cal Food Truck
The Buttermilk Truck!
I have heard things about So Cal's food truck scene. How it's so much larger than the Bay Area's and the selection is better than the Bay Area's. Really?! This was one reason why I came on this trip: to figure it out for myself. It was funny because we saw the
Buttermilk Truck
on the freeway on our way to the valley, so I knew I had to hit it up. Following it confirmed we were going in the right direction.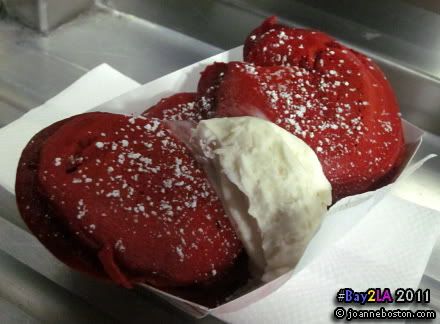 Red Velvet Chocolate Chip Pancake Bites
I love red velvet anything. I've made red velvet cupcakes, cookies, layered cakes…but red velvet pancakes? Why didn't I think of these before? Red velvet is basically a buttermilk cake with a bit of cocoa powder and tons of red food coloring. We all love buttermilk pancakes, so adding some dye, cocoa, and mini chocolate chips made total and complete sense. Adding a dollop of maple cream cheese icing then made it perfect. There was no need for syrup. I saved it for the next dish I ordered (you'll see). I think having dessert before dinner gave me a little sugar/energy boost that I very well needed. Great choice to start with!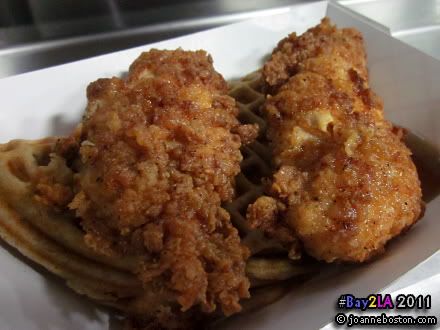 Fried Chicken with Homemade Cinnamon Waffle
Chicken and waffles. Perfect combination of salty and sweet. I loved their chicken! They used chicken tenders which are boneless - very truck-friendly as it would cook faster than would a drumstick. It being white meat, there is always a fear of it being dry, but these were perfect. Juicy on the inside with a crispy coating that went well with the syrup. The cinnamon waffle was delicious too - tasty from the spice and not too sweet. I would have gone back for another helping, but the line got way too long and they had run out of food before any of the other trucks did. It was worth being early for!
Manila Machine Signage
LA's First Filipino Truck
All this time Keaton was still in line for Grill Em All, so I went over to him, fed him the loot from the Buttermilk Truck, and went next door to
Manila Machine
for more food! My friends and I waited more than a year for this moment! When we heard of LA getting their Filipino Truck, we got real excited. Soon, SF got their own as well. What made it special for us is that
Marvin
, a co-owner of Manila Machine, started off as a food blogger like us. Many of you may know him as
Burnt Lumpia
. Now he's one of the most well-known Filipino food personalities in the world.
Manila Machine's Pan de Sal Sliders
A Childhood Favorite Gone Grown and Sexy
I remember the days when my grandma would make us
pan de sal,
Filipino rolls, in the morning. We learned to put various
palaman
inside - peanut butter, sautéed corned beef and onions, even condensed milk for some. Manila Machine took that idea and put our favorite meats inside. The
Longganisa
slider had a sweet pork and garlic sausage, caramelized onions, arugula, and mango jam. The flavors of the sweet mango and savory sausage - dynamite. Next is the
Original Manila Dip
: shredded chicken adobo and caramelized onions served with an adobo dipping sauce. I couldn't believe how something so simple turned out ingenious.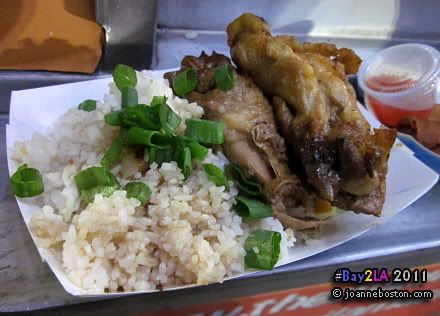 Chicken Adobo
"Chicken braised in vinegar, soy sauce, garlic, bay, and black pepper.
Fragrant and savory. Served over steamed jasmine rice."
The Filipino classic, indeed. I love seeing chicken thighs. Thighs are my favorite part of the whole chicken. I would have to say this adobo is closest to my mom's. The
sabaw
or sauce wasn't too sour or too runny. Just right. Great example for the masses to try.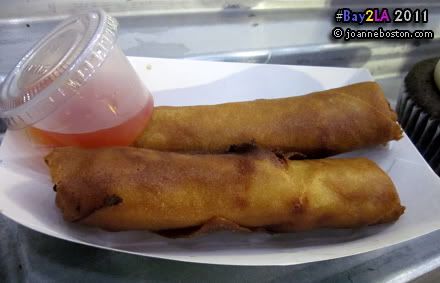 Vegetable Lumpia
Carrots, cabbage, onions, garlic, and mung bean sprouts
wrapped in thin eggroll skins and deep-fried
I had to have
some
veggies on this trip! Contrary to popular belief, it
is
easy to mess up lumpia. The wrapper might be too greasy and the filling can pop out, but these were perfect. Crispy and delicious.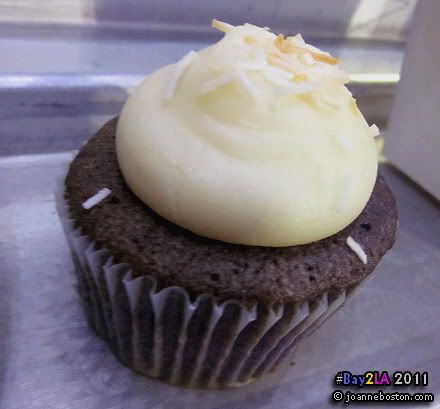 Ube Cupcakes
Purple Yam Cake with Coconut Buttercream
The gorgeous girl you see on the truck is
Nastassia
and these pretty babies are her creation. She is also a blogger and you can find her at
Let Me Eat Cake
. People are afraid of purple yam, but it is awesome. I grew up with ube and it's my favorite flavor cake, ice cream, smoothie, freezie, etc. etc. etc. I also
copped a cute shirt
from Manila Machine, too! I was SO glad we finally got to taste their food. Amazing.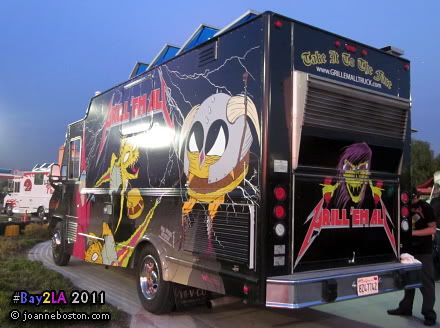 Grill Em All
Your Go-To Burger and Fries Truck
I wouldn't have known about Grill Em All if it weren't for The Great Food Truck Race on Food Network. I don't usually watch TV, but I stayed glued to the tube for this show. As you know by now, they won the grand prize! Great publicity if you ask me. How do I know? Look at the pic below.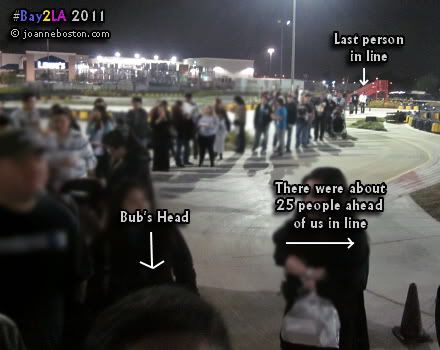 The Longest Line at SGV
Seriously. I took this pic at around 6:20-6:30, right before Grill Em All opened. Yeah! They weren't even open yet! It was awesome that Keaton stayed in line because eventually they had to turn people away. I heard a gentleman got upset after waiting 2 hours in line and had to be denied. Ouch. Luckily we got our's!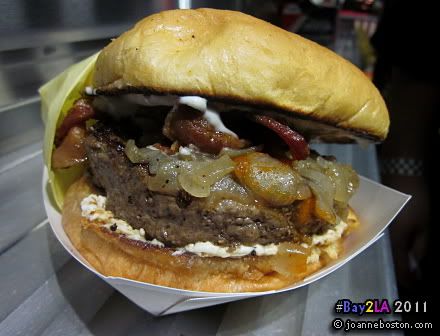 The Witte (pr. Wit-e)
Cream Cheese, Deep Fried Bacon, Beer/Sriracha Onion, Malt Vinegar Aioli
This burger is just one of them things that made us wonder, "Why the hell didn't we think of this before?" Everyone knows everything taste better with bacon. Everything tastes better with cream cheese. Everything tastes better with
sriracha
(rooster sauce). Even after a week, I still dream of this burger. I hate to confess this, but we took another Witte (or two) back to the hotel and Keat and I scarfed one down for breakfast the next day. Literally, it was gone in 60 seconds. Sure…It was cold. It stayed out all night in the hotel room. It was awesome! Time to try to make one at home! So was it worth the hour wait? Oh yeah, baby.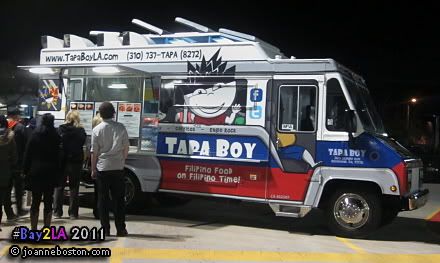 Tapa Boy Truck!
Serving Filipino Breakfast All Day
What is cool about Tapa Boy Truck's owner Lawrence is that we conversed in 140 characters or less on Twitter way before we even made plans to head to So Cal. By the time we came here and stood in line, I felt we already [kinda] knew each other. Lawrence is fantastic. The entire time we were in line, we let us know about the history of his truck and how he collaborates on events with the other trucks. SGV being one of them. The teasing and joking on Twitter was fun, but listening to how passionate he is about his food and business was eye-opening as well. It was a pleasure finally conversing with him in more than 140 characters, live, in 3D.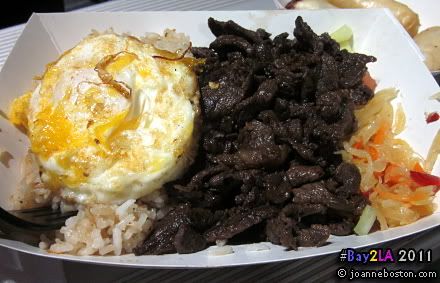 Tapsilog
Beef Tapa with Egg and Garlic Fried Rice
Filipino breakfast rice plates are known as
silog
: a choice of meat, garlic rice known as
sinangag
the "si" and egg known as
itlong
the "log." Since
tapa
is the meat, we use "ta" - forming
tapsilog.
Can you see how generous the portions are?! The plate also comes with
atchara
or pickled papaya, as well as tomato and cucumber. A very well-rounded platter of food. Rich and savory from the strips of beef tenderloin and egg, but there's a good counterbalance with freshness and sweetness of the papaya, tomato, and cucumber. Winner.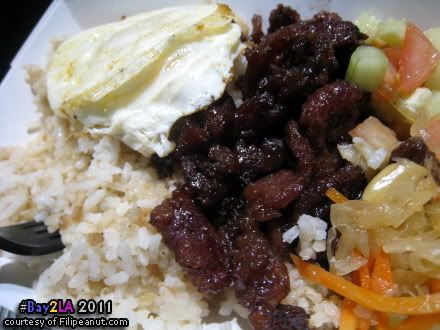 Tocilog
Photo Courtesy of Albert of Filipeanut
Tocino
is actually my favorite Pilipino pork product. It's sweet and lip-smacking good. This rendition is faaaaaaaaaabulous. It's everything I want in
tocilog
and more. Thumbs up again!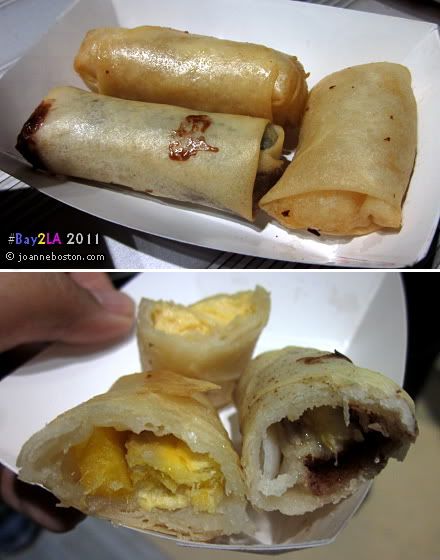 The Turon Tri Star
It's Dessert Time
There were three different types of dessert lumpias called
turon
offered:
1)
Turon Old School
: banana rolled in brown sugar with jackfruit
2)
Turon New School
: banana with hazelnut filling
3)
Flan B
: sweet egg custard in a roll!
You can order one type at a time, or do what we did and get all three in an order, known as the Turon Tri Star. My favorite was the Flan B. Are you kidding me?! Flan that can be eaten with no utensils! My only complaint is that I wish it was a little bigger. It was so good I wanted more.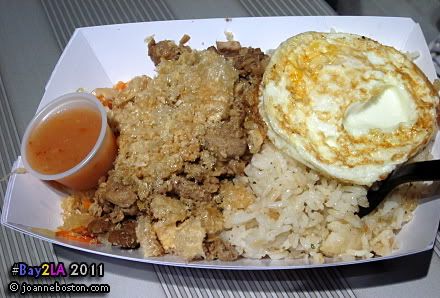 Chicken Sisig Silog
After the crowds died down and the air got cooler, we got to sit with Lawrence and he brought out this beauty. Chicken
sisig
topped with chicharon. Yes. See that container of spicy vinegar? Use it. Trust me.
Tapa Boy
. Go. Now! Check out their schedule and download their smart phone app! I DL'ed it and I don't even live in So Cal!
The Boba Truck
My Favorite Truck Design in the Whole Fest
Of course with all the flavor we were taking in, we need something to wash it down with. Behold the Boba Truck. Don't you just love the design? You can literally watch their every move!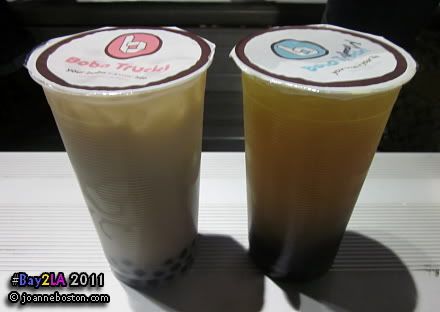 Rose Green Milk Tea and Mango Green Tea
What I noticed about the drinks is that they weren't too sweet. I liked that. You really got to taste the rose, the mango, and the tea itself. Good stuff.

Debbie Lee's Ahn-Joo
I gotta give it up to my man Remil aka @LIMER35 for introducing me to this place. Debbie Lee is known from The Next Food Network Star and I loved her on the show because she was a strong-minded Asian woman with Southern sass. She was also so nice in person!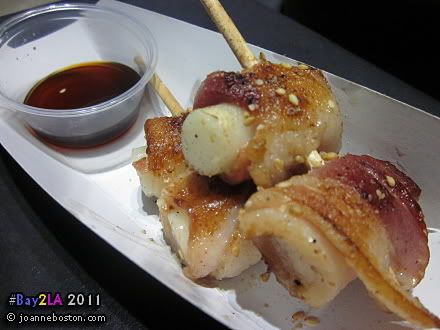 Bacon-Wrapped Rice Cylinders with Jalapeno Ponzu
As we were waiting in line, Remil tried to explain these to me. The "rice cylinders" are very similar to
mochi
which is basically a pounded out rice cake. Very bouncy and chewy in texture. They don't have much flavor to them, but of course, bacon never hurt anyone.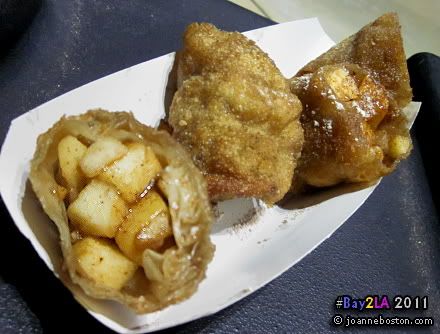 Fuji Apple Eggroll
This would be the love child of a lumpia and apple pie. Wouldn't this be great with some ice cream?!
Korean Fried Chicken with Garlic Glaze
I didn't dare eat the chicken because I was way too full, but the potatoes underneath were just delicious. Next time, I promise, when I have an empty stomach!
So the night was getting cooler and we were getting tired. By this time, it was nearing 10:00 pm and we knew we had to head back to the hotel for much needed rest…but not before some goodbyes to our new food truck friends.
Much love to my bro Fred of
I Love Sisig
for the following pictures: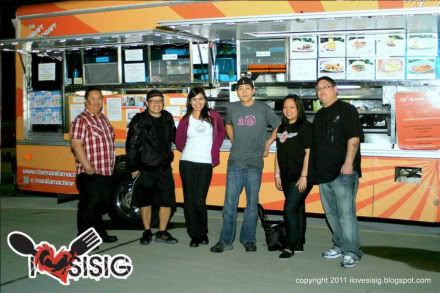 with Nastassia and Marvin of Manila Machine
Photo taken by Albs - courtesy of Fred of I Love Sisig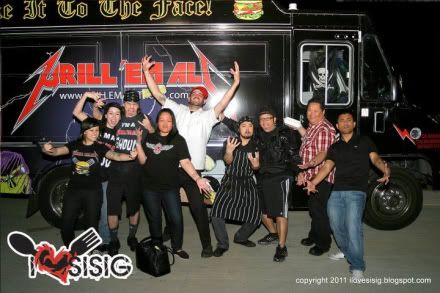 The Crew of Grill Em All
Photo taken by Keaton - courtesy of I Love Sisig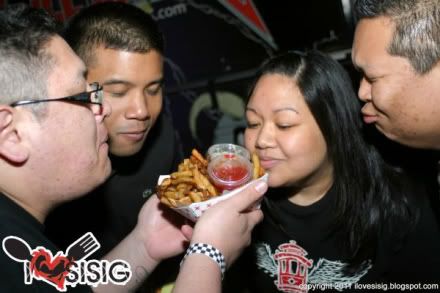 Truffle Fries!
Photo by: Fred of I Love Sisig
I love the crew from Grill Em All, special shouts to Matt and Ryan. Not only did they come out and talk with us, but they hooked us up with some bangin' grub like these amazing truffle oiled pomme frites and all the condiments you need like their homemade aiolis and ketchups. Yes, the aroma was intoxicating.
with Lawrence of Tapa Boy Truck
Photo taken by Albs - courtesy of Fred of I Love Sisig
with Debbie of Ahn-Joo and The Next Food Network Star
Photo taken by Albs - courtesy of Fred of I Love Sisig
I would have to say that our first 9 hours in So Cal was a smashing success. We didn't know we would be catered by such hospitable people and food truck crews. I was really bummed I didn't get to try Lomo Arigato or the shave ice truck or the crepe truck. I was just too full! Hopefully next time, and there WILL be a next time, I'll give them a try as well. Thank you to all the trucks at SGV Food Truck Fest. It was a pleasure and an honor.
On to Saturday!
********************************************************
- Picnic at Lake Balboa Park, San Fernando Valley -
Catered by The Park's Finest
and hosted by Abby of Pleasure Palate
Saturday, March 5, 2010 - Afternoon
I woke up Saturday
still full.
Before heading to So Cal, Arnold of Inuyaki suggested we have a picnic.
Abby
of
Pleasure Palate
got in touch with The Park's Finest - a Filipino BBQ business that caters picnics and other "backyard boogie" events. Keat and I were running on Filipino time as we went to pick up beverages and ice, but we got there just in time to watch Chef Johneric cut into some delicious animal products.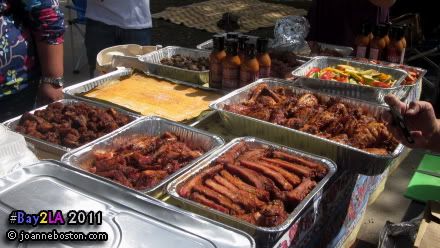 Our Picnic Layout
Thanks to The Park's Finest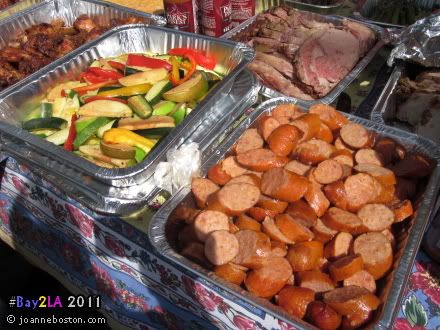 Veggies and Sausages!
I loved the
Ligaya Veggie Medley
- quite different from the usual. The sausages were on point as well.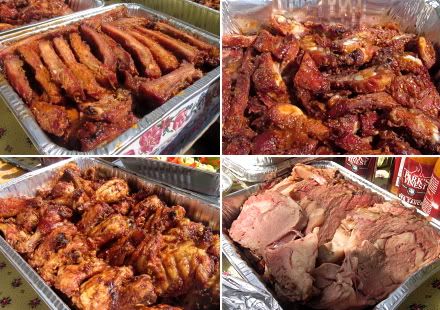 Meat, meat, meat, and more meat!
We were truly spoiled by the Park's Finest gang. Here we have (starting from upper left hand quadrant):
Mt. Malindang Pork Rack of Ribs
, rib tips,
Taal Manok (Chicken)
,
Real Ribeye Roast
. While all of the meats were delicious, my favorite was the smoked ribeye roast. It was juicy and tender as can be. So mouth-watering.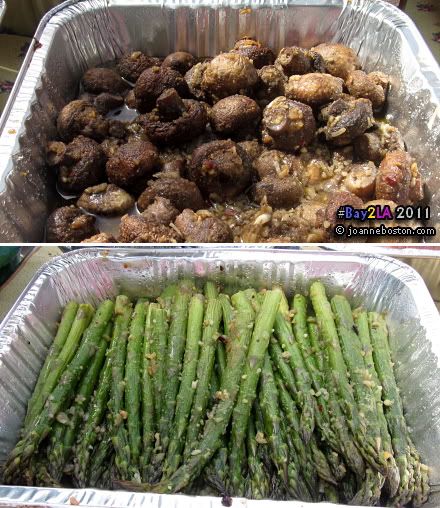 Gotta have veggies!
Mushrooms and asparagus are my favorites! I was so happy when I saw them.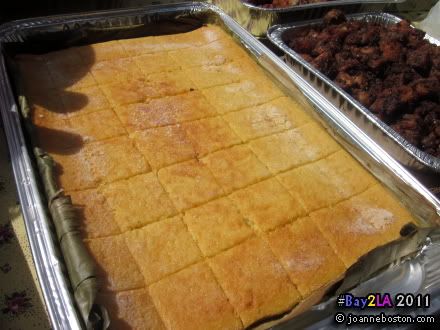 Ann's Corn Bread Bibingka
A Filipino Twist on a Southern Treat
I fell in love with this corn bread. It is truly a hybrid with the sugar topping and corn bread dotted with corn kernels. I love the presentation with the banana leaves too. To the right of the corn bread
bibingka
was the
binagoongan pork
or crispy pork belly cooked in fermented shrimp paste. I was talking with Remil and one of the perfect bites we had was that pungent and salty pork along with a bite of the sweet corn bread. It ain't a Filipino party without the
bagoong!
My Plate of the BBQ Taal Chicken and Roasted Compostela Pork Tenderloin
Believe it or not, there are some veggies hiding under there. This was my first plate and I kept eating and eating until I couldn't move.
Leche Flan by Caroline
Picture by Arnold of Inuyaki
Dessert time! Ate Carol came with desserts that were sure to leave us breathless. Literally. I couldn't breathe I was so full. The
leche flan
, a Filipino caramel custard was smooth and luscious. Arnold said it was like his Mother's. That's a huge compliment because no one is supposed to cook as well as your Filipino
nanay!
.
Halo Halo Tres Leches Cake with Ube Cream by Caroline
Picture by Arnold of Inuyaki

Ate Caroline: please use us as guinea pigs when we return to So Cal!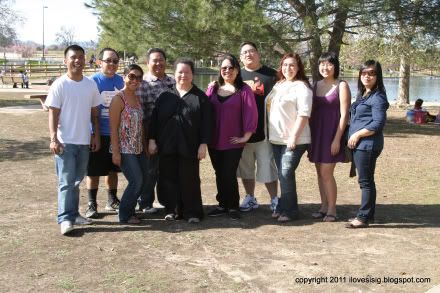 Our Picnic Crew
I forgot how hot it can get in the valley. I think on this day it was over 80 degrees. Through the heat and skin rash and full bellies, I had a great time with everyone. Especially Abby's friends who joined us. See you in SF, ladies!
********************************************************
- Dinner at Playa on Beverly Boulevard -
Hosted by Emilie of Food Truck Adventure
Saturday, March 5, 2010 - Evening
Saturday night, I met with Emilie, Albs, Remil, Fred, Tina, and John at Playa Rivera on Beverly Boulevard. Tonight we would get a taste of the Los Angeles dinner scene. Playa is, as quoted on their website, urban Latin experience, chef'ed by John Rivera Sedlar. Shortly before coming here, I found out that he will be competing in the next season of Top Chef Masters. Master? That
must
be a good sign.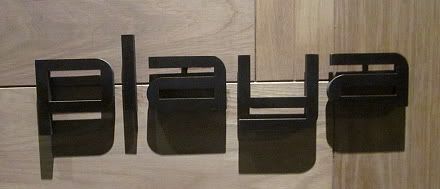 Right when we entered the restaurant, I could feel the vibe. Sexy, dim lighting, with ceiling fixtures resembling tutus from "Black Swan." Everyone in the place looked chic - from the hostesses to the servers to the runners. The open kitchen invited us to peer into their process of making the fresh maize cakes...
Tortillas Florales
Maize Cakes with Organic Flower Petals, Indian Butter
...which is exactly what we ordered to start the night off. I was thankful that this was a small plates restaurant because I was still so full from the picnic. Our method was to order several dishes and then share with the table. The tortillas came to our table hot and steaming. The "Indian" butter can also be described as an incredibly smooth and luscious avocado spread. The flowers made this dish
so
LA. Gorgeous and tasty.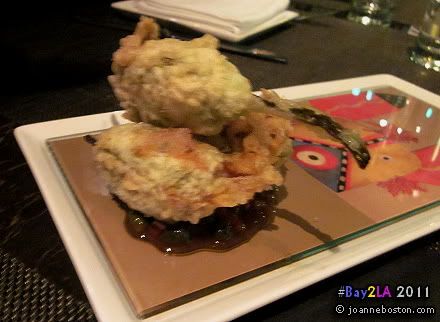 Flor de Calabaza Tempura
Squash Blossoms, Spanish Bacalao, Veal Reduction,
Chorizo Jus, Capers, Castelveltrano Olives
Next were deep fried squash blossoms. The light but crispy coating encased a stuffing of
bacalao
which is dried salt cod. I didn't read the description before tasting and at first I actually thought it was crab. It really had a "sea" taste to it. I tasted with the sauce and Emilie, Albs, and I agreed that it was very close to
escabeche.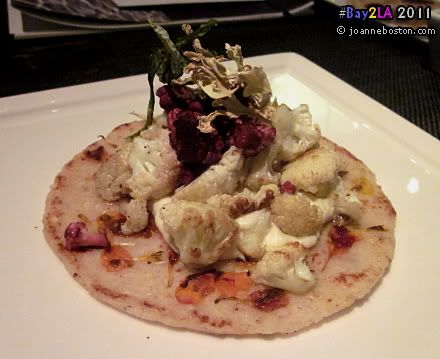 Maize Cake Cauliflower x 3
Caramelized, Oven-Dried, and Hibiscus-Pickled Cauliflower,
Oven-Dried Jalapeño, Curry Cocktail Vinegreta
I'll be honest. I used to not like cauliflower. It was only recently that I started appreciating its sweetness and tender bite. This is the perfect dish for someone who loves cauliflower. It's prepared 3 ways and it comes together in one tasty dish. It was sweet. Almost like candy.
Maize Cake Bombay Taj
Pork Belly Confit, Chile-Lime Jicama, Mango Pickle,
Masala, Chana Crisp, Raita Cocktail Vinegreta
Pork. Belly. Need we say more? This is a fusion of Latin and Indian flavors. Honestly, the pork belly's flavors really reminded me of Filipino food. Take THAT for fusion. I could have had this all to myself. Since I didn't want to look like a
baboy
(pun SOOOO intended), I shared. Next time - no sharing.
Maize Cake Wild Mushrooms
Black Garlic and Olive "Soil," Exotic Mushrooms,
L'explorateur Cheese, Porcini Espuma, Chives
Ate Em and Albs were talking about what else to order and the word "soil" came up. Soil? Albs asked out server who directed him to this dish in the menu. It was so earthy and rich from the mushroom flavor. I adored the porchini "espuma" (foam).
Maize Cake Salsa Semilla
Fresh Burrata, Salsa Verde, Arugula Salad,
Amaranth, Sal de Colima
My choice for a dish was this because of one word - BURRATA. I am in lust with burrata and all its creaminess. There is a lot going on on the plate from the seeds and the salad and the maize cake. Organized chaos, Chef Sedlar knew it would work.
Tamalli Chipotle
Wild-Mushroom Duxelles Dumpling,
Filet Mignon, Chipotle Béarnaise
This was my favorite dish of the night. By far. The "dumpling" is made with a tamale-like dough, and the mushrooms again added some depth. The filet with its pink interior was perfect, but let me tell you about this chipotle béarnaise. I am guilty of saying that chipotle is so played out. I was tired of hearing it all the time. I even rolled my eyes when Keaton ordered this. I take it all back because of this plate right here. I wanted to lick the plate once everyone got their portions. Creamy...smoky...The sauce MADE the dish.
Octo-Palm
Grilled Octopus, Palm Hearts, Scallions,
Oven-Dried Cherry Tomatoes, Oven-Dried Red Onion
Octopus is hit or miss. Cook it incorrectly and you get rubber. I never had an octopus salad before, but Albs and Ate Em said they eyed this, so I was down. All the components worked together even though their textures differed. Meaty octopus, crispy onions, juicy tomatoes...great flavor combinations.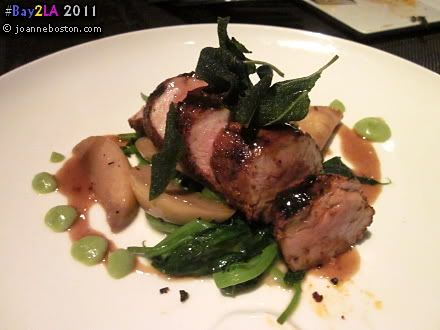 Puerco
Chile-Rubbed Pork Tenderloin, Salsa Verde,
Pea Tendrils, Manzana, Sage
I enjoyed this dish because though it is a meat-focused plate, it was still light. The tenderloin was indeed tender and the apples under gave a burst of sweetness. I loved the pea tendrils. Their addition even made the dish seem Asian. Solid dish.
Maize Cake Gambas
Mojito-Poached Shrimp, Braised Napa Cabbage, Mustard Ice Cream
The reason why we got the dish in the first place was because we saw one of the chefs put something in liquid nitrogen. We were informed they were making mustard ice cream for this plate. Of course after hearing that, we ordered it. The first time they brought this out, the mustard ice cream was completely missing from the dish. Um, yeah. I think if it's part of the description on the menu, it has to be pronounced. I had no issue telling the server and she was nice enough to bring out a new plate. The mustard ice cream makes a big difference. Try this dish out. Good stuff.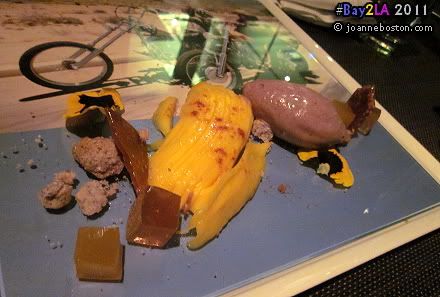 Amarillo
Ripe Mango Fan, Corn Shortbread, Passionfruit and Tamarind Gelées,
Black Rice Ice Cream
Finally it was dessert time! I needed something refreshing and not too heavy (no molten lava cake, please!) This was absolutely perfect. I enjoyed the spice on top of the super ripe and super sweet mango. The black rice ice cream actually tasted a lot like horchata. Delicious - every part of it. So many components, but works.
I had a great time at Playa with everyone. It's LA-sophisticated, but still fun. It was not stuffy or uptight. Great bar vibe as well. The restaurant had only been open for 2 weeks when we got there, so service was a bit off (missing ingredients, wrong food brought to table); however, I have no doubt that they will get their groove in no time. One thing I liked was there was that the food came out fast. Once we were done with one dish, we had a couple minutes to recoup, then there was another dish to be had. I appreciate Chef Sedlar's approach to Latin cuisine and the presentation of each dish. Each plate literally looked like art as you can see from the pictures. So unique. I went to Arizona and Santa Fe last year, where Chef Sedlar was born and raised and learned his craft. His food is on point. I am so glad we came here.
Thank you, Ate Em for hosting us that night!
On to Sunday!
********************************************************

- MILK -
Oh, you thought we were done huh?
Psh, you shoulda already known, hun.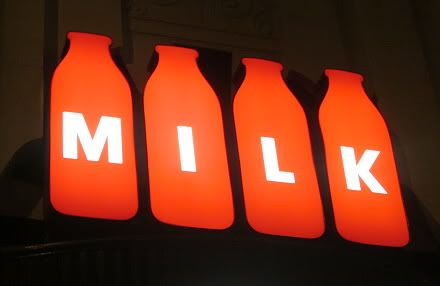 Though we were stuffed, we couldn't help but make a detour to MILK just down the block from Playa.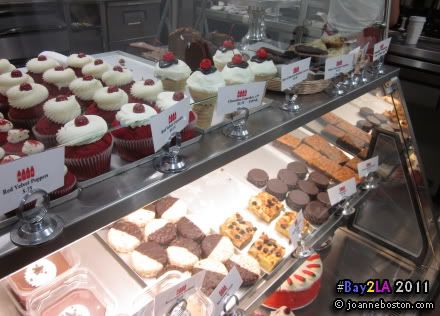 The treats in their display case just screamed, "please buy me!" The red velvet cake did look amazing, but since I know how to make it, I usually don't get it outside of the house, and then I saw...
Blue Velvet Cake and White Chocolate-Walnut Crumble
Menu says: "This Southern classic gets a MILK twist. White chocolate
cream cheese frosting, 3 layers of blueberry chiffon cake and fresh blueberries"
YES! Blue Velvet cake! The blue tint is quite frightening, but once you get past that, the cake is great - light and not too sweet. I don't know anywhere else I would be able to get this, so I'm happy we made a trip here. The cookie below is the white chocolate-walnut crumble. Tons of powdered sugar on it, so be careful especially if you're wearing dark clothing. I found that out the hard way. Yumminess all around!
I like MILK because even though it was about 9:00 - 9:30, business was still popping. If I had the stomach capacity, I would have gotten one of their ice cream bars. Remil was relishing in a banana bar. It looked awesome. So sad. I wish I had a stomach for each meal. Next time!
********************************************************

- Brunch at Fraiche Restaurant in Culver City -
Hosted by Remil aka @LIMER35
Sunday, March 5, 2010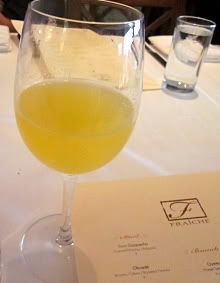 Why, hello there. Slept well?
I woke up on Sunday already feeling sad. The past 1.5 days went by so quickly. Life really does speed by when you are having a great time. The grand finale was at Fraiche Restaurant in Culver City. Weeks before, I heard great things about this place and wanted to make a reservation. Luckily for me, Remil had a connection with Fraiche's exec chef Ben Bailly who offered us a brunch tasting menu. Score. Big time. With bottomless mimosas and drunk tweets, laughter ensued in no time.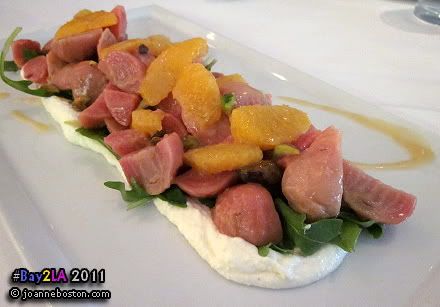 Baby Beets
House Made Ricotta / Orange / Pistachio
This was the first dish of many that came out. The baby beets were so sweet and juicy that it was almost like eating a fruit salad. I wouldn't have thought pairing raw citrus with fresh cheese, but it totally works. The ricotta was creamy as can be. I would have loved it simply on a piece of their delicious toast.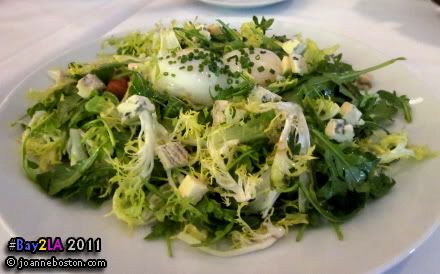 Frisee Salad
Soft Eggs / Blue Cheese / Bacon
This is also known as the "
Jiggle Jiggle
" salad. We broke the eggs and combined them into the salad creating a velvety dressing over the greens. It was also a pleasant experience to get a piece of tangy blue cheese and thick bacon in a bite.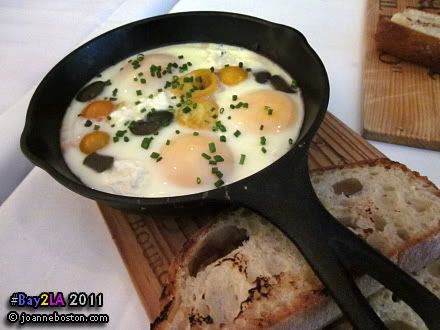 Baked Eggs
Goat Cheese / Olives / Tomato
Can't be brunch without the eggs. I loved this presentation. The eggs on the bottom touching the cast iron were a little firmer while the top was still a bit wet which I liked a lot. I grew up eating eggs with tomatoes, so this kind of reminded me of downhome cooking at the Boston House...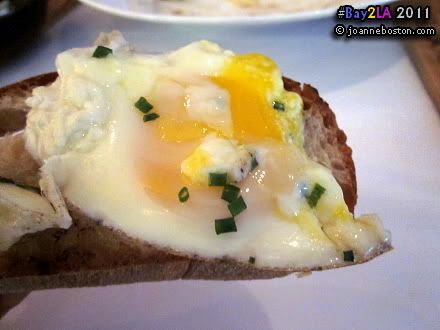 Close Up of Soft Eggs and Crispy Toast
The perfect way to eat them...
Soft Polenta
Wild Mushrooms
You know how they say that the least attractive food often tastes the best? This mound of polenta was absolutely incredible. I love mushrooms and they paired with the creamy polenta so well. The flavors were so simple and pure.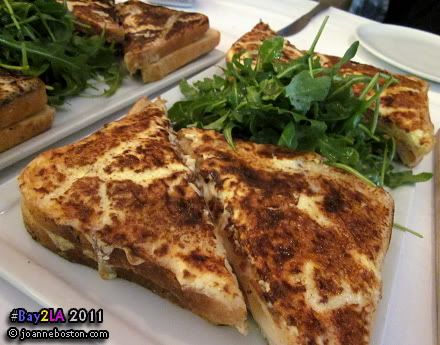 Croque Monsieur
Smoked Ham / Comté / Gruyère
Chef Ben Bailly is French and he sure knows how to make a ham and cheese sandwich sexy. The browning on top invited us to grab a piece and start chomping, but I took it slow and took half of a half...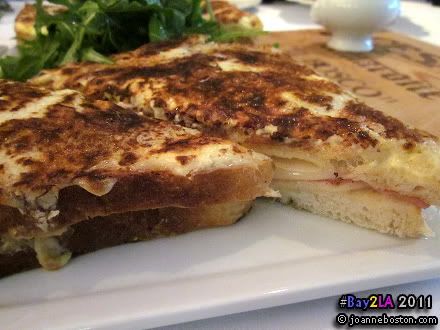 Croque - Close Up
It was incredibly RICH with its Swiss cheese and béchamel sauce. By this time, I was already so full, but it was so good.
Truffle Burger
Onion Fondue / Boschetto / Truffle Aïoli
Fraiche is known for their truffle burger and it did not disappoint. The truffle was found in the
boschetto
which is an Italian cheese with the white truffles incorporated in it. Lush.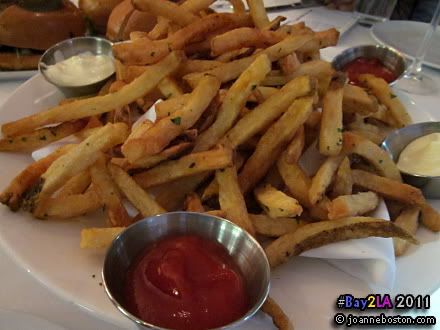 Pomme Frites
Ketchup and Aioli

Can't say no to French fries! Ideal side to the sandwiches.
Molten Lava Cake
Before we were able to rest up after the savory dishes, desserts came at us in full force. The first was this sinful plate of warm chocolate cakes.
Inside the Molten Lava Cake

What I love about molten lava cake is the almost crisp edge on the outside.
Oh yeah, the decadent inside isn't bad either. ;-)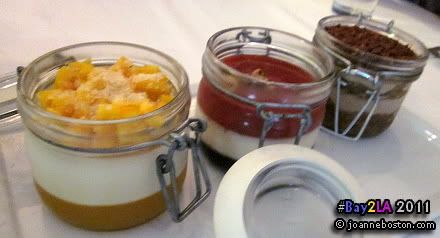 Mango, White Chocolate and Strawberry, Chocolate
Isn't this trifecta of jarred dessert just gorgeous? I love creamy desserts and I prefer them over ice cream or cakes. We were in for such a treat. The white chocolate and strawberry dessert was bright in flavor and the chocolate was nice and rich without being as heavy as the lava cake.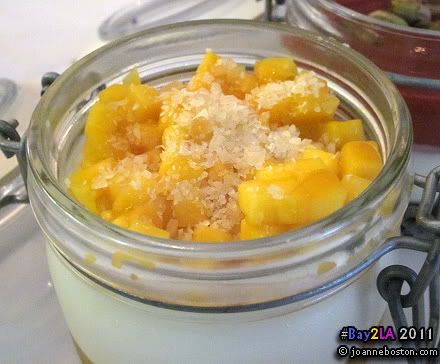 Mango, Panna Cotta, and Poprocks
This was my favorite of the three simply because I love panna cotta and that the diced mango had POPROCKS on top. Where else can you get a dessert with Poprocks? As you are enjoying this, just imagine the little bits of carbonated sugar exploding in your mouth. Insane.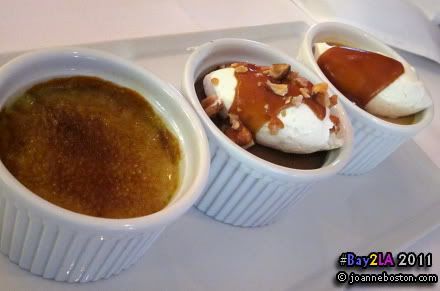 Pistachio Creme Brulee, Manjari Chocolate Pot de Creme, Caramel Budino
The next trio were housed in ramekins and they were all great. Pistachio creme brulee? Awesome. Manjari chocolate pot de creme? A chocoholic's dream. Caramel budino?
Caramel Budino
My Favorite Out of all 7 Desserts
Ahhhhh, caramel budino. Yes, my favorite of ALL. Mango and Poprocks close 2nd. What I loved about the caramel budino was that the caramel flavor was pure. Actually the whole dessert was simple. The vanilla bean cream on top was perfect. I made sure I was the one who took the last of it. I would have used my finger to swipe in the inside of the ramekin, but I didn't want to look too
baboy.
A Sampling of Each Dessert

Looks like an artist's palette.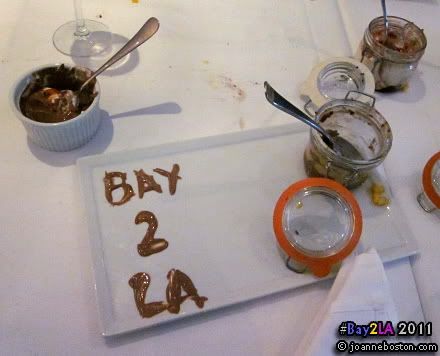 The Aftermath
Bay 2 LA
Brunch at Fraiche was so much fun. We had great conversations, laughter, and made connections we didn't have a mere 3 days earlier. It was quite a memorable meal.
Our Brunch Bunch
Photo courtesy of Remil
I was so sad to say goodbye to everyone after brunch. In such a short time, we established roots for friendships that will last (hopefully) for a lifetime. I cannot wait for #LA2theBay! Thank you SOOOO much, Remil for hosting our brunch. You are awesome. PS: Your speech made me tear, for real.
********************************************************

- Keat and Jo Out and About -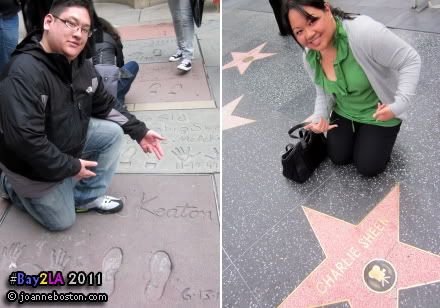 After brunch, Keaton and I headed to Hollywood Boulevard since we had a few hours to kill before our flight. We spent about an hour there, but headed back toward LAX...but not without checking out a couple more food spots...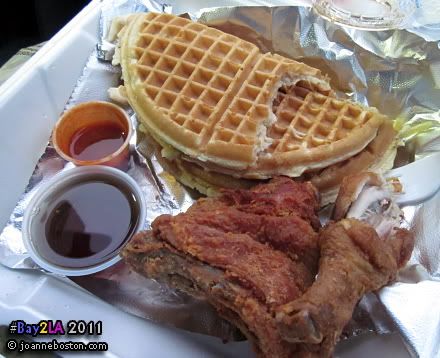 Chicken and Waffles
from Roscoe's House of Chicken and Waffles
I made it a goal for us to try Roscoe's on this trip. The guys (Albs, Remil, and Arnold) went to Roscoe's after dinner at Playa. They have stomachs of STEEL! I was bummed I couldn't join them, so Keat said we could go on our way back to the airport. I am sorry...I was not impressed. I suppose the chicken here is like the models in LA - SKINNY! Okay, that was a horrible joke. It's just that I know of better fried chicken places in the Bay Area. I know Roscoe's is an LA institution and I saw it with the number of people waiting for a seat. I'm glad I got to try it though.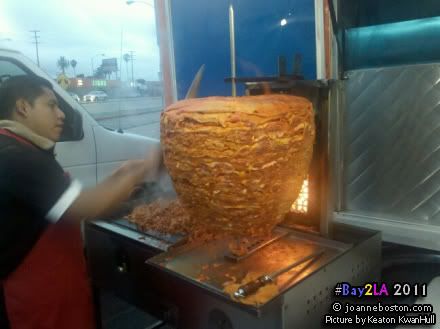 Carving the Al Pastor
at Leo's Taco Truck
Around the corner from the Roscoe's on Pico and La Brea is a 76 Gas Station. Remil told us that there would be a taco truck there that had the best al pastor and pineapple tacos. Welcome to Leo's Taco Truck. We got there right as the pineapple vendor was setting up, and by that time there were like 50 orders of pineapple tacos ahead of us. Sadly, we had to pass on the tacos and settled for the al pastor burrito.
Al Pastor Burrito
From Leo's Taco Truck
WOW! This burrito was DY-NA-MITE! I didn't feel so bad about my disappointing chicken and waffle meal when I got a bite of Keaton's al pastor burrito. It was so full of flavor. None of that BS with the crema, guacamole, and other ingredients. Just meat and rice. I couldn't get enough, so I asked him to grab me another burrito for the road. FYI: they do allow burritos in the terminal. It passed inspection. I had to ask before going through the body scanner, but it made it through! w00t!
So I sat in the Virgin America terminal. Sad. Already missing my foodie friends. I ate my emotions through that al pastor. The last of LA I would be able to taste on this trip. My stomach was getting emptier and emptier as we waited to board, but I couldn't help thinking about the whirlwind experience we had. People we connected with over a computer screen were brought to life because of the love we have for food. Food brings people together. This was probably the best example I have to give from my life so far.
Tomorrow, March 16, is my birthday.
Birthdays make me feel awfully nostalgic, emotional, and somewhat sad. Another year of memories has gone by. People have come and gone; however, food will always be there to connect me with new friends and reconnect me with my roots and family. For you reading this, whether I know you or not, thank you for being here with me as I enter another year of life.
I am blessed to know the people I know and to have the opportunities I have been given. Thank you to my new KAPAMILYA, my #Bay2LA Family, my husband. You were all wonderful and SALAMAT for making me smile and realize life is good. God is good. God brought us together. Assign yourself a number because I am counting my blessings. So happy I have new ates and kuyas.
Goodnight.
xoxo,
Jo
#Bay2LA KAPAMILYA
(click name for blog or click "@" for Twitter):
Abby
-
@pleasurepalate
Albert
-
@filipeanut
Arnold
-
@inuyaki
Caroline
-
@carolineadobo
Emilie
-
@nuts4pilinuts
Fred
-
@mrfredbriones
Keaton -
@phatpanda650
Malou
-
@malou_nievera
Reese -
@nerissas
Remil -
@LIMER35
Steve -
@asianclarkkent
Tina -
@CeeEsBee