Good afternoon everyone!
I am
EXHAUSTED
!
As you know by now, a few of my awesome Filipino foodie buddies (
Albs
,
Fred
, Tina,
Arnold
, and Hubby Bub) and I made a trip to Southern California last weekend. We did nothing but EAT! Seriously. I've never eaten so much in 2.5 days!
Some of our great friends in So Cal (now KAPAMILYA) hosted us and they were absolutely wonderful. While I don't have all the pictures right now, I did want to send a shout out to them:
-
Remil
who went to ALL our events and hooked us up at
Fraiche
in Culver City where Chef Ben Bailly designed a menu that left us busting at the seams at Sunday brunch.
-
Abby
who hosted us at Lake Balboa Park in San Fernando Valley on a gorgeous and sunny Saturday afternoon and hooked us up with
The Parks Finest BBQ
- the only Filipino BBQ catering company I have heard of.
-
Caroline
who made us her guinea pigs - we're not complaining - with her halo halo tres leches cake topped with ube chantilly cream and leche flan. Yes. It was fabulous!
-
Emilie
who hosted our Saturday night dinner at
Playa Rivera
where tasty and almost orgasmic tapas were had and enjoyed by all, followed by a trip to
MILK
where we all satisfied our sweet tooth with cakes (blue velvet!!) and frozen treats.
- Can't forget
Malou
,
Reese
,
Steve
(
and his foodie crushes
),
Wasima
, and all the new friends we made and food trucks who made our experience so delicious:
Marvin
and
Nastassia
at
Manila Machine
,
Lawrence
at
Tapa Boy
,
Debbie
at
Ahn-Joo
, and
Ryan
and
Matt
at
Grill Em All
.
Here are a couple pictures from Mr. Fred Briones over at
I Love Sisig
from our foodie excursion to the San Gabriel Valley Food Truck Fest on Friday the 4th: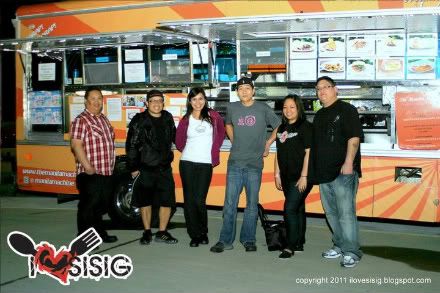 with the

Manila Machine

Crew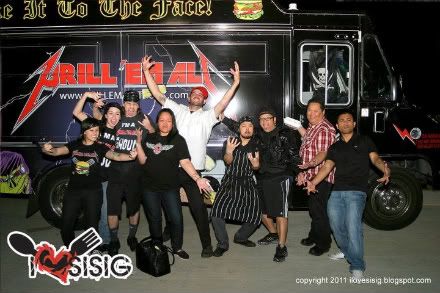 with the

Grill Em All

Crew
Don't fret, there are LOTS more pictures to see. Give me a little time and I will give you a FULL recap as soon as I can!
********************************************************************
Now that I am back in the Bay, I have to focus on a couple of events coming up. The first is exactly 1 - one - uno - une - mesa - isa - 1 week from today on
Wednesday, March 16th.
It is going to be
#FilDishcrawl #5 at Sinugba
in Daly City. Tracy and I will be celebrating our birthdays that night.
My birthday is really March 16, so you better be there!
=) Aside from the delicious meats prepared for us Visayan-style by Gus Camacho and his crew at Sinugba, there WILL be cake and other goodies from Chrissy at House of Silvanas. 6 ulam dishes and dessert for $35 + Eventbrite fees. It's going to be a lot of fun...
Want more info? Click THAT link -->
http://sizzlingsinugba.eventbrite.com/
OR, if you just want to buy your tickets, do so below:
********************************************************************
The second event is
Outside In X aka THE FINAL Outside In
on Saturday March 26th at Intramuros Restaurant in SSF. We are taking over three rooms at the restaurant!
Who is WE?
Mixsterious
and some of the old skool San Francisco food carts like
Soul Cocina
,
Lumpia Cart
,
Wholesome Bakery
, and
Adobo Hobo
. Enjoy your food while you listen to musicians and DJ's.
Here's the info you need to get hooked up:
Press Release on Mixsterious Site

AND

The Official Facebook Event Page

OR

Simply Purchase Tickets at the following link:
Outside In X - Brown Paper Tickets
Oh yeah, I'll be celebrating my bornday there along with
Kendo
of
Mixsterious
, the lovely vocalist
Jayne Rio
, and
Raj
of
Soul Cocina
.
Good food, good music, good vibes.
It's going to be musically delicious.
I think that is it for now. I have given you 2 events to hang out with me, SO YOU HAVE NO EXCUSE! No really, I hope you can make it!
xoxo,
Jo