Thank you to James from
Tweservation
for letting me know that this was the "Best Food" picture from their San Francisco Street Food Festival Photo Contest: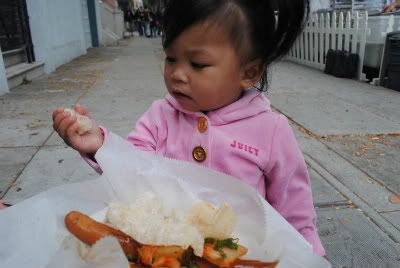 This is Jayla looking at a chicharonnes from
4505 Meat
's Zilla Dog which consists of one of their franks and topped with their own crispity clouds of chicharonnes,
Namu
's kim chee, scallions, and a secret money sauce.
I wish I had uploaded the other pictures of her eyeing this beast of a hot dog, but I think I'll save them for the full recap I do on the festival. Even though we were there for a very short time - less than an hour - we still got stuffed!
Thank you
Tweservation
,
Ryan Farr and 4505 Meats
for intriguing my little niece,
La Cocina
for organizing a great and delicious event, and last but certainly not least, my gorgeous niece Jayla Nicole for being the greatest baby supermodel.
TELL ME: what do YOU like in your hot dog?
xoxo,
Jo