Restaurant:
Anthony's Cookies
Address:
1417 Valencia St. b/t 25th and 26th Street, The Mission, SF
Phone Number:
(415) 655-9834
Cuisine:
Cookies
Cookies. Everyone loves them.
I can bake them myself
…and I do a pretty darn good job, I think. When someone says, "Oh my God! So-in-so's cookies are THE BEST!" I wrinkle my nose, roll my eyes, and think, "suuure." When Anthony's Cookies opened up, everyone and their momma said the same thing. His cookies are the best. His cookies are SOOOO good. Really? Even though I knew I can bake them at home, I wanted to give them a shot.
Let's just make it clear that I have tried Anthony's cookies several times. I guess you know which direction I'm heading to. On one visit, my girl Kat of
Kat's 9 Lives
and I actually got to talk to Anthony. What a down-to-Earth guy. He is very dedicated to his craft and wanted to make sure we were taken care of, even hollering from behind the counter to us sitting at the table situated in his shop.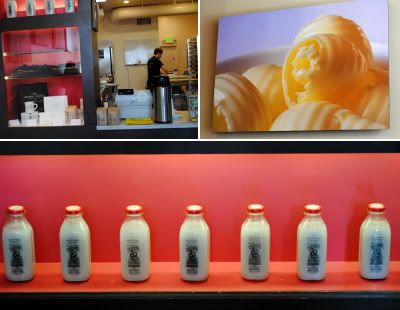 I can't really think of a place devoted to just cookies these days. It's always a mix of things: cookies and brownies, cookies and cupcakes, cookies and pies. Anthony focuses on what he does best - not getting his hands wet in everything. I like that a lot. Some people try to be a jack of all trades instead of being an expert in one thing. Anthony is an expert.
He has 14 flavors, and he has even come out with some vegan flavors. I love my butter, so we can just X those. =P
A Treasure Box of Cookies
I have tried several flavors, but I am just going to concentrate on my favorites for now.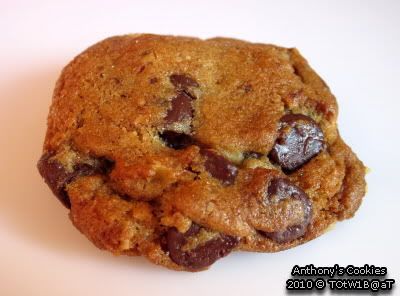 Semisweet Chocolate Chip
This is a classic cookie that everyone knows. What I love about his cookies is that he uses quality ingredients and you can taste it in his product. I adore how the edges are crispy and the middle is gooey and soft.
Ghirardhelli White Chocolate Chip
No macadamia nuts here, friends, which is something I appreciate. Sometimes you don't want to chew. You just want to sink your teeth in a buttery, tender cookie and let it disintegrate on your palette. This was the first ever cookie I tried from Anthony's. Lovely!
Cookies and Cream
This is Anthony's claim to fame right here. I L-O-V-E this cookie! It's perfect if you want the best of two worlds: a brown sugar cookie and an Oreo. Again, love the crispy ring on the edge. The combination of the two is genius. They are not overly sweet either, so it's easy to eat more than one…which I have been guilty of many times!
Toffee Chip
Hands down, my favorite of all the cookies he offers. Toffee. Cookie. How can you go wrong? One time at work, a patient brought these to our office and I took one to my desk. I was having such a horrible day, and decided to take a cookie break. One bite, and my eyes rolled back and all I could do was relish in the buttery goodness I was eating. It literally made my day go by a bit smoother. There are just no words that can fully express how good these are. You just have to try them for yourself!
So yes, I was skeptical at first, but I stand corrected. Though my cookies are the bomb.com, Anthony's Cookies are THE BEST I have ever had (outside of my home, that is =D). I am so happy that they opened. Just give me some cold milk, a chair, and one of these incredible cookies and color me happy! On my latest trip there with Bub, we parked illegally so that we can get our craving satisfied. Yes, we're savage like that. No ticket for us! Take
that
, po-po's!
Thank you, Anthony, for sharing your cookies with San Francisco!