Restaurant:
Pink's Las Vegas
Address:
Planet Hollywood, 3667 Las Vegas Blvd, Las Vegas, NV
Cuisine:
Hot Dogs
Date Last Visited:
June 19, 2010
Dining Partner:
My Vegas Girls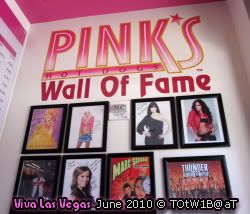 Pink's is an institution in LA. Celebrities? Check. Ridiculous lines? Check. Good food? Well, we were going to see about that. I haven't been in So Cal in so long and I don't have any real plans to head over there anytime soon, but Pink's has always been a place I wanted to go to if I ever did make my way to LA. When one of my girls suggested we go there for lunch, I was ready.
We did have to wait in the hot sun for about 15 minutes, but I was hungry. I was going to get a hot dog. Period. So for you who are not too keen on waiting in the heat, bring an umbrella, a bottle of water, a spritzer, and most importantly
patience.
Celebrity Hot Dog Menu
The Las Vegas menu was similar to the Hollywood menu when it came to the classic hot dog/topping combinations and the ability to create your own hot dog special; however, I did notice two distinct differences: the prices in Las Vegas are double compared to the Hollywood prices AND I didn't see the Martha Stewart hot dog that I was yearning to try. *tear* I guess since this is Vegas, the celebs had to be different. I did find something on the menu that tickled my fancy. The KIM KARDASHIAN hot dog. I was sold. Man, I love that woman. She has no real talent, and I don't even know why she's famous…(oh yeah, that tape), but I like her anyway. There was also a Mel B. dog, a Holly Madison dog, and a Miss America dog…
Before I get into my lunch, I want to show you the hot dogs that my lady friends ordered. This is a hot dog topped with chili, bacon, onions, tomatoes, and sour cream. Looks like a fork and knife were needed to eat this thing.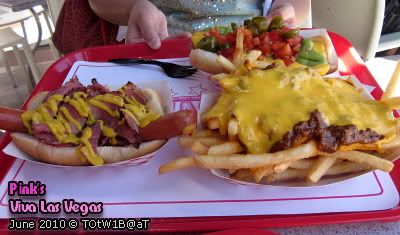 On the far left is a hot dog topped with pastrami and mustard, in the back is hot dog with tomatoes, jalapeno peppers, guacamole, and cheese, and in the front we have some good ol' chili cheese fries. Heart attack on a tray right there.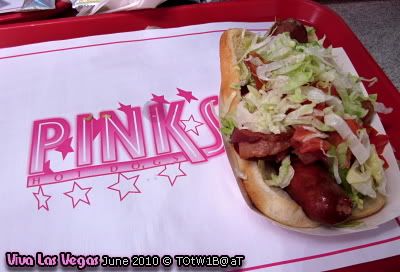 The Kim Kardashian Hot Dog
This hot dog was made for me: bacon, lettuce, tomatoes, and guacamole. Of course I added my own ketchup and other accoutrements since I am such a condiment whore.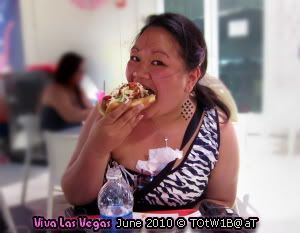 So how did I like it? There was no hot dog left on the tray when we were done! I adored the snap of the hot dog casing when I bit into it and the juice that seeped out was delicious! Even though it was a hot dog, it wasn't too too heavy since everything on top was basically just vegetable. Lunch was enough to last me the whole day.
I wish there was a place in San Francisco that was similar to Pink's. No, I am not talking about
sausages
because I know where to get good sausages. I'm talking about HOT DOGS. Yeah, there's Stanley Steamers on the corner of Market and another one in front of Macy's at Union Square, but it's not like Pink's. I want a place where you can get a hot dog topped with a burger patty and covered in pepper jack cheese and avocado…okay, maybe not
that
particular combination, but I want a place where I can get my creative juices flowing. A polish dog topped with cheddar cheese, jalapenos, and guacamole. A hot dog with bacon, a fried egg, and ketchup. I don't know, maybe I'm thinking TOO crazy, but it's fun. Come to think of it, in college, I used to go to
What's Up Dog
a lot...hmmm...that sounds so good right about now. =)
I peered into Pink's LV's Yelp page and they are not too high up there in the ratings. Some people say it's too expensive. It's Vegas, what do you expect? I actually didn't mind. We were on vacation and what do you do on vacation? Spend money and be a glutton. That's exactly what we did and I had a really good meal here.
It also didn't hurt when I was able to say that I ate Kim Kardashian.
Har har…
*git cho head outta da guttah, son*