Event
: #OutsideIn4
Venue
:
Heart
Address
: 1270 Valencia Street at 24th St., The Mission, SF
Date
: April 25, 2010
Dining Partners
: T-Star and SAM and a whole bunch of other people I didn't know
The street carts were at it again! Really?!
#OutsideIn3
was already one month ago? Time surely is flying! The theme of this month's Outside In was vino. Each dish would be paired with a nice wine. Let the boozing and noshing begin!
We are always on Filipino time, but we didn't leave "early" like we planned. I knew there was going to be a wait, and from the looks of the line on Valencia, we had seconds thoughts about entering. Thank goodness the parking gods were on our side and found a spot literally right across the street. Then the waiting game started. After 30 minutes in line OUTSIDE, we were IN.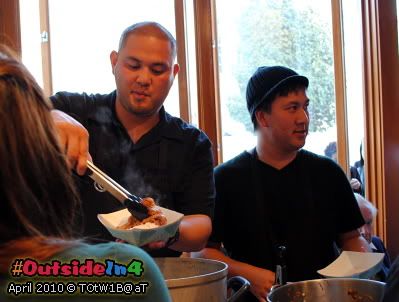 - Adobo Hobo -
Exec and Sous
First stop was Adobo Hobo's station right when we got inside. I was bummed they didn't have their sisig tacos or ube purple velvet cupcakes, but I was happy to try something new…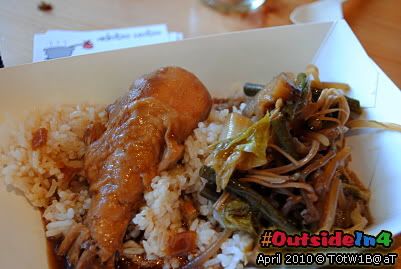 - Combo Deal -
Chicken and Veggie Adobo Over Rice
I have had the chicken many times, and the veggie adobo with egg plant, mushrooms, long beans, and cabbage was delicious. Brought back memories of my Inang making
adobong sitaw (long beans)
when I was a child. T-Star enjoyed it so much that she came back on our way out to take some home.
Follow them on Twitter: @
adobohobo
- Crème Brulee Cart -
oh yeah, baby…
Let's just say the Crème Brulee Man always satisfies.
Nutella Crème Brulee in the Front
Lavender Crème Brulee in the Back
TO. DIE. FOR. The Nutella literally caught me in a standstill. I couldn't think for a moment. All I felt and tasted were the smooth Nutella-infused custard and was pleasant crackling of the sugar. I usually don't like my food tasting like my bathroom spray, but the lavender was incredible as well. T-Star was astounded with it as much as I was with the Nutella.
Follow him on Twitter: @
cremebruleecart
- Good Foods Catering -
While waiting outside in line, the "bouncer" was given a slider from this station and he proceeded to eat it in front of us. Needless to say, I was determined to find out where he got it from.
Oh. Yes…I was amazed with what came from this tiny little table. They were working hard with the minimal space that they had all the while chatting with the crowd, answering questions, and being the nicest guys.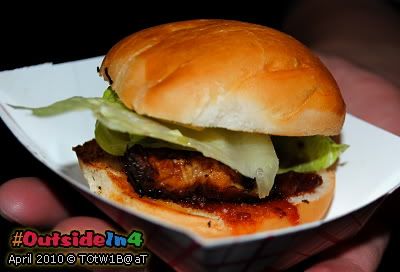 - Pork Belly Slider -
Dear Lord, thank you for inventing pork belly. Dontaye, the head honcho, told me that he brined the pork belly before cooking. The meat was succulent! We loved that pork fat. I forgot to ask what he used as a spread on the roll, but it had a nice sweetness of offset the richness of the pork belly. *thumbs way up*
EDIT (April 29, 2010 at 1:00 pm): Dontaye of Good Foods Catering informed me that the sauce was actually "a smokey tomato jam" on the pork belly. =) Doesn't that sound just heavenly?
Catch them at the Alemany Farmers Market every other Saturday!
Follow on Twitter: @
goodfoodcaters
- Slow Jams -
Jam for the People
What an awesome table display! We tried two flavors: strawberry and strawberry-lavender.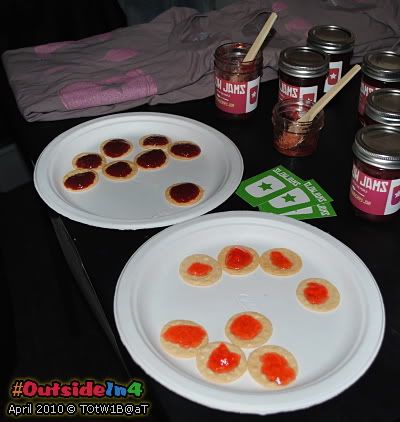 After tasting each on rice crackers, we were hooked and HAD to purchase a jar for ourselves to take home. You guess right, I went for the strawberry and T-Star went for the lavender.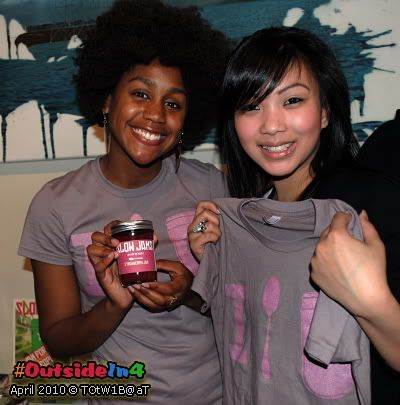 - Lovely Ladies -
Shakirah, owner of Slow Jams
and SAM with her new shirt
Shakirah is as sweet as can be. We also loved the whole story behind the company name - slow jams uses organic, local, sustainable ingredients. So good. Wait…wait…do you hear that? I thought I just heard Midnight Star, Babyface, Usher and Monica in the distance.
Follow on Twitter: @
eatslowjams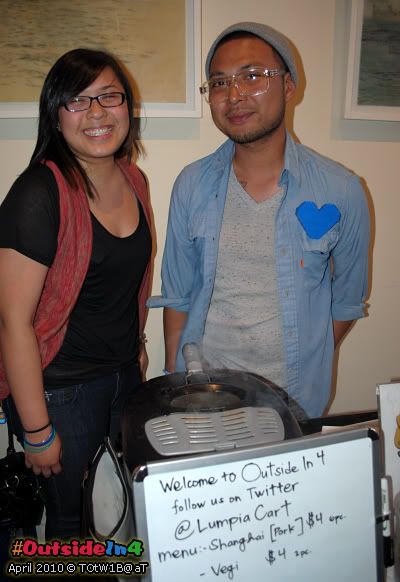 - Lumpia Cart -
It's a Family Affair
Lumpiang Shanghai and Veggie Lumpias were on the menu - love those fried little Lenny's!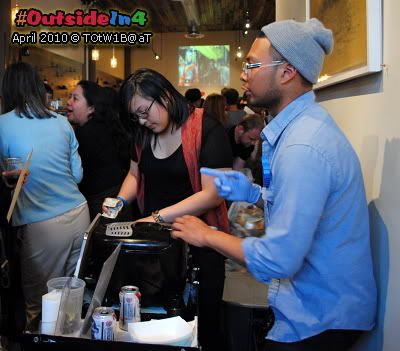 Friends let friends drink and fry.
Safe trip to the Phils and back, homies!
Follow them on Twitter: @
LumpiaCart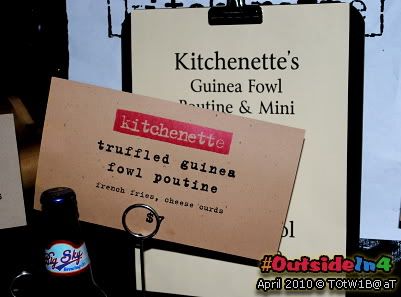 - Kitchenette -
I'm so fired. Two #OutsideIn's in a row that I have missed Kitchenette's food. By the time we went to order, there was a 15-minute wait for their insanely beautiful poutine - French fries topped with gravy and cheese curds! I promise, the next one, I am heading straight for you!
- Magic Curry Cart -
Mr. Curry Man made a Red Prawn Curry which looked like Heaven in a bowl, but like Kitchenette, there was a waitlist! I'm getting you next time!
We didn't stay too long because the place was getting crowded and we were actually getting really full. While we were in line, one of our targets,
Toasty Melts
had run out of their Manchego Melts. I also regretted not staying long enough for
Evil Jerk Cart
who set up shop after we left. Since the space was limited, once one vendor sold out, a new one would take its place. The Egg Cream Shakes from the
Egg Cream Cart
would have been perfect to cool down after eating the jerk too!
Oh well, there is always #OutsideIn5 coming to you on Sunday, May 16th! I don't know where the location is as of right now, but when I do find out, I will be sure to post it on my Twitter: @
joanneisafoodie
Until then, sayonara, loves!
xoxo,
Jo