Event
: #OutsideIn3 – The Philippines
Date
: March 27, 2010
Address
: 6192 Mission Street, Daly City, California
Phone Number
: (650) 301-1800
Cuisine
: Filipino
Did you know:
"As of 2006 census figures, 35.4% of Daly City residents are of Filipino descent, the highest concentration of Filipino/Filipino Americans of any mid-sized city in North America. This partly explains Daly City's place in the vernacular as the 'Pinoy Capital'."
–Wikipedia
It only made sense to hold #OutsideIn3 in Daly City. I was born in San Francisco and lived in San Francisco near Top of the Hill along Mission Street for the first 6 years of my life, but have been in Daly City for the last 20. I lived near Lincoln Park and Broadmoor before settling at my current spot near the Daly City/South San Francisco border. Daly City, no matter how cheesy this sounds, is my home. Far enough from the hustle and bustle of SF, but close enough to escape when needed. This would be the time when SF street food culture would hit Daly City by storm – celebrating my 26th anniversary here would be ideal – a mash-up of the food scene I love so much in San Francisco and the place I live.
Image courtesy of Soul Cocina
So #OutsideIn3 would be my last birthday celebration 2010. Yup, it's not just a birthday to me, it's an entire
month
of celebrating! When I heard this event would be held here at MINK, I got a little warm and fuzzy inside because
this is where my mom held my 1st birthday party!
No, it wasn't MINK back then, but it was at the exact same spot. 25 years later – how's
that
for coming full circle?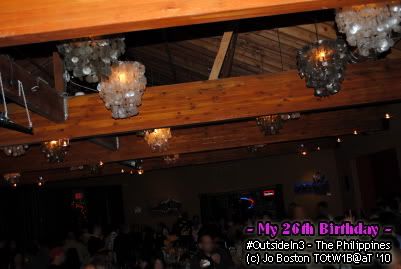 - Ceiling Adorn with Capiz Shell Chandeliers -
Honestly, when I heard of MINK, I thought, "Oh what? A nightclub in Daly City?" You would think that everyone would just travel to San Francisco to go clubbing, but having a club situated, literally, in our own backyard made sense! Not too far to drive and the DJ's spinnin' here every week are top notch. Speaking of DJ's, the crew who started up #OutsideIn3 was Mixsterious – a bunch of guys who love good music, good people, and good food. Perfect combination for a night like this.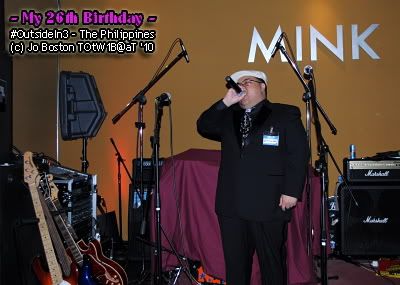 - Ken "Kendo" Dolar -
The Host with the Most
Bang bang bang, birthday boy!
Mixsterious teamed up with Soul Cocina and Lumpia Cart – (Hi, Lenny! *blows kiss*) well-known street cart vendors in San Francisco to make this venture happen. Soon, more street carts such as Crème Brulee Cart and Evil Jerk Cart were on the itinerary. Walking in, everyone was singing along to "Don't Stop Believin'," that's when I knew for certain Daly City was in for a treat! FYI: Twitter links to all the vendors will be listed at the end of the post!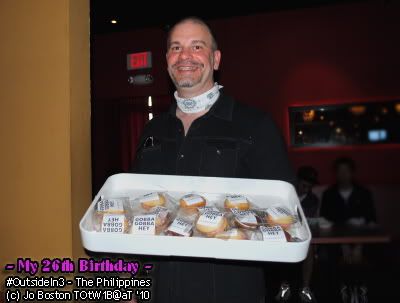 - Gobba Gobba Hey! -
When we got to MINK at 6:30 pm, the place was already packed and I could smell the aroma of frying and sautéing in the air. Did I mention the place was packed? Daly City truly represented. We started with Gobba Gobba Hey because he and I traded correspondence prior to the event and I was eager to try his Filipino-inspired gobs.
- Coconut Gob with Ube Frosting -
Delicious! I give this man props for tackling such an exotic ingredient. I have never even seen raw ube before…and I'm the Filipino one. He worked with it and created a wonderful treat. Don't you love that purple in the frosting? We also tried the chocolate with banana frosting. Awesome! I will wear your pin with pride, Mr. Gobba Gobba Hey!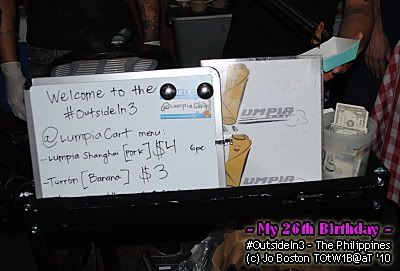 - Lumpia Cart -
This evening, the guys of Lumpia Cart would be selling Lumpiang Shanghai – small fried rolls filled with pork and Turon – a sweet dessert lumpia.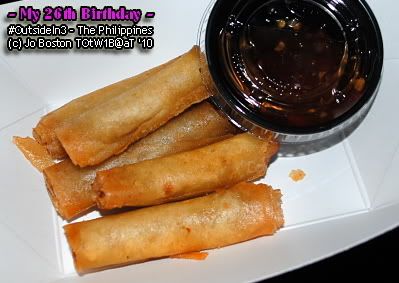 - Lumpiang Shanghai -
with Sweet Chili Sauce
Be careful with these little Lenny's. They are addicting. I heard my neicey-poo Jayla loved these! These are a staple at all Filipino parties, so if you haven't had this yet, DO IT!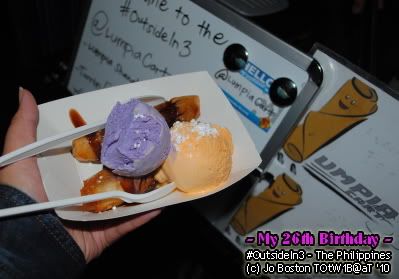 - Dessert Lumpia -
The guys were so sweet and hooked me up with banana lumpia topped with chocolate sauce, ube ice cream and mango ice cream for my birthday! My sister killed it. Anything banana and she will devour it. You can't go wrong with fried food already, but add hot, sweet, banana. Oh yeah, baby. Thanks guys! =D *winks at Lenny*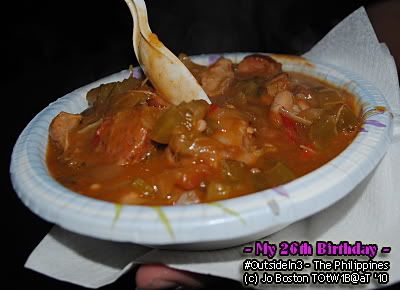 - Gumbo Cart -
Bub, my fiancé, has a secret crush on the Gumbo Cart. I swear, every time we see Gumbo Cart, he orders at least two bowls. Bub was not disappointed with this Longanisa Gumbo over
Sinangag
or garlic fried rice. Satisfying, indeed! Thick sauce and layer upon layer of flavor. I promise, you will never be disappointed by Gumbo Cart.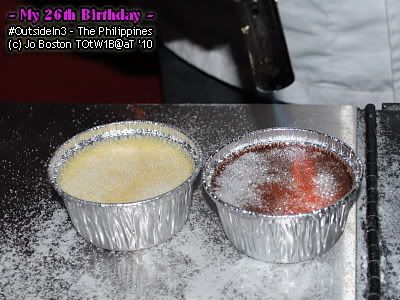 - Crème Brulee Cart -
The Crème Brulee guy is a pioneer in the San Francisco Street Food Movement. I love following the guy on Twitter just to see where he is off to next. I was bummed he didn't have Frosted Flakes because it's my absolute favorite, but we did enjoy the classic vanilla and the chocolate peanut butter cup. Delicate sugar shell and smooth custard. Yum.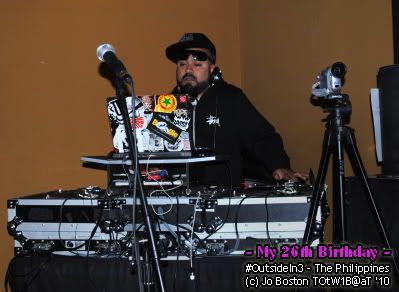 - Mr. E of Papalote -
You Food Network heads saw this gentleman on
Throwdown with Bobby Flay
last month, and let's just say they showed "Green Go!" the door. Mr. E is what he is known as in the DJ and SF music scene, but he is also a chef and co-owner of the very successful Papalote restaurants in the City. It's always a pleasure to be in your presence, Mr. E!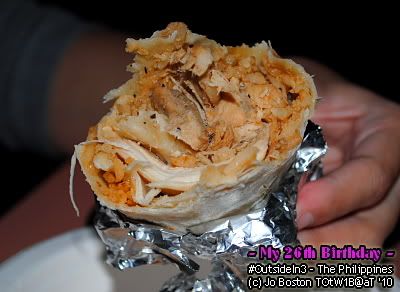 - Chicken Adobo Burrito -
I am glad that the chicken adobo burrito aka "Poleng" burrito (to commemorate the now defunct Poleng Restaurant) made an appearance here at #OutsideIn3. Mr. E (above) invented this himself! This is my third time having the chicken adobo burrito. Can't get enough of this Mexi-Pino fusion!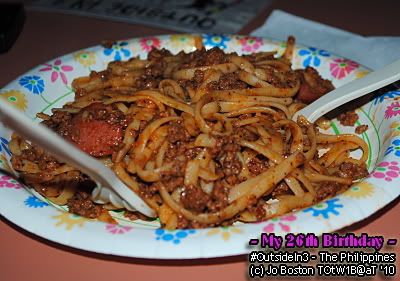 - Evil Jerk Cart -
Dear Miss Evil Jerk Cart: you have concocted a spaghetti sauce recipe with the perfect amount of beef, hot dogs, and spice. With a name like Evil Jerk, one should expect a mouth full of flavor. This Pinoy rendition of the Italian classic made by a non-Pinoy is fantastic! You go, girl. She made it better than some Filipinos I know! When she told me in a tweet that she was adding hot dogs, I smiled. Hot dog is an essential part of Pinoy spaghetti. If you don't know, now you know!
I want some NOW.
- Kitchenette -
I am very sad when I look at this picture. My friend had this and offered me some. I meant to share it with her, but I got caught up taking pictures with my party and didn't get a chance to. I heard the yellowtail and Dungeness crab combination was a winner! Aesthetically-speaking, it's gorgeous. I got the chance to chop it up with the guys of Kitchenette (who are so sweet and friendly) and they told me about their second location on 24th and Valencia! Awesome. Can't wait to finally try it out.
- Adobo Hobo -
You will see in a bit that Adobo Hobo offered a few options at their table. Adobo is my favorite Filipino food – especially my Inang's. Though I am quite a critic when it comes to Pinoy food, I have to say that Adobo Hobo's is tasty.
- Sisig Tacos -
These were a hit at our table. A tortilla was heated on an electric griddle while the pork, onion, and jalapeno pepper medley was heated in another pan. The mixture is placed on the tortilla and crushed chicharrones and crema tops it all off. Nice kick from the spice and crispy texture from the pork rinds. Again, this Mexi-Pino collaboration of flavors is a winner here.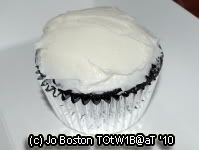 Ube Purple Velvet Cupcake
I should have cut it open for you to see the inside and how purple it was. These were so good! I have had ube sponge cake and ube Swiss rolls before, but never ube cupcakes. It was decadent and I even felt some little pieces of ube in there. Outstanding. These would be absolutely perfect for Easter, yes? What a lovely purple color it will add to any Easter menu!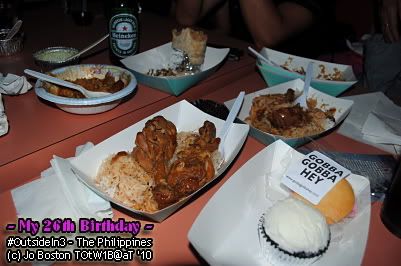 - Our Table -
I regret not trying the other carts' food. I so wanted to try the coconut shrimp from Soul Cocina and the Mechado from Hapa SF, but my stomach couldn't handle it. This is one of those times I wish I had 4 stomachs – one for each course! The food that I did have were great and it was fun sharing with my party. Socializing over food is always a good thing.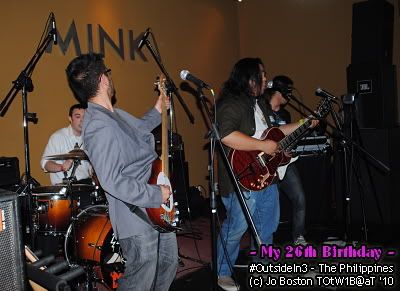 - Public Gluttony -
Oh boy, they were awesome. They brought me back to 2003 when I was in love with New Found Glory, Good Charlotte, and Linkin Park. They did a cover of Jay Sean's "Do You Remember" and I was singing along with everyone in the crowd. Terrific act. Upbeat and fun. Exactly what we needed!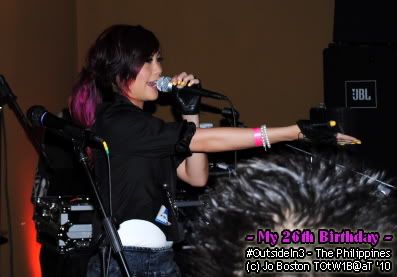 - Jayne Rio -
Happy birthday to you too!
Miss Rio has been in the Fil-Am music scene for many many years. Going as far as being a finalist in the My Grammy Moment aka "Sing with Justin Timberlake at the Grammys" Contest to getting screen time while auditioning for American Idol. This talented lady also graced us with her vocals this evening.
- Winding the Night Down -
What a great evening full of fun, food, tight beats, entertainment, and friends. 10 pm, I was beat! MINK was transformed into a nightclub by that time and after a drink at the bar with my cousins, I was ready to hit the hay. Lots of fun in those few hours! Congratulations to Mixsterious, Soul Cocina, and everyone involved with this event! I am proud to say that proceeds from then event went to the St. Anthony Foundation and Childhope Asian Philippines. I am looking forward to #OutsideIn4!

Tweet Much?
Follow Them:

Sponsors and Vendors:

@MINKBar
@Mixsterious
@SoulCocina
@LumpiaCart
@GobbaGobbaHey
@EvilJerkCart
@GumboCart
@CremeBruleeCart
@KitchenetteSF
@Papalote415
@AdoboHobo
@PublicGluttony
@Joanneisafoodie
______________

Special Thanks
to My Folks:
ILU!

Bub
Sherri-Anne
Jayla Nicole
Jennifer B.
Roxanne
Michael P.
Randy
Cindy
Terri Star
Marcus
Yannis
Jenn L.
Rizza
Nikki
Iya
Shelah
Rosalyn
Kuya Rom
<3
Thank you to everyone who came, partied and ate with me! My birthmonth was spectacular this year. I'm tired now. =) Here's to another year! Hopefully by that time, there will be an #OutsideIn20! *crosses fingers*