Restaurant:
The Boiling Crab
Address:
1631 East Capitol Expressway, San Jose, CA
Phone Number:
(408) 532-6147
Cuisine:
Seafood
Date Last Visited:
September 25, 2010
Dining Partner:
Bub, SAM, Cuzzin Run-Day, Jyper Diaper BQ, Cuzzin Star, Shannon Girl
Oh, the Boiling Crab…
Whenever someone brought it up, I would roll my eyes and stop listening. Was it really THAT good. Do we REALLY have to drive an hour away to get good seafood. Honestly, I thought of myself as a spoiled (and lazy) brat who would not dare peel a shrimp. Crab? Forget it. There was no way I was going to get my hands dirty and smelly. And those corny bibs! Seriously?! Prior to this visit, I didn't care for the Boiling Crab at all, but people kept bringing it up and how we SHOULD go. I finally gave in, and it took my BCF's birthday in order for me to get in our all leather-interior car with Bub during one of the hottest weekends this summer and drive all the way to San Jose. Did I mention the wait? I was told the wait was going to be an hour to an hour and a half. Psh…only for my cousin.
So we get there and we were told and hour and a half. Go thing there is a Target and Tapioca Express nearby to pass the time. They did however call our party only at the hour mark. Not bad! We were sat at a table lined with butcher paper. Why? No plates. No utensils, unles you were eating the gumbo or rice. Salt and pepper are served in plastic dip cups. No napkin dispenser, rather a roll or two of paper towels. Water (at $0.25) are served in plastic cups with tops (because you don't want anything falling in your water). Then a bunch of cut limes are poured onto the table. To keep things organized, we each wrote our order down.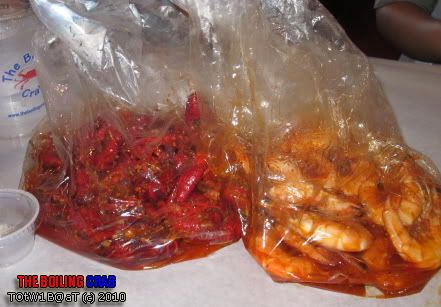 - 1 Pound Each of Crawfish and Shrimp -
How to order:

1) Select your seafood:
Crawfish, king crab legs, blue crab, Dungeness crab, lobster - all sold by the pound and by season
Clams, oysters, and shrimp are sold at a flat rate
2) Select your seasoning:
Their Original Rajun Cajun OR Lemon butter OR Garlic Butter OR The Whole Sha-Bang which is a combination of all the sauces
3) Select your heat level
Non Spicy OR Mild OR Medium OR XXX
Note: The Whole Sha-Bang has its own spice blend, so if your tongue is timid, but want the Whole Sha-Bang, choose the Non Spicy heat level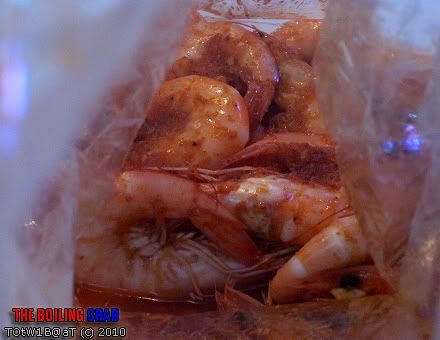 - Let the Peeling Begin -
1 Pound Not Spicy in the Whole Sha-Bang Seasoning
Please note that because we had to use our hands, I don't have many pix of us eating. C'mon, can't get the camera dirty! Let me just say that The Whole-Shabang sauce is INCREDIBLE! My mouth is watering just thinking of it.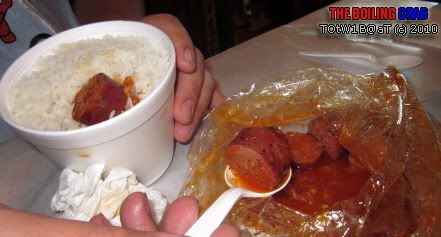 - Bub's Rice and Sausages -
Poor Bub. He's allergic to seafood, but we peer-pressured him into going. There are non-seafood items on the menu like the sausages here and the wings which are coming up. There are also sweet potato fries, potatoes, and rice for sides.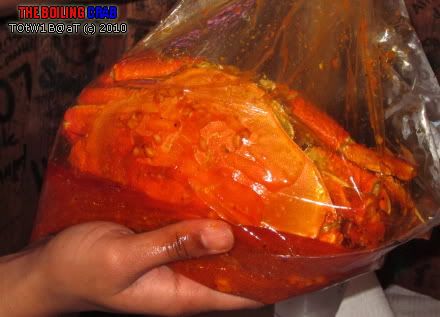 - A Whole Dungeness Crab -
Sweet, succulent meat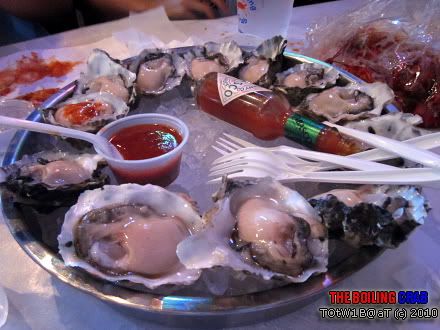 - A Dozen Raw Oysters -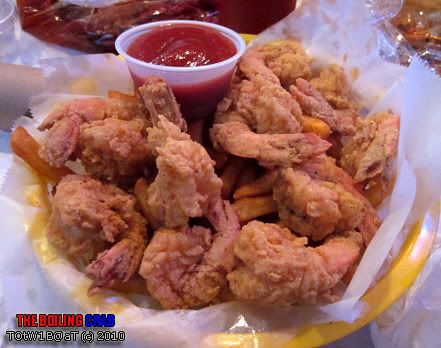 - Fried Shrimp Basket -
served with Cajun Fries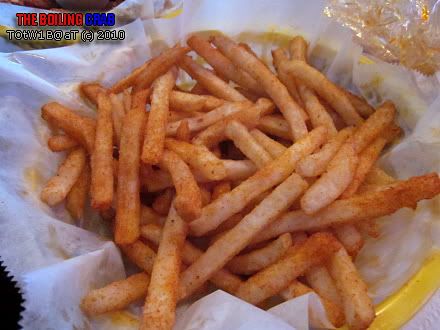 - An Order of Cajun Fries -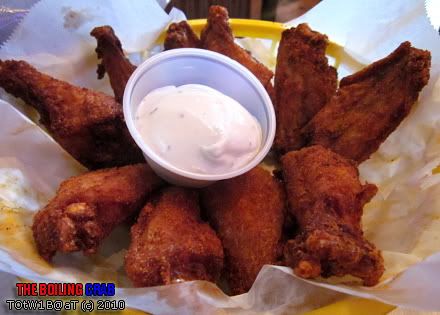 - 10 Cajun Fried Chicken Wings -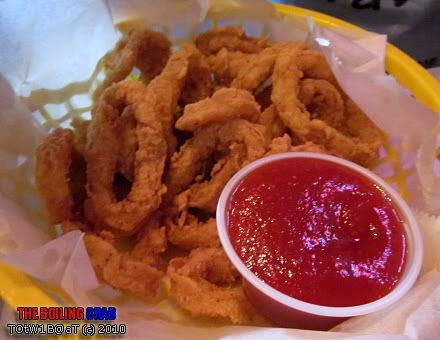 - Fried Calamari Basket -
Unlike Shrimp Basket, Fries Sold Separately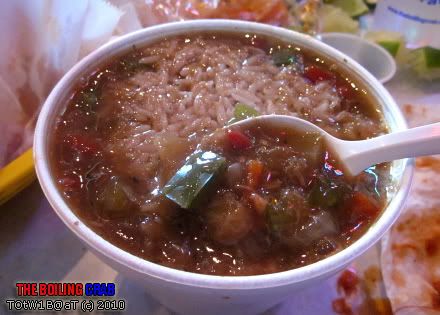 - Gumbo with Rice -
Just okay for me. I prefer @GumboCart's more!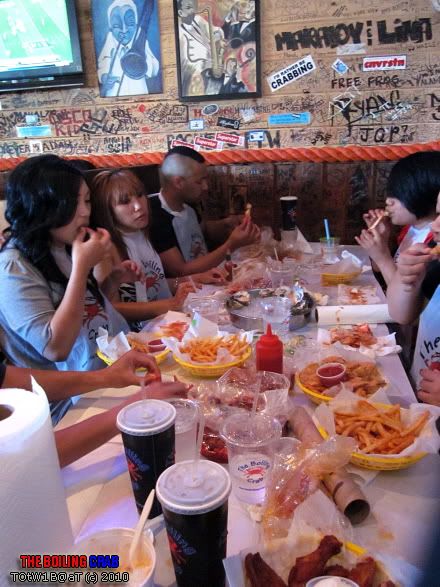 - We Be Grubbin' -
The table was full of food and everything was up for grabs! Such a fun way to eat. And YES, the bibs are NEEDED. Unless you want a collection of shells, garlic, and other goodies stuck to your clothes.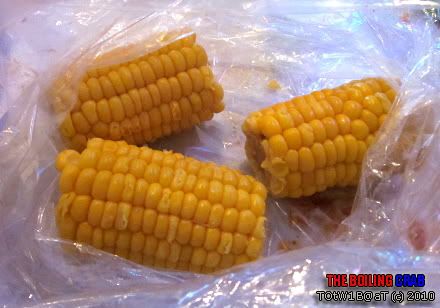 - Sweet Buttered Corn -
even better when dipped in the Whole Sha-Bang Sauce
After taking a breather, we decided to order more. The corn was awesome!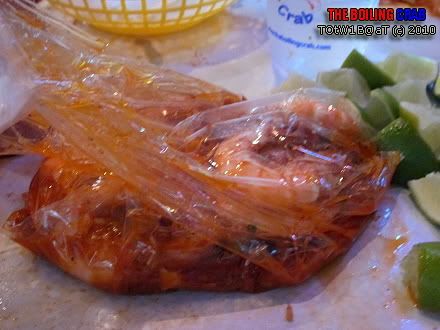 - Our Second Serving of Peel and Eat Shrimp -
Couldn't get enough of these! I want to replicate the sauce!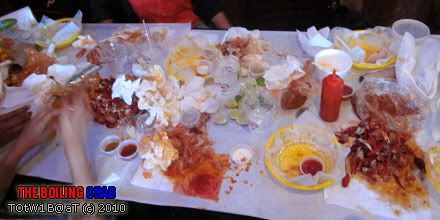 - Our Table After the Carnage -
So after this experience, my mind was completely changed.
I HEART THE BOILING CRAB!
The surprising thing is that Bub tested his stomach and even ate three crawfish and a little crab! He said if he got whoozy that he's stop, but he liked it a lot! He even says he wants to go back! Shoot! I want to go back too! I loved it here because it reminded me of
Giovanni's Shrimp Truck in Oahu, Hawaii
. This is the first time in a long while where I have eaten shrimp that I did not mind peeling. Eating like this with family is so much fun. Lots of laughs. Well, lots of silence also because we were too busy stuffing our faces! I am so happy I got the chance to eat here.
Happy Birthday, Terri Star!
I love you!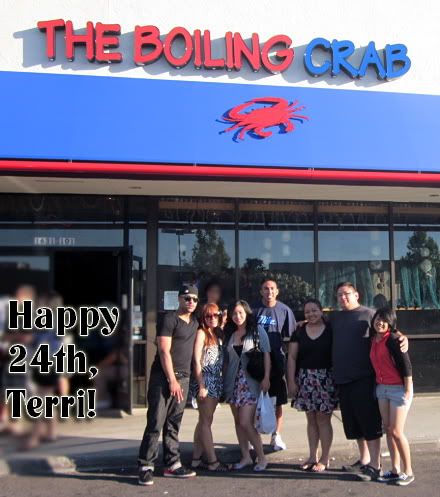 - It all starts and ends with family -
The Wong-Blake-Bequio-Kwanhull-Malabanan-Murphy-Boston Family
xoxo,
Jo