So you've probably heard or seen my constant complaining on Twitter that I have been sick. I don't get sick often, but when I do, it's bad…and I'm a big baby. I am so lucky to have Bub. He does everything for me when I am ill. Whatever I need, he's there. This time around, I think I got sick because I went to an evening SF Giants game and it was cold. It may be "summertime," but in Daly City, "summertime" looks like this: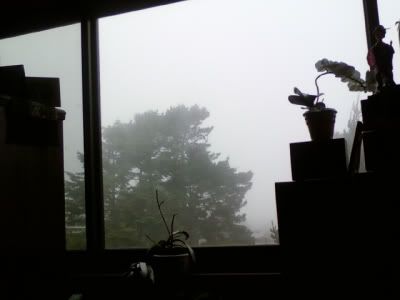 That, my friends, is a view from my living room. They don't call Daly City "Fogtown" for nothing. Add the sickness, to the already low immune system, to stress, to the awful "summertime" weather and you get a miserable Joanne. However, it seems as though I am not the only one who has caught whatever is going around. A dear friend and fellow foodie asked me, "What is your get-better food?" I answered, "Any hot soup with noodles."
I love hot noodle soups. Something about the hot broth vapors which give you a mini facial. The feeling of the soup soothing your sore throat. The noodles are fun to slurp and in the process help with clearing airways. And besides, I'm Asian, so it's in my blood to love them. Here are my soup suggestions if you ever find yourself sick like me.
This is a good way to clear your sinuses. In Korean tofu houses, you have a choice of how spicy you like your soup. The hotter you go, the faster you'll be able to breathe. There are a variety of soft tofu soups to choose from, like this fried noodle one above, but I particularly like the kim chee tofu soup as well. What I love about eating at places like My Tofu House is that you get an assortment of little dishes, collectively called
banchan
. Every tofu house is different, but you usually get kim chee, pickled veggies, and even fish. Bub added an egg to this to make his soup extra filling.
My Tofu House
:
4627 Geary Blvd b/t 10th & 11th Aves, Inner Richmond, SF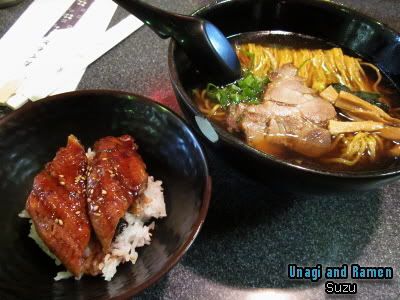 I've been to a couple of ramen joints in San Francisco and I always gravitate towards the soy-based or pork-based soups. I like the velvety mouthfeel of the soup which relieves whatever soreness I have, plus a slice of
cha siu
never hurt anyone. Ramen at a real noodle house is so much better than the stuff we find in the little bags or Styrofoam cups at the market. The noodles are delightfully chewy and stands up to the rich broth. The ramen combination above is from Suzu Noodle House in Japantown's Restaurant Mall. Ramen is becoming a big thing these days in SF. Other ramen places I have been to: Katana-Ya and Iroha. I have heard good things about Hapa Ramen and Santa Ramen.
Suzu Noodle House
1825 Post St. Inside Restaurant Mall b/t Webster & Fillmore, Japantown, SF
Another Japanese soup I love to eat when I am feeling under the weather is udon. I adore thick noodles - possibly my favorite kind. This bowl is from Cha-Ya Vegetarian Japanese restaurant in the Mission. It's
Kake
or plain, and topped with kaiware - daikon radish sprouts, scallions, and seaweed. It's not animal-based, so a lot of flavor comes from the greens. You can have this on its own - I had a plate of gorgeously fried vegetable tempura on the side.
I did not miss the meat at all when I came to Cha-Ya. I am going to confess something: I like buying the "instant" udon packets at the market. I add my own meats, dumplings, and veggies - bok choy is my favorite. One time I made gyoza and another time I added fried SPAM. I love udon because you can dress it up any way you want.
Cha-Ya
762 Valencia St. b/t 18th & 19th, The Mission, SF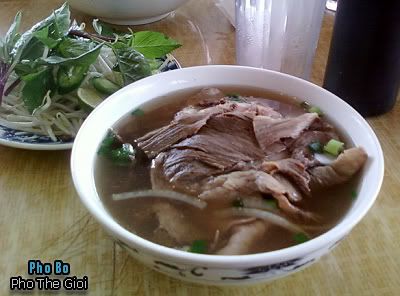 I think pho is the go-to soup for most people. Whenever I go to my pho restaurant just 5 minutes from my house, I keep it simple and go for the rare steak and lean brisket combination. I'm not a tendon or tripe person. I then ask for extra lime or lemon wedges, add a chunk of fresh jalapeno pepper, a squirt of hoisin sauce, a squirt of sriracha and I am set. I don't add any basil or bean sprouts. Keeping it simple. I also keep a little bowl of hoisin/sriracha on the side to dip my meat into. This gets me breathing and sweating in no time.
Pho The Gioi
2239 Gellert Blvd, South San Francisco, CA
If you are not a cow-eater, fear not, the chicken pho at Turtle Tower is simply amazing. I don't add much to this when I eat it. Just a squeeze of lemon and that's it. No hoisin. Maybe some hot sauce, but that's it. Turtle Tower serves Northen Vietnamese pho, so the noodles are wider and they don't use as many accoutrement. This is the best chicken noodle soup ever. The broth is very clean and the noodles are bouncy. Simplicity at its finest.
Turtle Tower
631 Larkin St b/t Eddy & Ellis, Tenderloin, SF

Two runners up for soup to eat when you're sick do not contain noodles. This Thai soup called
tom kha gai
at Koh Samui and the Monkey is a bit sweet from coconut milk, a bit tangy from the kaffir lime leaves and lemongrass. There are also pieces of chicken and mushroom in there as well. The other is arroz caldo. It's thick Filipino rice soup made with rice, ginger, garlic, and chicken, and you can hear it be called lugaw, jook, rice porridge, etc. I prefer mine with lots of lemon, a dash of fish sauce, fried garlic, boiled egg, and green onion. I almost never buy arroz caldo because I prefer eating it homemade.
Koh Samui and the Monkey
415 Brannan St b/t 3rd and Ritch, SOMA, SF
You're probably wondering why the arroz caldo is the first Filipino dish I have mentioned. There are so many Filipino soups and they deserve their own blog post. BUT for the record, my favorite soups to eat while I am sick are sinigang na baboy and
tinola
. There are also many different Filipino noodle soups such as pancit mami: cooked with chicken, cabbage, fish balls, and quail eggs and sopas: a soup of elbow macaroni, chicken, carrots, celery in a chicken broth accented with milk.
San Francisco seems to be always cold and soup is never out of season. To all my sickies out there, hope you feel better and take your medicine! Even if you aren't sick, I hope these suggestions keep you warm and your belly full!
xoxo,
Jo