Restaurant:
benu
Address:
22 Hawthorne Street at Howard, SOMA, SF
Phone Number:
(415) 685-4860
Date Last Visited:
August 20, 2010
Dining Partner:
Bub
Bub took me to dinner at
benu
in SF for our 6-year-8-month-3-day anniversary. On our 6-year-8-month-anniversary on the 17th, we attended Lady Gaga's concert in San Jose. We were doing it big this month.
I was so excited to try Chef Corey Lee's new restaurant. You may know that Chef Lee used to be the French Laundry's chef de cuisine. We're going to do this a little bit different. I am not going to add any commentary after each dish. Why? I want you to try the restaurant out yourself. People who went to benu before me told me I would be blown away. They were right.
I was literally speechless after each first bite of each course.
Flavors are refined, yet distinct. Each dish is well-thought out. There is a reason why each ingredient is placed on the plate. All I can say is:
phenomenal
.
Please forgive the pictures. My camera chose to malfunction during dinner, so we had to make use of our camera phones!
Without further ado, our a la carte dinner at benu: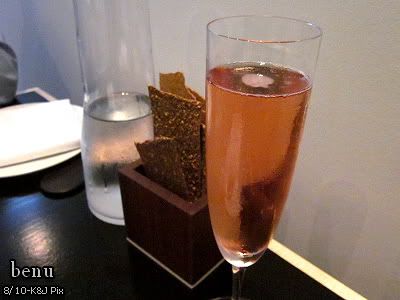 Seaweed & Sesame Crackers and Rose Champagne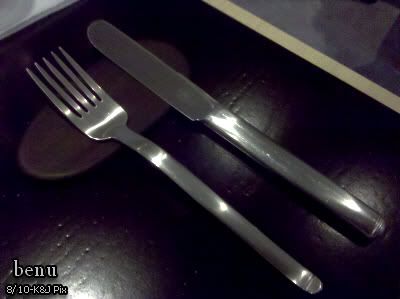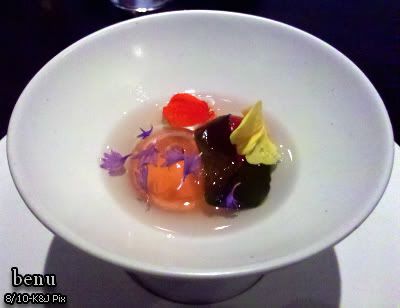 tomato water sphere with summer blossoms in dashi broth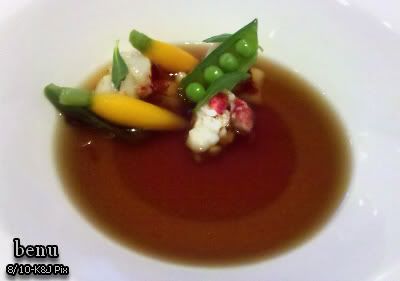 lobster bouillon, béarnaise custard, peas, carrots, tarragon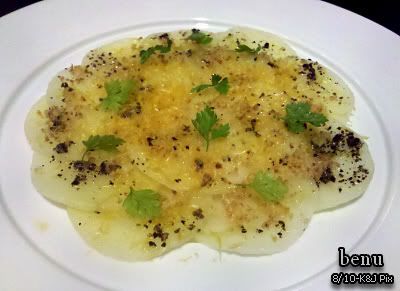 potato confit, young Mimolette, artichoke, black truffle, chervil
spaghettini, tomato marmalade, parmigiano reggiano
my favorite dish of the night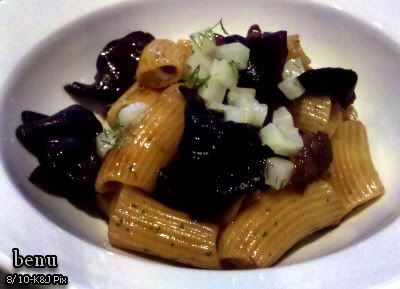 semolina rigatoni, sea cucumber, oxtail, wood ear mushrooms,
star anise, red wine, butter
St. Peter's fish a la francaise, shrimp truffle mousse, crispy bacon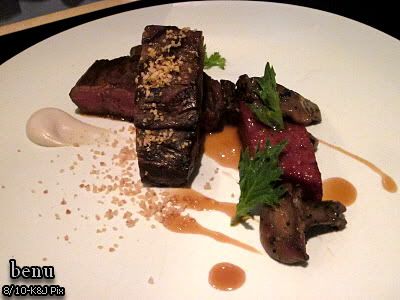 beef rib cap, bluefoot mushrooms, mizuna, pine needle honey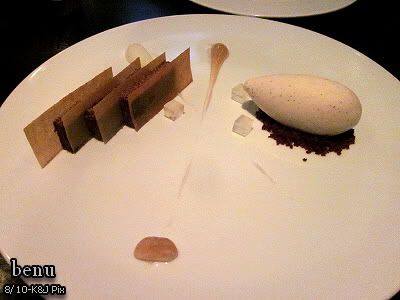 soft chocolate ganache, feuille de brick,
banana ice cream, Bourbon caramel, ginger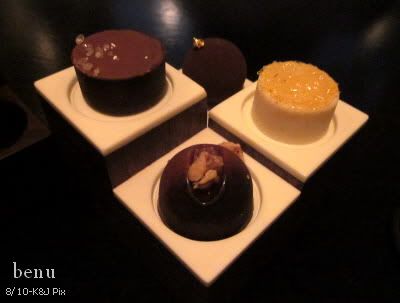 chocolates: toasted sesame, dark chocolate truffle, creme brulee, and walnut

Thank you, Bub, for such a memorable dinner. Love you.