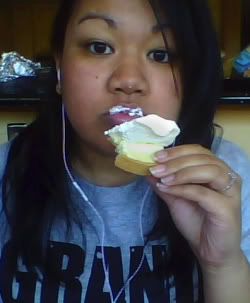 FOOD
: it was made for the sole purpose of being a source of sustenance - only to keep us alive, but let's face it, it's so much more than that. We all love food. We eat when we're happy. We eat when we're sad. We love food to the point we'd fight over it like we'd do over a lover. Many blogs would not be in existence if there wasn't such a passion for food. Everyone has different tastes and preferences. I'm a condiment whore, so anything that can accentuate whatever I am eating is welcome. Each addition of a sauce or spice or herb is a way of being creative. Food is art. The mixing, the combining, the experimentation. The kitchen can be an art studio or even a laboratory. We all love food! Naturally, we love some foods more than others. I can't stand the sight of liver, but I can eat something that another person would describe as stinky, rotten fish.
This brings up the subject of guilty pleasures. These are foods that are blatantly bad for our health or offensive to others or just plain taboo.
Dinuguan
, anyone? Yes, I still eat it! Got a problem with that? I asked some of my folks what their guilty pleasures were because I just wanted to tap into their preferences. What do they like? I wonder if some people didn't answer in fear of being ridiculed for their love in something. Have you ever done that? Hiding your true emotions for something you enjoyed to eat?
I know some people do. There is such an expectation for people in the culinary/restaurant biz. "How can you be eating that?! It's not from a local farm, there's 33 grams of fat in a serving AND you bought it at WALMART!"
I'm sorry, but are you kidding me? Love for food should be just that. If I like something and it tastes good, I'll flippin' eat it. I don't care if it's from a chain or a discount store or a farm in Ecuador. It's good? Come to Momma! On the flipside, after ingesting that fat-laden heart attack on a stick, I usually think to myself, "Why the **** did I just do that?" It's happened to everyone. THEN you look back and say, "But it was SO good!" and we do it all over again. It's a vicious cycle. Like I always say, life is too short. Enjoy all you can, but it's always good in moderation.
Here are a few of my own guilty pleasures:

Roasted Duck over Rice and a Thai Iced Tea from King of Thai Noodle in SF
: when I am in Union Square, 99% of the time I find myself sitting all by my lonesome in the purple-walled restaurant eating this with a boatload of green Thai chilies. GUILT: duck is one of the fattiest birds and I relish in the decadent skin.
Flamin' Hot Cheetos dipped in Cream Cheese
: I have always heard of people eating this combination. I decided to try it out one day. Good lord. The spiciness and the cooling effects of the cream cheese is money. GUILT: cream cheese has HOW MUCH FAT in a tablespoon? But we all know we eat more than that.

Hong Kong-Style Pork Chops with Garlic Rice and Eggs at Superstar on Mission St.
: This humungous plate of food at this little hole in the wall eatery is less than $4. I kid you not. Not only is it cheap, but it's filling. Pork chops are dipped in batter and then fried. You get a ginormous mound of hot, garlicky fried rice and over-easy eggs. It's something I lived on while in college. GUILT: greasy greasy greasy…but that never stopped me!
Sugar SPAM:
As if SPAM doesn't have a bad rep already - just add a sprinkling of sugar during the cooking process and watch as a lovely candy coating wraps around each piece. Pair it with some banana ketchup and you're golden. After I tried it this way, I never went back to normal SPAM. GUILT: sodium and sugar are always a deadly combination.
Now here are some of my Twitter folks' guilty pleasures:
@XtianDobbZockOn: Gotta love their Suiza Quesadillas and a side of rice!
@rcregie: classic Filipino breakfast! Besides, who wants to waste leftover adobo?
@PaniniKathy: I don't eat McD's often, but the fries are Kryptonite…especially dipped in the vanilla ice cream!
From my fave street food folks:

@AdoboHobo: I actually loved dipping @ToastyMelt's 3-Cheese in @GumboCart's Gumbo. Match made in Heaven.
@EdManChew: YES! Another thing I lived off of in college. Can't beat a $1.50 polish dog and drink!
Now from a couple of star chefs from SF:
@cnewton9 (FK Restaurants & Hospitality): no wonder! your ham hock macaroni & cheese at Fish & Farm was the bomb [dot] com!
@aidamollenkamp (of the Food Network and Cooking Channel): we all know my infatuation with SPAM! Two things I miss from Hawaii: SPAM Musubi and Giovanni's Shrimp Truck's scampi!
The next one is a funny one:

"HE" is none other than Anthony Bourdain - writer, chef, and host of "No Reservations" on the Travel Channel. Who knows a man's home habits more than his wife? This reminds me of his episode in SF, when he was eating a burger at Red's Java House and he said, "It tastes like it died screaming." Though he is anti-"AW," it's funny (and rather ironic) how he hides the Popeye's from his own wife. So cute.

Of course I had to ask Mrs. Bourdain about her own guilty pleasure. I agree. Nutella is one of those foods that tastes good on everything!
Now some of my Facebook responses: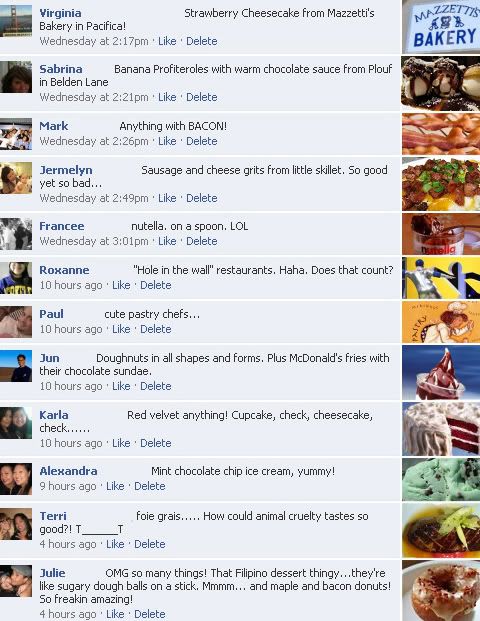 Seriously, we need to all have a potluck and just be gluttonous and irresponsible! I have love for ALL the answers above. Thank you to all who responded to this fun little survey. I agree ANYTHING with BACON - doughnuts, pastries, rice! How about...Nutella-dipped bacon?! *lightbulb* That MUST be done!
Back in January, Bub and I made a resolution that we would start eating better and more healthy because of our wedding in December. With friends like the ones featured above, the phenomenal food scene in San Francisco, and our pathetic willpower, we had no chance!
Now that we've all divulged a bit about ourselves, tell me:
WHAT IS YOUR GUILTY PLEASURE?