Restaurant:
Harris' Restaurant
Address:
2100 Van Ness Avenue, Nob Hill, SF
Phone Number:
(415) 673-1888
Cuisine:
Steakhouse
Date Last Visited:
March 22, 2010
Dining Partner:
Bub
Hello friends, I wanted to write about one of the best steakhouses in San Francisco. Bub took me here for my birthday back in March, and it was just perfect. I was born in 1984 and Harris' opened in 1984, so we celebrated our birth-years together! I already had done so much in the month of March - I called it
MARCH MAYHEM
- but this was truly a highlight. Harris' is on what I like to call "The Steakhouse Strip" - coming up Van Ness from Market, you'll find Ruth's Chris Steakhouse, the historical House of Prime Rib, Harris' Restaurant, and further down Bobo's. They are all competing with each other, yet they are so close to one another. Harris' has this old school feel with their comfy booths, dim lighting, and well-dressed servers. I found it quite romantic. It's making my stomach fluttering right now.
As we were perusing the menu, we were brought these awesome, crunchy toasts with butter and Port wine Cheddar Cheese Spread. That spread is to die for! We also got some bread, so I couldn't help but slather some of this cheese on it, too.
We asked for seconds it was so good.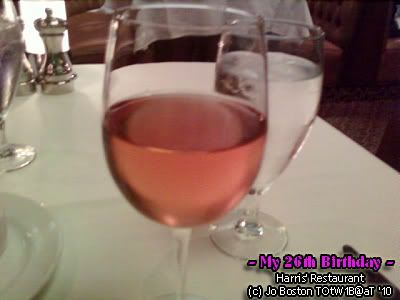 Birthday Wine:
Rosé, Muscat, Arneis, Pinot Blanc, and Grüner Veltliner
Before I go on, I want to apologize for the pictures. I didn't have my camera and I had to use the cam on my phone. Besides, I didn't want to ruin the mood with a flash or a big camera in my hands. It's my birthday! =) Good wine - had me giggling in no time.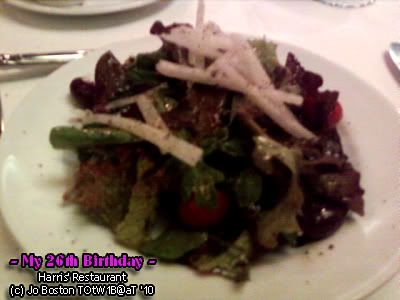 Mixed Field Greens
with Jicama and Balsamic Vinaigrette
This was a standard salad - no bells or whistles. We were saving our excitement for our mains. The steaks do take a little while to prepare, so do yourself a favor and order a first course.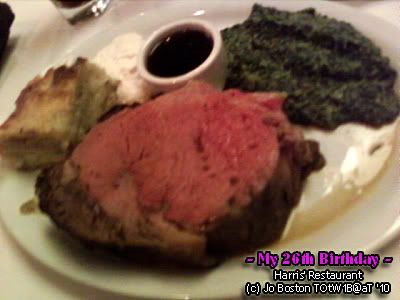 Roast Prime Rib of Beef
with the Evening's Potato, Creamed Spinach, and Horseradish
Bub went for it and ordered the prime rib. Like I mentioned before House of Prime Rib is right down the block, so whose is better? I am not going to say it here - both places are very good.
I do
prefer one over the other, however. Let's just say that this prime rib, as it
should
is incredibly tender and perfectly cooked. Though it is pink in the middle, the texture didn't feel raw. Still very juicy and amazingly flavorful.
Ribeye Steak
with Compound Better, Asparagus, and Evening's Potato
Bub and I both ordered the evening's potato which was the scalloped potato - layers of thinly sliced potatoes and cheese. What I liked about the potatoes is that they weren't too rich that I couldn't take more than one bite. So for my entrée, I went for the ribeye steak. Ribeye has got to be my favorite cut of steak. Yeah, I could have had the filet mignon or the NY Strip, but the ribeye always wins. It's tender, tasty, and has that perfect amount of fat. When grilled on their open range mesquite grill, that fat just bastes the meat creating another layer of flavor - just to make it a little more special (as if it weren't enough), a mound of compound butter sits on top, melting onto the hot steak. This has me dreaming sometimes. It's all in that dry-age process - the flavors are so concentrated. Out of this world. I might even say
the best steak I have ever eaten.
Ever.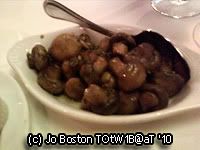 Sautéed Button Mushrooms
My coworkers, who also love Harris', told me that whatever I did to get the mushrooms. The preparation of these mushrooms is probably so simple, but they were so good. Buttery. Perfect.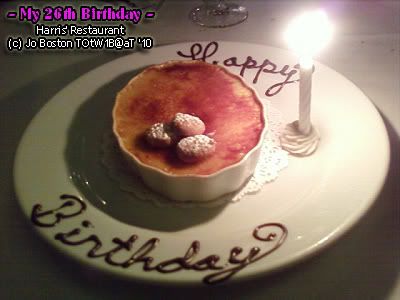 Birthday Dessert
Crème Brûlée
Bub was so sweet and told them it was my birthday. We were so full, but he insisted that we have dessert. Lovely. The custard was smooth as can be and the burnt sugar layer was ideal - not too thick and not too bitter.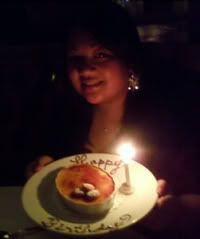 I was so blessed to celebrate at this fabulous institution. Bub, he knows how to make me happy. We had a reservation at about 9:00 pm, but there were still a few guests there. I regret not posting about this right after my birthday, but my love for it is still the same. The prices are high up there - with each steak at around $45 so if you're planning to bring someone here, be ready...but it is so worth it. Sometimes all you need is a good steak. Nothing too fancy - just a well-made piece of meat. I had my perfect one right here.
So thank you Bub, from the bottom of my heart, for being the best fiancé and treating me to such a fantastic steak dinner. It was just wonderful!