Restaurant:
Patio Filipino
Address:
1770 El Camino Real, San Bruno, CA
Phone Number:
(650) 872-9888
Cuisine:
Filipino, Spanish
Date Last Visited:
June 8, 2010
Dining Partner:
Bub
Coming here was on a whim…and what a great whim it was! After work, I was hungry and tired and I really didn't want to think about dinner. We were ready to go to our usual Chinese place, but midway from the BART station, I said outloud, "How about Patio Filipino?!" I mentioned it was on one of the recent episodes of "Check Please, Bay Area," and it got winning reviews from everyone. Bub stopped the car and we got directions. Luckily for us, we were only a couple of minutes away…actually, it was just one block from our usual Chinese place. So finding it on El Camino was easy. Outside, is well, a patio. No false advertising here.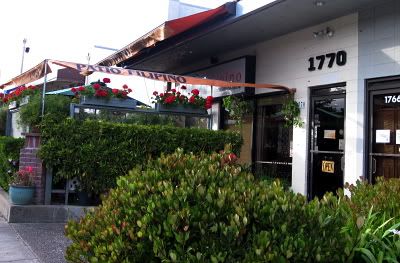 Welcome to Patio Filipino!
Upon entering, we were seated in a dining room which made me feel at home. It might have been the paintings on the wall and the capiz shell chandeliers. I liked it already. Bub wanted vegetables, namely eggplant, and his wish was the kitchen's demand.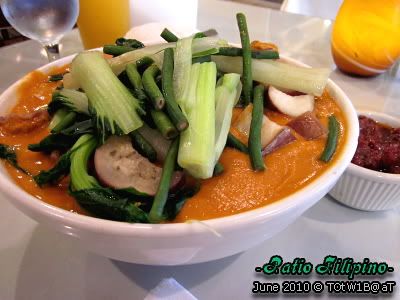 Kare Kare
Oxtail in Peanut Sauce with Mixed Vegetables
We ordered three entrées to go along with our rice. The first was kare kare. Solid. Great tasting peanut gravy over tender oxtail. The vegetables weren't immersed in the sauce, which I actually prefer. What I loved was the
bagoong
or shrimp fry. It looked like it was sautéed with tomatoes. It was lovely. I could have eaten it alone with rice and I would have been happy.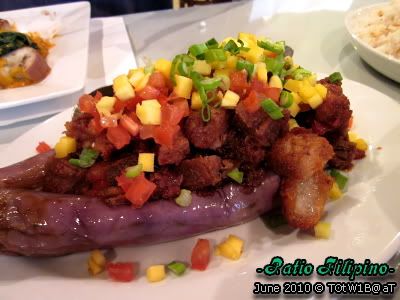 Crispy Binagoongan
Pork over Eggplant with Mango Salad
This was my choice for one of the entrées. Think crispy, melt in your mouth pork, flavored with
bagoong
. Pungent, rich, sinful. With each bite, my veins constricted, my blood thickened, but it was all worth it. It's not something you should eat everyday, but it's something everyone must try. I fell in love from first bite. The eggplant was like a little boat which held the meat. It was very tender. The mango salad is what balanced everything. Sweet and a bit tart to cut the richness of the pork. Love.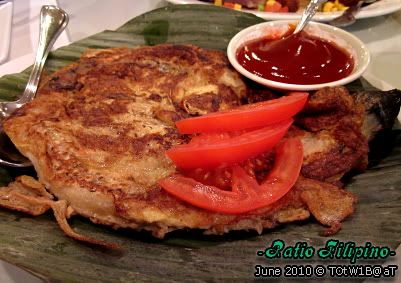 Tortang Talong
Eggplant with Eggs and Minced Mushrooms
They have a meat version of this called
Rellenong Talong
with both pork and beef, but Bub wanted to go "vegetarian." With all the animal on the table, I didn't mind; however, this was very tasty, especially with the ketchup. Simple and delicious.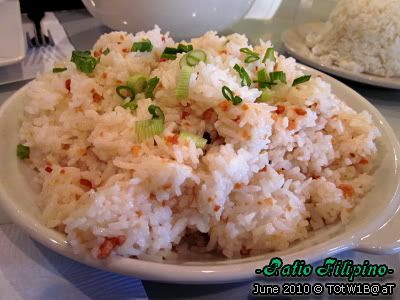 Sinangag
Garlic Rice
I made a mistake by ordering plain old steamed rice for myself. Toward the end of the meal, I snuck a bite of Bub's garlic rice. So good. I loved the little bits of fried garlic running throughout. They also have adobo rice and DAING fried rice! Yes, I WILL be back for those!
Because it was just Bub on this day, we didn't order much, but I would love to come back with my family to try out the rest of the menu. The couple at the next table ordered the bangus sisig which sizzled on a hot iron platter and scented the air with browning fish and onions. Incredible aroma. We didn't try dessert either because we were stuffed, but their "turon,"aka banana egg rolls, a la mode looked to die for. Yes, I will be back! This was our first time here, and the staff, setting, and food made a great first impression! *thumbs up* I have to admit that it is on the pricy side, so if you do come, bring someone with an impressive credit line. =)
P.S. In case you missed it, here is the Patio Filipino segment on Check Please, Bay Area!