Dear Friends,
Please excuse the tardiness of my vacation recap of Arizona and New Mexico. With the controversy of the (ridiculous and unjust) immigration law passed by Arizona, I was hesitant to post anything about Arizona fearing that you, my readers, would be upset that I "support" Arizona's government. After all, San Francisco is putting a boycott to all transactions made with Arizona-based businesses. Then I thought about it and thought that it was a good idea for me to post my recap after all. My support is for immigrant rights and ethnic diversity. Many of the places I went to were "ethnic" and/or run by people of ethnicity.
Let me be clear: I don't support the Arizona's government, but I do support the hardworking immigrants and families of immigrants who have come to the US to share their culture via their food with us. It's beautiful, colorful, and absolutely delicious. Arizona would not be the state that it is without those immigrants. You can basically say that about every city in the country. What would San Francisco be without Chinatown, Daly City without the Filipinos, New York without...you get the picture. Scary, isn't it? America wouldn't be America without immigrants. Anyway, enough of me venting...
here you have it: my trip to Arizona and New Mexico.
- Saturday - April 10, 2010 -
So the time had finally come. Bub, Pops (Bub's dad), and I were heading to Arizona and New Mexico! Pops had been looking forward to us visiting his home in Taos, NM for a long while already and April was the perfect time to do so.
We left the Bay Area on Friday, April 9th, and with Bub and Pops taking turns at the wheel, I enjoyed sleeping in the back! We reached Kingman, Arizona at around 8:00 am. What's cool about Kingman is that Pops went to high school here and he drove us past his high school, the spot where his mother owned a gift store, and where he brought his date to prom!
Restaurant:
Cracker Barrel Old Country Store Restaurant
Address:
3529 North Stockton Hill Road, Kingman, AZ
Phone Number:
(928) 757-9000
Cuisine:
Traditional American
Date Last Visited:
April 10, 2010
Dining Partner:
Bub and Pops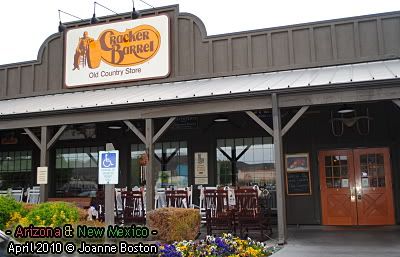 HUNGRY. Bub drove us to the local Cracker Barrel, which is a gift shop and breakfast spot all rolled into one.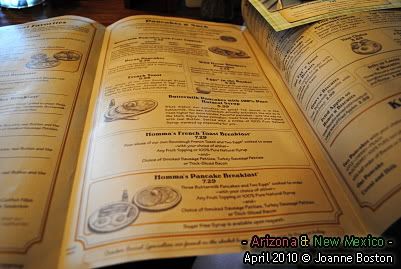 If you like Denny's or IHOP, behold the Cracker Barrel menu. It was ginormous. Pancakes, eggs, meats, you got it.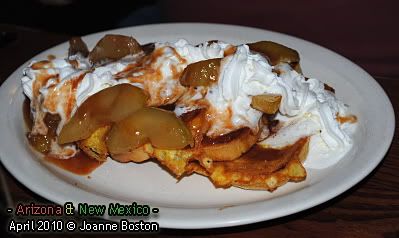 French Toast Topped with Golden Delicious Apples
Sourdough Bread Dipped in Egg Then Grilled to Perfection
Pops opted for the French toast which was covered in the sweet apples. After a few bites, he said that he should have gotten the French toast with only the maple syrup. Maybe the apples were too much.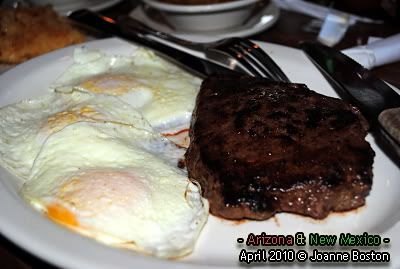 The Cracker Barrel's Country Boy Breakfast
Steak Grilled to Order, Three Eggs Cooked to Order,
Fried Apples, Hashbrown Casserole, Grits, Sawmill
Gravy, Homemade Buttermilk Biscuits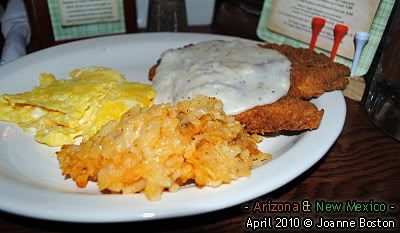 Grandpa's Country Fried Breakfast
Chicken Fried Chicken, Hashbrown Casserole, Two Eggs Cooked to Order with Grits, Sawmill Gravy, Homemade Buttermilk Biscuits
I basically waddled out of the restaurant. The portions were humungous and there was no way I was about to finish my whole meal. Doggy bag, please! The people at the restaurant were very friendly and this was the first time I had ever been in the "desert." It's way different from city life.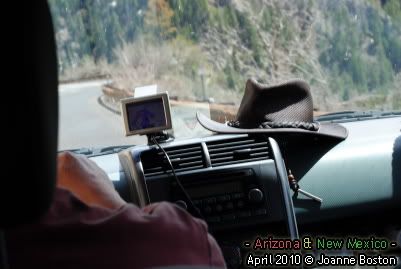 - On the Road Again -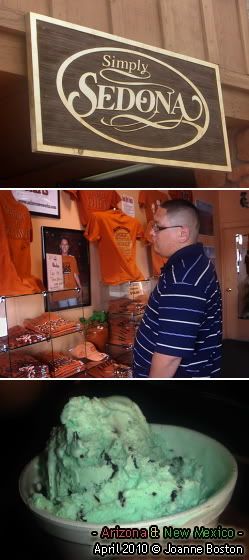 After seeing a lot of desert for hundreds and hundreds of miles, I was stoked to see the little community of Sedona. Sedona is a tourist area with cute little shops. What is so beautiful about this area is that you are surrounded by the gorgeous red rocks. With mud made from the red rock and dust, T-shirts are "dyed" into a beautiful terra cotta color. Have you watched "Dirty Jobs"? Yup, that's where you've seen it.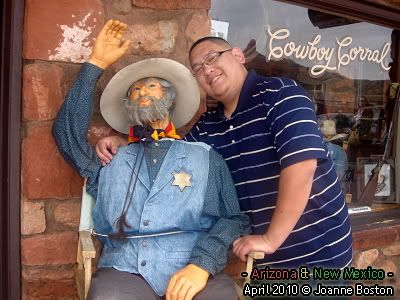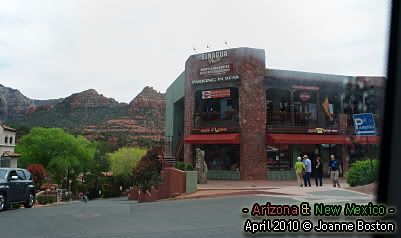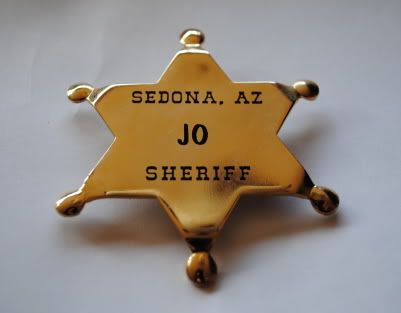 - Souvenir -
Just Call Me Mrs. Officer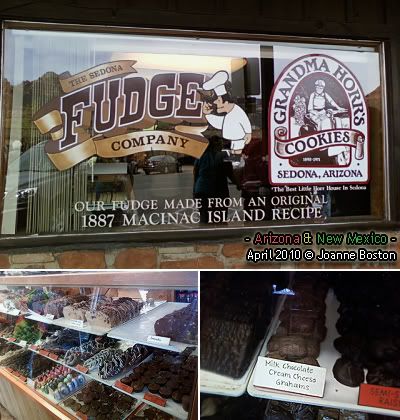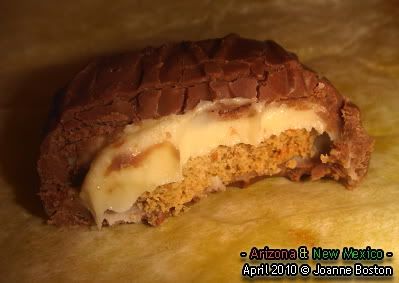 Restaurant:
Mago Café
Address:
207 North Highway 89A, Second Floor, Sedona, AZ
Phone Number:
(928) 204-1047
Cuisine:
Korean
Date Last Visited:
April 10, 2010
Dining Partner:
Bub and Pops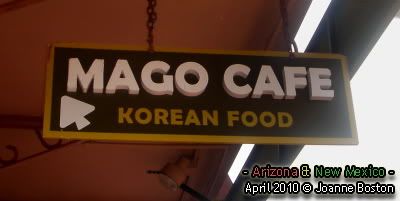 Mago Cafe is the ONLY Korean restaurant in Northern Arizona. REALLY?! Yes, really. Obviously, the Asian population in this part of the country is not very big. Was it good? I was ready to find out. I was starving!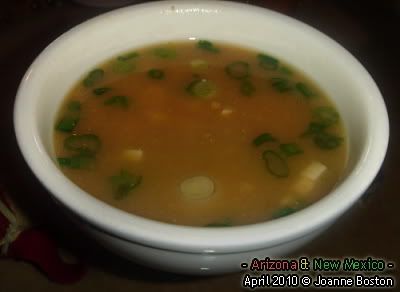 Miso Soup
Our waitress was kind enough to bring us all some miso soup - even though Bub's choice of entree didn't come with it. It was good, but nothing special. I did find there to be leftover granules of miso mix at the bottom of the bowl, but it was okay.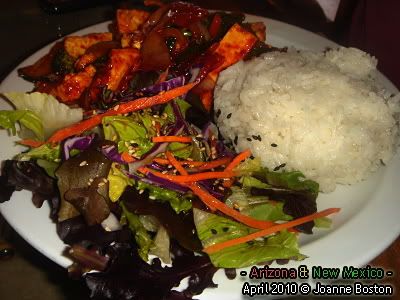 Volcano Tofu
served with White Rice and Salad
Pops likes his food robust in flavor and the tofu on his plate looked like it could set my tongue on fire. No, i didn't try any. Didn't want to risk it. He seemed to like it since there was none left on his plate when we were done.
Asian Chicken and Avocado Salad
Bite Size Chicken and Avocado on a Bed of Greens
with Tomato and Tortilla Chips
Bub didn't like his salad too much - but it wasn't the restaurant's fault. He asked for vinaigrette and put so much of it on the salad that the lettuce leaves were swimming in it. Serves him right for drowning the salad; otherwise, it would have been a good plate of food.
Healing Chakra Bowl (Bibimbap)
White Rice Topped with Lettuce, Chicken, Cucumber, Carrots, Seaweed, Sautéed Mushrooms served with Spicy Chili and Soy Sauce
Go figure that the first time I would ever have
bibimbap
would be in Arizona. I read about the place later on and saw that the cook is a Korean immigrant who settled in Sedona. I am so glad she was here because she satisfied my craving for good steamed rice. I loved the contrast of the hot rice and the cool veggies. The chicken was cooked fresh to order and all the flavors melded well. I was brought three sauces: red chili, plain soy, and one that was a hybrid of the two. Loved the mixed one. Does anyone know where I can find good
bibimbap
in San Francisco?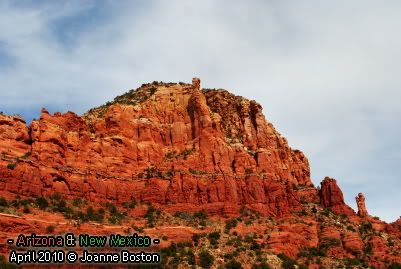 The Famous Red Rocks
Chapel of the Holy Cross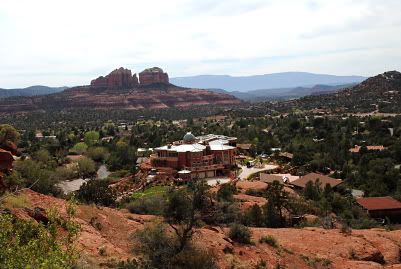 The View From the Chapel
Restaurant:
Marketplace Cafe
Address:
6645 Route 179, #C7, Sedona, AZ
Phone Number:
(928) 284-5478
Cuisine:
American
Date Last Visited:
April 10, 2010
Dining Partner:
Bub
I wanted to have a nice dinner at one of the poppin' joints here in Sedona. At the inn, I saw an ad for the Marketplace Café which was just 5 driving minutes from where we were staying. We got to the restaurant which was in a strip mall. From the outside, it looked really cool with the dim lighting and busy bar area. We got to the hostess podium and waited and waited. Several workers passed by and didn't say a word – not one hello – until a lovely lady acknowledged our presence and sat us. We were so impatient that we hummed the JEOPARDY song. Twice.
Bread Sticks with Garlic-Chili Olive Oil
So disappointed. The breadsticks looked like they were ripped apart haphazardly. Do you see how squished they looked? The Olive Garden has better breadsticks. The olive oil dip was a disappointment as well. The garlic was too harsh and I didn't like the chili powder in it.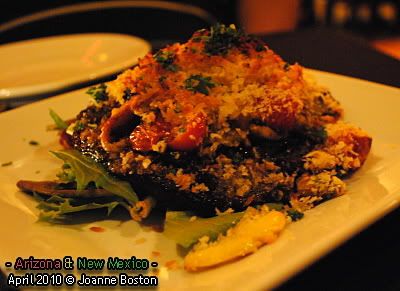 Stuffed Portabella Mushroom
Marinated Portabella Filled with Grilled Zucchini, Squash, Roasted
Red Bell Peppers and Tomato with a Feta and Parmesan Crust
Yeah, the mushroom looked pretty and all, but the flavors were boring. I liked the idea and I love portabella mushrooms, but it was just okay. The filling was not exciting at all.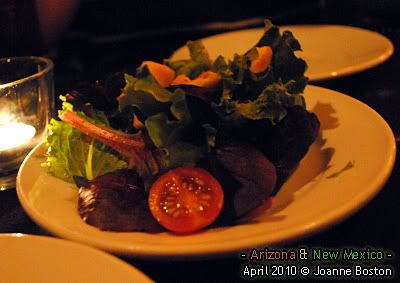 Petite Salad
Spring Mix, Croutons, Tomatoes
Another disappointment. To me, they just opened a bag of spring mix from the supermarket, threw on some 2-day old store-bought croutons, split a cherry tomato and called it a salad. The croutons were so stale that I bit my tongue when I was trying to split one with my teeth. I would not be surprised if the dressing was store-bought either.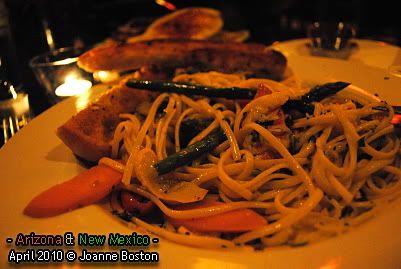 The Shirley MacLaine
Broccoli, Asparagus, Zucchini, Yellow Squash and Tomatoes
Sautéed in White Wine, Garlic Sauce Over Linguini with Parmesan
Do I really have to go into this? I suppose I have to. Now that I look back, the veggies used in my pasta are the same ones used in the portabella mushroom. I asked our waiter if I could add chicken to the pasta and he acted like there was no problem with it at all. There WAS no problem until I got my plate and saw there was no chicken on it. I was going to let it slide and eat the pasta without the chicken, but the dish was SO BLAND. I did not taste garlic. There was no sauce to be found. It was flavorless. The veggies added nothing to the plate. I ended up asking where the chicken was. A runner came out with some grilled chicken less than 2 minutes after I asked while out server had to explain to our neighboring table that it would be right out.
um...
Wrong table, buddy.
I had to tell him that the runner (who was WAY more helpful than he was) already brought us the chicken. Less than 2 minutes after telling the server what happened, a woman, who looked like she could have been a manager went to the wrong table (again) and told them the chicken would be right out.
um...
I already got my chicken. I even had the runner bring me some lemon to brighten up my entree. I also added salt and pepper. Yes, I was seasoning my own dish at the table. Shoulda just went to the kitchen and cooked the damn thing myself. I didn't even finish it and they charged me $6 for a late piece of chicken. That plate of pitiful food ended up being $20. Are you kidding me, Sedona? Is this really the best you got?
Disappointed. There was no point in posting Bub's veggie burger. Nothing special and nothing good about it either. I'm probably going to get lots of hate mail and negative comments for this review, but trust me, if it were really worth it, I wouldn't be this angry would I?
Just a few tips: make sure the staff knows what they are doing and make sure the food tastes good. I felt like a celebrity there, alright. A celebrity on the z-list. Got no love.
- Sunday - April 11, 2010 -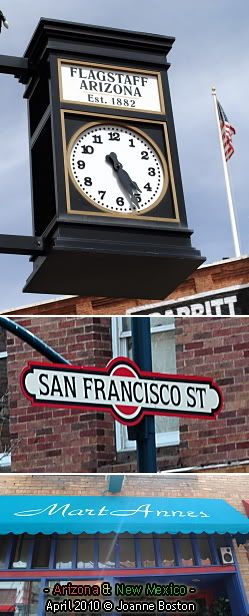 Welcome to Flagstaff!
We left our suite a little early because Pops wanted to hit up Flagstaff for brunch before we toured the Grand Canyon. Flagstaff is a very pretty town with lots of hiking and camping shops and places to eat. I don't know about Bub and Pops, but it seemed like every town we went to, there would always be a "San Francisco Street." You can take a girl out of San Francisco, but you can't take San Francisco out of the girl.
Restaurant:
MartAnne's Cafe
Address:
10 North San Francisco St., Flagstaff, AZ
Phone Number:
(928) 773-4701
Cuisine:
Mexican, Breakfast
Date Last Visited:
April 11, 2020
Dining Partner:
Bub and Pops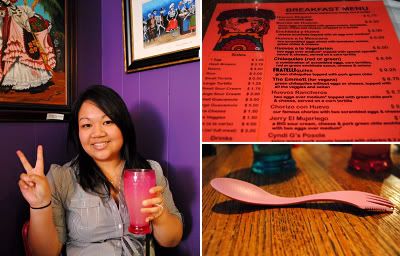 Loving All the Colors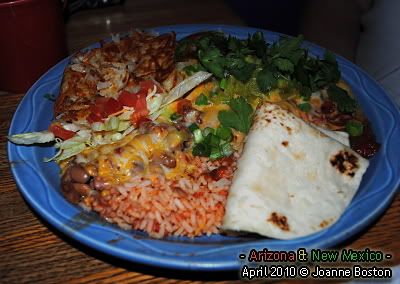 Huevos a la Mexicana
Two Scrambled Eggs Mixed with Tomatoes,
Onions, Green Chiles, and Cheese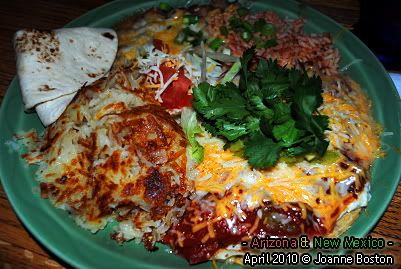 Huevos a la Vegetarian
Two Eggs Over Medium topped with Special Spanish
Sauce and Cheese, served on a Corn Tortilla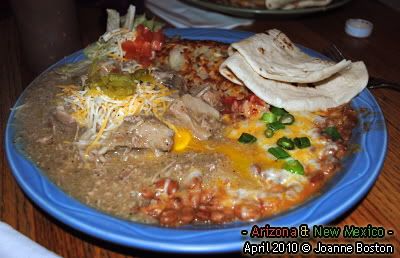 Huevos Rancheros
Two Eggs over Medium Topped with Green Chile Pork
and Cheese, served on a Corn Tortilla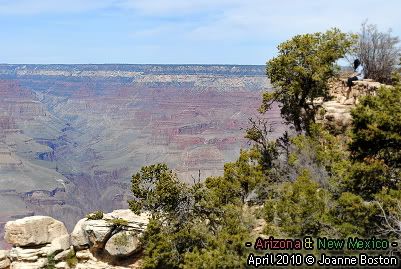 Photo Taken by Keaton "Bub" KwanHull
Do you see me?
The Grand Canyon and absolutely phenomenal. I have never felt so small before and feeling so vulnerable. I ran to the edge and sat on the wall, as you see above, just so that Bub could take this picture. I felt invincible...until a gust of wind came up behind me and made me look down at the Earth below me. I got scared. I panicked. Let that be a lesson to myself. Don't look down!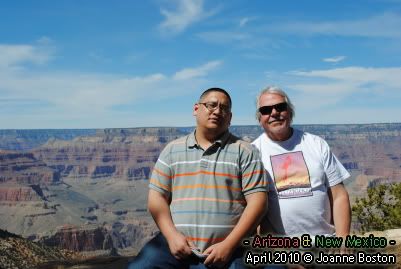 Bub and Pops at the Rim of the Grand Canyon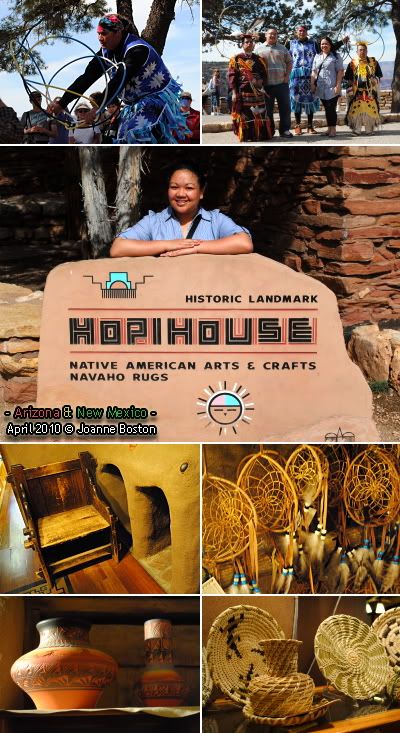 The Gorgeous Arts and Crafts at the Hopi House
The Harvey Girl
I thought that this was important to add to this blog because the Harvey Girl is truly a part of history. They were young women who left their homes to work onsite in Arizona's hospitality industry. These were adventurous and independent women, some even choosing to enlist in the military.
Restaurant:
El Tovar Dining Room
Address:
Grand Canyon National Park, Village Loop Drive, Grand Canyon, AZ
Phone Number:
(928) 638-2631
Cuisine:
American
Date Last Visited:
April 11, 2010
Dining Partner:
Bub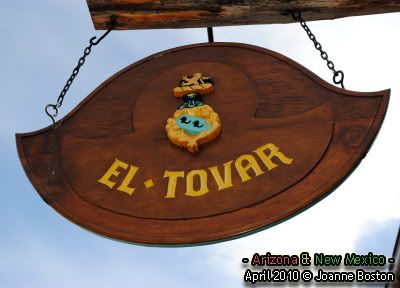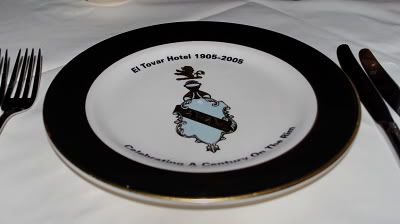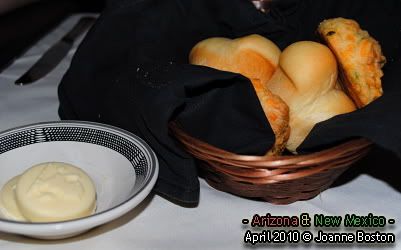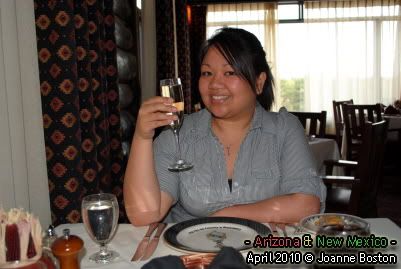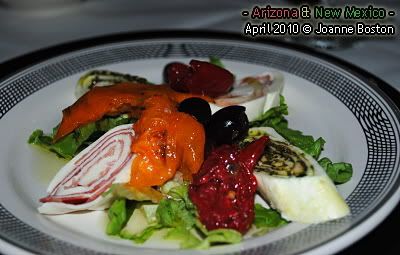 Mozzarella Roulades of Prosciutto and Basil Pesto
Marinated Sun-Dried Tomato, Kalamata Olives,
and Extra Virgin Olive Oil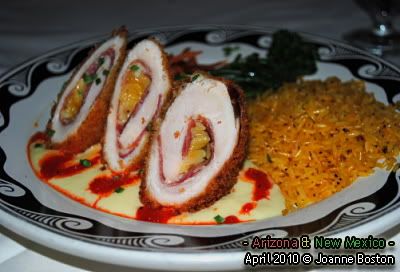 El Tovar Natural Chicken Cordon Bleu
Prosciutto, Swiss and a Dijon Cream Sauce, served with Saffron Rice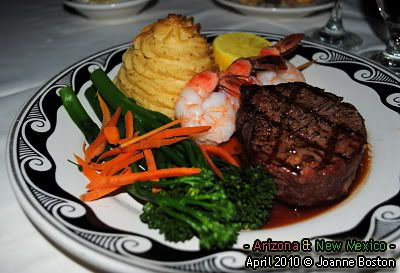 Hand-Cut, Flame Broiled Natural Black Angus
Beef Tenderloin with Shrimp
Served with Madeira Sauce and Duchess Potato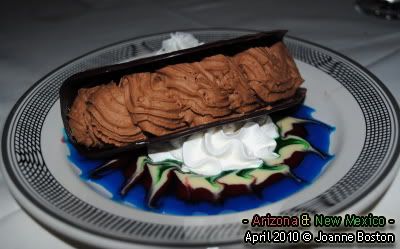 Chocolate Taco with Espresso Mousse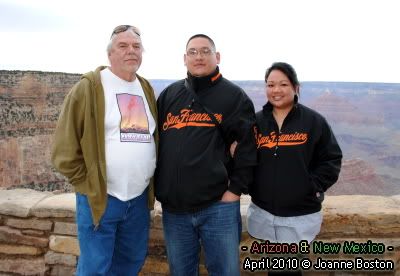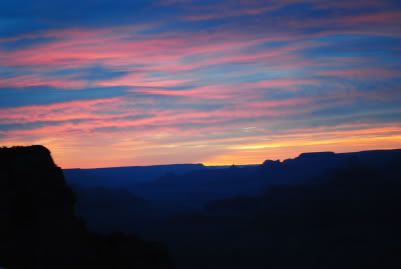 Sunset at the Grand Canyon
- Monday - April 12, 2010 -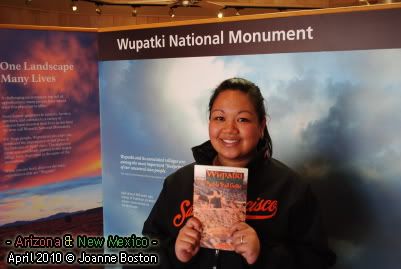 Me and My Educational Brochure
Wupatki National Monument, AZ
Monday morning, we left Sedona and headed to Wupatki, which is a Native American ruins site. I'm not much of an outdoorsy girl, so walking in the desert is not something I would do all the time. Actually, it's not very attractive to me at all – HOWEVER, this little walk through the site was so much fun!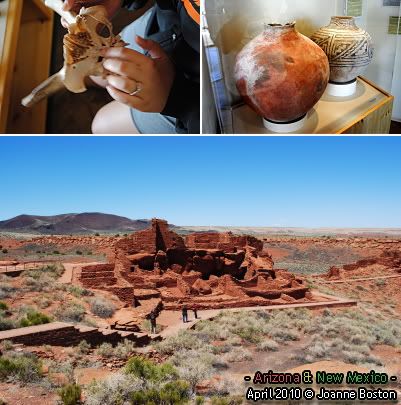 Archeologists dug up many things from the site, including animal bones and old pottery. Even after many years, the beautiful designs can be seen on the clay pots.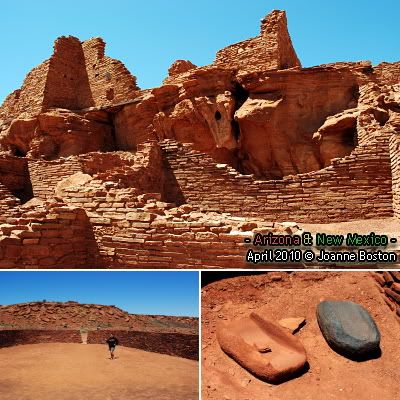 The old building had several small rooms in it, including a burial chamber and kitchen. On the bottom right, you can see a version of a mortar and pestle – most likely used to grind corn for tortillas and flour for fry breads. On the bottom left, I am standing in what coiuld be the first "hockey" stadium. Okay, we all know there was no sign of ice there, but it was learned that the natives played a game similar to hockey or lacrosse where the players had to throw a disc or ball into a goal.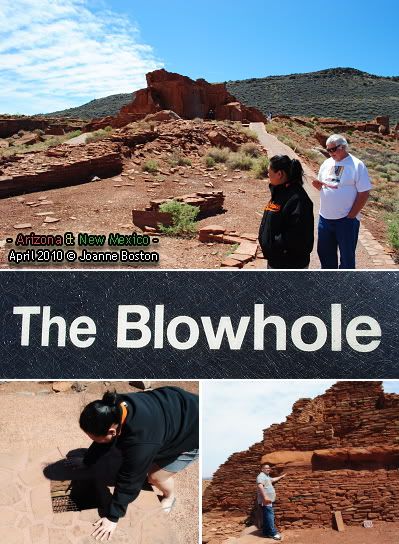 Restaurant:
Pato Thai Cuisine
Address:
104 North San Francisco St, Flagstaff, AZ
Phone Number:
(928) 226-8940
Cuisine:
Thai
Date Last Visited:
April 12, 2010
Dining Partner:
Bub and Pops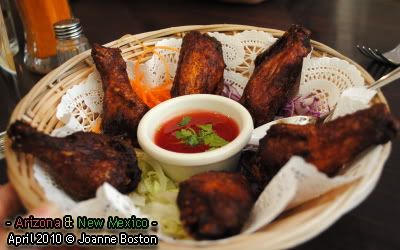 Fried Chicken Wings with House Sauce - ปีกไก่ทอด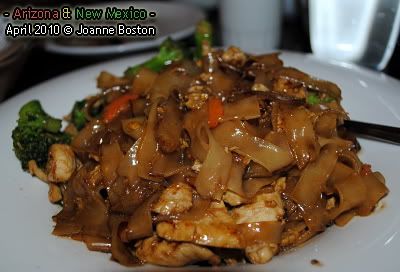 Pad-See-Ewe - ก๋วยเตี๋ยวผัดซีอิ้ว
Pan Fried Flat Rice Noodle, Mixed with Egg,
House Special Sweet Soy Sauce, Broccoli and Carrot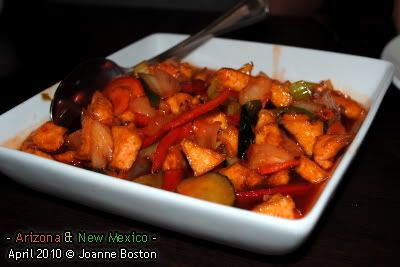 Sweet and Sour Tofu - ข้าวเหนียว
Stir-Fried with Pineapple, Tomato, Bell Pepper,
Onion, Celery, Carrot and Cucumber in Sweet and Sour Sauce
Eggplant with Basil Leaves
Stir-Fried Egg Plant with Onion, Bell Pepper,
Celery, Carrot and Basil Leaves in House Sauce
- Tuesday - April 13, 2010 -
Breakfast at Home
Yes, friends, I made corned beef hash and eggs over rice in New Mexico. I am so Filipino wherever I go. This is where I learned about "high altitude cooking." I noticed the potatoes for the hash took forever to cook up. Now I get it. Daly City is just 300 feet above sea level. Taos is 7600 feet above sea level. Yup, that's gonna do it!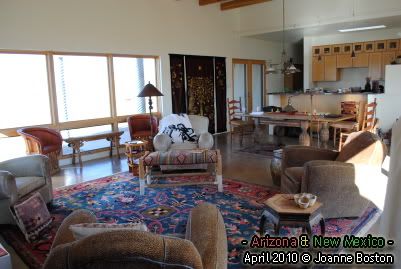 The Living Room
Ranchos de Taos, NM
Pops and Moms house is incredible. Incredible. High ceilings, windows lining all the walls to let the sunshine in, gorgeous interior decorating.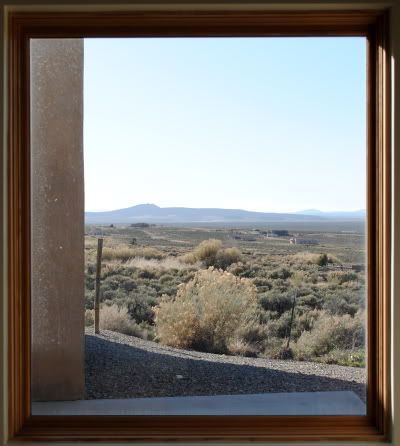 Now imagine this as you view when you look out your living room window. It's it gorgeous and peaceful?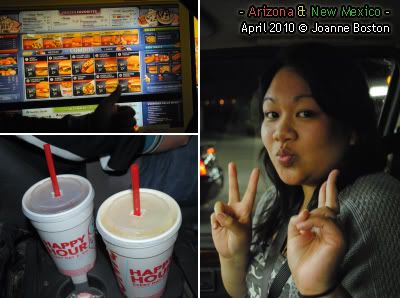 Sonics
Taos, NM
After spending the whole day at home (we were exhausted), junk food sounded so good. Since we don't have a Sonics close by in Daly City and I was craving an orange limeaide, we went for it.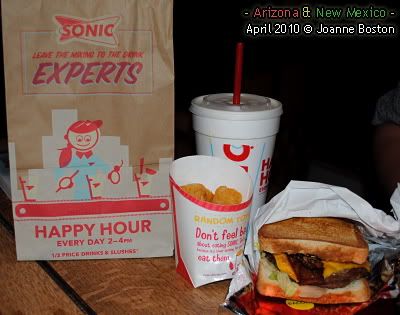 - Wednesday - April 14, 2010 -
On this day, we traveled all throughout Taos. Bub's parents' house is in Ranchos de Taos and Downtown Taos is about 4 miles away. We also explored the land surrounding Taos.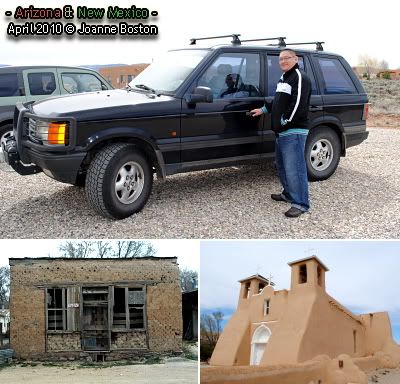 Restaurant:
Orlando's New Mexican Café
Address:
1114 Don Juan Valdez Lane, Taos, NM
Phone Number:
(575) 751-1450
Cuisine:
New Mexican
Date Last Visited:
April 14, 2010
Dining Partner:
Bub and Pops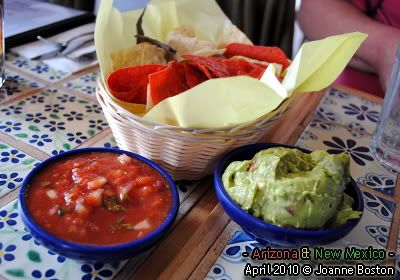 Chips, Salsa, and Guacamole
Tuesday Special
Squash and Vegetable Stacked Enchilada
Served with a Tortilla, Posole and Beans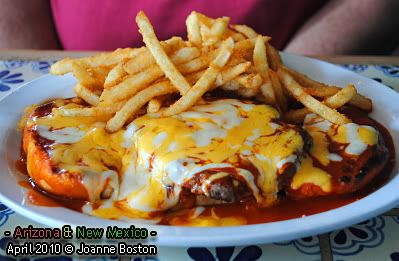 Sloppy Bro
Grilled Hamburger on an Open-Faced Bun, Smothered with Red
or Green Chile and Cheese Served with Beer-Battered Fries
La Reina
One Rolled Blue Corn Cheese and Onion Enchilada with
Choice of Chile, Two Grilled Pork Medallions Topped with
Chile Caribe Served with Beans, Posole and a Flour Tortilla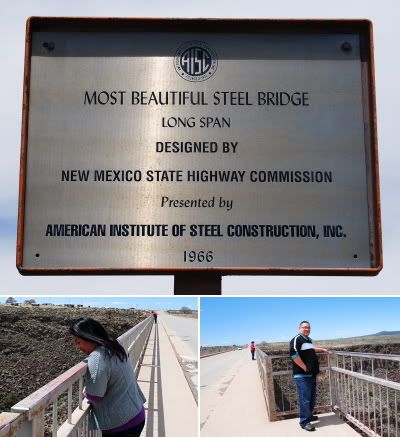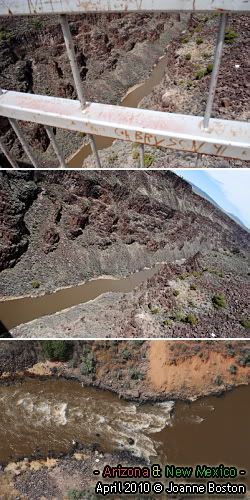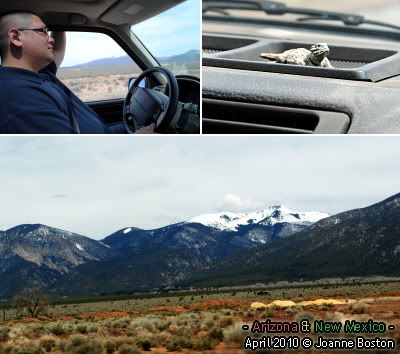 Restaurant:
Taos Cow
Address:
485 Highway 150, Arroyo Seco, NM
Phone Number:
(575) 776-5640
Cuisine:
Ice Cream, Sandwiches
Date Last Visited:
April 14, 2010
Dining Partner:
Bub and Pops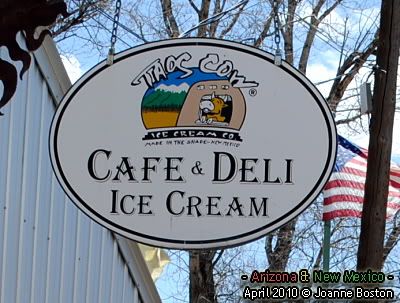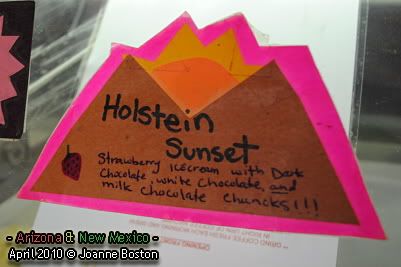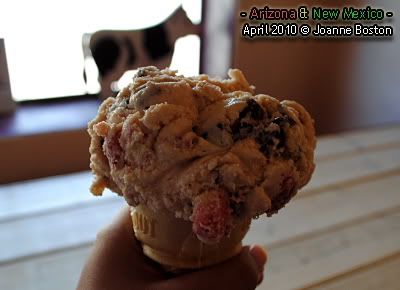 Holstein Sunset Ice Cream
Strawberry Ice Cream with Dark Chocolate,
White Chocolate, and Milk Chocholate Chunks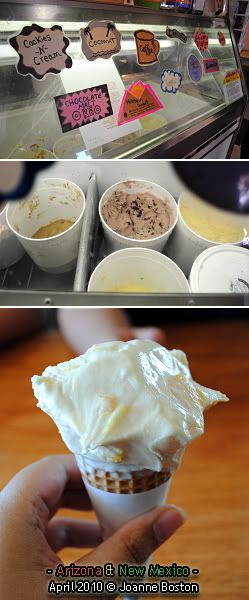 Peach Ice Cream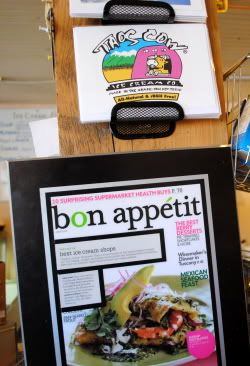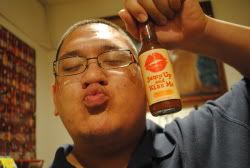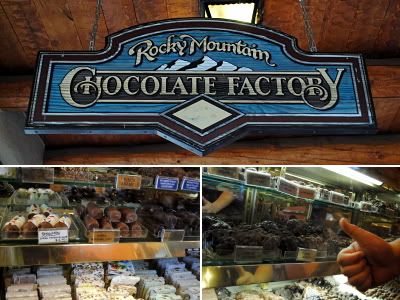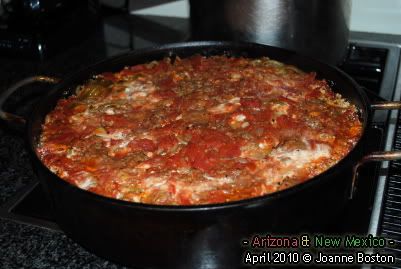 - Thursday - April 15, 2010 -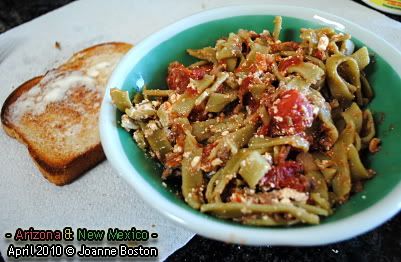 Green Noodle Casserole for Breakfast
Restaurant:
Teseque Village Market
Address:
138 Teseque Village Road, Santa Fe, NM
Phone Number:
(505) 988-88-8
Cuisine:
New Mexcian, American
Date Last Visited:
April 15, 2010
Dining Partner:
Bub and Pops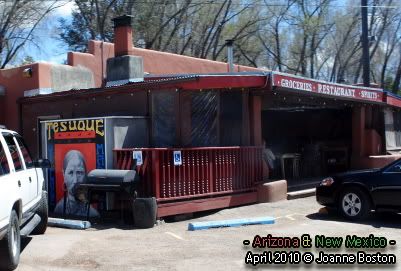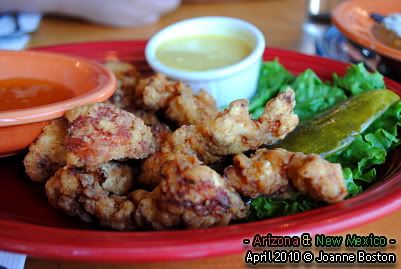 Chicken Strips
Served with Honey Mustard, BBQ Sauce, and a Pickle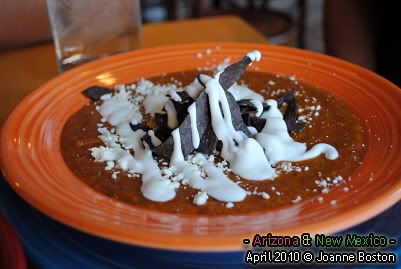 World Famous Tortilla Soup
Roasted Tomatoes, Garlic, Onion, Anaheim Chile,
Red Chile, Jalapenos in Chicken Broth with Cotija
Cheese, Pico de Gallo and Tortilla Strips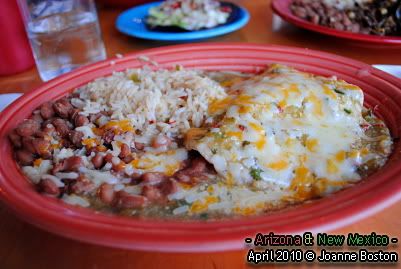 Tomatillo Shrimp Enchilada
Shrimp Enchilada served with Tomatillo Sauce,
Sour Cream, Tequila Lime Rice, and Pinto Beans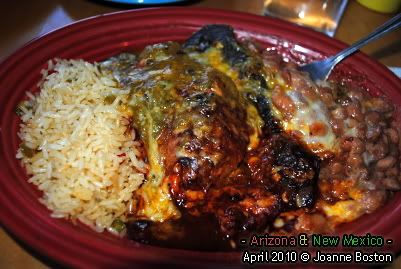 Combo Plate
One Tamale, One Taco, and One Cheese Enchilada with Christmas Chile served with Tequila Lime Rice and Pinto Beans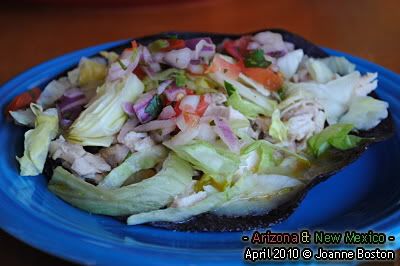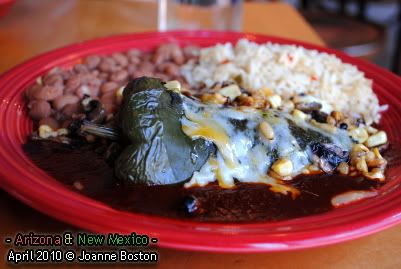 Chile Relleno
Roasted Poblano Pepper on a Bed of Red Chile, Stuffed with Monterey Jack Cheese and Roasted Corn, Sautéed Mushrooms and Pine Nuts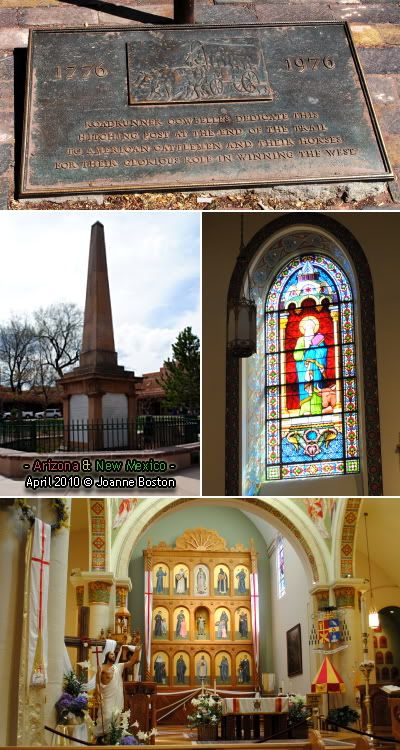 Welcome to Santa Fe, New Mexico!
Restaurant:
The French Pastry Shop at the La Fonda Hotel
Address:
100 East San Francisco St, Santa Fe, NM
Phone Number:
(505) 983-6697
Cuisine:
Crepes, Pastries, Sandwiches, Cakes
Date Last Visited:
April 15, 2010
Dining Partner:
Bub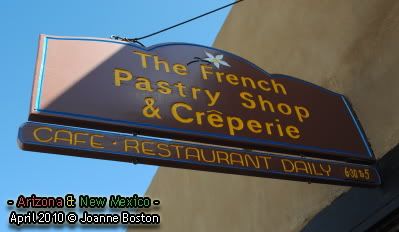 Didn't I just say something about San Francisco Street?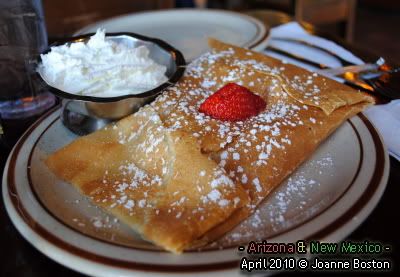 Strawberry Crepe and Whipped Crème

Restaurant:
The Plaza Cafe
Address:
54 Lincoln Ave, Santa Fe, NM
Phone Number:
(505) 982-1664
Cuisine:
Diner, Greek, New Mexican
Date Last Visited:
April 15, 2010
Dining Partner:
Bub and Pops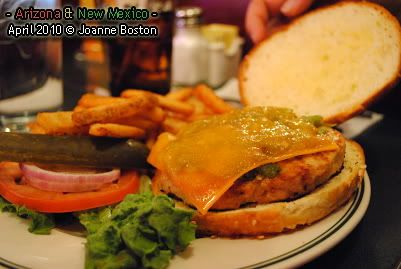 Turkey Burger
Turkey Patty Topped with Green Chiles and Cheese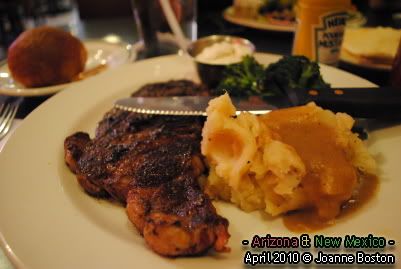 Spice-Rubbed Rib-Eye Steak
served with Mashed Potatoes, Broccoli, and Wheat Roll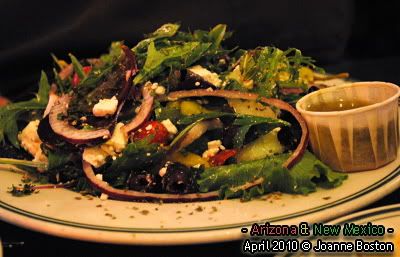 Greek Salad
Tomatoes, Cucumbers, Red Onion, Feta Cheese, Mint, Lettuce,
and Kalamata Olives served with Greek Vinaigrette
- Friday - April 16, 2010 -
Restaurant:
Tia Sophia's
Address:
210 West San Francisco, Santa Fe, NM
Phone Number:
(505) 983-9880
Cuisine:
New Mexican, Breakfast
Date Last Visited:
April 16, 2010
Dining Partner:
Bub and Pops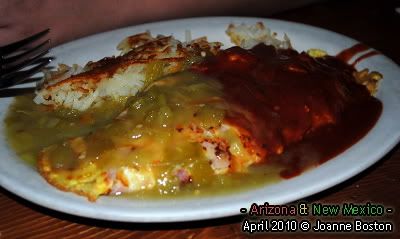 Cheese Omelet Topped with "Christmas" Chile
Served with Toast and Potatoes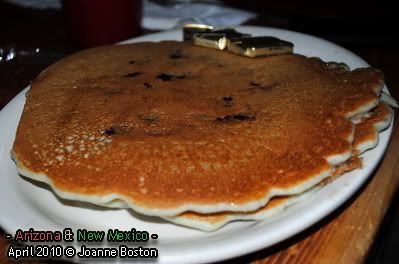 Blueberry Pancakes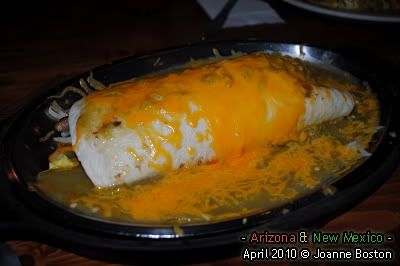 Breakfast Burrito Topped with Green Chile
Flour Tortilla Filled with Potatoes, Bacon, Cheese, and Egg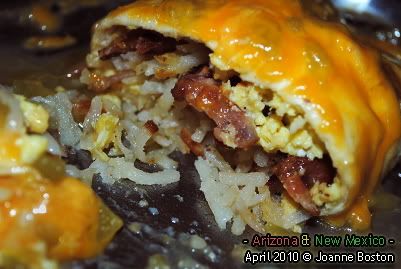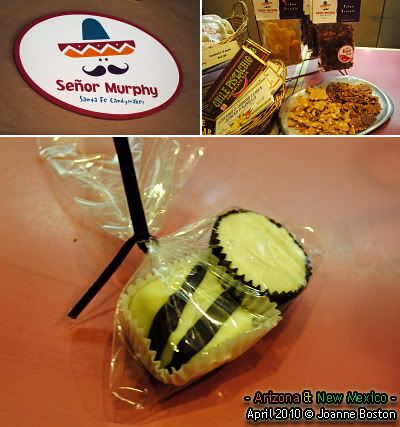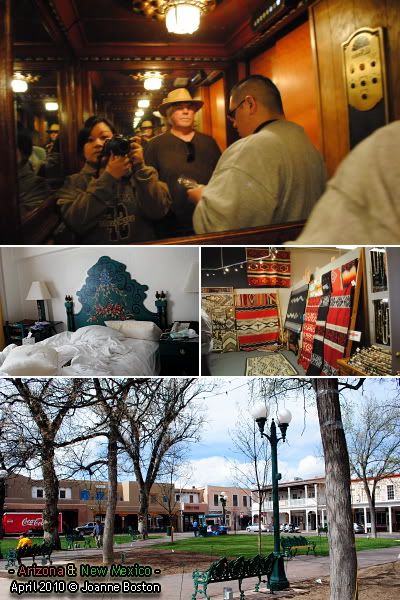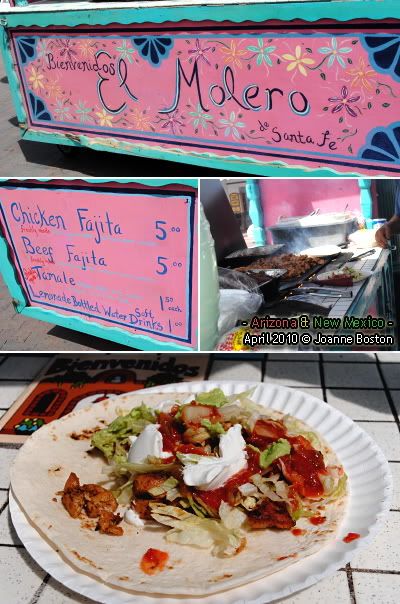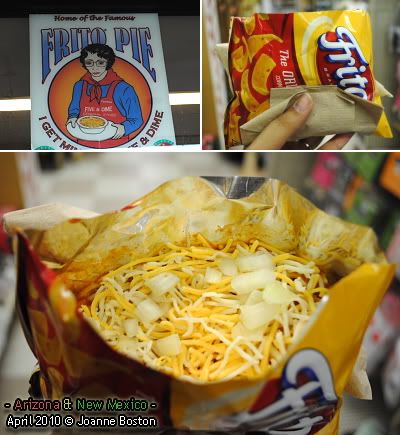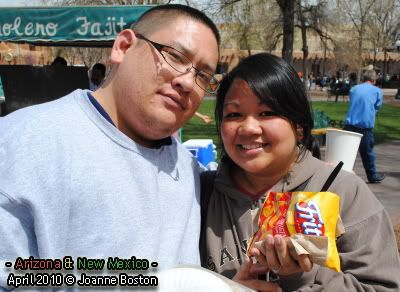 Restaurant:
Ranchos Plaza Grill
Address:
8 Ranchos Plaza, Ranchos De Taos, NM
Phone Number:
(575) 758-5788
Cuisine:
Mew Mexican, American
Date Last Visited:
April 16, 2010
Dining Partner:
Bub and Pops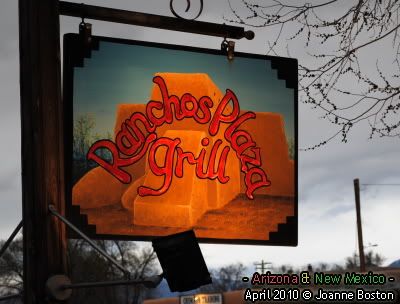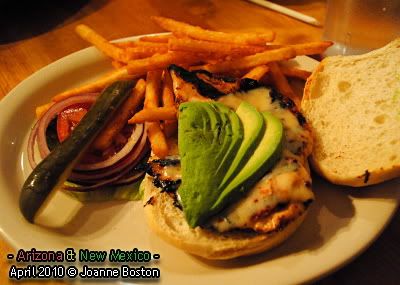 Grilled Chicken Breast Sandwich
Topped with Avocado and Cheese Served with Fries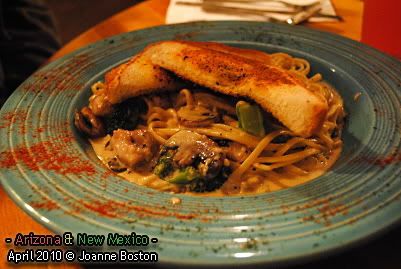 Fettucini with Chicken, Broccoli, Mushroom Cream Sauce
Served with Garlic Bread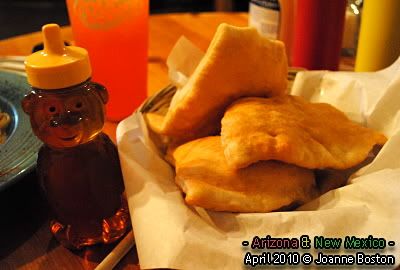 Sopaipilla
Served with Honey
- Saturday - April 17, 2010 -
Going Home
I apologize for the lack of verbage. Sometimes the pictures are worth a thousand words anyway.
=)
Jo