Restaurant
:
Americano Restaurant
Address
: 8 Mission Street b/t Steuart and Embarcadero, SF
Phone Number
: (415) 278-3777
Cuisine
: Californian with Italian Influence
Date Last Visited
: March 15, 2010
Dining Partner
: Bub
Bub and I checked into the Hotel Vitale the day before my birthday to have a little rest and relaxation after work. I love the Embarcadero. I can walk up and down the long road and never get tired of the views, the water, and all the people enjoying the scenery with me. I am a true Pisces - I have to be close to water - ironic since I can't swim. If you brought me to the bumf*cks of Nebraska, I'll probably shoot someone. Every so often, Bub and I drive from my Pacific Heights workplace and drive down to the Embarcadero before heading down the Peninsula. We would see all the Financial District-heads hanging out during happy hour enjoying a cocktail and freeing some [sexual] tension with their coworkers. Ties loosen, hair pins out, top buttons released. Oh yeah, baby. Americano has their happy hour along with the other restaurants on the Embarcadero happy hour strip, which looks onto the water and Bay Bridge. Along this strip, you will find Palomino, Ozumo, etc. which cater to the after work crowd. It was after work, I needed to loosen up, so hey. Americano was cool since it was just below our home for the evening. Granted Americano isn't necessarily a celebration destination, but we were all about comfort and proximity on this day. Because Americano is inside the Hotel Vitale, it has an all-day menu, from breakfast to dinner and room catering, so it doesn't matter what time of the day it is - you will find something good to eat.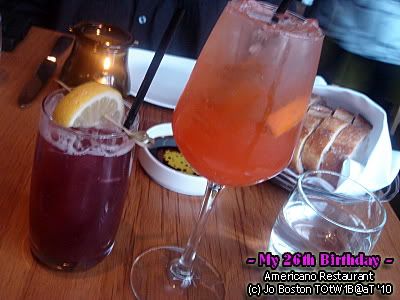 Beverages
Bub's Berry Lemonade and
My "Spritz" - Aperol with Prosecco
and Soda Water over Ice with an Orange Slice
Bub's drink was non-alcoholic, and it was very refreshing. My "Spritz" was a medley of slightly sweet and bitter. I like my drinks on the sweet side, and this is not high on the sugar scale at all, but it was a good thing to try. I love citrus based drinks and cocktails.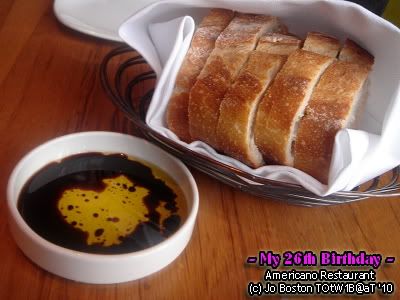 Warm Bread with Olive Oil and Balsamic
Consider this gone in 60 seconds. I suppose we were that hungry. Plus warm bread is always a bonus. What do you guys prefer? Bread and butter? Or bread and olive oil and/or balsamic?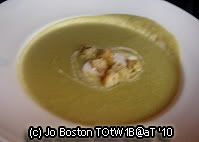 Asparagus Brodo
with Croutons
Summer vegetables were making appearances everywhere on the menu. We loved the asparagus soup!
It was fresh, creamy and thick without the heaviness.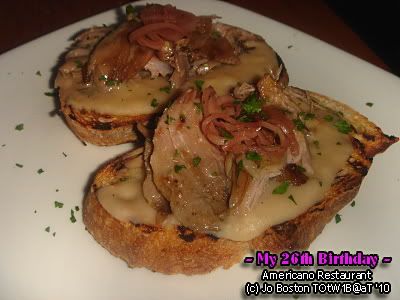 Duck Confit Bruschette
Cannellini Bean Puree and Pickled Shallots
Grilled bread is my favorite app. It can be topped with tomatoes, cheese, pate, whatever. I can actually eat grilled bread in all of my courses, so when I saw the "bruschette" section on the menu, I got excited. This medley of duck confit and cannellini was delicious! Duck meat is very rich, so the bean puree acted like Switzerland - it was a flavorful spread on the bread, but it was neutral enough to let the duck standout. I bet the bean puree by itself on the bread would have been good as well. The pickled shallots lent a tangy flavor which offset the fattiness of the duck. I sure wish there were more than two on the plate. I could have easily stolen the other one from Bub.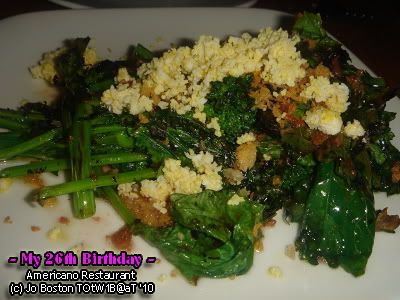 Italian Broccoli
Egg and Bread Crumbs
This vegetable was a perfect side dish. The Italian broccoli, which is longer and leafier than the everyday broccoli variety we've all seen, was grilled, so, it has this great smokiness. I rarely have greens grilled, and they were so on point with this that I wonder how come I haven't had more grilled greens before. Because of that smokiness, they had to come up with accoutrements to counteract it. The broccoli was dressed in vinegar concoction and topped with some boiled egg and toasted bread crumbs. Loved the texture differences - soft egg and crispy bread with tender greens. Bub, who is a carnivore, hogged most of this. Yes, you can tell this was a good dish just based on that.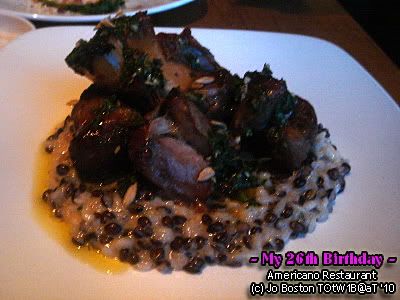 Osso Buco
This was Americano's version of Osso Buco. I have to apologize now because first off, the picture is horrid. I didn't want to use the flash since it was getting dark out and the lightening in the dining room was very dim and intimate. I didn't want to risk destroying another patron's mood. Second, I don't have a more precise description of the dish. They changed their menu before I had the chance to jot it down. Anyway, this osso buco is different because it used pork instead of the traditional veal. The pork, topped with an herb mixture, just fell off the bone with no effort whatsoever. So tender with that lip-smacking feel from the cooked down connective tissue. The "risotto" was creamy and had sunflower seeds in it! I didn't know how that would work out, but I wanted to try it. It was delicious! I just referred to the menu and they don't have this on it anymore. Bummer. I liked it a lot.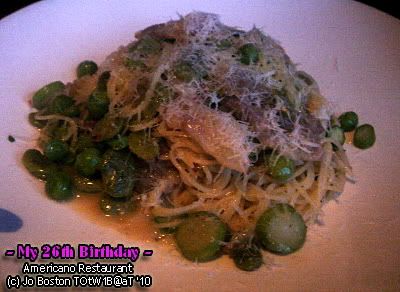 Menu Del Mercano
Capellini, Asparagus, Peas, Prosciutto, Lemon
Bub's entrée was part of the "Menu Del Mercano" or "market menu." Presumably, all the ingredients used to make the dishes were from the Farmer's Market just across the way at the Ferry Building. The items on this particular menu change as the chef uses only what is available at the market. This was a simple dish but, my goodness, it was incredible! The capellini, a thin pasta, was hugged by a sauce which consisted of lemon and a little bit of cream. I loved everything about this pasta. It was bright in flavor with the citrus and the fresh veggies, but it also had a rich side with the salty prosciutto and generous sprinkling of cheese. I am going to attempt making this at home! Loved it. It was a portrait of Spring and Summer.
Zeppole
Warm Fritters Rolled in Orange Sugar
Served with Passionfruit Sauce
Since we were so full from the previous courses, I wanted something small for dessert. These donut-hole-like fritters were like pillows of air. The experience was *almost* like biting into my first Krispie Kreme donut. Airy, light, and sweet. Though I did not taste much orange, I didn't need any of the passion fruit sauce at all. The zeppole were great their own.
Chocolate Torta
Mint Stracciatella Gelato and Salty Caramel
Yes, we had to do it again. I did say I wanted something light, but our fantastic server brought this out for me, on the house. I couldn't say no. Wasn't too keen on the mint gelato because I never liked mint anything, but the chocolate torta, which I believe is flour-less, was very decadent and went well with the lovely caramel sauce. If I wasn't so full, I would have licked all the caramel off the plate. There has been such a giant salted caramel boom in San Francisco, but I am not complaining because it's so yummy. Thank you for dessert, Americano!
This is me feeling incredibly lucky to have such a great life and a wonderful start to my 26th year on Earth. Being born and having grown up in San Francisco was a gift in itself. My family could have traveled to any other city in the US after immigrating from the Philippines, but they chose San Francisco - the perfect place for me to embrace my love for food. So I would like to thank my Momma for putting up with me, but also for instilling the passion of good food and good cooking.
So that was dinner! We were surrounded by people in their suits and tires, but it was all good. Our server was outgoing and a highlight of our meal. The food was satisfying and very tasty. I appreciate their farm-to-table approach using local and seasonal produce. This change of ingredients, the staff also get to be creative with their dishes, so the menu will change often in the year. I was completely stuffed from our delicious dinner that we were so glad our room was only a few floors up. Speaking of our room…
____________________________________________________
Place
: Our room at
Hotel Vitale
When
: March 16, 2010 - my birthday!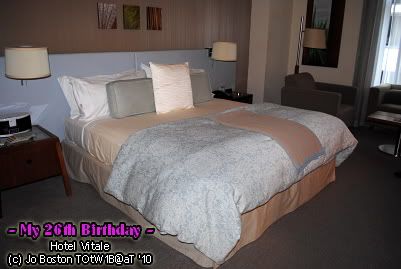 Like I said before, we booked a room at the Hotel Vitale and it was just a nice little escape for us. We live less then 20 minutes from the City, but being a tourist in your own City can be fun! Thank you Hotel Vitale, for the complementary in-room WiFi. I was able to log on from my laptop and see all the birthday greetings I got on Facebook!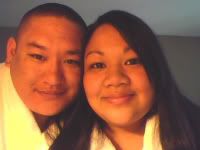 Thank you again to everyone who spent time making me feel special! If you know my Twitter and Facebook, you probably saw some real-time tweets and Twitpics from that night and morning.
The morning of my birthday, we had breakfast delivered to us. Americano also prepares the food in the room service menu.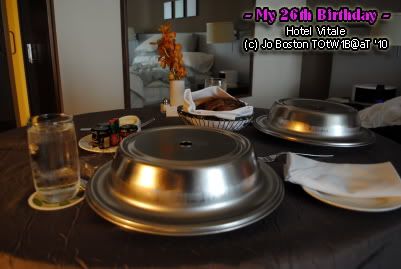 We indicated that we wanted our food between 9:30 and 10:00 am, and they were at our door at the perfect time. I was hungry!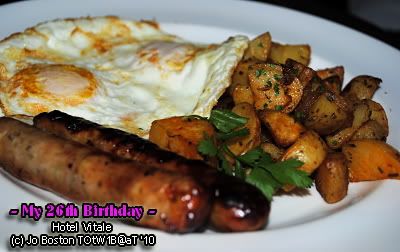 Bub's Breakfast
Two Eggs Over Easy, Chicken Apple Sausage,
and Roasted Yukon Gold Potatoes
Bub had a classic breakfast - eggs, starch and meat. You also get a choice of bread. I wished the jams and jellies provided were made fresh in-house, but hey, it's room service. Solid plate. Nicely seasoned and good portion.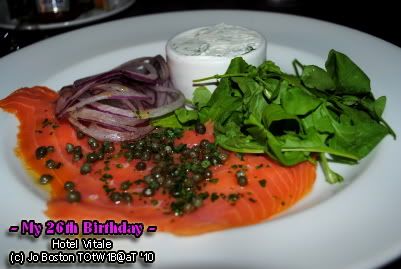 My Birthday Breakfast Plate
Smoked Salmon, Sliced Red Onion, Capers, Dill Cream Cheese
This is what I would call my PERFECT breakfast. I am in love with smoked salmon. I don't know if they make the smoked salmon on the premises, but it still hit the spot.
You get a toasted bagel with the smoked salmon plate, but I wish a wedge of lemon was included also. The capers provides a briny sourness, but I like lots of lemon juice on my salmon. That would be the only grumble I have about breakfast, but other than that. This was the ideal way I wanted to start my day!
I had a great birthday shopping in Union Square and Market Street with Bub. Spending money is the funnest thing to do on your birthday, ain't it? Thank you to Bub, Hotel Vitale, and Americano Restaurant! =)