Restaurant
:
Suppenküche
Address
: 525 Laguna St. at Hayes St., Hayes Valley, SF
Phone Number
: (415) 252-9289
Cuisine
: German
Dining Partner
: Bub
First, let me apologize if the German in the title is all wrong. Blame Babel Fish!
Ha! Anyway...
The first time I ever heard of Suppenküche was on Check Please, Bay Area! All I remembered seeing was the hearty food and that giant BOOT! Yes, you know what boot I'm talking about! It has to do with beer…and lots of it. It's a default that Germans love their beer, but even though I am not a beer drinker myself, I still wanted to check out Suppenküche. I mean, how many other German places are there in the Bay Area? Not many at all. Even though I wanted to visit for quite some time, I let the years go by until I spied the
7x7 Big Eat 100 list
- the list which basically dictated my diet in 2009. Suppenküche's spätzle was on the list, and I thought it was about time to eat German food for the first time.
Bread and Herb Butter
Walking in, I felt like I was walking in a real German beer house. Suppenküche translates to "soup kitchen" in German, so I was really ready for the food. Because we arrived right after work, it wasn't quite full yet so we had a choice where to sit. Long tables and benches encourage interaction with your neighbors. Like I said before, since we got there sort of early, there wasn't much of that. We were brought this lovely bread and incredible herb butter. Bub fell in love right before my eyes. He couldn't stop talking about the spread. I really need to get that recipe!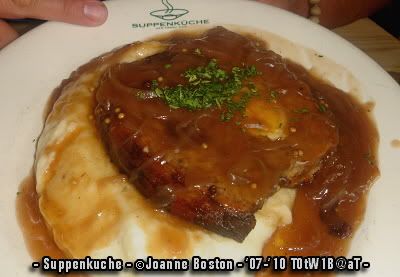 Falscher Hase mit Zwiebelsoße und Kartoffelbrei
Meatloaf with Bacon and Egg served with
Onion Sauce & Mashed Potatoes
Then I saw Bub fall in love a SECOND time with this dish! The meat loaf was wrapped in bacon and you can just see the boiled egg that was cooked inside the meatloaf as it was baking. The great onion gravy even gave the plate some sweetness and who doesn't like mashed potatoes? Comfort food at its very best. Bub said it hit the spot, even adding that it was in his top 5 meatloaves. Impressive!
Jägerschnitzel in Champignonsoße mit Spätzle
Sauteed Porkloin in Mushroom Sauce served with Spätzle
Didn't my plate look awesome? This is no diet food, folks. Hearty and stick to your ribs food. The pork was very tender and was just drenched in that mushroom sauce. Bub thought that the mushroom was too much for him, but I liked it a lot.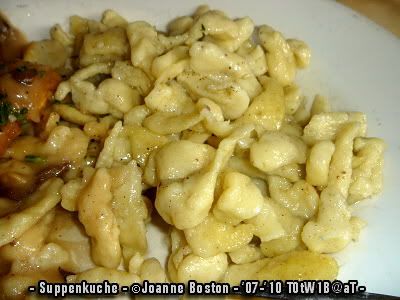 Spätzle
Little Egg Dumplings
So, what exactly IS spätzle? They are little dumplings or noodles made with egg, flour, and salt. They are shaped by pushing the dough through a press, ricer, or strainer and boiled like you would pasta. The shape, as you can see, are very irregular, but the size of the dumplings are the same. The spätzle I had was simply tossed in butter. Since the mushroom sauce was very rich, I believe the spätzle was left sort of plain to take in the sauce. Good stuff!
Grünem Salat
Green Salad
About time that we had vegetables, right? This is one of the most straightforward salads I have ever had. The lettuce leaves, left in large pieces, were dressed in the simplest vinaigrette. No croutons, no shredded cheese, nothing, but it was so satisfying! I guess since everything we had earlier was so rich and heavy, that a fresh salad with acid was what we needed to revive our tastebuds.
I am so glad that we came to the "soup kitchen." It was literally less than ten driving minutes from my workplace, which makes me wonder why I don't venture into that area very often. Since our visit, the little dumplings have been taken off the Big Eat 100 list, but I'm grateful that it was placed on the list in 2009; otherwise, I wouldn't have been so motivated to go to try it out. I swear, that list introduced me to so many places I had never been to before! Suppenküche looks like it would be a lot of fun in the evening when everyone is alkied up. The space is very welcoming and the service is great. Perfect place to go to after work, drink a some beer, and mingle with the pretty people of Hayes Valley.
Yay, for my first time eating German food!
Hey Miss J. Vendil, I remember you saying this a lot in high school - "ich bin leicht." When I came here I thought of you. =)