Restaurant
:
Range
Address
: 842 Valencia St., The Mission, SF
Phone Number
: (415) 282-8283
Cuisine
: New American, Californian
Dining Partner
: Bub
Bub and I went on a date. =) I think it is really important for couples to keep doing so no matter if they have been together for 2 months or 2 decades. Spending time together, especially at a great restaurant, makes the relationship stronger. Anyway! Enough being Dr. Love! Ha!
We went to Range in the Mission and it looks really small looking in from the outside, but they have a dining area in the back. It had this modern diner feel to it. Not that a diner feel is bad, per se. There was something about the comfy booths/banquets, seeing the crew cook in the open kitchen as we passed in the hall, and the portholes on the kitchen doors. Then on the flipside I got an urban feel with the metal table tops, hardwood floors, and dim lighting. See? Modern diner. I think the warmth of the place comes from the service. Our server was awesome from beginning to end.
Pomegranate Basil Fizz
What I loved right off the bat was when we were asked what we wanted to drink. Since Bub and I didn't want to drink any alcohol that evening, our server offered us a surprise - basically anything that the mixologist felt like making. That was a lot of fun, and I appreciated how they catered to the few of us who don't drink alcohol. After excited anticipation, we were brought these gorgeous glasses of rouge deliciousness. The carbonated drink was tart and fruity from the pomegranate, but had a verdant edge from the basil. I hate having any herbs in my drinks, so I was hesitant to like it, but the basil essence is so slight, but recognizable. Have you ever had basil in your drink? It's very tasty! It was refreshing and different. Bub and I enjoyed it a lot.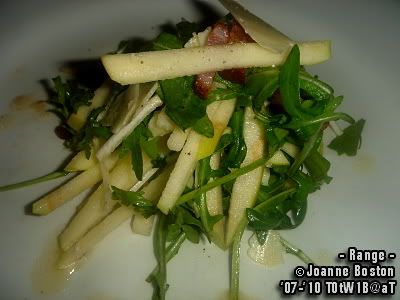 Apple Celery Root Salad
with Bacon and Arugula
This salad was incredible! I loved the combination of the crispy apple and [quite unattractive] celery root. It's the celery
root
, not the
stalk
, which are two very separate things. Sweetness from the fruit, peppery from the greens, and smoked bacon goodness in between. I love love loved this medley! I believe there was a shaved cheese on top, but since I can't locate the menu, I can't really tell you what kind it was. I know, but research and memory. I ate the salad so fast that I really didn't think. I INHALED this course. What they did that was so nice was split the portion for us and put a small portion on separate plates. I didn't tell them to do that, but since we only ordered one first course, they did divvied it up for us. That was very thoughtful.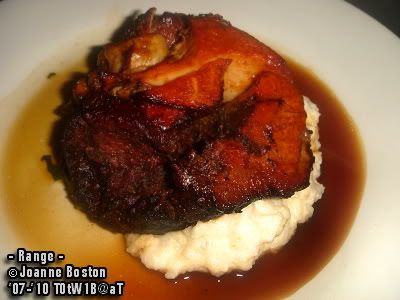 Coffee Rubbed Pork Shoulder
Creamy Hominy and Braised Greens
So this bad boy was on the
Big Eat 100 List
. I didn't see it on the menu for the longest time so when I discovered they were serving it that evening, I jumped at the opportunity. The meat was so tender that I didn't even need a knife to cut it up. The shoulder sat on a bed of spinach and hominy. It does say "coffee-rubbed," but the coffee flavor was very subtle, mixing with a smoky flare of the Southwest. So filling and so melt in your mouth. Seriously, everything - from the meat, creamy polenta, and cooked spinach disintegrated in my mouth like nothing. Awesome.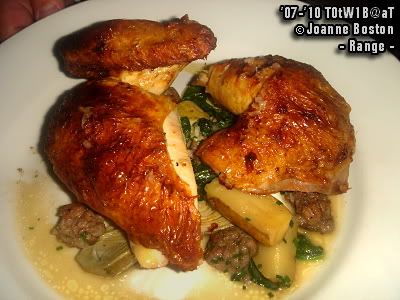 Oven Roasted Chicken
Fingerling Potatoes, Artichokes, and Sausage
Bub went for the roasted chicken and even though my pork was delicious, I was very jealous of Bub's plate. The thigh, wing, and breast piece were included and they were all juicy and cooked absolutely perfectly. I am a sucker for gorgeous golden skin like this and I was not disappointed. Nicely seasoned all around. The chicken also was set on some nice veggies - artichokes, spinach, and potatoes - but sausage?! I thought that was different because I never saw chicken accompanied by sausage like this. But hey, it worked - big time! Some of the best chicken out there, folks! The flavors melded beautifully.
We didn't stay for dessert, but we were presented with little chocolate truffles when we were given the check. Range is one of those restaurants that anyone can come to and feel comfortable, but still get a sense of sophistication. The menu items are not very avant garde - standard meat and starch/veggie pairing and the ingredients are not exotic or rare - but the way that they are cooked is amazing. Each ingredient is allowed to shine - the plate is not bombarded with fifteen ingredients. They take ordinary ingredients and make them extraordinary. I love this place. It's the best of both worlds - industrial tableware, gleaming wine glasses, sitting in sexy mood lighting, yet nothing is pretentious. The service is friendly and quirky, but professional. These guys know what they are doing. There are places in the Bay where you have to act a certain way and think a certain way to enjoy a meal there, but Range is laid-back and just plain comfortable. No kitch. No gimmicks. Just ease. If I lived in the Mission, I would love to visit Range over and over again.
A gem.