Restaurant
:
Gialina Pizzeria
Address
: 2842 Diamond St. at Kern Alley, Glen Park, SF
Phone Number
: (415) 239-8500
Cuisine
: Pizza
Date Last Visited
: February 26, 2010
Dining Partner
: Bub and our table neighbors
I rarely ever review a restaurant within 48 hours of my visit unless I am very excited to speak on it, and as you can see, Gialina is one of those instances. First let me tell you of how I discovered Gialina. After Bub's Chinese New Year Parade troupe meeting in Diamond Heights, we found ourselves about to enter the freeway near Glen Park. I was hungry so we stopped by
La Corneta Taqueria
for some burritos to take home. On the same street as La Corneta is Gialina. I saw a group of waiting patrons outside - which only means one thing: the food is good. I had heard of Gialina before, but since I barely come to this area, I didn't think much of any of the restaurants in the area. So when I saw the sign, I thought, "so THAT'S Gialina." The crowd intrigued me. Was it THAT good for them to stand in the cold San Francisco air like that? I made it a purpose to go back the next night.
First of all, Gialina DOES NOT take reservations and they are not very big - be prepared to wait. So we got there around 5:30-5:45. I signed in at the front counter and left my phone number. About 15-20 minutes into waiting outside, I asked Bub to ask the host how longer the wait was going to be. He said 12-15 minutes. So we went to the market across the street just to graze and come back in under 10 minutes. When we did come back, we saw some of the same people waiting outside and thought we were good. Then I saw a girl who signed the check-in sheet AFTER me (really, I handed her the pen), getting seated! I was like "wtf?" Turns out the host had called me, but since I wasn't present, they gave our table away. We might have just missed the guy when he went outside to get us. I was HEATED. It also didn't help that I had spotty service in the area, so the phone didn't ring because it went straight to voicemail and I didn't even hear the voicemail signal go off. Yeah, I was really upset, but since we had already waited for 45 minutes, we couldn't just leave. All I thought to myself was, "the food BETTER be good." After about an hour of waiting - the sun had already gone down - we were finally seated.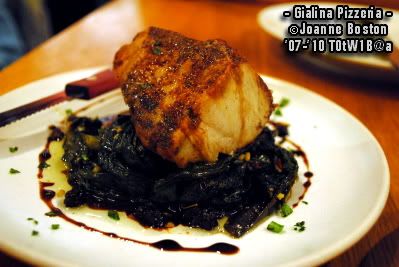 Niman Ranch Pork Belly - $10
Swiss Chard and Currants
Bub's physician is going to have my neck for this. Just when I thought I was getting tired of pork belly, Gialina has reignited my love for it. The supple fat of the belly melted in my mouth and the actual meat was cooked so that the outside was a bit crisp but tender internally. The Swiss chard was absolutely perfect with the ultra rich pork. It was sweet with the combination of currants. The sweetness kind of took away a little bit of the richness, which I liked. Very balanced flavors. A definite must-try if you like pig. Bub loved it and had to restrain himself from eating any more of it. Not something I would indulge in all the time, but a small token of indulgence at the end of a long week will work.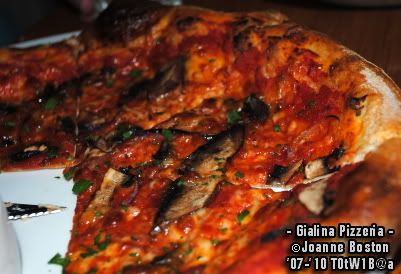 Atomica - Neapolitan Pizza - $15
Tomato Sauce, Mushrooms, Mozzarella, Chilies, and Red Onions
I wanted a pizza that was safe and not too "cosmopolitan" as some people might put it. You will see that Gialina has some interesting pizza combinations such as the "Zucca" which has winter squash, brown butter, sage, ricotta and ricotta salata or the potato with smoked bacon, red onions, rosemary and gorgonzola. If you want pepperoni, look somewhere else, buddy. Gialina serves up sophisticated Neapolitan, thin-crust pizzas. They are incredibly lovely! The table to my left had one with speck, a type of Italian ham, and the table to my right had nice-looking sweet Italian sausage. It was a win-win situation with any pizza, which made it even more difficult to choose; however, I wanted something simple and this fit the bill. It had a pleasant spice from the chili and the onions and mushrooms were cut thin so that the biting process was done with ease. I looked at the crust and you can see light shining through. I have tried stretching my own pizza dough and it is not easy at all. Perfectly thin, perfectly seasoned, perfectly portioned. I loved the sweetness of the tomato sauce. Just divine.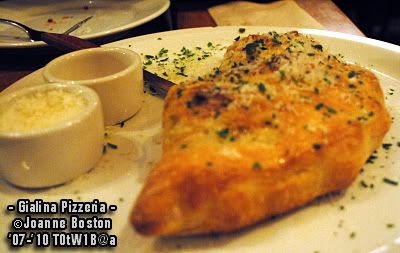 Calzone - $14
Ricotta, Sausage, Escarole, Provolone, Chilies
I have to apologize for my poor photo here. I was so excited that I didn't focus right. When I saw it coming to the table, I knew I was about to enjoy something very special. The dough encasing the filling was light and had an exquisite crisp and flavor from the cheese and herb medley sprinkled on top. Now wait until you see what was inside.
It was absolutely gorgeous how the hot, melted cheese oozed out of the center and onto the plate. Provolone being so buttery in texture melts so beautifully and stays smooth on the palate where as mozzarella is a bit firmer. The ricotta, boy I love my ricotta, was plain delicious. Soft and creamy. Pure food porn. The dough was nice and tender, but the filled was to die for. Flawless. I never had escarole, a type of endive, in a calzone before, but it worked. Escarole is known for its slightly bitter taste, but I didn't get that here. I would love to come back for this. Bub made a great choice.
Chocolate Hazelnut Pizza - $9
Amaretti and Mascarpone
Two tables down, a family of four was digging into this pizza. Two of the family members were a boy and a girl who looked like they were under the age of five. They were so happy! It was absolutely adorable watching them get the Nutella all over their faces! By the time dessert came, all I had to say to our waitress was, "we're having what they're having!" Also by this time, we had befriended the diners to the right and left of us. The patrons to my right, a mother and daughter, were incredibly friendly, charming, and kind to Bub and I as we chatted through our meals. I insisted that they shared dessert with us since there was no way Bub and I were going to finish a whole dessert pizza. I think we all had a sigh of utter satisfaction when we took our first bite. Just thinking of it is making me have tears in my eyes. GLORIOUS! Absolutely splendid!
The crust was an ordinary pizza dough, but thicker and more bready, with a great crisp bite. The chocolate hazelnut topping was nice and warm. The crushed amaretti cookies - Italian almond macaroons - added an awesome crunch, while the mascarpone cheese was decadent and left cool. I loved that when I took a bite with the cheese, I got different temperatures. Cool and then warm. At first I thought the mascarpone was really whipped cream or ice cream, but seeing how it didn't melt led us to think it was really cheese. We didn't look at the menu, so I didn't really know what it was until I bit into it. I liked how the mascarpone was not sweet. It was a neutral creamy flavor which offset the sweetness of the Nutella. Honestly, I would go back just for this. If I was having a crummy day, I'd tell Bub to grab one of these and I would be happy. TDF!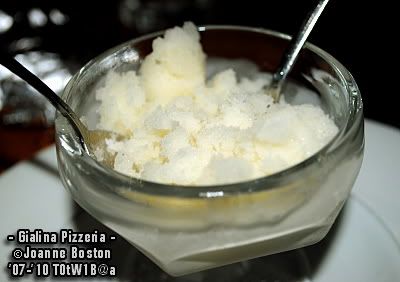 Housemade Meyer Lemon Italian Ice - $5
with Prosecco
Our dining friend at the next table let us have some of her dessert since we shared with them. She really didn't have to do it, but it was so nice of her. I love lemon. I love ice. Hey! Bub asked if there was something in there other than lemon and ice and I said I didn't think so. Now I see there was prosecco wine in it. Oops. I didn't really taste it, but since he doesn't drink alcohol, he sensed it more than I did. This is on the opposite side of the spectrum compared to the dessert pizza. This is light, refreshing, and tart while he pizza was decadent, creamy, and sweet, but they were both delicious. I actually loved how this ended the meal because my palate was cleansed and revitalized.
At the end of the night, I recollected the chain of events. I don't know why I thought this, but maybe it was MEANT for us to lose our table; otherwise, we wouldn't have met the diners next to us. There wouldn't have been those great conversations and laughter from seeing those kids tear up their dessert. I was a bit irked when we did lose our table, but in the end, the stars lined up and it all worked out for us for the better. Probably even better than if we had gotten our initially intended table. What can I say? The world works in mysterious ways.
So Gialina, walking in, I was a pissed off beezie with an attitude, but walking out, I had a face gleaming with a smile, a stomach stuffed with amazing food, a mind complete with memories, and a heart filled with joy. I felt like we were eating with family. We were talking that food brings people together, and it surely did at our visit here. I don't know if I will ever see my dining partners again, but I do want to say that the service, food, and table neighbors made for one of the best dining experiences I have ever had in San Francisco. You know that I wouldn't say that about just any other restaurant, right? This is BIG! I think I may have found my new favorite spot for pizza. So…thank you to my table neighbors and thank you Gialina.
P.S. I promise to stay put and not miss my name being called next time!
<3