Restaurant
:
Bar Bambino
Address
: 2931 16th Street b/t Capp and South Van Ness, The Mission, SF
Phone Number
: (415) 701-8466
Cuisine
: Italian
Date Last Visited
: November 2009
Dining Partner
: The Foodinista Ladies - Steph of
Lick My Spoon
, Danielle of
Bon Vivant
, Elaine of
VirgoBlue
Before I start…forgive me! I know I am so late posting about this dinner. I had this started on my laptop but it gave me the blue screen of death, now I am typing this off of my back-up mini notebook. I also don't have the pictures I took with my camera on this computer either. So please be patient with me and the pictures I took on my camera phone. Good thing I took pics on the phone too! BUT! The pictures are super grainy and dark, so if you want to see better versions, check out Elaine's pics on her site
VirgoBlue
!
Let's begin.
I met Steph at the SF. Chefs. Food. Wine. in the Fall. We saw each other again at a dinner at EPIC Roasthouse that FoodBuzz and VISA Signature were hosting where we met Danielle. I saw Steph AGAIN (ha!) at the FoodBuzz Open House where we met Elaine. Elaine planned a dinner for us to chop it up again since we had such a good time at the Open House and Steph invited Danielle. *breathes* I'm pretty sure that's how we all got together.
So here we were at Bar Bambino and it is so sexy. Dim lighting and very intimate table settings. Seriously, we were sitting very close to the table next to us.
I'll Have What She's Having
Pomegranate Aperitif
Looking back now, I can't even tell you what kind of wine this was. All I know was that Steph was already drinking a glass when I got to the table and I knew I had to have one too. Pretty soon, all four of us had one in hand. Sweet and delightfully tart from the bites of pomegranate seeds. It almost being Christmas, it looked very pretty and festive.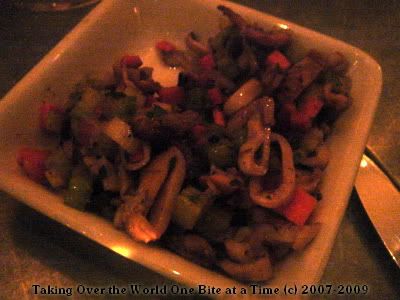 Insalata di Calamari
At Bar Bambino, you can choose from a selection of small plates to share. We started with this serving of lightly dressed calamari and celery. I found it refreshing even. The calamari was very tender and went well with the crisp diced vegetables.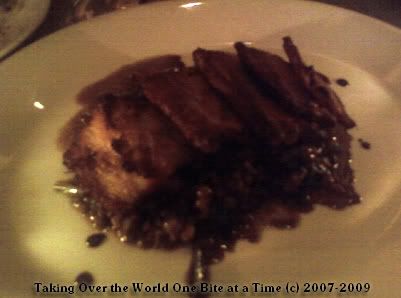 Seared Pork Belly
with Saba-Braised Lentils and Dandelion Greens
When we saw this on the menu, it was a no-brainer. We HAD to order it. I actually really like the pork belly. Nice fattiness. How can you go wrong? Buuuut,
Elaine had a different view
. I do agree with her that the lentils were a bit too al dente. I would have liked them to be a cooked longer. When it comes to legumes, I like mine soft even silken in the middle.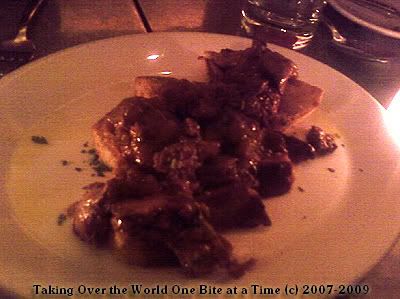 Fegato di Pollo e Marsala
Chopped Chicken Livers, Caramelized Onions,
and Marsala Topped on Toasted Bruschette
I got over my fear and tried chicken livers. While it still will take me some getting used to, this variation was so flavorful. I loved how the jus from the liver, onions and wine permeated into the bread. I wouldn't have mind if the girls took all the livers and I was left with the bruschette crusts because I thought they were the best part!
Quartet of Entrées
Working clockwise starting with the Danielle's
Roasted And Pan-Fried Chicken Alla Palermitana
was spot on. Twice cooked, we got the juiciness from the roasting method and then the crisp skin from the frying. Awesome. Elaine's
Papardelle with Sugo Di Coniglio
was surprisingly very pleasant. This would be my first EVER time having rabbit (thanks Elaine), and I must say that I enjoyed it very much. The rabbit meat is slowly braised and the consistency was almost like that of pork. Even the flavor profile is a bit similar. Honestly, if no one told me that I was eating rabbit, I would have thought I was eating pork sugo. Good choice for my first taste of rabbit! My
Tagliatelle with Ragú alla Bolognese
is next which I will get into in a bit. Steph's
Bucatini alla Gangivecchio
, which is described as "from Sicily, a savory sweet sauté of romanesco cauliflower, chard, pancetta, anchovy, pine nuts and raisins." Doesn't that sound heavenly? Out of the three pastas on the table, I remember her's the most because the combination of ingredients is so unique. It had some salt from the anchovy, but what I recollect most is the sweetness from those raisins. Bucatini is similar to spaghetti but it has a small whole running through the middle. It is important for the cook to boil the pasta just until it got to that vital
al dente
doneness to ensure that the hole is still there; otherwise, the pasta gets too overdone and expands so much that the hole is done away with. Since the actual sauce is quite thin, it has the opportunity to travel inside the pasta flavoring it from the inside-out!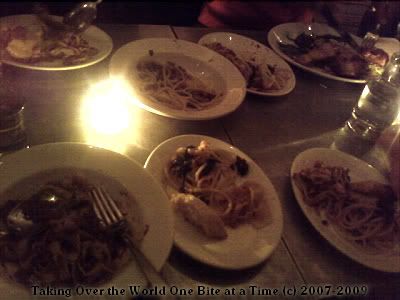 Sharing is Caring
We asked for small dishes so that we can give each other samples of our entrées. I for one loved my tagliatelle. Tagliatelle is a ribbon-like pasta which is perfect for the sauce because the meat and tomato in the ragú have something wide enough to cling on to. I love the descriptions from the menu: "Bar Bambino's secret recipe. Deep, complex deliciousness. As is traditional, finished with a touch of cream." God, it sounds so mysterious. I can 't even tell you what kind of animal they slow cooked in the sauce but it was delicious. Sometimes you want traditional, but this version of a tried and true recipe is extraordinary to me. Must've been that touch of cream. I loved this dish.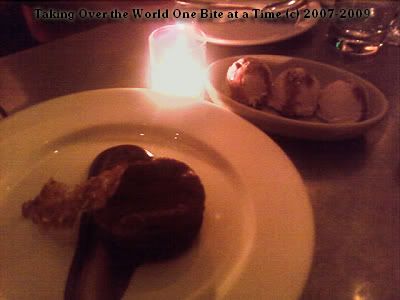 Dessert Time!
In the upper right of the picture, we have
Vanilla Gelato with 15-Year-Old Aged Balsamico.
It is as divine as it sounds. The vanilla gelato was a perfect platform as it is neutral enough to let the balsamic shine. You can tell it was vinegar, but it had this sweetness that is simply indescribable. Then we had
Gianduja Torte Con Croccante Di Nocciole
- long name for a very rich dessert. It is a chocolate and hazelnut cake served with hazelnut brittle. I swear, Bar Bambino has some great dessert. Do I need to even start telling you how delicious the cake was? Didn't think so.
Bar Bambino was great. A little cramped, but let's just call that cozy. I was pleased with the menu as I love pasta. The desserts were delightful as well. Good first dinner - mainly because of the company and not so much the service. It took us a while to get anyone's attention for things and the person who was supposed to take our picture disappeared for a period of time. Oh well. So that was Foodinista Dinner #1. It's funny because I posted dinner #2 at Town Hall before this one. Not that it matter because we plan on having more dinners in the future. We actually have one coming up this Friday, so I can't wait to tell you guys about that one! Til then, have a great night and I hope everyone had a wonderful Valentine's Day, Chinese New Year, and President's Holiday!