Restaurant
:
Andalu
Address
: 3198 16th Street at Guerrero, The Mission, SF
Phone Number
: (415) 621-2211
Cuisine
: Tapas, Small Plates
Date Last Visited
: February 6, 2010
Dining Partner
: The Good Vibe Ladies - Rubber Duckie, Butterfly, LELO, Rabbit, and Bullet!
So, these ladies…where do I begin? Two of these ladies I met in high school. The three others I met in college. A good chunk of my adolescent life, I was a student at a little school called Skyline. I went there for 4 years. Yes, it took me 4 years to graduate from a 2-year college - couldn't help it, I was having too much fun with the Filipino Student Union and Pilipino Cultural Night! For some reason, my high school life and college life collided because these ladies and I ended up working to put PCN 2005 and 2006 together. So we have basically seen each other stress out and perform on stage. I really miss those days. As always, we all graduated and left college to "grow up" and live in the "real world." That was a shame since we all seemed to love each other's company back then. Anyway, fast forward 4 years later and we are sitting at a tapas bar laughing our tails off over the trials and tribulations we faced since we saw each other last - it seemed like there was no time void there. Even before I got there, I knew it was going to be a RIOT.
Andalu was a fantastic choice for our get-together. There were six of us so their designated group menu fit the bill. There are 9 dishes brought out for the entire table to share family-style. There must be at least 6 people in the group in order to have this set menu. While 8 of the dishes are pre-decided, the first course (tartare course) you have a choice:
Selection of Tartares
Back: Salmon Tartare with Avocado
and Serrano Chilis on Gaufrette Potatoes
Front: Tuna Tartare Taco with Chili and Lime, Mango Salsa
Each person chooses either tuna or salmon. There were six of us, but I just realized they brought out an extra tartar on each plate because there were 8 brought out to us. = ) Score.
Tuna Tacos
My favorite of the two was the tuna taco. The taco shell was a bit flimsy, but it worked. The tuna was a bit tangy, which I liked, but that mango on top was killer. Perfect combination of salty and sweet. The salmon tartare was good, but not as good as the tuna. They served them on fancy potato chips which broke easily and were a bit on the burnt/salty side which skewed the flavor profile of the delicate salmon.
Crispy Mac & Cheese
with Herb Tomato Vinaigrette
When I saw these, I thought to myself that Bub was going to kill me when he found out I ate something fried, but oh, those calories were worth it. I knew these were going to be good from the get-go. A little bit of that tomato vinaigrette was perfect. It is reminiscent of dipping a grilled cheese sandwich in tomato soup or a fried mozzarella stick in marinara. Same concept and flavors, but I think this is a new favorite. Perfect crisp exterior and a lovely, tender mix of cream and pasta inside.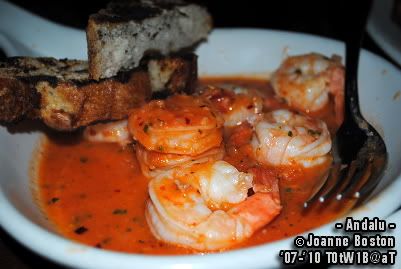 Shrimp "Pil Pil"
with Garlic, Tomato, Sherry, and Pepper
Shrimp goes best with garlic most definitely. While I didn't know what "pil pil" was, I was very familiar with the aromas and taste - with that said, this was good, but it wasn't extraordinary. I do have to say that the shrimp are very generous is size. I would even have liked mine more garlicky.
Cambazola Cheese Fondue
with Fuji Apples, Asian Pears, Crostini
After two or so bites, this was stolen by the other side of the table. Seriously. The girls loved it. Cambaloza is a blue cow's milk cheese which is often referred to as a "blue brie" because it's a hybrid of a gorgonzola and a triple cream cheese. The texture of the fondue was very rich and creamy with a slight tang. It went very well with the sweetness of the apples. I love cheese and apples together because the sweetness and juice of the apple offsets the viscosity of the fondue. Like I said, the girls on the other side of the table ganked it from me. =) I didn't mind at all. I was glad to see how much they enjoyed it. I think more apples should be put on the plate, however.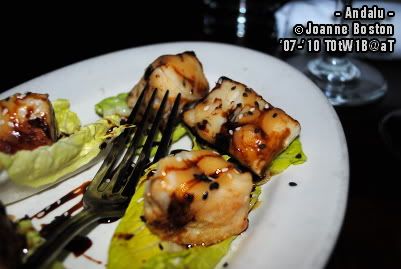 Miso-Glazed Sea Bass
in Lettuce "Cups" with Sweet Soy
Now I am the one who put "" around "cups." When I saw this brought to the table, I just took the fork and put the fish on my plate and left the lettuce on the platter. I don't know…perhaps the shape and size of the lettuce didn't make it obvious to me that we had to eat the fish with the lettuce. If the lettuce was rounder, then maybe I would have gotten the hint. This was possibly my least favorite bite on the table. The sea bass was too firm and it didn't taste fresh to me. There was an underlying (and I hate to say this) rotten tone in my mouth as I was eating it. The sweet soy didn't help with anything…possibly making the dish even saltier. Not a fave. Sorry.
Frisee Salad
Goat Cheese, Pomegranate, Pears, Red Onion, Vinaigrette
I didn't care for this much either. What is up with everyone leaving their salad greens so long that I have to have a mouth the size of a whale's to eat it? I'm just venting here. I have had this combination countless times and I am honestly getting extremely bored with it. There were two, almost full, plates of salad taken from our table…and no one took it home.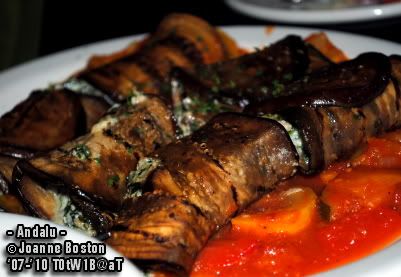 Grilled Eggplant
Stuffed with Ricotta, Spinach, Pinenuts, served on Caponatta
I thought the presentation of this looked lovely. I love cheese-stuffed anything; however, I did find the eggplant to be rubbery. I like my eggplant tender. The stuffing was better - creamy ricotta and spinach made for a rich mouthfeel. BUT I hated the pine nuts. I enjoy silky, velvety, textures in my cheeses without the bumps of pine nuts. Iif the pine nuts were absent, it would have been better. The caponatta with various colored zucchini was fresh and tasty. I just wish the eggplant wasn't so tough on the palate.
Coca-Cola Braised Spare-Ribs
with White Bean Salad
A-ha! I knew it! Rabbit doesn't drink Coke anymore, but when I saw these on the menu, I immediately thought of her. I liked them a lot because they weren't too smoky. There was a nice sweetness from the soda which also made for a sticky rib. Good stuff. I was a bit disappointed with the white beans. I didn't really get a connection between them and the ribs. Maybe because they were TOO al dente? I imagined a softer, silkier bean to go with the fiber of the meat. That's just me.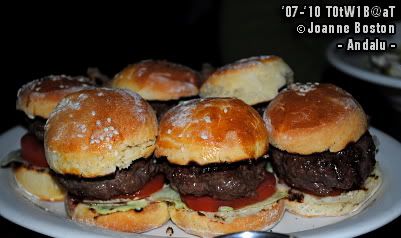 Sliders
Mini Burgers with Basil Aioli and Tomato, Fried Shallot Rings
These burgers were JUST RIGHT. Portion size, juiciness were spot on. By the time we got to this, actually third to the last dish, we were getting stuffed. They really give you a lot of food here! I would have liked there to be a bit of cheese. Brie would have been perfect. I didn't really notice the aioli, but the shallot rings (on the other side of the plate which I neglected to take a picture of) were awesome. Still fried but a lot lighter than your conventional onion rings. LELO even spread some of the fondue on her slider. What I liked about all the dishes was that you can eat all of them together in some way, as LELO did.
Not everything was absolutely perfect, but hey, that's what's fun in trying out new restaurants. We talked and laughed so much that I don't even think anyone cared if everything was flawless anyway. Andalu was the perfect place to hang out and drink sangria. OHHHH the sangria! I don't know how I could have missed taking a picture of the sangria. For $15 a person, you get unlimited sangria for two hours - both white and red. I loved the white because it was flavored with apples. Red gets me buzzed way fast so I stayed away. Rubber Duckie opted for some Fat Tire beer, so that is an option for you non-sangria drinkers.
This is what I like about tapas bars. It's super chill and you really don't have to worry about what you talk about because everyone is there to have a good time. We were talking as if no one was in the room. Very candid coversation. That's how comfortable, at least, I was. It was a lot of fun - as if we were still in college. Don't you just love that feeling? Even though one of us is now married, two of us are about to get hitched, someone went in one direction and the others went another, the personalities are still the same ones I remember. This made for a fun catch-up session filled with laughs and gasps and STORIES. Good Lord did we have stories! I can't wait until the next time we all hang out again. It's never to late to reunite with old friends. Thanks to everyone who went and special thanks to Rabbit for the field trip afterwards! Everyone went home with
party favors
courtesy of Butterfly. Yup, I had a FAB time!