Restaurant
:
Phat Philly
Address
: 3388 24th Street at Valencia, The Mission, SF
Phone Number
: (415) 550-7428
Twitter
:
@PhatPhilly
Cuisine
: Sandwiches
Date Last Visited
: October 20, 2009
Dining Partner
: Bub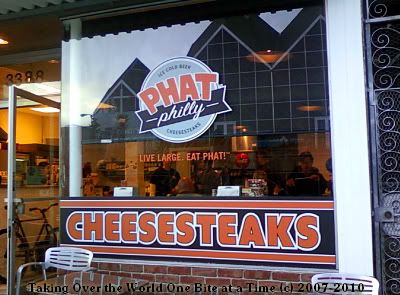 Restaurant Façade
Bub chose to pick me up at 24th and Mission after work in hopes that we would find a good place to eat. I wasn't craving Mexican food, Bub didn't want to spend too much money on fancy food. So what was there? As we were crossing the intersection of 24th and Mission, it came to me that Phat Philly was just down the street and ever since it opened, I was eager to visit someday. Hey, we were already in the neighborhood, why not? A girl has to have her meat too!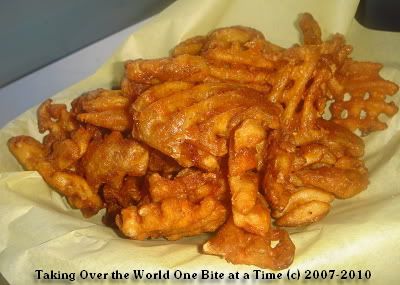 Criss-Cut Waffle Fries
Must I even elaborate on a fried potato? Didn't think so, but just know that these crispy spud wonders were rather tasty…especially with the ranch dressing they have on the premises!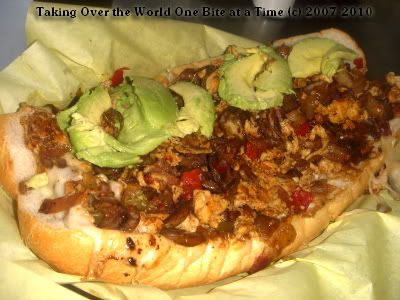 The Whole Shi-Bang! Made with Chicken
Meat, Cheese (provolone here), Caramelized Onions, Roasted Peppers, Sautéed Mushrooms, Applewood Smoked Bacon, Avocado
Bub would so get this. I swear, sometimes I think he's trying to compete with Adam Richman. He got the "Phat" 12-incher and it was a sight to behold. I didn't know how he was going to eat it all. He almost did. I think he got to about 9 inches. Yup, very impressive. What a phatty, haha! I took a bite and while it was good, there was too much going on and I couldn't focus. Even though it's the biggest and craziest sandwich, it wasn't for me. If I want a steak sandwich, that is what I would get…even if it had only 4 ingredients to this sandwich's hundred. Oh yes, you "Veggie Heads" are not neglected here at Phat Philly! There is a whole section on the menu dedicated to vegetarian sandwiches. You ready? Try a Portobello Steak or a Tofu Steak or even one made with wheat gluten! Yup! BUT! I don't know about you, but I'm about the real deal. Gimme my beef!
Mushroom Steak wit Whiz!
There was no way that I was coming here and ordering chicken. PSHH…while Bub's sandwich was over the top and humungous and delicious, I came for the real deal. Cheese. Steak. I had always wanted to try the best cheese steak out of Philly and I may have found it. If you think Great Steak and Potato is good, Phat Philly is the flippin' holy grail while Great Steak is a Styrofoam cup…at the bottom of a dumpster.
The meat hand-cut Masami Ranch American Kobe beef. Yes. The rolls are imported into California from Amoroso Rolls from Philadelphia. Oh yes. I got the Regular (7 inches) Mushroom Steak because well, I love mushrooms, and CHEESE WHIZ! I was told that Whiz is for purists, so how can I have it any other way? PURE MEAT ECSTASY. The bread was toasted a bit and it was soft enough so that when I bit into it, everything inside didn't fall out. Well, some of the meat and cheese came out, and you know what my trick is for not missing those flavorful hunks and chunks? Put a few of the criss-cut waffle fries in my little basket because if any of the filling came out, it would fall on the fries. Ha! Instant potato-steak nachos!
MUH-NEE.
So who out there is drooling all over their computer keyboard? Phat Philly is a gem! Lovin' the cool vibe and scrumptious sandwiches. I had no shame in stuffing my face here. Makes me want to book a flight to Philly right now and have another. Nah…you know what? There is no need to do all that. We got Phat Philly here at home…serving the best damn cheese steaks ever. Check out the menu
HERE
. With all the cheese choices and combinations, you'll be very happy. Trust me and you won't be sorry!