Restaurant
:
Muracci's Japanese Curry and Grill
Address
: 307 Kearny St. b/t Bush & Pine, Financial District, SF
Phone Number
: (415) 773-1101
Cuisine
: Japanese
I have been meaning to write about this place for a long time. Muracci's is one of those places where you walk in, you get greeted warmly by the folks behind the counter, and just feel very comfortable in. The main reason why I went here in the first place was because of
7x7's Big Eat 100 list
. Since I work in Pacific Heights and go home to Daly City, the Financial District is a bit out of the way, but I had to in order to check it off my list. Right off the bat, I felt welcomed by the woman at the register. Turns out, the place is run by a husband and wife team. Wifey Tamiko handles the orders. She's so cute. After I made my order at the counter, I copped a seat at the counter along the window. This place is tiny, probably not even ten seats, so it's probably better to take-out during lunchtime. Since I was there close to closing, it was not busy. After waiting a few minutes, this gorgeous plate of food was brought to me by Tamiko's husband Yasuyuki himself!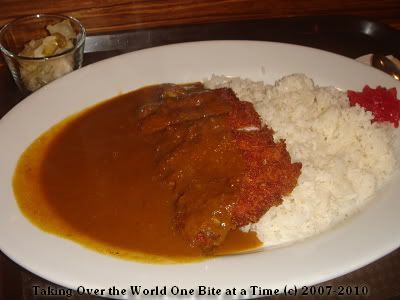 Katsu Curry
Pork Cutlet served with Curry Sauce
It left me breathless. Seriously. I got the pork with steamed white rice and mild curry sauce. They make each dish to order so that everything on the plate is fresh; therefore, be prepared to wait a little bit, but it is SO WORTH IT. The first time I had katsu curry was back in Hawaii and for some reason, I never ordered it here in the mainland. So this was my first time to have it again in this preparation. FYI: if you don't eat pork, there is a chicken version as well. Two types of pickles came with the curry:
Pickled cabbage
- I love pickles with my fried food. I usually eat kim chee with my katsu at Hawaiian places, so having this pickled veggie/palate cleaner was great since curry can be a bit tongue-tiring.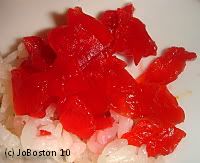 Fukujinzuke
- a customary pickle that comes with curry. Many different types of vegetables can be used in a fukujinzuke such as radish and cucumber. Honestly, I can't tell you what vegetable this was, but it did have a bit of spice itself.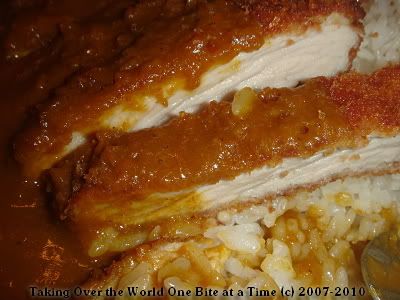 As for the curry itself. You can say that there was hardly anything on my plate when it was picked up. The pork, which can be easily messed up, was perfectly tender and juicy. The breading on the katsu was crunchy and not heavy or greasy at all. I really cannot think of a more flawless plate of katsu curry. That sauce is money. It's rich and thick and you can tell they take pride in their sauces here. The medley of flavors is just right and well-balanced. Not too acidic nor spicy nor peppery. Spot on. Tamiko makes the curry sauces herself and from I know, it takes hours to make a great curry. I absolutely LOVED my plate. On both of my visits, I came alone and I ordered this plate. It's probably better I came alone because I would not have been paying attention to my dining partner. I must put all my concentration and emotion on this dish. It's that good.
I wish Pacific Heights had a place like this. I
can
trek over to Japantown, but I'm wishing for a place along Fillmore. We just don't have home cooking like this there. What I love about Muracci's is that you can feel the love from the moment you step into the place. You are greeted coming in and wished well when you leave. You can also sense the care they took in preparing you meal. It's just so warm there. The ONLY bad part of Muracci's is that they close 6 pm on weeknights and are not open over the weekend. =( Also, if you don't eat curry, don't fret. They have sushi, soups, and grilled goodies for you as well. BUT! For me, if I come back, I am definitely going for the katsu curry again. I don't need to look any further.
I have found my perfect plate of katsu curry.
Thank you, Tamiko and Yasuyuki Murata!