So passing by the Walgreens, I saw this: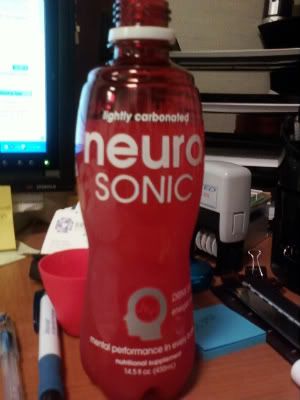 It's an energy drink I have never seen before. I can surely use the energy and mental focus today, so 'what the hell,' why not? At first sip, I made the "ew" face, but it's growing on me. The flavor is citrusy, almost grapfruit-like...lightly carbonated...has the B vitamins you need if you want energy. I have just taken a few sips and I can already sense a change in my energy level.
Hope I don't crash. That's the last thing I need. Last night, right when I got home at 6 pm, I took a nap and woke up at around 9 pm...I was STARVING. Thus, I went to the kitchen and cooked...this is what I came up with:
This is fettucini alfredo with asparagus ribbons, chicken breast, and tomatoes. I didn't eat much of it for dinner. Didn't want to carbo-load before hitting the hay. By the time I was done cooking and cleaning, it was close to 11 pm. So, I packed it for my lunch today. =)
For dinner, I am planning on a chicken breast over mixed greens and balsamic dressing.
*sigh* This diet is killing me. I passed by McDonald's on our way to get gas and I was dying inside because I couldn't get French Fries.
Will power, where are you?!
Anyway, I will let y'all know how the energy drink treated me today. I will be taking sips every so often. I was planning on downing it, but after that jolt of energy after 3 sips, chugging might not be a good idea.
Arighty, time to work. =)