So 2009 has come and gone, and for me, it was an awesome year! No wonder the year went by so fast because it IS true: time flies when you are having fun. Comparing 2009 to
"My Greatest 2008 Discoveries" roundup
, I noticed that my "fooding" habits had changed a bit. 2008 being my first year in my "career" job, I splurged, A LOT. The Dining Room - check. Gary Danko - check. La Folie - check. 2009 was the year of the "street food revolution" and grass roots operations, and I got sucked in. My 2009 was also influenced by the
Big Eat 100 list by 7x7 Magazine
. Many of my dinner choices were based off that list, so that meant going to hole-in-the-wall places I had never heard of before, not just spots picked from the Michelin Guide. 2009 also welcomed by my life-changing trip to the Philippines and the much-awaited Food Blogger Festival hosted by FoodBuzz. All-in-all, 2009 was a fabulous year and I can't wait to see what 2010 has in store. TIP: to read the blog post associated with the picture, click the link a the start of the blurb. So here you have it, my collection of "Jo's Best of 2009"!
- New Found Love -
Fresh Soft Cheeses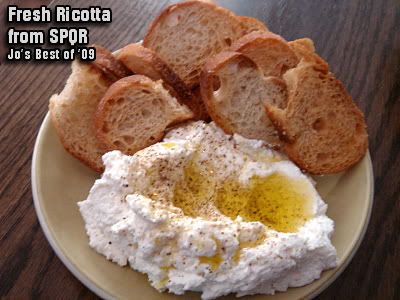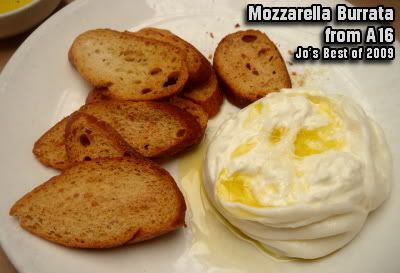 SPQR
and
A16
-I guess you can say this is my homage to Nate Appleman…who unfortunately left SF to compete in "The Next Iron Chef." The cheese at SPQR and A16 were superb. Bread and cheese are all I need to be happy.
- What I Used to NOT Eat…But Now I Do -
Swan Oyster Depot
- Thank you to my wifey Rizzle for coming with me and sharing this plate with me. I have become a convert. I don't know what took me so long to eat one. I had 6 this day. I know, total eclipse of the heart. Raw oysters ftw!
- Best Appetizer -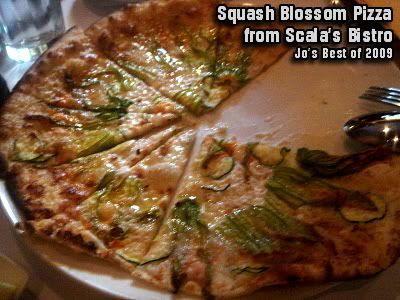 Scala's Bistro
- This was extra special because Chef Jenn Biesty came out and talked to us after she had this made for us. She is the best!
- Best Entrées -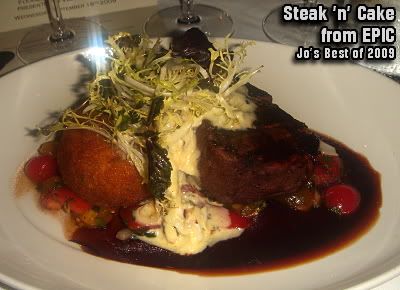 EPIC Roasthouse
- I had this during a FoodBuzz Community Table Dinner. Oh what a great night. Lots of laughs with my foodie friends!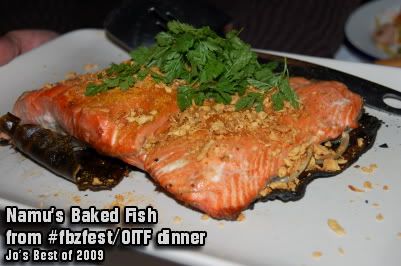 Namu at the Outstanding in the Field Dinner - FoodBuss Food Blogger Festival
- I say "fish" because no one really knows what it was. Looked like salmon, even tasted like salmon, but the menu said sea trout and another blogger said it was arctic char because of supply issues. Oh well, it was delicious and I talked to the chefs while they were preparing it. Awesome dish whatever it may have been.
- Best Desserts -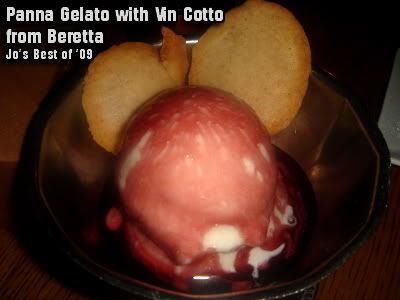 Beretta
- Cuzzin Star and I had this after an already outstanding meal of risotto and vegetable pizza. Let's just say this bowl was completely cleaned out once we were done. Incredible.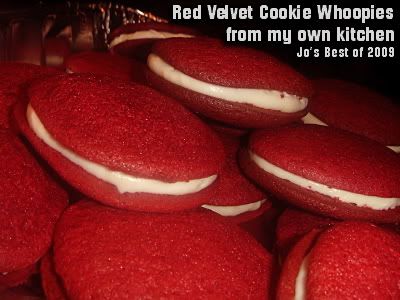 My Kitchen
- 2009 was the year I got my baking itch. I love baking from scratch now! This is the best cookie sandwich I have ever made. Whenever I make it, people are happy. I like happy. Thank you Paula Deen.
- Best Sandwich -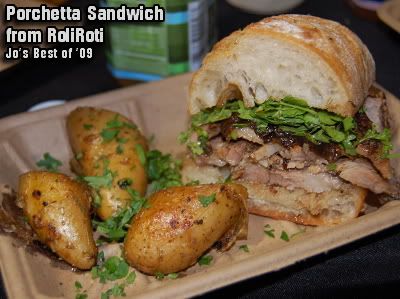 Roli Roti
- My love for pork multiplied 10-fold after having this sandwich in May. I had it again in November, where my love multiplied another 100-fold. Tender meat and perfectly crispy roasted skin. Such a guilty pleasure.
- Favorite Street Food Item -
Among all the fab street food options in SF, Kung Fu Tacos' Korean-style tacos made with a choice of fillings, like mushroom or char siu, were delectable. Bub and I had them during happy hour at CandyBar in NOPA and then hunted them down in the FiDI a couple of weeks later for lunch. My fave: roasted duck with mango salsa.
- New Takes on Filipino Cuisine -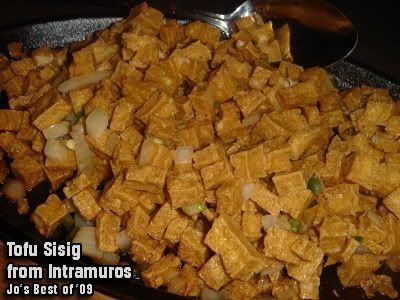 Intramuros
- Had this the first time on my birthday and I have been hooked ever since. Great option for vegetarians. The tofu is a bit crisp and the medley of jalapeno and onion on the sizzling hot cast iron platter blew my mind. All I can say for 5 minutes was "this is SO good."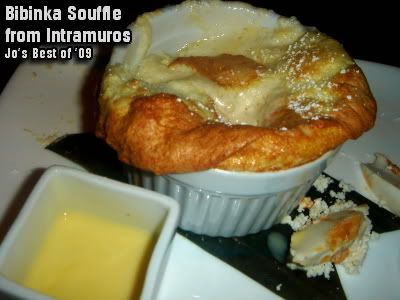 Intramuros
- Momma and I shared this and I could have easily eaten one on my own. The egg-y soufflé topped with a coconut crème anglaise and eaten with salted cheese and white cheese. HEAVEN.
- My Events -
Philippines Trip
- I celebrated my birthday on the airplane and in Hong Kong, but had a party with my family in the Philippines. It was my Inang's and Mom's birthday as well. Such a special birthday.
- Meeting Some Cool People -


Tommy's Mexican Restaurant - This guy was SOOOO sweet.
Pictured with Poleng's Chef Tim Luym
SF Chefs. Food. Wine.
- Other chefs we met that night: Jamie Lauren of
Top Chef
and Absinthe Restaurant, David Bazirgan of Chef Papa Resto, Michelle Mah of Midi, Michelle Chou of Aziza, and Melissa Perello of Frances…PLUS! Chef royalty sightings: Hubert Keller of Top Chef Masters, Fleur de Lys, and Burger Bar AND Thomas Keller of The French Laundry.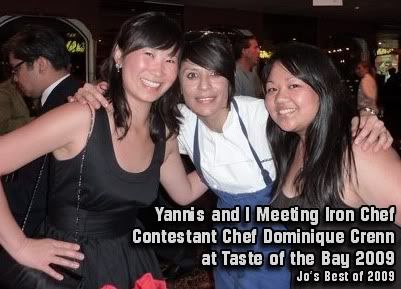 Taste of the Bay - Chef Crenn was so gracious. I love her.
Some chefs don't chit-chat at their signings, but Bub and I chopped it up with him like we were his friends. Very friendly and very funny.
During his cooking demo, he made some bomb halibut. He was also very polite and just a chill guy.
- Possibly the Most Important Person I Met -
My Niecey-Poo
I can hear her crying as I am typing this. *laughs* She's so beautiful, nonetheless. Now she is crawling around and can pull herself up so that she can stand up while holding on to the sides of her playpen. She's going to be running around before we know it!
The Experiences: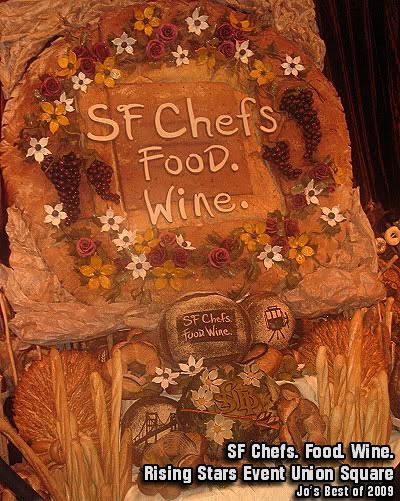 SF Chefs. Food. Wine.
- I was greeted with this comment after posting my event entry:
No, I was NOT leaving myself a comment. That was *THE*
JOANNE WEIR
! Holy crap, I have seen her on TV ever since I was a kid! I was incredibly honored that she even knew of my blog and left a note. *smiles*
1st Annual Food Blogger Festival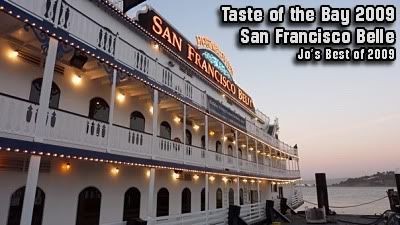 Taste of the Bay 2009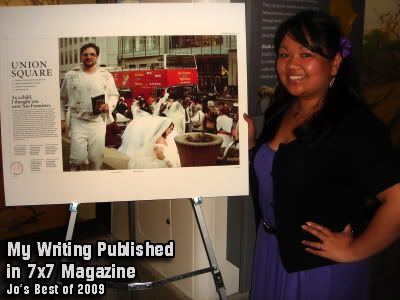 7x7 Magazine Feature
- I represented Union Square in 7x7's August issue of their magazine which featured San Francisco's greatest neighborhoods. I submitted a blurb on a whim, and I was chosen! Our magazine layouts were displayed at The Academy of Science's Nightlife event.
What an astonishing year.
Thank you for the blessings and opportunities, 2009!
May your upcoming year be sweet, loves!
Cheers to 2010!