Hi everyone!
I hope you all had a fabulous Christmas, Hannukah, Kwanzaa, Boxing Day...etc...etc...Speaking of Boxing Day, them Sharks sure did roast those Anaheim Ducks didn't they! Tons of fights during that game, too, hence the commentators saying it WAS Boxing Day, after all. *cymbal crash* Bad joke.
Anyway, my week leading up to Christmas was a rough one. I fell ill on Tuesday. I left work early only to find myself puking my brains out that night. Turns out I caught a stomach bug of some sort and, I kid you not, about 15 other people in my family did as well. We had a party for my aunt on Sunday and we were all starting to feel it on Monday and Tuesday.
All I ate on Wednesday looked like this: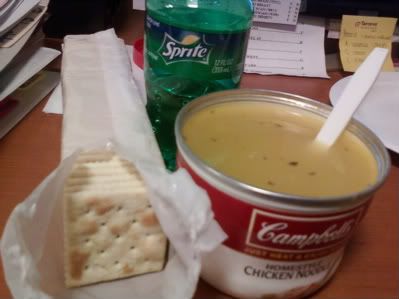 Saltines, chicken noodle soup, Corn Pops cereal, JELL-O, Sprite, and a whole bottle of Pepto Bismol.
Luckily, we all started to feel better in a day or two. I was relieved I was well just in time for Christmas Eve dinner at Bub's parents' place in the East Bay. Bub's parents, younger sister KieKie, and her friend were in attendance...as well as the doggies Taylor Monster and Armani.
Check out what we had (quick upload from my cell phone):
We had tofurkey and tell me why it was absolutely delicious! Bub's dad roasted the tofurkey with carrots, turnips, onions, and potatoes, as well as basted the tofurkey itself with a concoction of olive oil, sage, and soy sauce. There was also ham, mac n cheese, spinach cheese bread, chedder jalapeno bread, wild rice, boiled corn, spiced hot cider, and a salad made by Bub. The salad included spring mix, cranberries, mandarin oranges, feta cheese, all tossed in a raspberry vinaigrette.
After dinner we all played a game of Yahtzee. LOL! I won! Two Yahtzees is all it took, baby! It was so much fun to hang out with Bub's fam bam.
Because I was sick, I wasn't able to gather the ingredients for the red velvet cake and the pastas I had planned to make. Bummer. Yup, I didn't get to use my brand-new three-channeled lasagna pan. I just didn't want to get anyone sick, but looking at the Christmas buffet table, it was just fine. There was tons of food: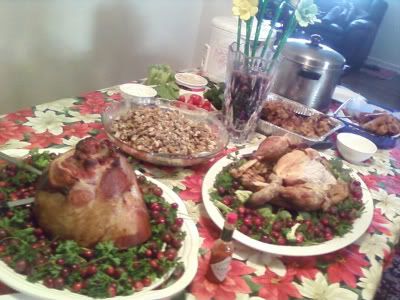 We were in total food coma as we woke up at 2 p.m. the next day! Look at what we ate as our first post-Christmas meal: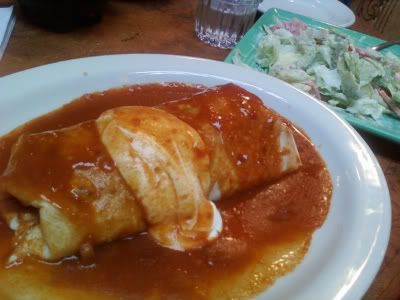 Gotta love those wet burritos. I had a huge craving for one of those for a while now. We went to Celia's since it is just 3 driving minutes from my house and it was raining. Didn't want to go out too far...it's so funny how we have lived here for years and only been to Celia's once or twice. It sure hit the spot!
I don't have time right now to post any of the pictures I took with my nicer camera. The photos I posted are just sneak peeks. So look forward to a full-detailed post coming in the next day or two...but I will leave you with this one picture of my family after we opened presents: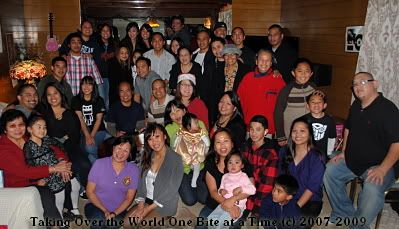 Now that Christmas is over, what is everyone doing for New Years Eve? It's Bub's birthday and I figured we would stay home and I would cook up a meal for him which consists of his favorite foods growing up, like his dad's "green noodle casserole." BUT! Thanks to the folks at SFWeekly, I got hooked up with tickets to dinner and a party! I'll be sure to post about that, too!
That's just plain awesomeness! Anyway, it's time for me to hit the hay. I got work in the morning! =)
Thanks for visiting, loves.
<3,
Jo