I was incredibly excited when I got the e-mail from
FoodBuzz
that I was chosen for the Safeway Holiday Recipes Tastemaker Program. 10 of us were chosen from all over the country to recreate a recipe listed on the Safeway Website. You can find that list
HERE
.
All that was asked of us was a photo of the recipe and a little blurb about the process. In return, our picture of our dish would be featured on ads circulated in the food blogger community. One recipe. One picture. One blurb. That's it. BUT I wanted to challenge myself and completed a three-course meal! See what I got to do on my Sunday!
I got all my ingredients from the Safeway/Pac N Save in South San Francisco, which is less than five minutes away from my house. I ALWAYS go there for my cooking and baking needs. They have everything, so I was very pleased to know that I would be shopping in a place that is basically my second home when I want to shop.
-- Baked Parmesan Dip --
I chose this recipe because I love hot dips. I saw a picture of it on the Safeway website and it reminded me of dips that my cousins and I would share and various restaurants. The green of the spinach and the red of the paprika just makes it a very festive appetizer. Plus, I saw CREAM CHEESE in the recipe. Everything is good if it has cream cheese in it!
* 1 package (10 oz.) frozen chopped spinach, thawed
* 1 cup reduced-fat or regular Safeway SELECT® Mayonnaise
* 1 package (3 oz.) Lucerne® cream cheese
* 1 onion (6 oz.), peeled and minced
* 1 clove garlic, pressed or minced
* 1 cup plus 2 tbsp. Shredded Parmesan Cheese
* 1/8 tsp. pepper
* 1/2 tsp. paprika
* 2 Safeway SELECT® Artisan Baguettes (8 oz.), thinly sliced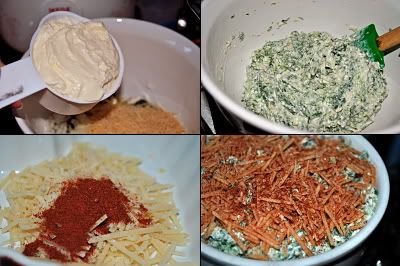 1. Squeeze spinach to remove liquid. With a mixer, beat spinach, mayonnaise, cream cheese, onion, garlic, 1 cup of the parmesan cheese, and pepper until thoroughly combined.
2. Mound mixture in a 3- to 4-cup baking dish. Sprinkle evenly with 2 tbsp. parmesan cheese and paprika.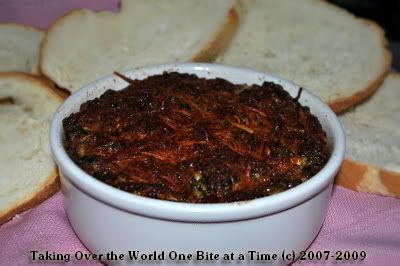 I am aware this is more than "lightly browned"

=)
3. Bake in a 350° oven until hot in center and lightly browned on top, 25 to 30 minutes.
4. Serve hot to spread on baguette slices.
Now doesn't this look like Christmas on a piece of bread? I just know that my cousins would love to dig into this dip. The paprika on top gave off this incredible aroma and the creaminess of the dip was like velvet on the palate. Delicious!
-- Chicken Saltimbocca --
Initially I was going to make the spiced meatballs, but this caught my eye after I reviewed the recipes just before I left for Safeway. I chose this recipe because I have never worked with prosciutto nor sage before. Filipino food doesn't use too many cured meats or fresh herbs, so this was going to be new. I also imagined how beautiful the green of the herb would be with the wrapped chicken. It's one of those dishes that is very comforting and filling. Perfect for the cold days in the winter.
* 4 (6 ounce) O Organics™ Boneless Skinless Chicken Breasts
* 1 teaspoon kosher salt
* 1 teaspoon freshly ground black pepper
* 8 O Organics™ Sage leaves, plus leaves for garnish
* 1 (3 ounce) package Primo Taglio® Prosciutto
* 1/4 cup O Organics™ Unbleached All-purpose Flour
* 3 tablespoons Lucerne® Unsalted Sweet Cream Butter, divided
* 1 1/2 tablespoons O Organics™ Unbleached All-purpose Flour
* 3/4 cup dry white wine
* 1/2 cup O Organics™ Low-Sodium Fat Free Chicken Broth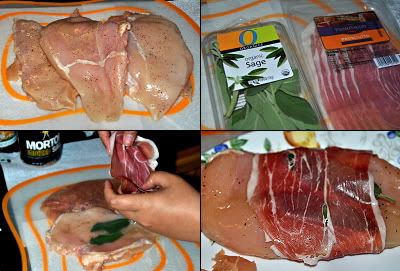 Prepping the Chicken
1. Working with 2 pieces at a time, lay chicken breasts between 2 sheets of plastic wrap. With a meat mallet or rolling pin, pound meat to 1/4 inch thickness. Repeat with remaining chicken. Season chicken on both sides with salt and pepper.
2. Arrange 2 sage leaves on top of each chicken breast. Wrap 1 slice of the prosciutto around meat like a belt, covering sage. Pour 1/4 cup flour into a pie pan. Dredge prosciutto-wrapped chicken in flour and set aside.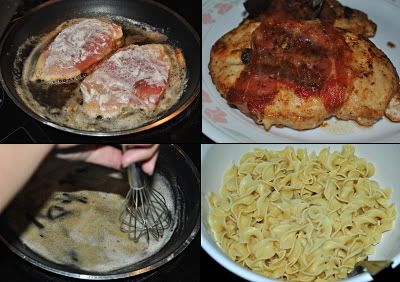 3. In a large frying pan over medium-high heat, melt 2 tablespoons butter. Add 2 chicken pieces and cook, turning once, until breasts are well browned and prosciutto is crisp, about 4 minutes total. Transfer cooked chicken to a clean plate and cover with foil; repeat with remaining chicken pieces. Do not wash frying pan.
4. Reduce heat to medium. In same pan, melt remaining 1 tablespoon butter and whisk in remaining 1 1/2 tablespoons flour to drippings and stir for 1 minute. Whisk in wine and broth. Let mixture come to a boil, then remove from heat. Pour sauce over chicken, garnish with fresh sage leaves, and serve on buttered egg noodles.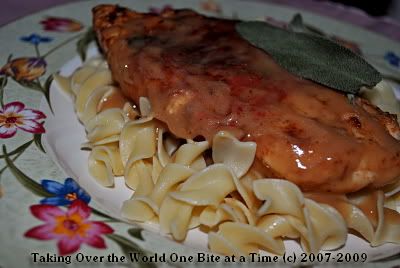 I was very impressed on how great it looked on the plate!
A dish I would love to make again! My fiancé and I had this for dinner and we were stuffed! No wonder people gain weight during the holidays! With fabulous food like this!
-- Baby Pound Cakes --
Dessert time! I thought these are so cute because of their small size. They are easy to wrap up and possibly give as gifts. I made so many of these today that I plan on bringing them to work for my coworkers. That is what I LOVE about the holidays. You can make awesome baked good at home for the people you love the most. Sometimes it isn't about the material stuff. I would love to receive homemade food gifts also!
* 1 1/2 cups butter, softened
* 1 (8-oz.) package cream cheese, softened
* 3 cups sugar
* 6 large eggs
* 3 cups all-purpose flour
* 1/4 teaspoon salt
* 1 tablespoon vanilla bean paste or vanilla extract
* 1/2 teaspoon almond extract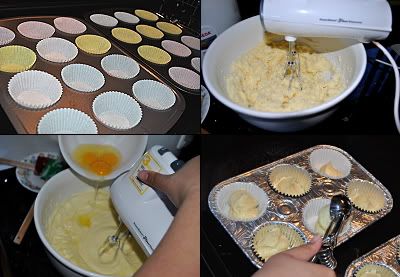 1. Beat butter and cream cheese at medium speed with an electric mixer about 2 minutes or until creamy. Gradually add sugar, beating well, 5 to 7 minutes. Add eggs, 1 at a time, beating just until yellow disappears.
2. Combine flour and salt. Gradually add to butter mixture, beating at low speed just until blended; stir in vanilla and almond flavorings. Spoon batter into paper-lined standard-size muffin pans, filling three-fourths full.
Jo's tip: I found that using a cookie dough scoop made the size of the little cakes more uniform. I love that thing. I have used it from shaping cookie whoopies to perfectly portioning red velvet cupcakes. It's awesome!
3. Pound Cake Minis: Spoon batter into paper-lined (13/4") miniature muffin cups, filling three-fourths full. Bake at 350° for 16 to 18 minutes or until a wooden pick inserted in center comes out clean. Cool in pans on wire racks 10 minutes; remove from pans, and let cool completely on wire racks. Yield: about 9 dozen.
These were how they looked right when they came out of the oven. Aren't they just darling?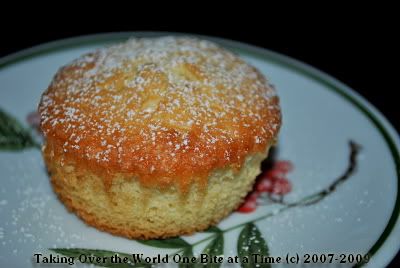 Then I thought that a little dusting of powdered sugar would make them so much prettier. Like snow on a cabin!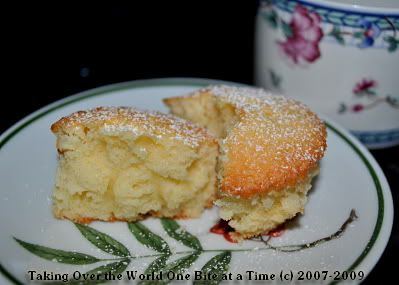 Wouldn't this be just wonderful with a cup of hot chocolate, sitting in front of the fire with your sweetheart? I don't have a fireplace at my house, but if I had one, you can be sure I would do that! The cakes were delicious and not too sweet. I love the addition of the almond extract. It lends a unique flavor fit for the season.
I just want to say thank you to FoodBuzz for giving me the opportunity to cook for once! I usually go out to restaurants for dinner, and it's nice sometimes to make a meal at home. I had so much fun and even my fiancé gave me a hand in the kitchen...which is always good!
I wish everyone a Happy Happy Holidays!
Eat lots and love lots this season. =)