Restaurant
: Swan Oyster Depot
Address
: 1517 Polk Street b/t California and Sacramento, SF
Phone Number
: (415) 673-1101
Cuisine
: Seafood
Date Last Visited
: October 24, 2009
Dining Partner
: Wifey Rizzle
Signage
behind this window is Heaven
So I have a "wifey" and her name is Rizzle. I love her. I've known her since high school, but we got really close in college. Of course after college, I kind of drifted away from classmates to focus on my career and my new fiance. BUT that is no excuse to not keep in touch with old friends. So on this day, Wifey and I had lunch because for some reason, we both had a hankering for some oysters. Jo? Oysters? Really? I know, I usually don't have cravings for those little slimy suckers, but I just had to have some.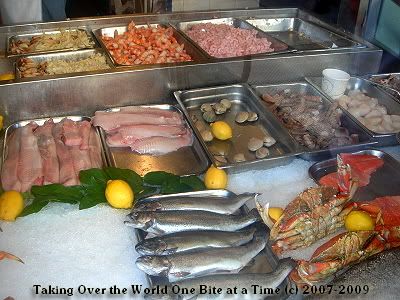 The window display
So everyone who knew that Wifey and I were going to Swan Oyster Depot told me to go early. Yeah yeah yeah…we couldn't. One reason was that I was waiting for 10:00 so that I could buy Lady Gaga tickets and the other reason, Rizzle took forever to get ready. Ha! Anyway, of course, we were expecting to wait…which didn't really bother us because waiting is part of the experience. You wait in line and talk with the other people in line. It was okay to me!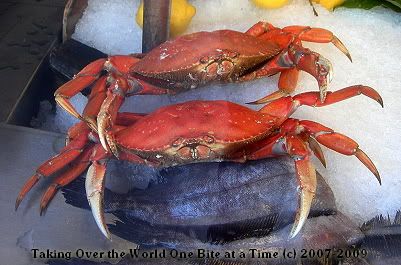 Gorgeous Crabs
I remember my Inang buying crabs from the supermarket and boiling them at home. I also remember her getting her finger pinched by one of those guys and her screaming obscenities like a banshee. Honestly, I hate shelling crab. Absolutely hate it. So if we were going to have some crab, it would have to be prepared for me. Ha, sorry, I'm spoiled.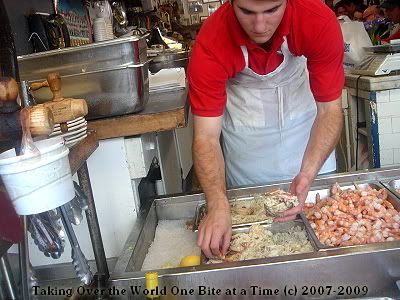 Making a Crab Meat Cocktail
I visited the window display a few times to drool over the fresh seafood. It was absolutely beautiful. All the prawns, bay shrimp, crab were laid out marvelously and when an order of a cocktail or salad was made, one of the handsome men behind the counter would go to the window and gather the ingredients in front of all the hungry customers.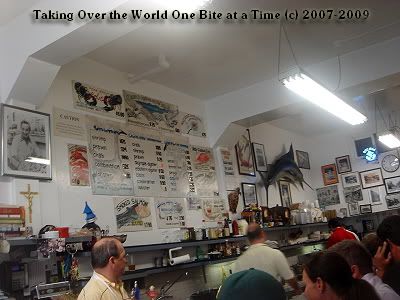 Swan Oyster Depot's Menu
After about 30-45 minutes waiting in line, it was finally our turn to grub on all this spectacular seafood. We sat down and decided to get three different things on the menu to share. But what to drink?
Anchor Steam Beer
Both of us got an Anchor Steam which is a beer that is brewed right here in San Francisco. You get the hoppiness and then the malt. I don't know much about beer, but this felt nice in my mouth. This was the best beer to have since it is part of San Francisco tradition.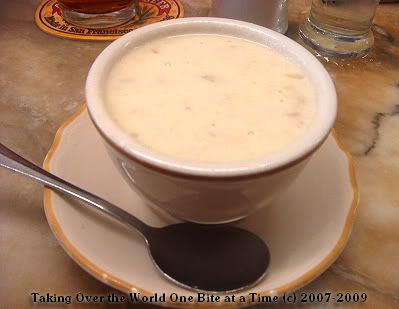 Boston Clam Chowder
I didn't want to get too full too fast, so I ordered a cup only. It was creamy and I could taste the little pieces of clam in it. It's not chunky, rather the dice of veggies and seafood were quite small. The bread that they served with it was delicious as well. It may be "Boston" nclam chowder, but us San Franciscans make it damn good too.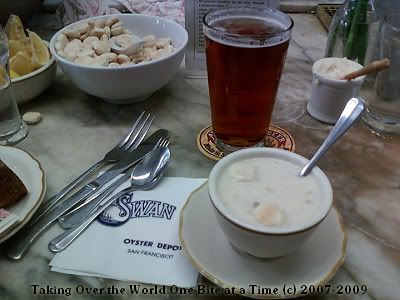 First Course
I took this picture on my cell for a TwitPic and you can see how beautiful the marble counter is. Directly in front of us were a bowl of oyster crackers to top our chowder and munch on periodically as well as a big bowl of lemon wedges. Rejoice! I love my lemon.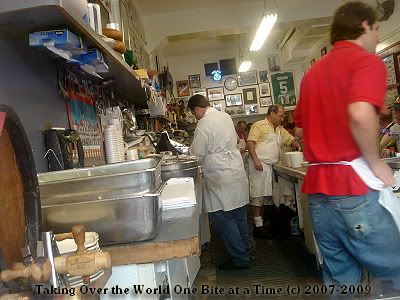 Behind the Counter
Now let me tell you about the Depot's service. It is awesome. They talk to you like a friend would, but they are polite and call you "ma'am" or "miss." I love it when a man does that. They also have great memories and give you all your options so that there is no guessing about your order. Love the service here, so much so that it didn't even feel like this was my first visit.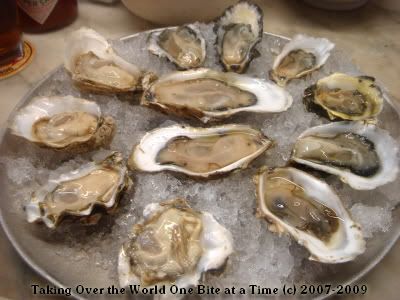 A Dozen Oysters
*angels sing* A couple of years ago if I saw this, I would probably wince and pass if someone offered me one. Now, I could eat this whole dozen. Since Wifey was with me, we got two of each oyster. I was mesmerized by them that I did not comprehend what our server was saying when he described them. All I heard was "Miyagi." Whatever they were, they were like buttah. Oh man, especially those two big ones in the middle.
Mignonette Sauce
We had an array of condiments to top our oysters. Lemon, Tabasco, horseradish…but I was excited to see this one. Mignonette is a combination of vinegar and shallots (you can tell from the pink hue of the sauce). Perfect for the oysters.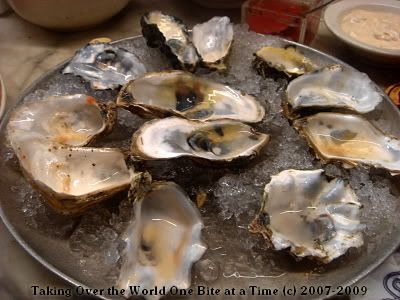 All Done!
We honestly could have eaten another dozen together. Like I said before, I can't tell you each oyster's name, but the ones in the middle were my favorite. They were incredibly good!
Combination Seafood Salad
Doesn't this salad make your mouth water? The salad simple consists of a bed of lettuce, fresh crab meat, little bay shrimp, and larger shrimp. If you like vinegar and oil, it's already on the table, but if you like a creamy dressing, Louie sauce is available as well.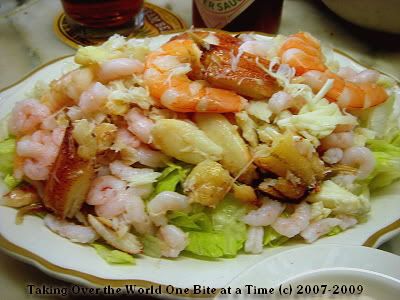 Let's just say that this was such a fun salad to eat. Each piece of seafood was fresh and sweet. Like candy. It really was like candy. I also liked that I seemed to have customized each bite. One bite was with the Louie sauce, the other was dressed with lemon juice and pepper, Wifey used the oil and vinegar combination. I liked that even though the whole thing was ginormous, it was still very light and refreshing. I would order this again!
Swan Oyster Depot was so much fun. The guys behind the corner are so nice and efficient. Even though this place can be dubbed as a "tourist trap," it is a place I would go to again. The seafood is dynamite! The guys are awesome. The wait is ridiculous, but you know what, we didn't mind at all. It just added to the experience. Swan Oyster Depot is awesome!