Restaurant
:
Heaven's Dog
Address
: 1148 Mission Street b/t 7th and 8th inside the SOMA Grand, SF
Phone Number
: (415) 863-6008
Cuisine
: Northern Chinese
Date Last Visited
: December 3, 2009
Dining Partner
: Bub
So, that evening, Bub and I were invited by his aunt to watch "The Christmas Carol" at the ACT Theater. It was our second time watching it, but it was still very entertaining. =) So thank you Auntie Esther and Uncle Manuel for the show! On our way home, I thought to myself, "hey, we're in the City, it's already past 9 pm…(which is a time we are never in Downtown SF)…as might as well make the most of it while we are here!" Since we hop on the freeway in SOMA anyway, we decided to take a detour and check out Chef Charles Phan's Heaven's Dog.
The "Bumble Bee" Cocktail
Appleton's V/X Rum, Lime, Honey, Egg White
Chef Phan is known for his famous "Slanted Door" at the Embarcadero. I can pretty much say that I have now eaten at all of his restaurants in the City: The Slanted Door, all three of the Out the Doors, and now Heaven's Dog. Chef Phan (who is so adorable - I've met him a couple of times at events) is one of the restaurant moguls here in SF. He is Vietnamese but is ethnically Chinese as well, and this new restaurant pays homage to Northern Chinese cooking.
I started my meal with the Bumble Bee and if you like sweet cocktails, you would love this one. I adored the use of the honey. I also enjoyed the frothiness of the egg white…which was reminiscent of a pisco sour. If I came back, this would be something I would revisit.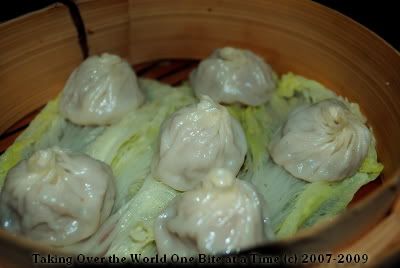 Shanghai Dumplings, Pork, Rice Vinegar, Ginger
Bub is such a dumpling whore, when he saw these he knew he had to have them. These were Heaven's Dog's version of the Xiao Long Bao, or XLB, which are steamed soup dumplings. There was a bit of broth inside, but not as much as the ones I really like from the dumpling places on Balboa. These were just okay for me, mainly because I am biased; however, Bub loved them, of course.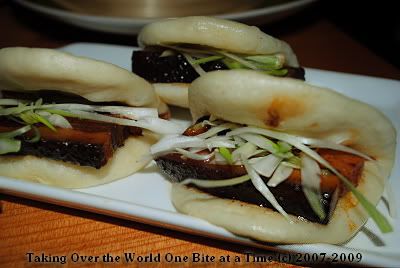 Braised Pork Belly in Clam Shell Bun
Now these were the reason why I wanted to come here for the longest time. I love Peking duck served in the steamed buns, so when I saw that the pork belly was used instead of duck, I got excited. These guys did not disappoint. The braised pork belly was as succulent as can be. See how there are only three on the plate? I made Bub give me he third one. Honestly, I can probably eat 12 of them and not get sick of them.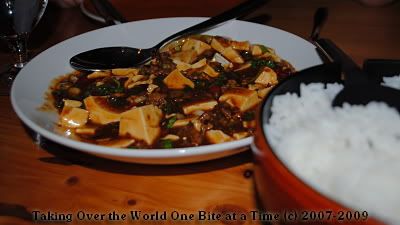 Ma Po Tofu, Ground Beef, Chili Paste, Szechuan Pepper
It was a chilly December evening, and we needed something to warm us up. This did the trick. I never had ma po tofu before this visit and I must say that I LURVE IT! I was hot and sweaty after I finished eating my portion. They must have put in 15 red chilies in there. We ate it with steamed broken jasmine rice and it was delicious. Bub said he could have eaten that whole dish. It wasn't so spicy that I had to drink a tall glass of water to cool down my tongue. What I needed was a cold shower because my face got all sweaty - but I NEVER sweat! Awesome if you needed something to warm you up!
Heaven's Dog was a really cute place. The bar area looked poppin' and the décor - which consists of graphics of DOGS (uh duh) was very whimsical. One thing I did resent was that no one told us about the late night special that started at 9:00 p.m. We ordered things that added up to about $50. The prix fixe was only $15! I know, I totally felt moded when I read about it later on. Ah well, what can you do? If I was in the area again, I would definitely come back for happy hour and that fabulous braised pork belly! But if you were in the area, check this place out!