Location
:
Williams-Sonoma
Address
: 340 Post Street, Union Square, SF
Phone Number
: (415) 362-9450
I almost giggled with Ate Di told me that Chef Michael Symon would be at Union Square's Williams-Sonoma store to do a book signing. Aside from Masaharu Morimoto (who will always have my heart), Michael Symon is my next favorite Iron Chef. He is so funny and his laugh is infectious.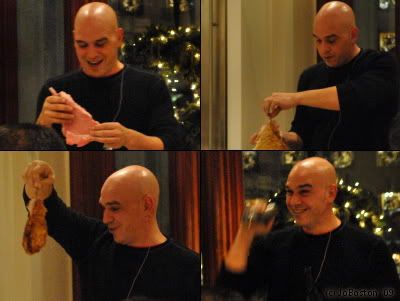 The signing was scheduled to begin at 5:00 p.m. and I was glad that the event hadn't started yet. I snuck out of work just a few minutes early and Bub was waiting outside of my workplace so that we could jet over to Union Square. As I was buying my book, I saw Chef Symon walk out of the elevator just to the right of the register. I was *star struck* I tend to be that way when I see celebrities. My mouth is smiling like an idiot's, I lose my voice, and I just stand there. Stiff like a statue. Ha! I arrived just in time. The foodie gods were with me that day. I found a seat and saw that there were probably 50 or so in the audience. Chef proceeded to tell us about his experiences with the Food Network, that animal fat is good for us, processed food is bad for us, all the while cooking a pork chop. He was so personable and just plain nice.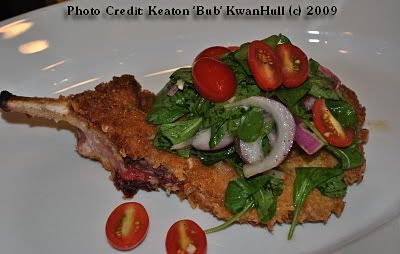 Panko and Parmesan Crusted Pork Chop
with Basil, Tomato, Onion Salad
Chef Symon and I share the preference of having contrasting textures and acidities in a dish. Whenever I have something fried, I like to have something fresh with it. He did that here with the simple salad dressed in vinaigrette. You are probably wondering how we got a nice close-up of the dish. I snuck into the line area just as he was finishing his dish. When he was done, everyone rushed to where I was. I did good because I was the second one in line. Bub stayed behind and went to Chef Symon at the demonstration table, talked with him, and snapped some shots…all the while, I am panicking that he is not next to me in line. Ha! Bub got to chop it up with Chef more than I did!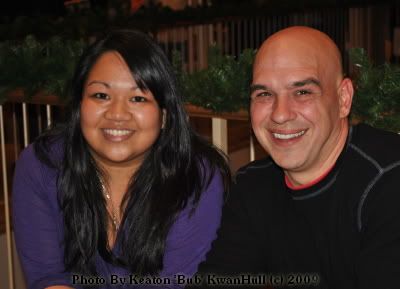 Me and Chef Symon
When I got to the table, I was really nervous (naturally), but after talking with Chef for a little bit, I found that he was genuinely a nice person. We talked about blogs and one of his particular employees (I'm looking at you @PSRados). Super super nice person. Ate Di! You should have come! However, I don't think it was advertised well because there wasn't a big crowd. It took a Williams Sonoma (my Ate Di) for me to find out there was a book signing at all. I read one of Chef's tweets later in the week that there were 350 people at his signing. You know what though? It's good there wasn't a HUGE crowd because it was more intimate and no one had to wait too long to meet him. =) Good event all around.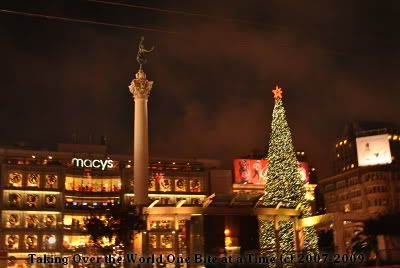 San Francisco's Union Square
After meeting Chef Symon, Bub and I took a short stroll in Union Square. We saw the new skating rink, the giant Christmas tree and all the lights of Macy's. It was an opportune time to check out Chef Hubert Keller's new restaurant called Burger Bar. I was rooting for Chef Keller in
Top Chef Masters
. Even though he didn't win, he's still my favorite competitor…not many men can pull off grey hair and a ponytail!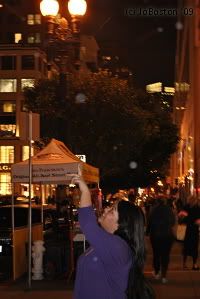 At the entrance of Macy's, soap suds came down like snow! I wasn't even alive when it last snowed here in San Francisco, so this was pretty neat. I used to be an employee of Macy's years ago when I was still a college student and I really have to fight myself whenever I come here. I love shopping. =) I remember sneaking from my department and go on hour breaks. LOL! What am I pointing at?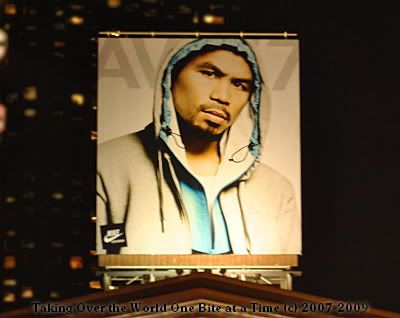 It's a bird! It's a plane! No, it's just Manny Pacquiao watching over Union Square. I think it is just amazing how his face is displayed over the Nike Town. He makes every Filipino in the world proud to be Filipino. Seriously. You cannot miss him if you are looking around in the square, but if you are really lost or BLIND, look up at the corner of Post and Stockton Streets. PAC-MAN!
Burger Bar – Comme Ci Comme Ca. Meh.
Restaurant
:
Hubert Keller's Burger Bar
Address
: 251 Geary Street, 4th Floor of Macy's, Union Square
Phone Number
: (415) 296-4272
Cuisine
: Burgers
Date Last Visited
: December 1, 2009
Dining Partner
: Bub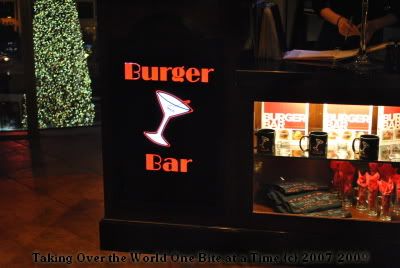 Burger Bar!
I was afraid that because it is shopping season that the restaurant would be packed. Yes and no, we weren't seated in the main dining room nor the bar. We were situated in that little area in between. Burger Bar purgatory? Let me just say that the menu is huge and if you are a condiment/toppings whore, you would love the "build your own" burger concept. You can choose from different meats (buffalo, anyone?), cheeses, breads, veggies…even FOIE GRAS! Crazy! There is a Rosini burger that is like over $50. But as usual, all burgers come with fresh tomatoes, onions, lettuces, and dill pickle.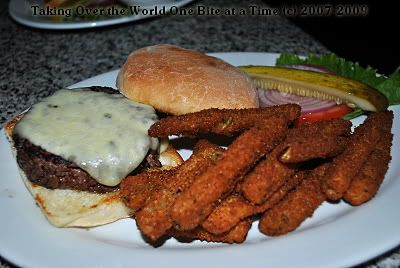 My Burger and Zucchini Fries
I got my American Kobe beef burger on ciabatta (my favorite bread for a burger) with Monterey Jack cheese and a side of crispy zucchini fries. It was very very very juicy, but it lacked any flavor. That's blasphemy since this is KOBE BEEF for God's sake. I even bypassed my usual burger fixins like bacon, sautéed mushrooms, and avocado fearing that I would conceal the natural flavor of the Kobe. The bread was good the burger was juicy, but pretty boring. The zucchini were perfectly tender and the coating was crisp and flavorful - perfect with the ranch dressing provided. Sad to say, the dill pickle was my favorite thing on the plate. =X
Bub's Burger and Skinny Fries
Bub's "Country Natural" burger with pepper jack cheese on an everyday sesame bun was flavorful than my burger which was 6 bucks more! That's just crazy…he also got some ordinary skinny cut French fries…everything about this plate was ordinary and nothing special, but it was tastier. Gah. Go figure. That just shows, you can order expensive crap, but end up with something disappointing.
Christmas came early for me!
Live to Cook
Even though dinner was kind of a letdown, I was still very happy that Bub and I had our time strolling around Union Square. I love the holidays in San Francisco! There is something in the air that makes everything feel so magical…except that Kobe beef burger. Ha, enough about that. I was so glad to have gone because Ate Di knows that I wasn't about to. Thank you to her for letting me know the deets and to Bub for accompanying me and taking great pics!