Restaurant
:
Scala's Bistro
Address
: 432 Powell St. b/t Post and Sutter, Union Square, SF
Phone Number
: (415) 395-8555
Cuisine
: Italian
Date Last Visited
: October 8, 2009
Dining Partner
: Miss AJ
So I have a friend named Miss AJ. We knew of each other in high school, however, we were in rivaling classes - she was in 2003 and I was in 2002, so we didn't really hang out much. In college, we were both founding members of a Filipino student organization, and because of all the meetings and events that our club conducted, we spent lots and lots of time together. Like Rizzle in my last blog post, we all seemed to drift apart after graduation. October seems to be a month of reunions because AJ and I decided to have dinner at Scala's, a restaurant right by her work.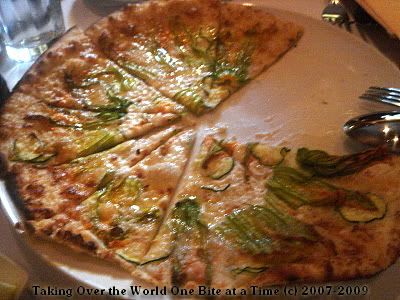 Complements of the Chef! Squash Blossom Pizza
Crème Fraiche, Truffle Oil, Sea Salt
This gorgeous pizza came from Chef Jenn Biesty. I visited her former restaurant
COCO500 last year
and she was so nice and brought out some housemade peanut butter cups for dessert. Tonight, she had this pizza made for us. Awesome. Just awesome. I do have to apologize for the substandard photo. I didn't want to bother anyone in the dining room with the flash from my camera, so I attempted to take a picture without it. It didn't turn out the best, but you are still able to see the squash blossoms and thinly sliced zucchini on each slice. The crème fraiche acted as both sauce and cheese, the sea salt brought out the best of each topping, and the truffle oil just made it over the top. Fantastic pizza indeed. Miss AJ and I were still talking about it days after our visit. Huge thank you to Chef Biesty for being so nice. She had the pizza made for us and visited us at our table. If she looks familiar to you, she was on Bravo's Top Chef: Chicago. She's awesome.
Moules
Steamed Mussels, Leeks, Pastis, Grains of Paradise
Miss AJ and I were heffas and requested for more appetizers even when the server asked what our entrées were going to be. *giggle* The pizza, as extraordinary as it was, simply was just an amuse bouche, you see. Now these mollusks were part one of Miss AJ's first course, as we all know what comes with them. The mussels were in this beautiful and fragrant broth. I squeeze of a lemon on top and it was absolutely remarkable. The tart of the citrus cut through that strong aftertaste that a mussel can leave in your mouth. Loved it. Tres bien! I mean, how can you NOT have mussels at a bistro?
Frites
with Cracked Black Pepper Aioli
Do I REALLY have to go into these delicious, addicting, perfectly fried, golden rods of crisp potato goodness served in a nifty newspaper cone that are currently making my mouth water profusely as I am completing this sentence? Nah, didn't think so.
Fritto Misto
Crispy Calamari, Rock Shrimp, Sweet Cayennes,
Fennel, Green Beans, Sherry Cayenne Aioli
More fried food! This was just sinful. The green beans were reminiscent of COCO's fried green beans. I noticed that Chef brought them here as well. This plate was nearly empty when it was taken off the table. We also found that they were not simply tossed in salt and served. There must have been some seasoning that was incorporated into the batter or dusted over them after frying because the coating was incredibly tasty. We heart fried food.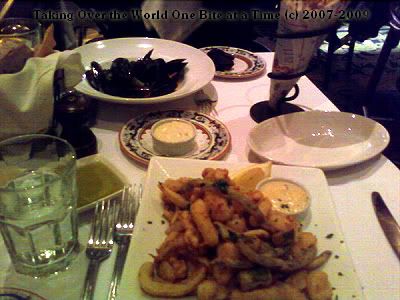 our table during our first course
Now here is our table setting. At the beginning of the meal, we were given bread and some of the greenest olive oil I have ever seen. We barely touched it knowing we would get bombarded with food. I took this picture with my phone, and it didn't come out too bad. Something else that I loved about the first course was that the sauces accompanying the fried food were thought out. They didn't just give us some Heinz ketchup and called it a day. Black pepper aioli. Sherry cayenne aioli. The kitchen knows their flavors and aren't afraid to use them.
Roasted Chicken
Anson Mills Polenta, Pepperonata, Salsa Verde
As you can see, I used my flash only because I saw others do it, so I didn't feel so bad. Whenever I go to a new place, I like to order their roast chicken because this is a dish that should not be messed up. It's a standard entrée to make, so if they screw up with this…then what can one assume about the other items on the menu? Let's just say that they didn't mess up here. The chicken was tender and that skin was luscious and flavorful. I wasn't too keen on the pepperonata, but then again, I'm not a pepper person. The polenta was a nice and creamy landing spot for the chicken to sit on.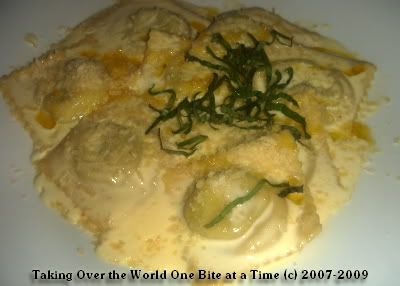 Pesto and Ricotta Ravioli in Lemon Cream
When I had a taste of Miss AJ's ravioli, I was ready to throw my hands up in the air, summon our [gorgeous] server and order a plate for myself. I LOVE LOVE LOVE how Miss AJ and I share an affinity for 'robust' flavors - namely lemony ones. When she asked for the lemon cream, I smiled on the inside. This was absolutely perfect. Perfect. Simple cheese ravioli filling and a decadent sauce blanketing every pillow of scrumptiousness. Yes, it was a little rich, so maybe eating three different appetizers before this was a bad move, but next time, I'll head straight for the entrée!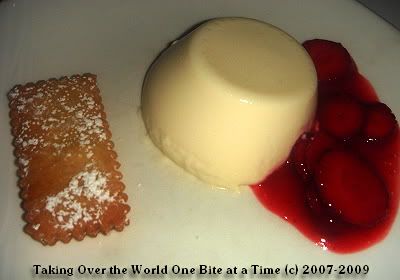 Panna Cotta and Strawberries
Panna Cotta is another dish that I like to try at different restaurants. I found this particular one to be a bit on the JELL-O side. A tad too jiggly. However, the flavor of the cream was there which paired lovely with the macerated strawberries. The buttery cookie on the side was light and chewy. I liked it so much that I saved it for Bub. He adored it and wanted more.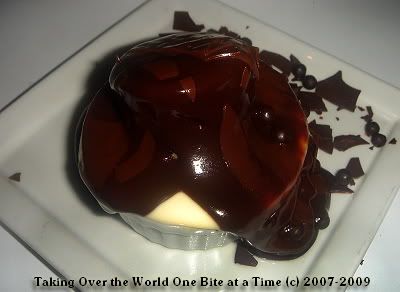 Bostini Cream Pie
Vanilla Custard, Chiffon Cake, Chocolate Sauce
This is a smaller version of the larger Bostini Cream Pie offered on the menu. What I liked about the dessert menu is that you can have "bites" - tinier portions - of certain desserts. Like Goldilocks, this was "just right." Very decadent chocolate sauce over the vanilla custard and chiffon cake. It's a "Bostini" cream pie! I had to order it!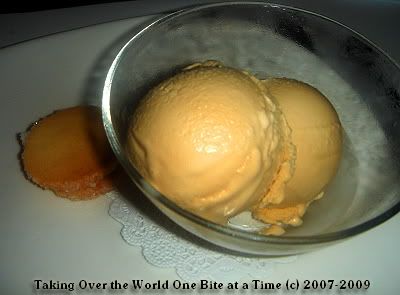 Dolce De Leche Gelato
For her final course, Miss AJ opted for the simple, but not at all mundane, dolce de leche gelato. It was everything a gelato of its kind should be: caramel-y, sweet, and delectable. I thought immediately of my sister SAM, who loves caramel ice cream. This gelato would have blown her away. =)
I would have to say that this dinner was incredible. Add the succulent food to the laughs, tears (of happiness), and marvelous conversation we had and you would agree with me. I could have stayed there much longer, but the truth of the matter was that it was getting late and we had work in the morning. Even though I hadn't hung out with Miss AJ in so long, it's as if time never separated us. I am eagerly looking forward to eating and conversing with her again. =)
Thanks AJ for coming out and dining with me.
Let's do it again soon.