Restaurant
:
Oyaji
Address
: 3212 Clement St. at 32nd Ave., Outer Richmond, SF
Phone Number
: (415) 379-3604
Cuisine
: Japanese
Date Last Visited
: September 29, 2009
Dining Partner
: Bub
Bub and I love going on dinner dates. Today we wanted some good Asian food. You know, something familiar and comforting. When I searched my lists, Oyaji called out our names.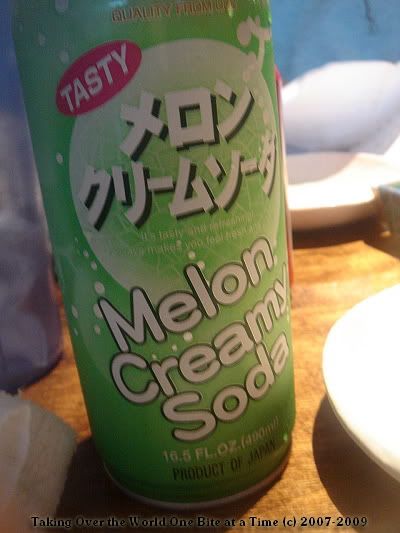 For beverages to start, I ordered the melon soda because it's something you don't see everywhere. I didn't like it too much. Too artificial in flavor. Gave it to Bub.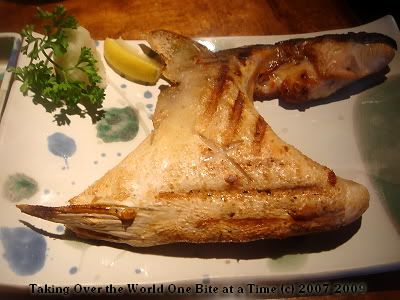 Yellowtail Collar
Simply Grilled
Grilled yellowtail collar or "hamachi-kama" is #34 on 7x7 Big Eat 100 List. It is served with grated daikon and a lemon wedge. In my family, we eat fish all the time because the Boston clan is from a part of the Philippines where fresh fish is plentiful, especially at our town market. So I thought to myself, "what is so special about this fish?" I was about to find out.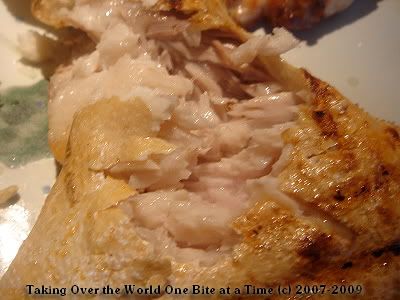 I have had tuna before - canned, in casseroles, usually raw in sushi, even in ceviche and kinilaw…so why was this certain preparation out of the ordinary? The meat on this yellowtail was incredible. It was buttery and tender and sweet. It fell apart in my mouth even without chewing. The flavor is clean and fresh. I was moaning, literally. The thing about collar meat is that since there are little crevices where the succulent and lip-smacking meat can hide. I used my chopsticks, fork, and even my fingers to dig the meat out. I asked for extra lemon and I was flying. Since Bub is allergic to fish, I had the collar all to myself. I know. I spoiled myself silly with this. I would come back just for this.
Oyaji Beef
Grilled Thinly Sliced Rib-Eye Beef Over Sautéed Onions
Served with Oyaji Sauce on a Sizzling Platter
Okay, moaning and having my eyes roll to the back of my skull in pure bliss was KILLING Bub because he couldn't have any of it. So just to be fair, we ordered some good non-seafood dishes for him too. We like any meat that is served on a hot sizzling platter. The rib-eye was very tender, but Bub says that he would have appreciated more flavoring in the meat. I suppose it's because we have a very similar Filipino dish called "bistek" and it has a tangy flavor to it. To me, it was great because the meat spoke for itself. It was delicious and simple.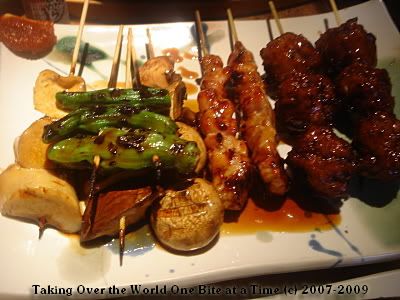 Grilled Combination Platter
Assortment of Yakitori (skewered grilled chicken thigh), Tsukune (chicken meatballs), and Vegetable Kushiyaki
Bub thought that the chicken thigh meat and the meatballs were off the hook, but since he is primarily a carnivore, the peppers and mushrooms were something to get used to. I loved this combination. The yakitori sauce was slightly tangy and sweet. My favorite were the meatballs. Tender and wonderfully flavorful. I would order this again definitely.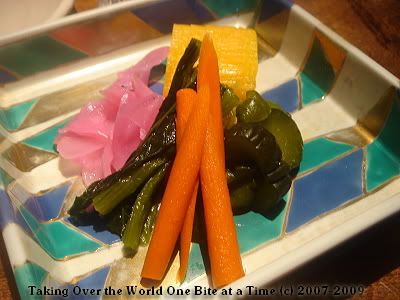 Oshinko Pickles
Because we had so much meat and heavy flavors going on, I wanted something to offset that. The oshinko pickles were a great way to cleanse our taste buds.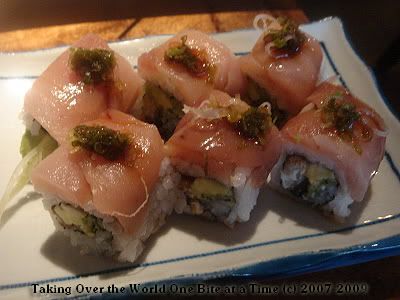 "Pain In The…" roll
Eel, Avocado, Cucumber, Wrapped with Albacore,
Topped with Green Onion, Garlic and Ponzu Sauce
Okay, I spoiled myself again and had to order sushi. I ordered this because of it's name. I didn't ask why it was called that, which I should have because I am very curious, but I loved the names of their special rolls. There's a "Jenna," a "Shane Come Back," a "Sparky," and so many other funny ones. I loved everything about this roll. Fresh fish with luxurious avocado and flavorful eel. The garlic and green onions were a great addition. Loved it.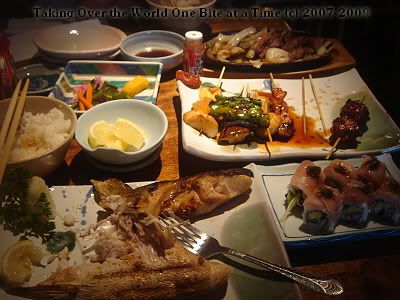 I would have to say that this dinner was an incredible success. The picture above was midway through our meal.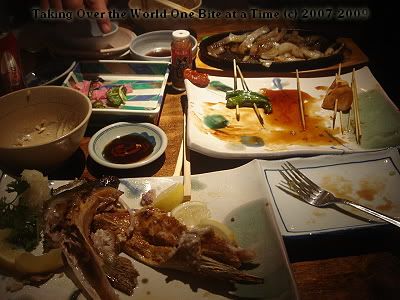 …and this was after. Yes, we loved our meal. If Oyaji was closer to our home, I would be here all the time! The service is attentive and friendly. I could tell that this is a neighborhood favorite because a few people came in and the servers (one of which I believe is the owner) called them by their names…and even flirted with them. (hehe) The food was exceptional…especially their seafood. Maybe it's a good thing that we live so far away; otherwise, I'd be broke all the time. But if you are in the area, be sure to hit this place up. There are options on the menu that I customarily don't see at my normal Japanese joint. There is a whole fried food section that I would like to look into soon! I usually don't do write-ups about my Asian food dinners, but this one was so good that I just had to. Oyaji is a winner in my book.