Restaurant
:
Tommy's Mexican Restaurant
Address
: 5929 Geary Blvd. b/t 23rd and 24th Avenues,
Outer Richmond, SF
Phone Number
: (415) 387-4747
Cuisine
: Mexican
Date Last Visited
: April 30, 2009
Dining Partner
: Ate Di and Tommy!
SO…Ate Di and I are fatties. Seriously. We went to
Hard Knox Café on Clement to eat, but it was their 1-year-Anniversary
, so we weren't able to sit down and eat a meal. We went outside to have a little breather, and Ate Di suggested we walk around the neighborhood because this isn't a place that we frequent often. When I realized where we were, I found that Tommy's was just down the street and around the corner. When you hear Tommy's Mexican Restaurant, one thing should come to your mind automatically: TEQUILA! Yes, told you. Fatties.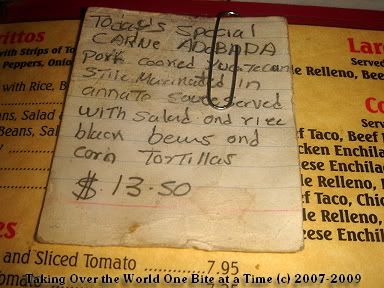 The Night's Special
Loving How Down-to-Earth This Place Is
The menu was pretty straightforward with the usual chili relleno, tacos, burritos, and dinner plates. The prices were reasonable also with most items being less than $10.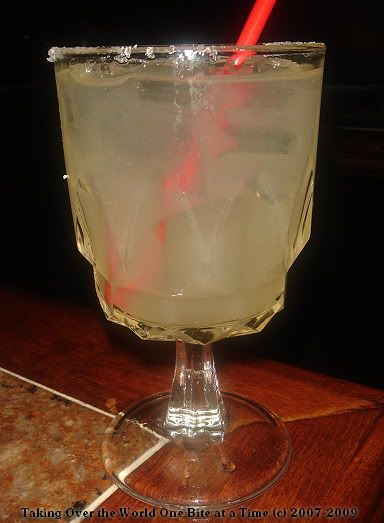 Tommy's Famous Margarita
On the Rocks with Salt, Please!
So this is the reason why I was here in the first place!
It is on 7x7 Big Eat 100 list
. Let me tell you, by the time I was only half-way done with it, I was buzzing like a bee. They make it strong here! Usually tequila doesn't phase me at all. I guess the bartender liked me and hooked it up. Ha! This really made me happy. =D Tommy's tequila bar is actually well-known for their tequilas and tequila-based drinks. Now I can say I had some!
Salsa Rojo and Salsa Verde
Hot! Hot! Hot!
They like their flavors strong here because the salsas, especially the red was SPI-CEY! I love their salsa verde with the chips they provide.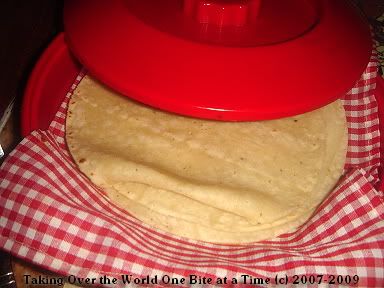 Warm Tortillas
The tortillas were a perfect platform for the food we were about to get. Looking back, they provide you with a lot of food. With these tortillas, we made vegetarian tacos with the salsas, guacamole (which you are about to see), rice and beans from my dinner platter. I like how Mexican food can be combined in different ways and taste delicious all the same.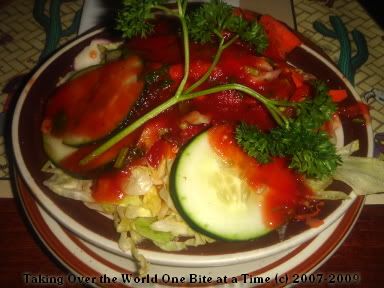 Salad Topped with the Red Salsa
Shredded Lettuce, Cucumber, Shredded Carrots
This came with my dinner platter and I wasn't too fond of it. It was just plain lettuce with salsa. It was good when we put it inside the tortilla, but not on its own.
Ate Di's Guacamole
Tell me why this was some of the best guacamole I have ever had. Nice and creamy without big chunks of tomatoes and onions. It was refreshing and was lovely with the tortilla chips.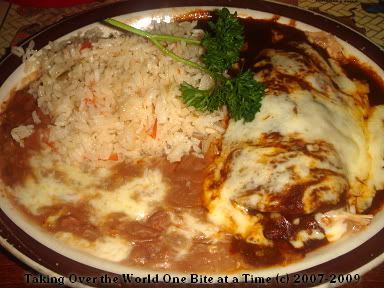 Enchilada Platter:
Chicken Enchilada Topped with a Deep Tomato Sauce
Served with Refried Beans and Rice
When this came to the table, my mouth dropped. It was seriously HUGE. Good thing Ate Di didn't order a plate of food because there was no way I was going to finish this on my own. I love how they melt the cheese over everything. I love my cheese. The tomato sauce was very intriguing. It wasn't too fiery hot, but I know that a combination of spices went into it. There was a complex medley of flavors and was very enjoyable. This enchilada could easily feed two people.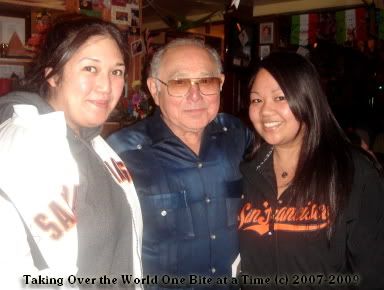 Ate Di, Tommy, and I
This was the gentleman who brought us our check and he was so cute. On our way out, Ate Di asked (jokingly) if he was indeed Tommy. It was!!!! I was star-struck (and drunk), so I knew I had to take a picture with him. THE cutest man ever.
Tommy's is a great place to relax with a friend, get a little buzzed with some tequila, and have some pretty good stick-to-your-ribs Mexican food. The service is super fast and super efficient. Plus we got to meet Tommy!! I thought he was just a fictitious, made-up, person, but he's REAL! *star-struck* Great neighborhood joint. If I lived closer, I would probably come back more often, but since I don't, I probably won't anytime soon. A shame. Tommy is SO cute!