Restaurant
:
South Food + Wine Bar
Address
: 330 Townsend St. b/t 4th and 5th Streets, SOMA
Phone Number
: (415) 974-5599
Cuisine
: Contemporary Aussie and Kiwi, Wine Bar
Date Last Visited
: July 23, 2009
Dining Partner
: Ate Di
So…Ate Di and I went out for some well-needed stomach-satisfaction. For months I was talking about South, an Aussie/Kiwi restaurant in SOMA. I mean, where else can you find Australian food? When Anthony Bourdain's Australia episode of No Reservations aired, I knew I had to come here.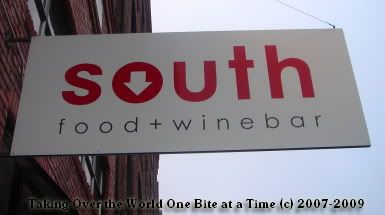 South is conveniently located behind the CalTrain station in San Francisco. It is very easy to get to if you also take the Metro. It is just a block walk from the stop.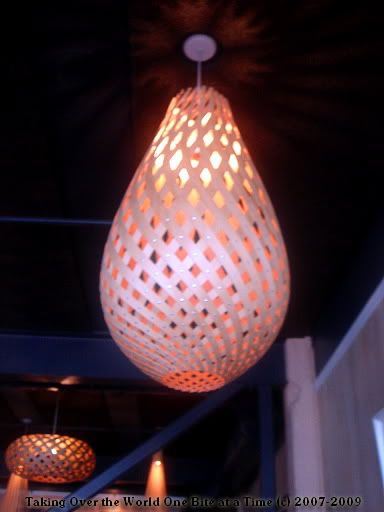 Walking in, I was amazed how small the restaurant was. I am so used to ginormous restaurants in the middle of Downtown, but South is a bit more relaxed and intimate. There are gorgeous light fixtures hanging adding to the "Down Under" feel. I regret not taking a picture of the bar. Whoever designed it is very talented.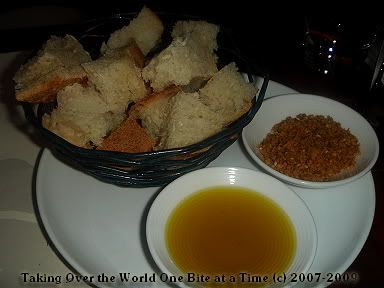 Complementary Bread
with Olive Oil and Duka for Dipping
Now in other restaurants, I am accustomed to the butter and olive oil for dipping, but this thing they call "duka" was very new to us. Our server advised us to douse our bread into the oil and then drop it in the duka for a nice coating of it.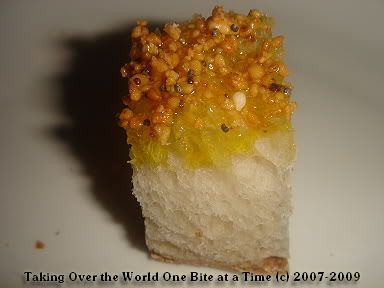 Bread with OO and Duka
Our duka was a mixture of sesame seeds, poppy seeds, among other seeds and spices. This is one of the more interesting things I have ever tried this year. It added a great crunch and nuttiness to the bread and olive oil. We loved it so much that we had to get refills!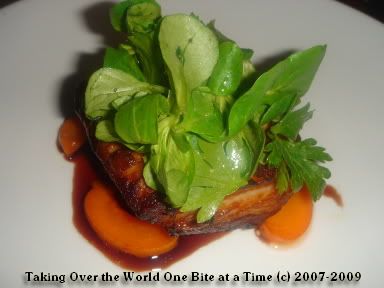 Crispy Braised Pork Belly
with Spice Apricots + Polenta
I was in trouble when I ordered this. Some of the best pork belly I have ever had. The piece they gave me was huge. So huge I had to give half to Ate Di. I am in lament that I did not take a picture of the pork belly without the greenery on top because the pork belly had this gorgeously brown crust with lovely hash marks. Once I cut into through the fatty layer, there was no need to use a knife on the meat. It was incredibly tender and fell apart like a well-cooked short rib. You can imagine that this is probably the richest piece of meat that I have had in a while, so I was thankful to have the apricots there. The apricots are a bit tangy, so that sourness cut through the fat of the pork. It cleansed my palate and got it ready for another bite of the meat. Orgasmic. If they have this on the menu next time I come here, best believe I am going to order it again.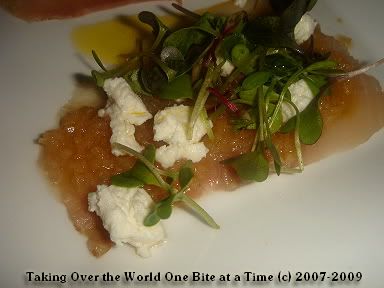 Hiramasa Kingfish Sashimi
with Ginger Shallot Dressing + Goat Cheese
Ate Di's sashimi is far from the traditional sashimi we see at Japanese sushi houses. Remember that rule? No cheese with fish! I guess they refuse to listen to that here. I am not a goat cheese girl, so when the server saw that I pushed the goat cheese aside, his face had a look of horror all over it. However, I did not miss the goat cheese. I had a bite with it and a bite without. I prefer without. The kingfish was so fresh and there was a bit of spiciness from the ginger which was also a fabulous palate cleanser. We were ready for more! Great fish.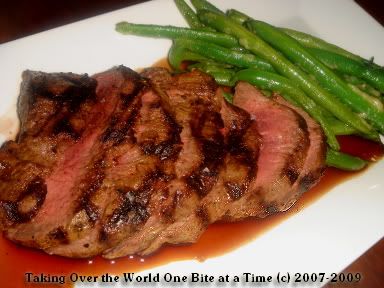 Grilled Sirloin
with Garlicky Green Beans
Australia is known for their vast acres of land and MEAT. How could I pass this guy up? Everything you would want in a steak. Exquisite grill marks on the outside and a stunning pink color on the inside. Medium rare - that is how I like it. With a sprinkling of freshly ground pepper, and I was in ecstasy. The beef was so tender and juicy. The jus beneath is so great to bathe the bread in. Now let me tell you about those green beans. They are probably the easiest thing to make in the world, but the beans were flawlessly cooked - they still had a nice crispness to them. Not like the mushy green beans you got at lunch when you were in elementary school. The verdant color on them was beautiful as well. They were "garlicky" but not harshly garlicky. This whole dish was just spot on. There was nothing on the plate when it was picked up.
New Zealand Lamb Cutlets
with Minted Pea Mash + Heirloom Baby Carrots
Ate Di's lamb looked to die for. Wonderful brown crust and that magnificent rareness in the middle. I ate one like an ice cream bar - I just held it by the bone and chewed the meat off. I was a bit put off when I read "minted pea mash." I usually don't like grass in my mash, but it was surprisingly good. The baby carrots were so sweet. Almost sweet like candy. There was such a substantial amount of food on this plate.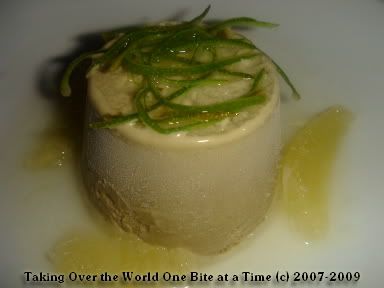 Licorice Parfait
with Lime Syrup and Lime Segments
Dessert! The licorice parfait here is on 7x7 Big Eat list. There is something about licorice that turns me off, but for some reason, South changed my mind about licorice. The parfait was almost like an ice cream. It was frozen when it came to the table, but over time it melted into the lime syrup and it created this creamy soup that was sour and licorice-y. I was surprised how I enjoyed this dessert! It is a very unique dessert and truly something I wouldn't have ordered on my own, so thank you 7x7.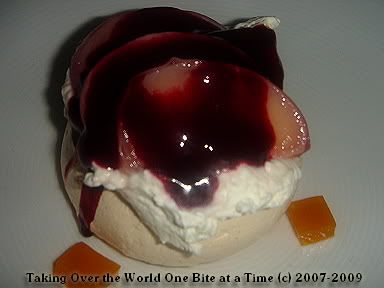 Pavlova Dessert
with Plums, Whipped Crème + Passion Fruit Gelée
The pavlova consisted of a meringue topped with the cream and fruit. TO DIE FOR. The plate was CLEAN when we were done. The meringue itself was lighter than air. Sweet, crisp, and light. There was a flavor and texture that made us think of marshmallows. I mean, marshmallows and meringues are made with the same stuff right? Everything else from the plums and passion fruit jellies were just over the top. If I just had the meringue and the Chantilly crème, I would have been happy. Someone who was happier was Ate Di whose favorite fruit is the passion fruit. It was like someone in Dessert Heaven asked Ate Di, "Diane, what would you like in a dessert?" Her response? South's Pavlova. This is a dessert where even though there is so much on the plate and you should feel guilty for eating so much of it, you really shouldn't because all it is made of are egg whites and fruit. I imagine them changing things up with the seasons an putting different types of fruit on it. Anyway you have it, you can't go wrong.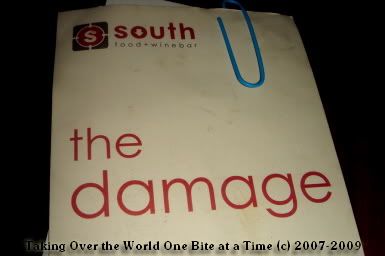 The Check!
South had us at hello. Seriously, from the moment we stepped in the door, we felt welcomed. Our server Guillermo was incredibly nice and sweet. All the food was filling and satisfying. What else would you want from a restaurant? There is a separate bar menu and if we are in the area in the mood for wine and small plates, this would be a perfect to go to. We left with huge smiles on our faces and already looking forward to the next time we would be setting foot here. This is not a big restaurant, so coming with ten of your friends is something I wouldn't advise. They only serve wine and beer, so don't expect any fancy cocktails. Besides that, South is a winner in my book. I am so glad to have this type of restaurant in San Francisco. Like I said before, I can't wait to come back!