Hey Loves,
I actually feel rather ashamed for not posting this sooner. It's been a full five months that I have been back from the Philippines and it is only now that I am reporting on it. But you will see that in that 10-day span, I did, saw, and ate a lot and there were so many pictures to sift through. Bub and I probably took about 1,000 pictures between our two digital cameras. There is no way to possibly post all of them here…that's just too much, so for this post, I will solely base it on the food we ate. So without further ado, I present my trip to the Philippines - through the eyes of an eater.
March 15 - Day 1 - And I'm Leaving on a Jet Plane…
The day had finally come…Bub and I knew that this trip would open up a new chapter in our lives. One of the main reasons for going to the Philippines was to see my grandparents, Inang and Tatay. They have been in the Philippines for a few years now and due to their age and health, they can no longer travel back to the United States.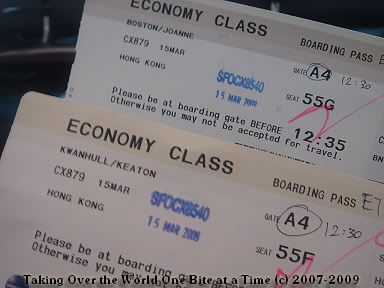 Because of this, Bub and I felt that it was important to let them know that we were planning to get married, and Bub wanted to go to the Philippines himself to have their blessing. For months we planned and before we knew it, the boarding passes were in-hand and suitcases were packed. We were about to embark on a 15-hour trip across the ocean. Truly a trip of a lifetime.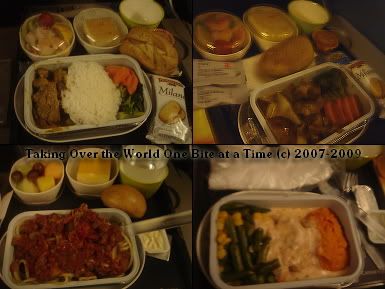 15 hours on an airplane stuck in one position is not very comfortable. This is probably one of the main reasons why I hate going to the Philippines - the flying; however, there is no easier way of getting there, well, maybe upgrading to business or first class…but that's a different story. I guess the only things I was looking forward to on the flight was take off, eating, and getting off the plane. I hated everything in between. Actually, on the flight to Hong Kong, I got to watch "Slumdog Millionaire" for the first time. Superb movie. After two meals on the plane - chicken curry with rice, pork in a brown sauce, pasta with Bolognese sauce, chicken in cream sauce - I was so ready to touchdown on Hong Kong.
March 16 - Day 1½ - Happy Birthday to Me in HK!
It was my birthday when we reached Hong Kong. Because we were flying to Asia and crossing the international time line, I turned 25 on the airplane. How many people can say that? "I spent my birthday in the sky, over the Pacific Ocean, and in Hong Kong." I can!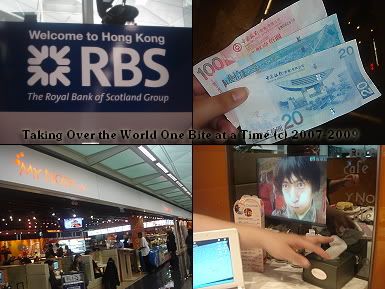 I made it a goal to eat something there, and fortunately for us, there was My Nosh Cafe right by our terminal gate. We had a few minutes to kill, so we exchanged some money and ordered my birthday dinner!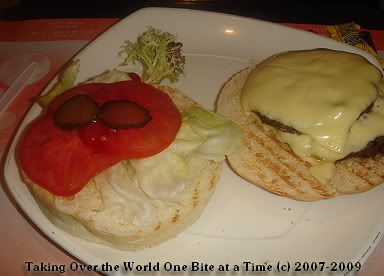 This was the double cheeseburger. I love how the bread is too big and the pickles are too small. Bub said that this was one of the best cheeseburgers he has ever tasted. Wow, that is a big thing to say. I had some of it, and to tell you the truth, it was pretty damn good. The meat was probably cooked and then microwaved with the cheese, but the flavor was there. I know, it's a surprise to say that one the tastiest burgers I have eaten was in Hong Kong, but it's true!
I don't know how "Hong Kong" curry is, but I had it here. Great, thick, flavorful sauce with pieces of grilled chicken swimming in it. I could have used another serving of rice since I was sharing with Bub. Really reminded me of curry that I have had at One the Bridge in Japantown. Very filling and kept me satisfied until we got to the Philippines. It was great to have some REAL food after that 15-hour plane trip. Our dinner here was pretty expensive. $20 USD for the cheeseburger and curry. But what did I expect? Airport food is always expensive. Just about when we were done eating, our plane was boarding. Perfect timing!
March 17 - Day 2 - Welcome to the Pilipinas!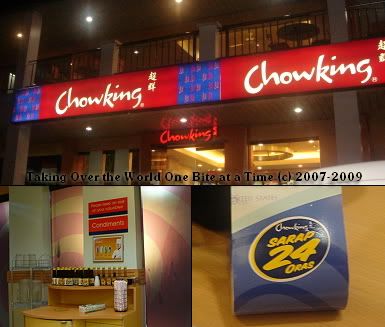 So we finally made it to the Philippines. For some reason, this Chow King is always Momma's choice for a pit stop before heading over to Umingan - mainly because it's open 24 hours. Next door is a Starbucks, but they weren't open this late. It was probably about 1 in the morning when we got here. And yes, there's Starbucks in the Philippines. As you will see in this post, even though Philippines is a "third world" country, it's becoming more and more Westernized - Starbucks, McDonald's, Wendy's, you name it, we have it here.
Lumpiang Shanghai is one of those foods that is good anytime of the day or night.
This was their "Braised Beef" over rice. I found it flavorless…but salty. The rice had a weird texture to it. The gravy seemed like they made it from powder. Gooey and gloppy. Made Bub eat the portion that I didn't.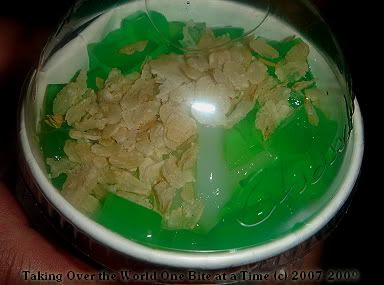 Buko Pandan. This is one of Chow King's specialty desserts. Pinipig (Filipino rice crispies), sweetened coconut, and pandan flavored gelatin over shaved ice. Bub liked it a lot. Then we were on our way to our province!
Who's down for a geography lesson? Our town, Umingan in the province of Pangasinan is about 5 hours from Manila. We are on the south-eastern corner of the province which is on the border with the neighboring province Nueva Ecija.
I was so excited to finally come back. The last time I was in the Phils was in 2007. I always have a request when we get to our town - to buy fresh pan de sal for breakfast. Because we landed in Manila around midnight, we usually get to the province at around 5 a.m. That is when the bread is freshly out of the ovens. THE BEST time to grab them.
Our family gets their pan de sal from St. Martin's Bread House near the town plaza. Aside from their hot pan de sal, they sell cakes and pastries. One of Inang's favorite breads are what she calls "flying saucers." I didn't taste them, but they looked like flat cakes topped with butter and sugar. I copped a piece of chocolate cake for my birthday, which I enjoyed later in the day…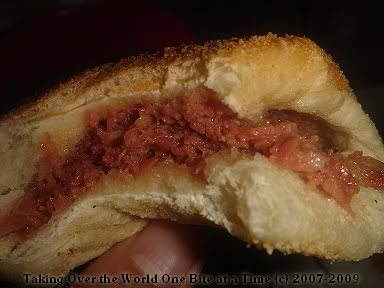 My favorite way to eat freshly baked pan de sal is with corned beef. Right when we got home and seeing Inang (I love you, Inang!), someone was already preparing breakfast for us. This little sandwich hit the spot. The bread was warm and chewy and the corned beef, simply sautéed with onions, made the perfect spread.
American breakfasts pale in comparison to Filipino breakfasts. We had SPAM (don't hate), adobong kang kong, grilled eggplant, little meat loaf medallions fried with egg, and corned beef. Of course we had some rice…the best breakfast I have had in a long while.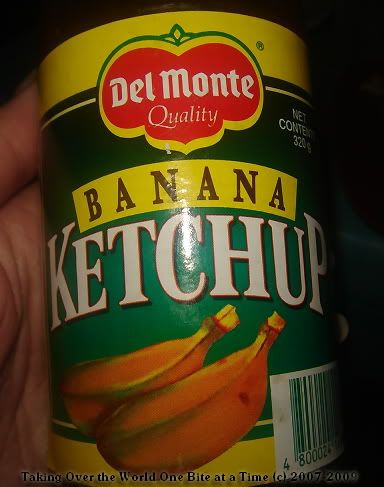 Us Filipinos love our banana ketchup. I know it sounds weird, but the banana makes the ketchup sweet. This went perfect with everything we had for breakfast. Banana ketchup can be found at any Asian market in the Bay Area. Be sure to grab a bottle if you can.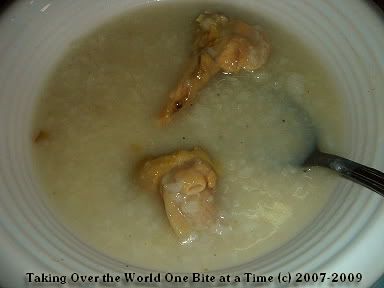 Arroz caldo! You must be thinking, "wasn't it too hot to eat hot soup?" No, because it just made us sweat even more! Bub made a great comment that chicken in the Philippines taste a lot different than the chicken in the States. That's because we all know that US chicken is injected with salt water, right? =D just kidding. Or am I?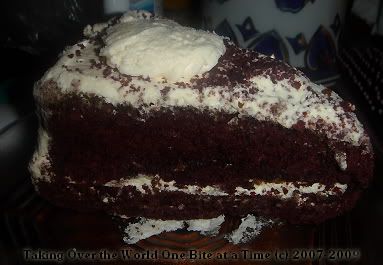 Okay, let me tell you about this chocolate cake. Essentially this was my birthday cake. I bought it from St. Martin's because it looked to chocolate-y and delicious. It tasted like sawdust. Ha! It was very dry and had no trace of chocolate. It sure looked like it had chocolate, but I didn't taste any. That frosting was awful also. I don't think they used real butter because it would melt under the sun, so they used margarine. Stiff and flavorless. A little disappointed, but we got a good laugh out of how crappy it was. Ha!
March 18 - Day 3 - Our Lady of Manoag Church
and San Fabian Beach
We try to make it out to our church in Manaog during every trip. Unfortunately, we didn't make it there when we were last here in 2007, so it was very important that we went to Manaoag in 2009. Manaoag is about 2 hours from our town, so we had to wake up very early to get ready and make our way there.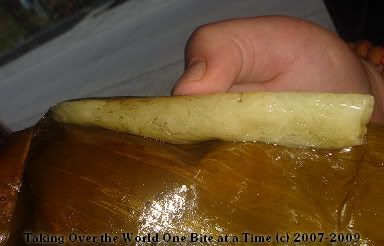 Of course, I woke up later than everyone else. So I didn't have time to have breakfast. I resorted to eating some
suman
in the van during our drive to Manaoag. I love suman. It is basically sticky rice steamed in banana leaf. It was perfect for breakfast.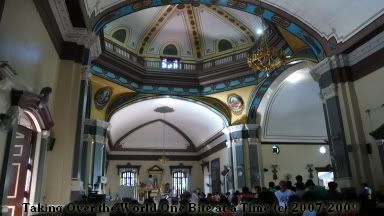 We arrived in the church in time for mass. There was also a wedding being conducted, and it was so great for my family and Bub to witness this special occasion. The rotunda on the church is absolutely exquisite.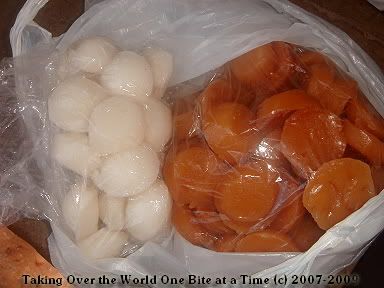 After visiting the shrine and saying our prayers at the church, we made our way to the beach. My cousins offered me some Philippine sweets to nosh on as we drove to San Fabian. On the left is
puto
, a light and airy rice cake. On the right is
kutsinta
, also a cake made with rice but is obviously made differently. I love both definitely, but my heart belongs to the kutsinta. I love its subtle, sweet, flavor and sticky texture.
So we made it to the beach at San Fabian. Our party, which probably consisted of 50 people, no joke, came through in several vans and jeepneys. Yeah, you best believe that my family rolls deep. We rented a couple of nipa huts for us to chill in, sing karaoke (yeah, there were videoke machines on the beach!), eat, and escape the sun.
By the time we got here, I was STARVING! Let's take a look at those shrimp. They look like normal shrimp right? No! Look at the woman's hand at the top of the container. Her hand is tiny compared to the gindungous shrimp. By far the largest I have ever laid my eyes on. At least 5 inches long. HUGE! The lower left corner shows the best way to cook freshly caught fish: grilling. The lower right corner shows some seaweed salad. They combined sea grapes, red onions, and tomatoes. Fabulous additions to our beach day buffet.
Along with the grilled fish, we brought along some rice,
lechon kawali
, and other pork dishes from home. We had to feed 50 people, so we brought tons of food.
The picture above shows one of the many stalls that sold beverages and snacks. I love how colorful they were.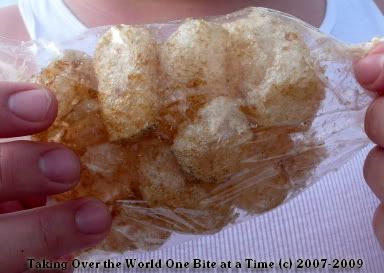 As well as getting snacks at the stalls, vendors were walking up and down the shore selling their products. Bub got this bag of
chicharon
. It was so cute. I didn't have any because I couldn't find any
suka
/vinegar, but they were too cute and perfect to eat.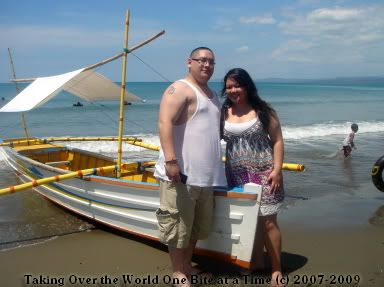 Bub and I in the sun…where we got some awful tan lines.
In America, we have McDonald's. In the Philippines, they have Jollibee! This is their biggest burger, and "surprisingly" Bub adored it. I couldn't finish it myself, and Bub was more than happy to help me finish it. Philippine cheeseburgers taste different. The meat has a sweet quality to it. In America, we like to taste the char on the meat, but in the Philippines, they like their savories with a sweet kick. Good burger.
March 19 - Day 4 - Shopping in San Jose, Nueva Ecija,
Lunch at Home, and Fishing in Pao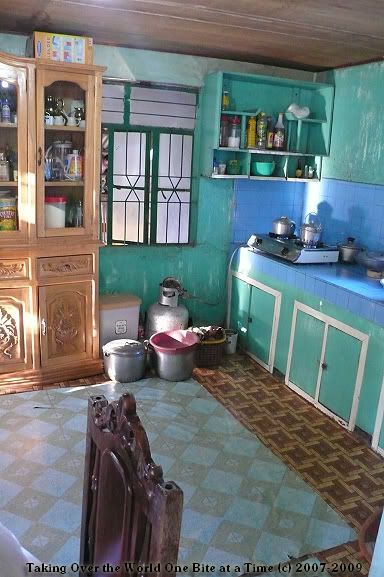 Our fabulous kitchen. I love the colors. They remind me of the ocean. Doesn't it look like it should belong in a doll's house? This kitchen has been this way for decades - green lizards crawling on the ceiling and giant red ants attacking the garbage can. Love it. However, I am somewhat sad to report that after we left the Philippines, my family back home and my mother chose to demolish the house including this kitchen. My Inang urged my mother to remodel the house because it was simply getting old. I am glad that we did get a chance to eat in here one last time before the demo. Some magical things have come out of this kitchen over the last few decades.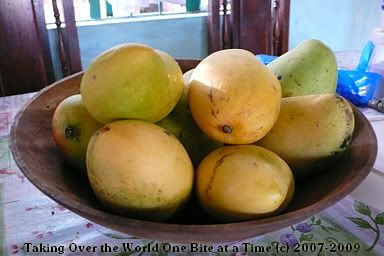 Fresh Philippine mangoes. What is more perfect at breakfast? They were prefect and them some. Juicy, sweet, ugh. Glorious.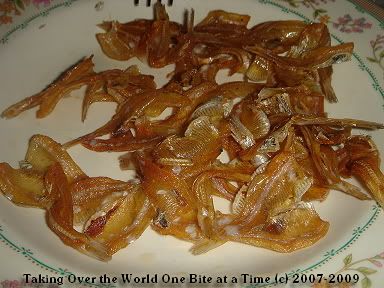 I don't know what the Filipino name is for these little dried then fried fish, but they were addicting. I like to dip them in vinegar and eat them with rice. They were like fish chips, but so much better…and with tails.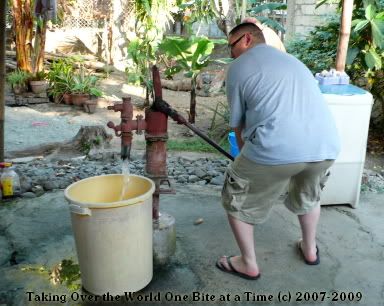 We have a well in our back yard where we pump water for laundry. See that white thing behind Bub's right side? That's our washing machine. It's small and slow, so hand washing is still done. Watching Bub pump his water was so funny! You know, we take so much for granted in the US. People in the Philippines still pump water for everyday use! Yeah. Very humbling experience.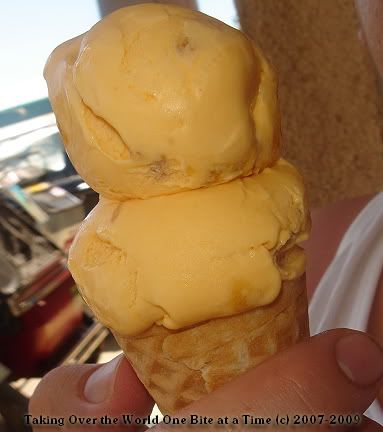 After breakfast, we drove south to do some shopping for the upcoming birthday party. While my Mom, Aunties, and cousins shopped at the grocery store in San Jose, Nueva Ecija, I took the kids and bought them something cool and sweet. Mango ice cream! One scoops costs less than a nickel. It really hit the spot on the hot days here.
This is my neice Abby with her ube ice cream. People are freaked out because of the purple color and the fact that it is made with a yam, but it is really one of my favorite flavors ever. C'mon people, give it a try!
Jollibee! We have Jollibee in the U.S. too, but having it in the Philippines is fun too. Bub loves cheeseburgers, so we ate that with spaghetti.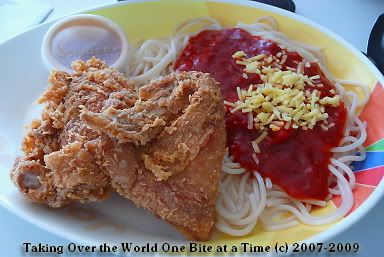 Fried chicken and spaghetti is my favorite combination. Filipino spaghetti is sweeter than traditional Italian spaghetti sauce. The sauce relies on the tomatoes natural sweetness for flavor. You will probably notice that ground beef is not used. Instead hot dogs, ham, and other processed meats are cooked in the tomato sauce. I could eat this every day.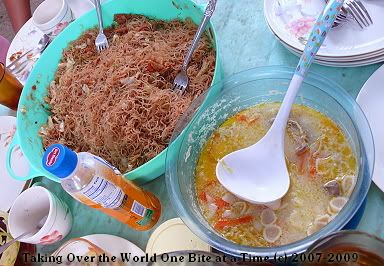 When we got home from San Jose, my family made pancit and
soupas
for a relative's birthday. The pancit is always served on a birthday as It signifies long life. We used a whole chicken to prepare both of these dishes. The meat went into pancit and the internal organs went into the
soupas.
What is better than halo halo on a hot day in the Philippines? We just had to have it because there was a "brownout" at the house. No running water and no electricity. You can say that I panicked because I NEED those things. Well, I'm a spoiled brat. Instead of getting cooked at home, we roamed the neighborhood. That above is a huge block of ice. They didn't have electricity to shave or crush the ice, so they used a hand-held ice shaver. It was probably one of the most primitive ice shavers I have ever seen, but they worked well.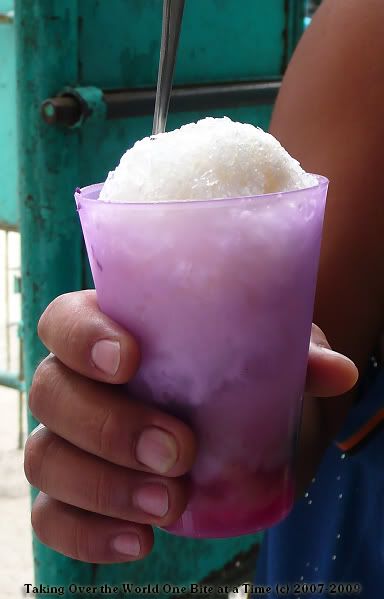 This bad boy was only 10 pesos. That's less than a quarter. That would sell for at least 3 or 4 bucks here in the States. There was ice, milk, beans, and gelatin. It hit the spot big time!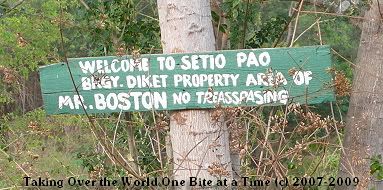 After playing pool at my cousin's house, we went back home to prepare for our trip to my Tatay's property called "PAO." I don't know exactly what to call it. It's our family's "getaway" tucked near the base of a hill, next to rice paddies, and a fish pond. Almost all of my family, who have either lived or visited the Philippines, has been there.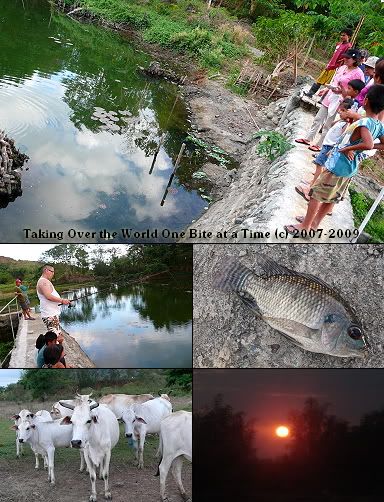 One of Bub's goals while staying in the Philippines is to go fishing. Bub has made fishing his #1 hobby these days. Tatay gave us some fish food so that we could feed the tilapia swimming in the water. Once they started biting, we got excited to catch a few of them! We didn't catch super huge tilapia. We were actually tickled of how small the tilapia were. It was so much fun watching Bub fish. On our way back home, we stopped to visit Tatay's cattle. I was so scared of the horned one. They were less than 15 feet away! Bub and Tatay were fearless and took pictures right next to them. Fortunately for us, we left just in time to watch the gorgeous sun set over the hills.
March 20 - Day 5 - Umingan's Open-Air Market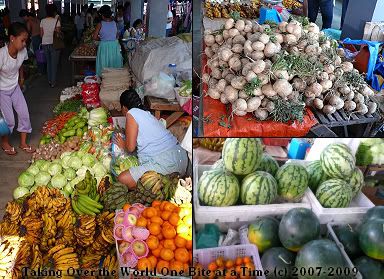 Since our town is in a rural part of the country, we have access to the fields as well as the bounty from the sea. I didn't go to the market with Bub on this day, but he took some great pictures! Above you can see the different ripeness of bananas, fresh jicama and juicy melons.
Because there are so many people in one area, it was important to keep the air circulating, hence the very high ceilings. Here you see fresh garlic, chicken heads, chicken feet, and my favorite: DRIED SALTED FISH. I remember back in the day when I was a child, Inang would take the pungent smelling meat off the bones and dip it in the vinegar for me. It was perfect with some steaming white rice and chopped tomatoes. *sigh* Memories.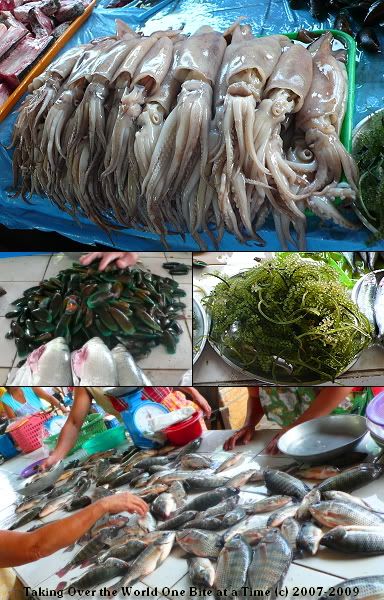 That picture of the squid at the very top blows me away every time I look at it. Bub's camera was awesome picking up all the detail and colors of everything. This is just a sampling of the seafood counters. Mussels, sea grapes, and fish. You can probably notice that there is an absence of ice or any refrigeration to keep the fish cool. Well, the fish is fresh from the sea and taken straight to the market. Since so many are in the market, nothing really sits there. Everything is bought almost immediately.
LUNCHTIME! Today, we had chicken and potato adobo, paksiw (fish cooked in vinegar), mussels, and corned beef. Something for everyone! I LOVED the adobo. Nothing else feels more like home like a serving of delicious adobo with rice. Nothing.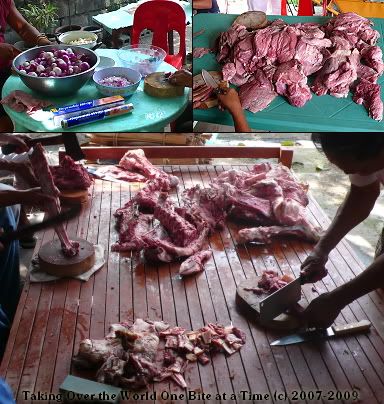 Since the next day was the big party for my grandparents, we had a lot of help from the neighborhood to cook the food. We slaughtered three piggies and a cow. Hey, we had to feed a lot of people! It was amazing to see how many people came out to prepare the food! That just shows how many people care for my grandparents. *tear*
March 21 - Day 6 - The Big Birthday Party!!
That day had finally came for my grandparents' birthday celebration. My Tatay's birthday is on February 26 and Inang's is on March 8. They were born just 10 days apart in 1924.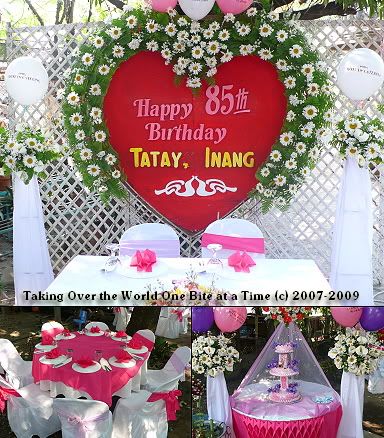 I actually woke up to the front yard already looking like this. While I was still sleeping, the decoration people were beautifying the place. Not only was it Inang and Tatay's celebration, it was Mom's and mine as well. Mom was born on March 7 and I was born on March 16. I also have a nephew whose birthday is in March as well, but I am not sure which day, but celebrating together only made sense!
Inang and Tatay have been married for about 63 years already, so if my math is right, that means they have been married since they were 18 years old. That is a long time! On the topic of marriage - something that was so special about this party was that during our prayer before eating, Bub asked for my grandparents' blessing for him to marry me. Initially, Bub wanted to talk to them privately with my Mom. BUT! Since the whole flippin' family was around, Mom kind of pressured him to do it right them and there. Yes, the waterworks started. Everyone was crying. Even my Inang! Just seeing them nod in approval is making me tear up right now. It was truly one of the happiest moments in my life…especially since my Inang and Tatay were a part of an incredibly important aspect of my life.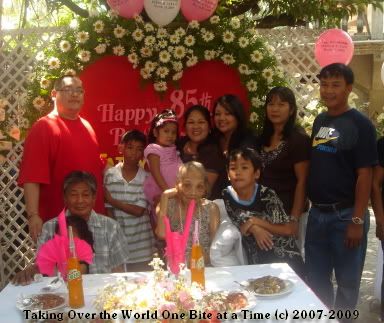 This is just a tiny fraction of my family. That's Tatay on the left with Bub's hand on this shoulder and there in the middle is Inang. They are still so beautiful at 85 years old. This picture also shows two cousins, a cousin-in-law, two nieces (though the niece in Tatay's lap has her face covered by a napkin), and two nephews.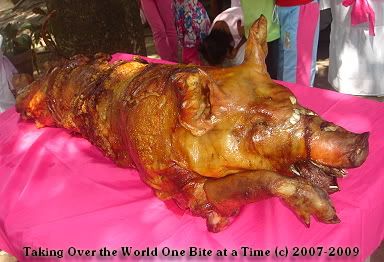 Lechon. Tender, succulent meat encased in golden, crunchy pig skin. You didn't think we wouldn't have this at our party right? It's a tradition! Didn't Anthony Bourdain say that the best roasted pig he has EVER had was in the Philippines?
Ch-yeah!
If you are a vegetarian, I would feel sorry for you if you came to our party. We slaughtered a cow and three pigs for this occasion. There was menudo, bistek, and the lechon of course. We had to feed a lot of people and from the looks on the guests' faces, I was sure that their stomachs were satisfied.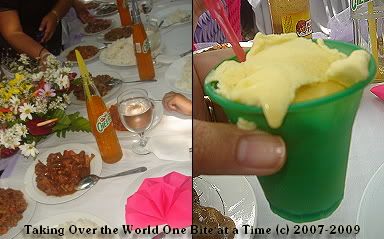 Our tables were decked out with white dinnerware, pink napkins, and ORANGE SODA! OH YEAH! I
did
give up soda for Lent, but I broke that promise while I was in the Philippines. How could I here? It's so hard not to drink soda here. The ice cream there is made with cheese. Yes! There were tiny cubes of cheese throughout the ice cream. I love cheese ice cream.
The other desserts served were ube and maja blanca. The ube is sticky and of course made that infamous purple yam. The maja blanca is made with milk and topped with coconut. I like both, but I favor the maja blanca over the ube. It is less sticky and has the consistency of panna cotta almost.
Our guests! Told you there were a lot of people. After the party, we had a little rest and got ready for our 6-hour drive to Bolinao!
March 22 - Day 7 - A Day Trip to Bolinao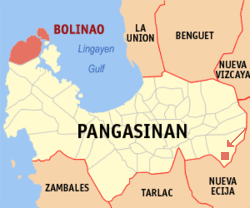 We drove through the night for 6 hours. That square on the lower right-hand corner was here we started and on the opposite side of the province was our destination. It was grueling! This had to do with the detours we had to take. Many of the roads we took were not paved yet, so we had to take special care when driving on the rocky and sandy streets.
We slept and I was greeted with breakfast in the morning. Aside from the dishes for the party, some of the pork meat was used to make
emputido
a Filipino version of a meatloaf. We also had sweet breads brought from Umingan and rice. Above you can see a man trying to take coconuts off the tree and a rooster wandering around the property.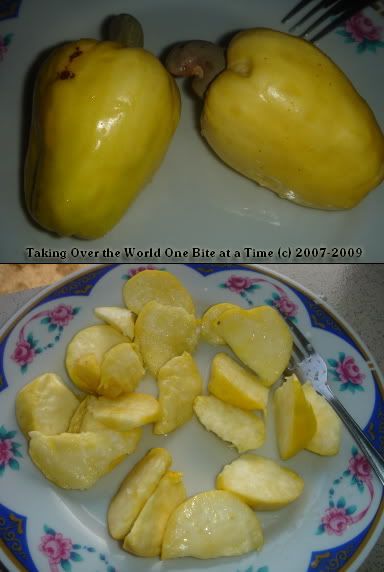 When I saw these, I thought immediately of Andrew Zimmern. I think he was in Thailand. I could be wrong. I know he was in SE Asian for sure at a cashew nut factory. Here we have fresh cashews and cashew fruit. The cashew fruit looks like an apple, but the texture is a bit more spongy and the sweetness is not totally there. Very interesting. You won't find these in the States because they spoil easily, so this was a rare opportunity. Glad I tried it!
The shores off Bolinao. Paradise! The water was so blue and the palm trees welcomed me to jump into the water.


Absolutely gorgeous fish straight from the water.
We were here for fresh fish. There were fishermen in the boats below and they sold us some fabulous tuna. We will be visiting these guys again a bit later.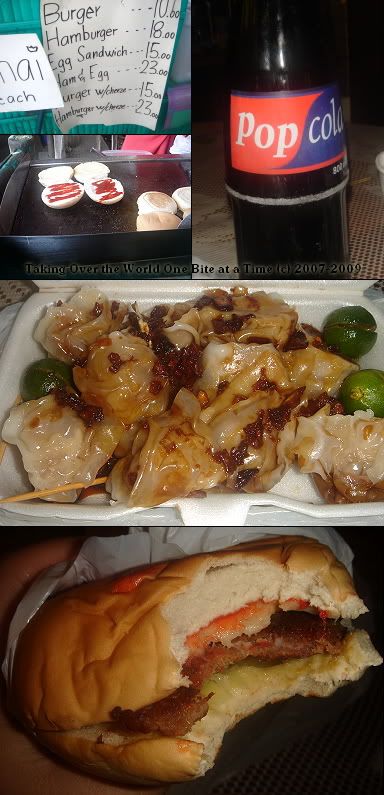 Before heading to the beach, we went to the Bolinao market to pick up some food and fresh produce for our beachside dinner. So we found a hamburger stand and I asked what was the difference between a "burger" and a "hamburger." The vendor said, "The burger is 10 pesos and the hamburger is 18 pesos." LOL! I didn't ask any further. But I am still wondering what the difference is! They also sold siu mai - a small meat dumpling which you can find just about anywhere, but what makes it special here is that they douse them in sesame oil, soy sauce, fried garlic, and calamansi juice. Super rich toppings. I would have preferred the siu mai without it. It got to be a little salty. The burgers in the Philippines are really different from the ones in the States. They are smaller and even a bit sweeter.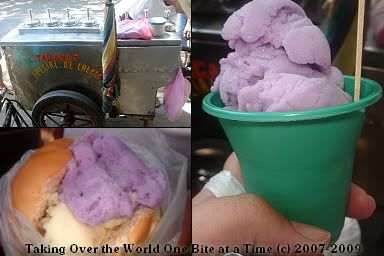 ICE CREAM! Bub was excited with this because he watched Andrew Zimmern say that ice cream sandwiched in hamburger buns was WEIRD. I think Bub even say, "Take THAT Andrew Zimmern!" I went for the cup. It's not that I thought they were WEIRD or anything, I just don't do the bread. Ha! He bought ice cream for our entire party of about 10. It was probably less than 2 bucks. The ice cream here is a icier as the milk used is different. It is not as creamy and fatty as ice cream in the US. I love it all the same Perfect on a hot day.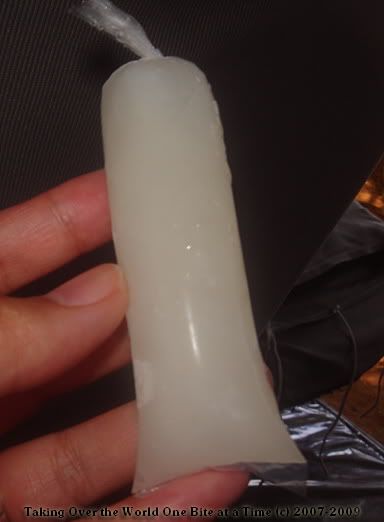 This is ice candy. I remember eating these everyday as a kid. I was so happy when I saw these! They are made with coconut juice and are simply frozen. At 1 peso each, we got the entire van eating them. You really can't just have one. All you do is bite a hole on one end and suck. That's it. So good.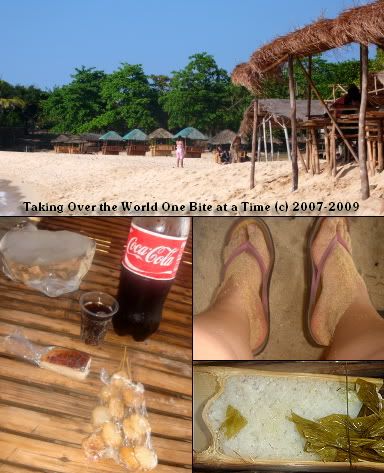 We have arrived! We got to one of the white sandy beaches in Bolinao and it was absolutely gorgeous. I have never seen water so clear! We shacked up in a nipa hut and took in the gorgeous sights. We had treats of course! We enjoyed sweet rice cakes, Coca Cola, and sweet rice.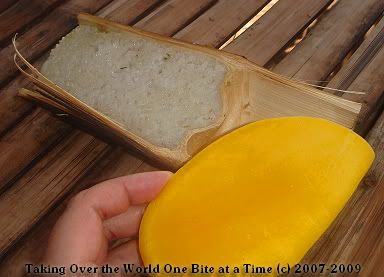 Let me tell you about this. One of the best things I are here in the Philippines! The rice which was combined with coconut milk was cooked in the bamboo. Isn't that presentation just beautiful? The rice, which is a bit sticky, is sweet and subtle in flavor. It picked up the flavor from both the coconut and the bamboo. It went so well with the perfectly ripened mango. SO GOOD! This is one of the things I miss most.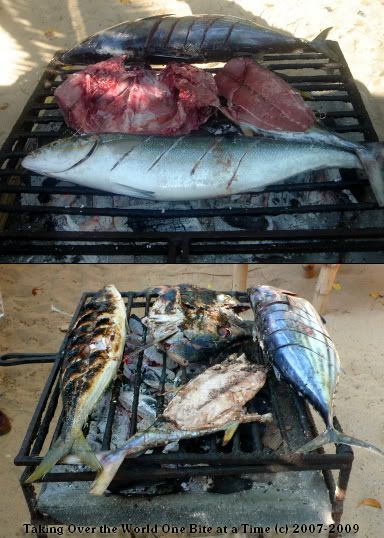 Remember the fish that we bought earlier? They were dinner. Lucky for us, there were grills available for us to grill our tuna. You can't get any fresher than this!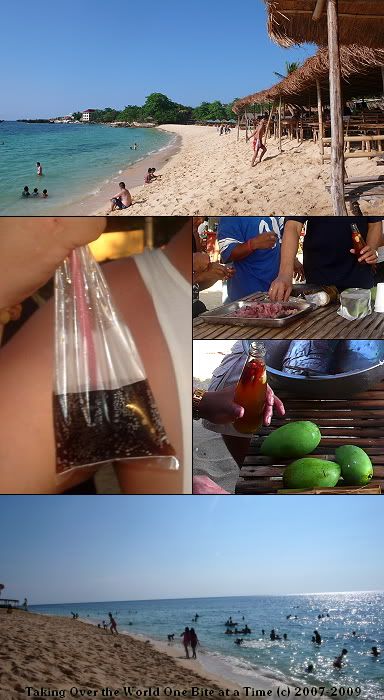 The beach was incredible! Above you see Bub holding a plastic bag filled with Cola. That's how we do it in the Philippines! One of my family members made
kinilaw
, a Filipino ceviche if you will. My life was about to change.
This is the BEST kinilaw I have had in my life! Seriously. They combined the fresh tuna with red onions, red chilies, sour mangoes, mango juice, cane vinegar, and salt. TO DIE FOR! There was no need for silverware here. Everyone dug in with their fingers. There was plenty of beer and liquor to be shared, so you can say we had a great time by the sea. Just before sunset, we left the beach and headed back for home in Umingan.
March 23 - Day 8 - Relaxing at Home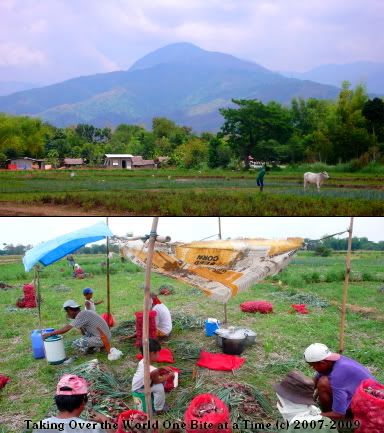 Our family has a small business in the Philippines. My Manang Kris, Manong Junior, Manang Ann-Ann and Manong Onad keep track of the red onion fields that the family owns. Basically they hired farmers to pick the onions and those onions go to restaurants in the cities, like Manila. Isn't that great?
March 24 - Day 9 - Our Last Day in Umingan ='(
It was my last day in the Philippines and while Momma, Auntie Glo, and Bub went to Baguio with my Tatay, I stayed home with Inang. Besides, my soon-to-be-husband needed some time with my mom! While we Inang and Auntie Deli, we had some sweet halo-halo. So good on a hot day.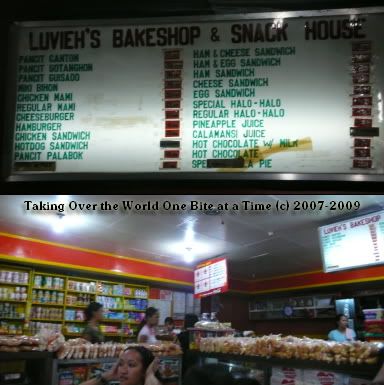 At night, we went to the town square for dinner and to walk around since there was a festival going on. Luvieh's is Rox and Jenn's favorite place to eat, so we stopped here.
I love Pancit Palabok. Palabok is a dish of noodles topped with shrimp sauce, ground pork rinds, boiled egg, and calamansi juice. I ate the whole thing. This plate was less than a dollar!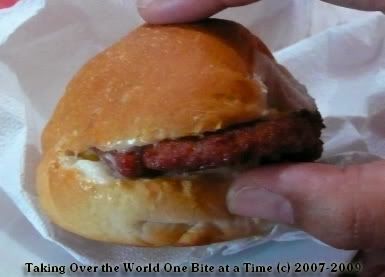 Bub ordered a cheeseburger. Is that much of a surprise anymore? It was really small. I laughed at how small it was. It was just bread, mayo, and the meat. He could have eaten 8 of these. So he ordered something else…
Since the burger was more of an amuse bouche than anything, he ordered pancit canton. Lots of veggies over noodles tossed in a soy-based sauce. Good, it was about time he ate vegetables.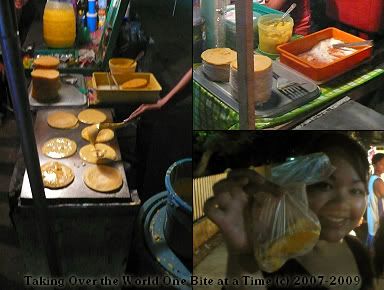 After our dinner, we walked around and saw so many street vendors. The SF street food movement is just starting here in Cali, but the Philippines has it down. Oddly enough, one of the more popular things sold here are hotcakes of all things. Who would have thunk that on hot nights here in the Phils, that people craved hotcakes? The yellow batter is poured on the hot griddles and once cooked dipped in granulated sugar. To-go vessel? A plastic bag. =)
I was in Heaven looking at the food the vendors were selling. One person was selling freshly grilled chicken intestines, another was selling fruity drinks with chunks of gelatin, and another was selling fried goodies like calamari and what looked like chicken testicles. One thing that is always available here is
balut
. Manang Ann-Ann bought me three
pinoy
egg - a fertilized duck egg where the baby duck hasn't grown in yet. Sorry, I can't do the duck. Ha, but I feel so bad because I forgot them in the refrigerator on the day I left. Sorry Manang! =( I owe you.
March 24 - Day 10 - Manila, Here We Come!
Saying goodbye and flying 3000 miles away is never a happy occasion. If I could, I would stay in the Philippines with my Inang and Tatay most definitely. There would be no question. This day was a sad day. After saying our tearful goodbyes, Mom, Auntie Glo, Bub and myself were escorted to Villasis where we would take a charter bus to Manila.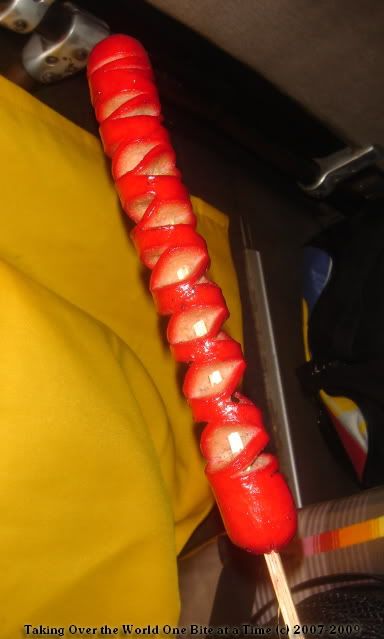 The things that they sell on the busses to the City are so interesting. They sold cheeseburgers, local candies, salted garlic peanuts, but this was the cutest thing ever. Hot dog on a stick. I liked how they cut the weiner and stretched it out making it look longer.
Manila, the capital of the Philippines. We arrived in Makati City early in the afternoon. You can equate Makati with the Financial District of a city. Here in Makati, the Renaissance Hotel would be our home for two days. Alert to Marriott employees: 50 US dollars for a night! Gotta love my mom's employee discount!
After checking in a freshening up a bit, we headed to the biggest mall I have ever been to - the Mall of Asia. This mall is GINORMOUS! ShoeMart is the anchor department store, plus an IMAX theatre, regular movie theater, Starbucks, Jollibee, basically any store that is available internationally, you will find here. They even have a TGIFridays here! They closed the one in San Bruno by my house and they have it here?! It would take us a week to get every single store here. No, we didn't have time for that. So after walking around and shopping, we rested our feet at a café that served cakes and cool drinks. Here we had a light almond cheesecake and I had a caramel smoothie. Refreshingly sweet.
In ShoeMart's food court, Bub found, of all things, a shawarma booth! He had a "super" shawarma and from the bite I had it was pretty good. Not surprisingly, the portion is a bit smaller than what we would get here in the States, but this is just a snack in the Philippines. We eat rice for our meals, remember?
Because it is unsafe for American stomachs to drink well water in the Philippines, all we drank was mineral water. My skin looked a lot better after drinking it! And yes, I [heart] the Philippines!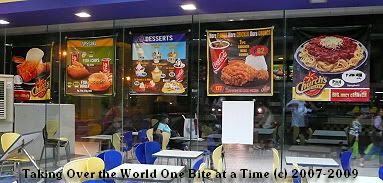 This seriously tripped me out. Before heading back to the hotel, Bub and I wanted to grab something to eat. They have CHURCH'S CHICKEN in Manila. WTF?!
Fried chicken and spaghetti - a classic combination here in the Philippines. I preferred Jollibee's over Church's however. After this, we were off to bed…
March 25 - Day 11 - Our Last Day in the Philippines!
Today, Momma and Auntie Glo who escorted us to Manila would leave us to go back to Umingan. That meant that Bub and I would be ON OUR OWN IN A FOREIGN COUNTRY! *bites nails* We were scared? Nah.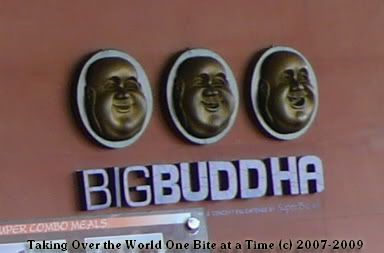 Right across the street from our hotel was Green Belt shopping center. Seriously, the malls here in SF have NOTHING on Green Belt. The stores here are incredible. There are separate buildings for certain stores and I even saw a building totally dedicated to Louis Vuitton, Gucci, Chanel…yeah. They have that in the Philippines! In one of the buildings, one floor is devoted to just restaurants. Big Buddha is where we were going to nosh.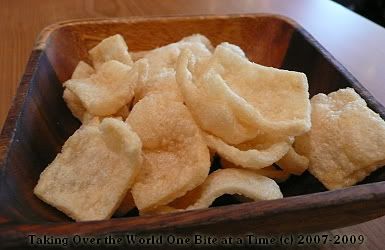 Shrimp flavored chips are not my favorite thing in the world, so I didn't eat any of it.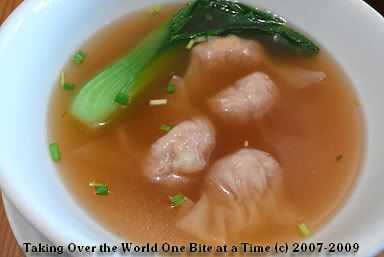 When we were greeted by our server, she spoke in Tagalog, so I really didn't get 100% of what she was saying. All I heard was "wonton soup," and I nodded. Ha! It was good. Light but flavorful broth and a good amount of wontons. Good.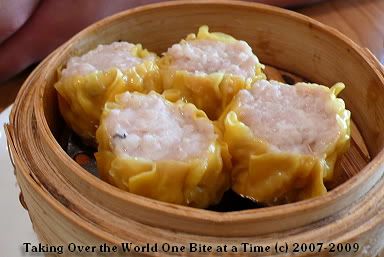 One disappointment of the meal were the siu mai. Bub always seems to order them when he has the chance. They are a lot bigger than any siu mai I have seen in the States. However they were lacking for me.
When this was brought to the table, we thought they brought us the wrong rice. We ordered garlic rice - which we were expecting as a dark brown colored rice with fried pieces of garlic all over, but this was Big Buddha's version of garlic rice. It was delicious and I liked the addition of the cabbage and egg in it. It was very flavorful and a pleasant surprise.
This was their Lemon Chicken, a house specialty. The boneless pieces of chicken were battered and fried. The tangy lemon sauce, albeit very artificial-tasting, was laid underneath. Because the sauce was a bit too sweet and a bit too fakely-flavored, I was grateful that the chicken was not totally coated with it. Aside from that, I did like it - the chicken was tender and the batter was perfectly crispy. Good stuff.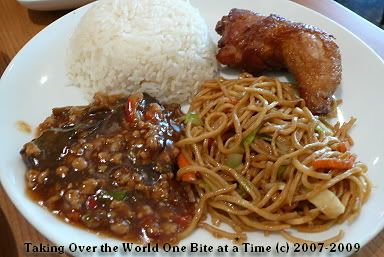 I ordered a combination plate so that I had all my bases covered. I had two starches, a protein, and a vegetable. That puddle of brown stuff was supposed to be eggplant with spices and ground meat. I was turned off because it was too thick. It was like they used too much arrowroot or corn starch. The noodles were unmemorable. The chicken was good, but also unmemorable. If you are hungry, this is good because there is a lot of food on the plate, but I don't think I would order it again.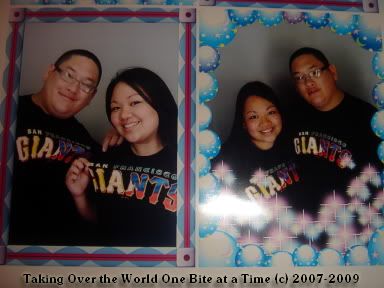 The shopping center had an arcade and this is just Bub and I messing around in one of the photo booths. Yes, we represented the San Francisco Giants the Filipino-American way in Manila! Bad @$$.
Green Belt Center is a feast for the eyes. The gardens, the ponds, the architecture were all so beautiful. I can't even start on how many restaurants they had here. You can dine al fresco or dine in one of the restaurants inside the mall. There are nightclubs here as well as a restaurant with a John Lennon and Yoko Ono theme! I would have loved to dine at one of the fancier restos here, but I was pretty much broke. LOL.
Yeah, you read right. Filipino advertisers do not fear innuendo. But what I want your to notice is the reflection of the Chilis neon sign on the glass. Yup, they have so many Western establishments here. It was kind of scary actually. If you took away the muggy air and all the Filipinos around me, I would have thought we were in the States. Shoot, we even went to a Nike store! Bub was about to buy Air Max's! Crazy. The Phils is getting more and more Westernized every single day.
*sigh* I couldn't get away from Starbucks while I was here. I ordered my usual white chocolate mocha frap, but to shake things up a bit, we ordered a Filipino dessert - the white chocolate
Sans Rival
.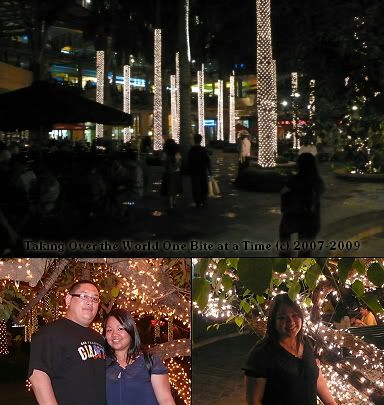 This is the café section of the center where there was a Seattle's Best café and the Starbucks as well as other coffee houses. With the trees lines with Christmas lights, it was truly a romantic place to walk around in. We were pretty much famished and too broke for anything else here at the center, so we headed back to the hotel to have our last dinner in the Philippines.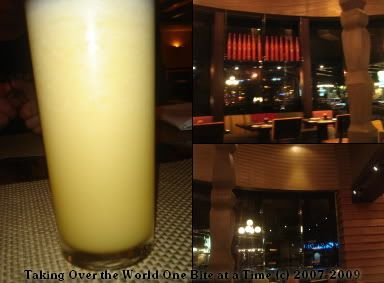 We ate at M2M, the hotel's restaurant. I started with a pineapple slushy. I love their fruit juices here in the Phils.
The complementary bread offered was a sesame bun and a bread twist with pizza filling. Don't you love the olive oil bottle? The inside has a compartment for balsamic vinegar, so when you pour, you get both the olive oil and the balsamic. I need to find one for my house!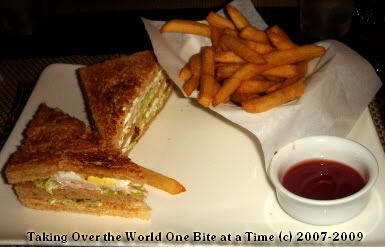 Bub ordered the Club Sandwich which had egg, ham, chicken, lettuce and tomato with fries. He ate the whole thing in about 4 bites. So I let him share with me.
To keep things on the traditional side, I ordered one of my favorite dishes -
pork sinigang
. I know I could get sinigang just about anywhere and this particular one wasn't any different from others I have had, but something about having it in the Philippines made it special.
After dinner and a quick nap, we headed back to the hotel's cocktail lounge for a quick bite before heading to the airport. Here we have the Beach Blanket. A very bland orange drink with orange juice and club soda. Never again.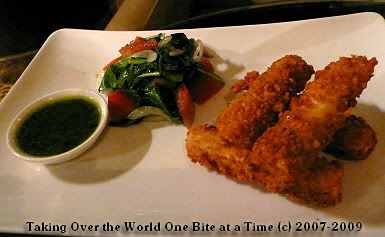 This was their version of fried cheese. The mozzarella cheese was lukewarm and caked in a crunchy coating that had an odor which reminded me of ramen noodles. Accompanying the fried cheese was a tomato salad and pesto sauce. The tomatoes were juicy, but the onions were too astringent and the greens wilted way too fast. Never again. Okay, not a winning last meal, but memorable nonetheless. Soon after, we were boarding a taxi making our way back to Ninoy Aquino International Airport…saying goodbye to the country I love.
March 26 - Day 12 - Back in HK
Because Bub was so ecstatic with the cheeseburger we had here the last time, he wanted to come back and relive his enjoyment.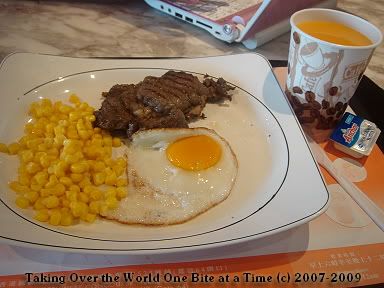 Unfortunately for Bub when we got to Hong Kong, it was only breakfast time, so the cheeseburgers weren't available yet. Defeated, we settled for breakfast food. I ordered the steak with eggs and corn and an OJ. It was tasty and an interesting combination. Corn with steak? Who woulda thunk?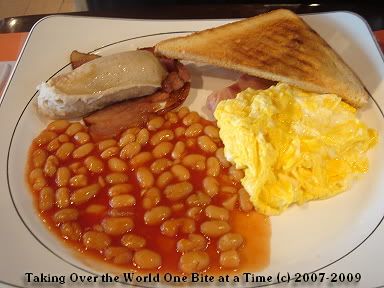 Bub got the eggs with bacon, veal sausage, and baked beans. Yet another interesting combination. I could tell that Bub didn't really like it, but he ate it because he didn't want to waste food. Don't get me started on the veal sausage. It's that grey looking thing in the upper left-hand corner. Never again.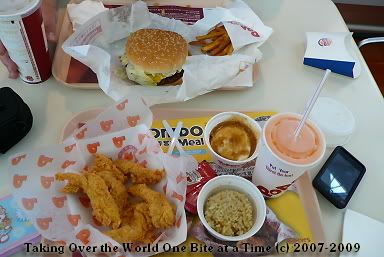 *angels singing* After walking around the airport for a little bit, we found the food court. There was a Burger King and a Popeyes. Thank God! Bub said the funniest thing after biting into his Whopper, "This tastes exactly like Serramonte." Serramonte is the name of the mall in Daly City. That cracked me up. Lesson learned: anywhere you go in the world, Burger King will taste exactly the same. Cheers, for consistency. My Popeyes was delightful as well. I ordered three chicken strips with mashed potatoes, dirty rice, and fries. Go figure, the last meal we would have in Asia was from American fast food chains. Spoiled Americans.
After the Trip of My Lifetime

So what else did I learn while I was in the Philippines? Aside from the spectacular food I had here, I learned that my family is the most important thing in my life. I don't know exactly when is the next time I will see my Inang and Tatay again. We are all coming to that age where tomorrow is not guaranteed anymore…and it scares me. However, getting the chance to see my grandparents again was the best thing to ever happen to me in a long while. They got to meet the man I want to spend the rest of my life with and they gave us their blessing. There was nothing else in the world that I wanted more than that nod of approval.

I sit here and think back to that week of pure joy. I couldn't have asked for a better vacation. Seeing my cousins again and playing with my niece and nephew. Seeing my Mom and Auntie Glo, who work so damn hard in the America, finally get a few weeks of relaxation. I cannot to come back! I did make a promise to Inang that I would come right back after my wedding in 2011 and honeymoon here. I don't intend to break that promise. Inang was there for me for as long as I can remember. She has been an essential part of my love for food and my growing up period. It's hard NOT to get emotional looking back on this trip. All I can do now is to save up again and plan for the next visit. I can't wait.
Don't worry Inang, I'll be back home before you know it.