Restaurant
:
Ducca
Address
: 50 Third Street at Market Street, SOMA, SF
Phone Number
: (415) 977-0271
Cuisine
: Venetian, Italian
Date Last Visited
: August 5, 2009
Dining Partner
: Christie
So it was 5 o' clock and it was one of those days. Christie and I were working all day and we seriously needed to unwind. After a little persuasion, we found ourselves Downtown. I had always wanted to try the Aranici at Ducca, so BINGO! We were there.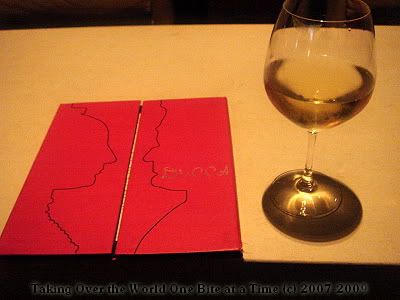 Was it our lucky day or what? Between the hours of 5 and 7 in the evening, Ducca and the Westin Hotel Lounge offer free glasses of wine. Perfecto! Each of us had a ginormous glass of Chardonnay. They were HUGE! Yes, we were very happy by the end of the night.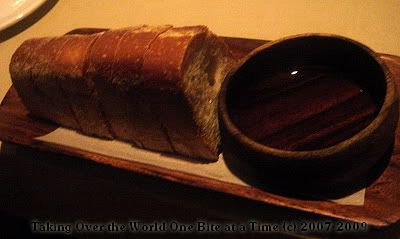 Bread and Olive Oil
I do like bread and olive oil, but I don't know about you, but I prefer BUTTER. Must be the Julia/Paula Deen in me. =) But this IS an Italian place, so bring on the OO.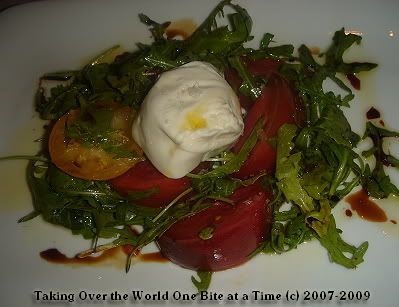 Tomato Salad
with Heirloom Tomatoes,
Fresh Burratta Cheese, and Greens in Vinaigrette
Free wine and now FREE SALAD! I did let it "slip" that it was Christie's birthday (even though it was really the next day), and the server was so sweet to order us this gorgeous salad. I loved the juicy, sweet tomatoes with the burratta. I was all over this dish. I feel kind of bad because I probably ate more of it than the birthday girl did. It was delicious!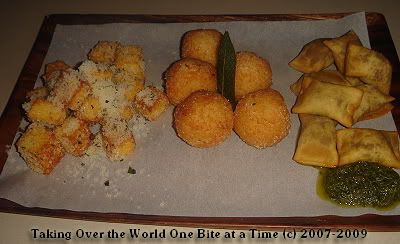 Our Trio of Fried Venetian Goodies
We ordered some small bites from the "Cicheti" portion of the menu. They are described as "A selection of Venetian inspired snacks or starts perfect with a glass of wine." They are $7 each.
On the left we had
Polenta Taragna
-
Parmigiano-Reggiano, Buckwheat-Polenta, Chili, Fines Herbes.
Basically they were fried cubes of polenta topped with a bunch of cheese. I liked them, but they weren't anything too special. I would have liked the polenta to be a more creamy in the middle, but since they were fried, they had to use a firmer polenta. Understandable.
In the middle, we had
Aranici
-
Crispy Risotto Fritter, Sottocenere.
We will talk about this in a bit…
Finally on the right, we had
Agnolotti Fritti
-
Braised Pork, Pernod, Salsa Verde
. Did I just read "Pernod"? As in Pernod Absinthe? I didn't get it. I kinda wishes I knew what "agnolotti" was before I ordered. If I knew that it was a ravioli-type of thing, I probably wouldn't have ordered it. I didn't get the salsa verde either. Probably my least favorite.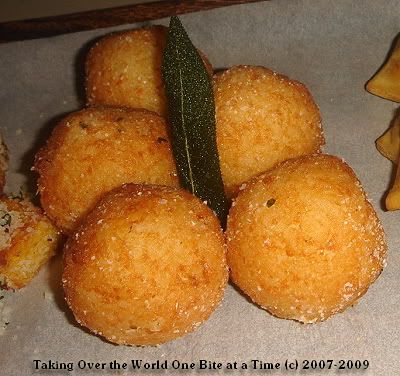 Aranici
These guys are on
7x7's Big Eat 100 List
. I can see why. They were perfectly cooked on the outside. They had a beautiful golden color and they were not greasy at all.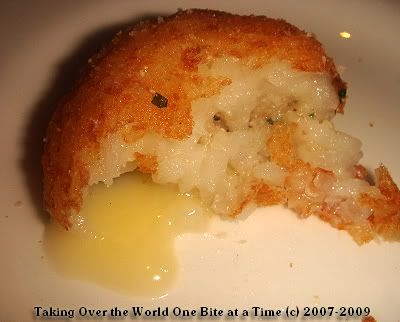 Now for the inside. The sottocenere, which is a cow's milk cheese aged in ash, is stuffed into the risotto before the whole thing gets fried. When I cut through the aranici, the cheese just oozed out. It was lovely. The only thing I would complain about is that I would have liked to have a sauce to accompany the aranici - maybe like the a light tomato or marinara. Otherwise, it was a scrumptious dish.
Ducca is great if you are Downtown and want a glass of wine and some relaxation. We were just here for the Venetian snacks on this visit, but I am looking forward to coming here for a fill dinner. PLUS! The FREE glasses of wine? CANNOT beat that with a stick!