Restaurant and Event
: Academy Café and
Nightlife
inside
The California Academy of Sciences
Address
: 55 Music Concourse Drive, Golden Gate Park, SF
Phone Number
: (415) 876-6124
Cuisine
: Eclectic
Date Last Visited
: July 30, 2009
Dining Partner
: Ate Di and a whole bunch of museum-goers
SO…Back in May or so, I wrote a 300-word "essay" about my favorite part of San Francisco. Why?
7x7 Magazine
put out a call for San Franciscans to do so. To be eligible, any interested writer had to post their original essay on the
7x7 website
. I wrote it not really expecting to get picked, but to express my feelings about
Union Square
. Union Square is the first place I remember my family ever bringing me to. Technically the first place I have ever been to
period
was Potrero because I was born at San Francisco General Hospital, but my first memories are embedded with flashbacks from Union Square. It only made sense to write about it.
7x7 Magazine's August Issue
The Neighborhood Issue
My essay got chosen
! I went back on the
7x7 website to see how many other people submitted
, and I was so surprised that mine was even considered. There were so many unique and inspiring essays. I felt so honored when I received the e-mail that my post had been selected to be published in the magazine. I was also invited by 7x7 to attend
Nightlife at the Academy of Sciences
for the magazine launch and all the fun exhibits at my favorite museum! All I had to do was find a date and a dress!
Ate Di and Her Pretty Hair
7x7 Indicated that their launch was a fashion-themed one, so Ate Di pulled out all the stops and came with a sexxxy pin-up girl hair-do. Too bad the fog, drizzling, and cold breeze outside messed up any pristine touches we made with our hairstyles. That was probably my least favorite part of the night. They didn't open the doors of the Academy until 6 p.m. on the dot.
Ate and I Waiting for the Show in the Planetarium
What I liked about Nightlife is that you get all access to the museum and its exhibits with music bumping the sound system, cocktails in hand, and NO children. I don't think I would come to the Academy on any other day. The first stop was the Planetarium. Ate Di hadn't been to the new Academy since the remodel, so for us to come to the brand new Planetarium theater with the ginormous over-your-head screen just wowed us. You really do not want to miss this when you are here at the Academy. I really felt like we were flying.
View from the Second Floor
The new re-modeled Academy has floor to ceiling windows and they bring in the natural light from the outside. More light from the outside means less electricity used in the building. *taps noggin* smart!
Cocktail Room
The middle portion of the Academy was reserved for those who wanted to get their drink on. There were several stations available where museum-go'ers were able to purchase cocktails, or glasses of wine, or some good munchies.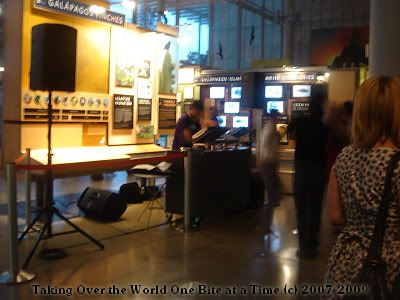 DJ Booth - Where the Music Resonated From
Throughout the night, I was wondering where the music was coming from. After walking around for a bit, we found it near African Hall. I was surprised how small the DJ station was. I was expected a raised platform with giant speakers and groupies hanging around, but it was very down-to-earth and simple. The music that came out of this guy was great. I didn't photograph it, but there were some people dancing. I didn't get to join them this visit, but next time, best believe I'll be there dancing along with them.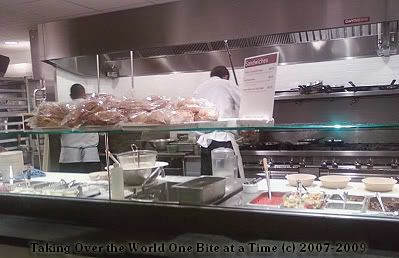 Fried Food and Noodle Station
We got hungry, of course, so we headed to the Academy Café for a bite to eat. The Academy Café is cafeteria-style, but nothing is made until you order. Some of the other stations in the café were not available that night, the bahn mi one for example. What was offered were fried food, noodles, Mexican, and salads. Let the eating begin!
Duck Sausage with Rigatoni
Broccoli Rabe, Sweet Peppers,
Caramelized Onions, Ricotta Salata
The pasta chef was extremely busy on this night. It seemed like everyone was ordering this dish. They gave a substantial amount of pasta. We didn't even finish it. The hearty rigatoni filled me up real fast. I liked the combination of the flavors - bitterness from the broccoli rabe to the sweetness of the onions to the creaminess and saltiness from the cheeses. There was no real sauce on it, so I found it a bit bland. I ended up stealing the lemon wedge from the calamari (which you will have the privilege to see in a sec) and squeezing it on top of the whole thing. A bit under whelmed with the sauce or the lack of it. Not something I would order again.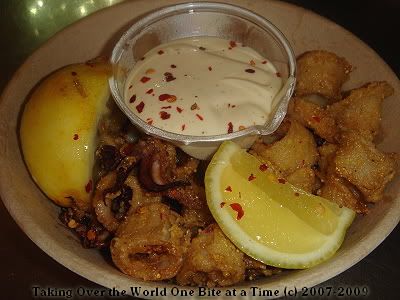 Fried Calamari with Lemon Aioli
I really liked their calamari here. From the moment I ordered to the moment I got the finished bowl of fried squid in my hand must have been less than 3 minutes. They soaked the calamari in what looked like a milk mixture then tossed it in a blend that made that crispy coating on the outside. What I really liked about it is that the coating was not too thick. There wasn't a heavy batter clutching to the squid, rather a light crispy golden finish. Each piece was fried perfectly and the bowl actually soaked up the excess oil which we appreciated. The lemon aioli was absolutely perfect with the calamari. If I could have calamari in any fashion, it would be this way. Exactly this way. =) The fresh lemon and the lemon aioli won me over.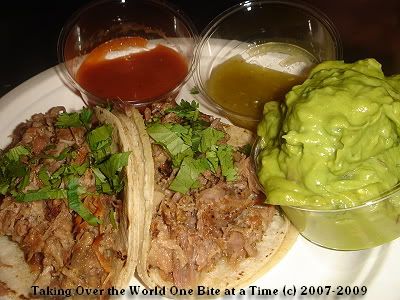 Pork Tacos with Guacamole, Red and Green Salsas
Mexican food? At a museum? Can it possibly be any good? It absolutely can! I actually loved the meat on the tacos. It was juicy and flavorful. Fabulous. I am such a condiment whore, so the accoutrements made their way in each bite I ate. We were going through the guacamole and found that there was a giant hunk of avocado in it. Yeah, they make it fresh here. I liked the tacos more than the pasta. Next time, I will order this.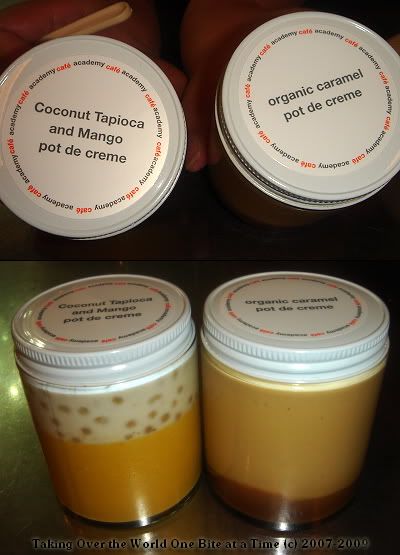 Pot de Creme!
Or what the cashier called them: Jars of Heaven
Jars of Heaven they were indeed! I guess you can probably tell who got what. C'mon it's simple. Ate Di, being the tropical-loving island girl she is, copped the coconut tapioca mango one. Me, being the smooth, luxurious, sweets-loving girl I am, got the caramel pot de crème. I dug into mine first and my first thought was "leche flan" that glorious egg custard that my family makes, only that this pot de cream was a bit looser and a bit more "burnt" in flavor. I would have liked the pot de crème more without it. Then I tasted Ate Di's pot de crème. The coconut tapioca layer was creamy and had that nice bounce from the tapioca balls, and the mango foundation was tart and very fresh-tasting. Good mangoes almost have this spicy, peppery undertone to it, and I tasted it here. I loved it because the sourness cleansed my palate after eating my pot de crème. Loved both of them!
Tater Ware
Have YOU ever eaten your dinner
with potatoes as your utensils?
The museum's mantra screams, "GREEN GREEN GREEN!" Biodegradable utensils, plates, and drinkware are very important to them. Even though I was very amused that my cup was made with a spud, I know that using it was helping the environment in some way.
Then we were off to meet folks from 7x7 and look for the magazine layout poster my essay was posted on. It was somewhere displayed in the museum and I had to find it!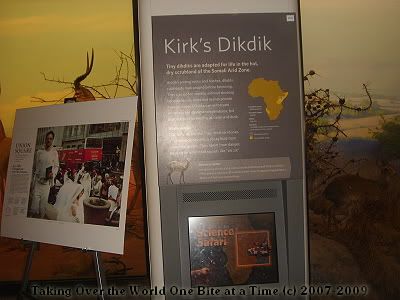 My Poster with Kirk's Dikdik
It was meant to be!
I kid you not, my status on Facebook that day was, "- got my outfit set for tonight! W00t! ready to mingle mingle with kirk's dikdik." I proceeded to receive comments from that friends saying, "should you be with Keaton's dikdik?" and "naaasty!" I guess their heads were in the gutter and they didn't know what Kirk's dikdik was. *laughs* When I got to African Hall, where I was told my poster was, I went looking for Kirk's dikdik. Kirk's dikdik is my favorite animal out of all the animals here. Just when I thought that they had removed Kirk's dikdik from the exhibit, I found it right next to my poster! Yup, it was so meant to be! The museum is rather large and of all the parts of the place to choose from, they placed my poster next to my favorite animal. =)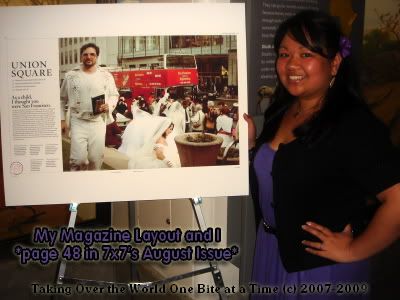 I was so proud to have my
poster on display
and to have the people around reading my material. 99.9999999999999% of the people in the Academy that night had no idea who the hell I was, but for those 5 seconds reading my essay, they got to know "Joanne Boston" a little better. That was all the satisfaction I needed. I had such a good time that night. Got dinner, a fantastic movie, great beats, and a little bit of celebrity in a few short hours. Nightlife, I will be back.